Industry Overview
The Global Automotive Airbag Silicone Market Size is Projected to Reach USD 536 Million by 2027, from an Estimated Value of USD 239 Million in 2020, at a 17.8% CAGR.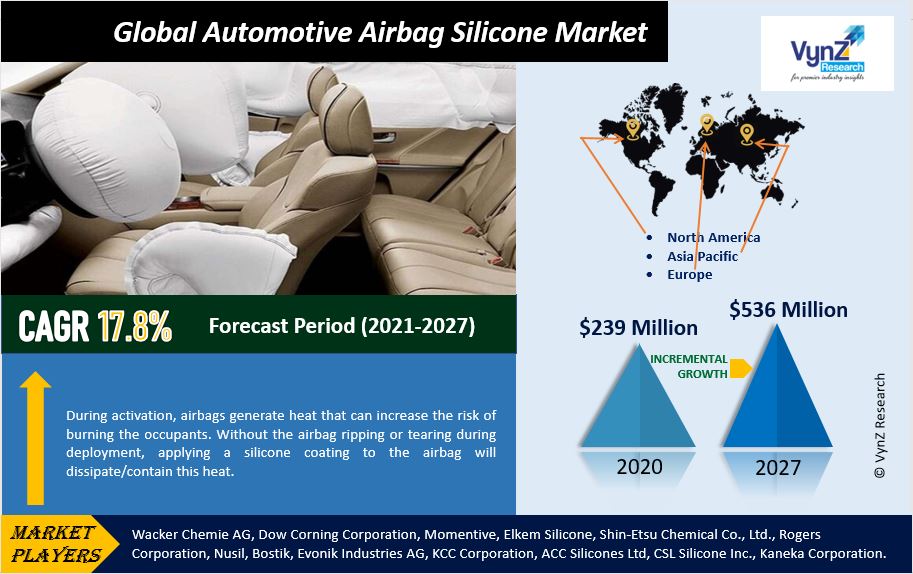 Initially, demand for airbags was restricted in most regions to frontal airbags. In2012, however, the EU required the introduction, in addition to frontal airbags, of head-protecting airbags and side airbags, which propelled the market for curtain/side and other airbag styles. Growth in the industry is expected to be driven by rising sales of premium cars with more safety options, including 5-8 airbags per car, combined with increasing demand and penetration of other airbag styles in passenger vehicles.
In the coming years, strict safety regulations are expected to drive the Vehicle Airbag Silicone Market, along with growing instals and increasing demand for frontal, curtain/side, and knee airbags. Rise in demand for electric vehicles and rising airbag penetration in commercial vehicles are projected to provide market players with growth opportunities during the forecast period.
Market Segmentation:
Insights by Airbag Position
• Front
• Knee
• Curtain/Side
The curtain/side segment is estimated to be the largest market during the forecast period.
It is expected that growing perception of unintended injury and fatalities in rollover cases will provide exciting prospects for curtain/side airbags to develop in the commercial vehicle market. The high volume of fabric and silicone needed for curtain/side airbags is a major driver for the silicone market from this category relative to other positions.
Insights by Airbag Type
• Cut-And-Sewn Seam-Sealed (CSSS)
• One-Piece-Woven (OPW)
One-Piece-Woven (OPW) segment by airbag type is expected to have the largest market.
To mitigate the effects of side collisions, OPW airbags are commonly used, while CSSS airbags are used in frontal positions to minimise injury due to the first impact. It is expected that the growing emphasis on minimising rollover accidents will drive the OPW airbags market. In addition, for a longer duration, curtain/side airbags need to be inflated, which can be easily accomplished with the airbag type OPW. Thus, in curtain/side airbag applications, OPWs are commonly used.
Insights by Vehicle Type
• Passenger cars
• LCVs
• HCVs
The passenger cars segment is expected to lead the market during the forecast period.
In order to minimise impact and save passengers' lives during collisions, passive protective devices such as airbags are mounted in passenger vehicles. Governments worldwide are gradually promoting the use of airbags to improve safety in cars due to the advantages of airbags and the growing number of road injuries. Over the years, the market for vehicle airbag silicone from the passenger car sector has powered this increase in passenger car airbag demand.
Insights by Electric Vehicle
• BEVs
• PHEVs/FCEVs
The Battery Electric Vehicle (BEV) segment by electric vehicle is expected to register the highest growth rate during the forecast period.
BEVs use chemical energy collected for fuel in rechargeable battery packs. Rising levels of automotive emissions and their effect on human health and the atmosphere are motivating regulatory bodies and OEMs to undertake electric vehicle promotion initiatives. BEVs are classified as zero-emission cars. Government rebates on ZEV transactions will help raise BEV prices, which will fuel demand for BEVs. Most BEVs are currently equipped with two frontal and two lateral airbags. This high airbag penetration in BEVs is driving the need for silicone for automotive airbags.
Insights by Demographic Region
• Asia Pacific
• Europe
• North America
• Rest of the World
The Asia Pacific is expected to lead the market in the forecast period 2020-2025. Increased demand in countries like China, Japan, South Korea, and Thailand can be attributed to international development due to cost-effectiveness and regional airbag firms optimizing their presence to reduce supply chain costs. On the other hand, because of the lack of supplier involvement, countries such as India are highly dependent on outsourcing to meet the demand for fabric and automotive airbag silicone.
The high number of road crashes and associated deaths and rising public protection issues are the key factors driving demand in the Asia Pacific region for automobile airbags. In addition, stricter rules and regulations are coming up in Asia Pacific countries to limit road fatalities.
Market Drivers
Advantages offered by silicone-coated airbags
During activation, airbags generate heat that can increase the risk of burning the occupants. Without the airbag ripping or tearing during deployment, applying a silicone coating to the airbag will dissipate/contain this heat. In contrast to alternatives such as neoprene coating, airbags treated with a silicone coating often allow fast deflation once the peak inflation pressure is reached, along with added benefits such as thermal resistance and airbag safety. Furthermore, the excellent performance of silicone with commonly used airbag materials such as nylon enables it to form a protective barrier against moisture and stay chemically inert. These advantages are expected to fuel the demand for automotive airbags made from silicone-coated.
Opportunities
Increase in the demand for electric vehicles
Electric vehicle demand is pushing car manufactures to invest in technologies for electric cars. Different investment plans have been announced by several OEMs to build and launch new electric vehicles. Growing customer demand for electric cars is projected to provide the automotive airbag silicone industry with a growth opportunity during the forecast period.
Challenges
Issues in price-sensitive markets
Car manufacturers fail to include passive protection systems to comply with safety legislation while ensuring a balance between performance and price in price-sensitive markets such as India, South Africa, Brazil, and other ASEAN nations.
Aside from mandated third-party protection, the expense of passenger vehicles has risen with the addition of new safety technologies such as airbags, seat belt warnings, and reverse parking sensors. It is projected that these protection features would increase the average cost of the car by about 8-10%. If more airbags raise the average price of the car, OEMs in price-sensitive markets have only one or two airbags to conform to mandates. This is expected to threaten the development of the silicone market for automotive airbags over the projected era.
Increasing growth of active safety systems
The need and number of airbags per car is expected to decrease with the increasing penetration of these devices to prevent injuries. During the forecast era, this estimated decrease in airbags per car is expected to hamper the demand for silicones and hamper the need for automotive silicone airbags.
Key Market Players
• Wacker Chemie AG (Germany)
• Dow Corning Corporation (U.S.)
• Momentive (U.S.)
• Elkem Silicone (U.S.)
• Shin-Etsu Chemical Co., Ltd. (Japan)
• Rogers Corporation (U.S.)
• Nusil (U.S.)
• Bostik (U.S.)
• Evonik Industries AG (Germany)
• KCC Corporation (South Korea)
• ACC Silicones Ltd (U.K)
• CSL Silicone Inc. (Canada)
• Kaneka Corporation (Japan)
Latest news:
Recent Development 
• In June 2019, Wacker Chemie AG has dedicated a new silicone manufacturing line to the Zhangjiagang site in China.
• In June 2019, in order to satisfy the increasing North American market needs, Elkem Silicones increased the local supply of its upstream silicones. This growth allowed the business to reinforce its presence in North America.
• In March 2019, In Tsukuba, Japan, Wacker Chemie AG has opened a new Wacker Academy training centre. For the aerospace, electrical, sealant, and personal care industries, the centre primarily provides seminars on silicone products.