Industry Overview
The global automotive fuel cell market was valued at USD 1.9 billion in 2022 and is anticipated to reach USD 12.6 billion by 2030, thus registering a CAGR of 24.61% during the forecast period 2023-2030. The growth drivers behind this exponential growth include increased government initiatives and investments in the development of fuel cell technology and the use of fuel cells in the transportation sector.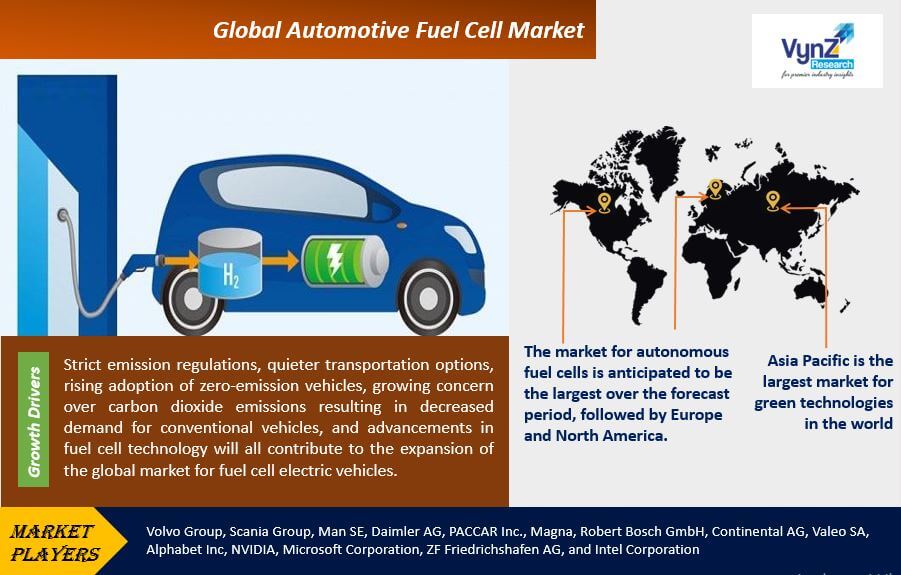 This market study on the automotive fuel cell industry details recent developments, trade laws, import-export analysis, production analysis, value chain optimization, market share, the effects of domestic and regional market participants, analyses opportunities in terms of new revenue streams, regulatory changes, strategic market growth analysis, market size, category market expansions, application niches and dominance, product approvals, and product launches. Get an analyst brief from Data Bridge Market Research to learn more about the vehicle fuel cell market.
Covid-19 Impact
In 2020, lockdown measures were enacted due to the COVID-19 pandemic, and the result was an unprecedented decline in global auto sales. Despite a slow market rebound, sales of cars decreased by a projected 14% year over year in 2020. A 33.33% decline in new car registrations during the first half of 2020 was partially offset by activity during the second half, resulting in a 16% total decline.
Market Segment
Insight by Electrolyte Type
Global Automotive Fuel Market is divided into PEMFC and PAFC based on the type of electrolyte used. In comparison to conventional fuel cells, the proton exchange membrane fuel cell (PEMFC) or polymer electrolyte membrane offers low weight, high power density, and lower volume. In buses, vehicles, and large trucks, this cell fuel is used. On the other hand, PACs, which are used commercially, are regarded as modern, first-generation fuel cells. Most often utilized in larger cars, these fuel cells are employed for stationary power generation. Fuel cell demand is rising, which will accelerate market expansion.
Insight by Power Output
The market is divided into three groups based on power output: below 100 KW, between 100 and 200 KW, and beyond 200 KW. Despite ranging from 50 to 125kW, fuel cells under 100KW are only found in motor vehicles. Buses and lorries employ fuel cells with a power output of more than 200kW. Alkaline fuel cells (AFC) and phosphoric acid fuel cells make up the fuel cells with power outputs under 100kW. (PACs). Proton exchange membranes or polymer electrolyte membranes are generally used in fuel cells with a power output of more than 200kW. (PEMFC). In the anticipated time frame, there will likely be an increase in demand for vehicle fuel cells.
Insight by Type
The global market for fuel cell electric vehicles is divided into two segments based on the range: short-range and long-range. Due to the rising demand for low-emission vehicles for short-distance travel, short-range is predicted to experience the highest increase during the projection period. Additionally, the market for fuel cell electric vehicles will benefit from the growing adoption of FCEV in a variety of applications, such as the transportation of cargo via ports and airports and by e-commerce enterprises to reduce carbon footprint.
Insight by Vehicle Type
The market is divided into Passenger Car, Bus, Light Commercial Vehicle (LCV), and Truck segments based on vehicle type. Due to the high adoption rate, rising demand for personal mobility, and multiple emission rules implemented by various governments, the passenger car sub-segment dominates the market. Another factor driving up demand for the fuel cell-based passenger vehicle sub-segment is the widespread adoption of clean, low-emission vehicles by governments and customers. However, many governments are now implementing fuel cell-based buses to cut down on carbon emissions, which is why the Buses sub-segment is also anticipated to grow in the near future.
Automotive Fuel Cell Market Coverage
| | |
| --- | --- |
| Report Metric | Details |
| Historical Period | 2018–2021 |
| Base Year Considered | 2022 |
| Forecast Period | 2023 - 2030 |
| Market Size in 2022 | $1.9 Billion |
| Revenue Forecast in 2030 | $12.6 Billion |
| Growth Rate | CAGR 24.61% |
| Segments Covered in the Report | By Electrolyte Type, By Power Output, By Type, and By Vehicle Type |
| Report Scope | Market Trends, Drivers, and Restraints; Revenue Estimation and Forecast; Segmentation Analysis; Impact of COVID-19; Companies' Strategic Developments; Market Share Analysis of Key Players; Company Profiling |
| Regions Covered in the Report | North America, Europe, Asia-Pacific, Middle East, and the Rest of the World |
Industry Dynamics
Industry Trends
Fuel electric vehicles enhance vehicle performance and have quick refueling times, longer ranges, higher power, and strong torque. These features of a fuel cell electric vehicle have made it market electric vehicle market trend across the globe. Continuous technical improvement is the main trend in the market for fuel cell electric vehicles worldwide since it will improve the durability of catalyst layer design.
Growth Drivers
Strict emission regulations, quieter transportation options, rising adoption of zero-emission vehicles, growing concern over carbon dioxide emissions resulting in decreased demand for conventional vehicles, and advancements in fuel cell technology will all contribute to the expansion of the global market for fuel cell electric vehicles. In addition, government initiatives, portable batteries, shorter refueling times, long-range, and FCEVs will all contribute to the market's expansion. 
Governments across the globe have established ambitious goals to put a significant number of FCEVs on the road in the short, medium, and long terms. To assist this enormous step forward, regional governments have also implemented many financial and tax-benefit measures.
Automakers are investing continuously in research and development as a result of the increase in demand for automobiles in order to create goods that are affordable, environmentally friendly, less hazardous, and have a long useful life. Production of automobiles is rising in emerging nations, which is in turn driving the global market for automotive fuel cells.
The demand for clean energy sources is being driven by growing worldwide environmental challenges like climate change and poor air quality caused by increased fossil fuel consumption. Because fuel cells produce no emissions and help reduce greenhouse gases, the automotive fuel cell market is anticipated to grow over the course of the forecast period.
Challenges
The high cost of fuel cells is the main obstacle facing the automobile fuel cell sector. A membrane, bipolar plates, stacks, gas diffusion layers, and a catalyst are used to construct a fuel cell. In a fuel cell, hydrogen atoms are oxidized to produce protons and electrons. The chemical reaction uses a catalyst. PEM fuel cells, which are mostly utilized in automotive applications, typically use platinum as a catalyst. One of the priciest metals is platinum. Fuel cells are more expensive than the batteries used in BEVs since the catalyst accounts for around 46% of the entire cost of a fuel cell. Additionally, the price of batteries is steadily declining as a result of greater research and development in battery technology.
Opportunities
FCEVs have a long driving range, quick refueling, quiet operation, and no emissions of greenhouse gases or other air pollutants. As a result, fuel cell technology is perfect for use in vehicles and transportation. Electricity generated by fuel cells is flexible and scalable, making it suitable for heavy-duty transportation applications including material-handling vehicles, buses, trains, autos, and light commercial vehicles. Commercial applications also employ fuel cells as stationary fuel sources. Fuel cells can be used in combined heat and power (CHP) systems to produce heat and power as well as to provide primary and backup power. According to the US Department of Energy, 68,500 fuel cell units were sold for various uses worldwide in 2018, producing USD 2.3 billion in fuel cell revenue.
Geographical Overview
The market for autonomous fuel cells is anticipated to be the largest over the forecast period, followed by Europe and North America. The market is being driven by the strong demand for fuel cell buses for both public and private transportation as well as the large share of passenger cars in total vehicle manufacturing. Additionally, Asia Pacific is the largest market for green technologies in the world, with Japan, China, and South Korea now having the largest markets there for fuel cells. In addition, the region is home to top OEMs in the automotive fuel cell market as Toyota, Hyundai, and Honda. These businesses intend to make significant investments to promote fuel cell vehicles and increase their production capacity. Hyundai, for instance, intends to spend USD 6.7 billion to boost fuel cell output and multiply its production capacity by more than 200 by 2030.
Competitive Insight
Leading businesses are implementing various ways to expand their commercial horizons as a result of the emphasis on developing automobile fuel cell technologies. One such tactic is portfolio diversification, made possible by the creation and deployment of ground-breaking fuel cell products. Players are able to build a presence and take advantage of regional marketplaces thanks to this method.
The following companies are some of the major players in the automotive fuel cell market: Toshiba India Pvt. Ltd., Ballard Power Systems, Hydrogenics, ITM Power, PLUG POWER INC., Ceres Power Holdings plc, Nedstack Fuel Cell Technology BV, NUVERA FUEL CELLS, LLC, American Honda Motor Co., Inc., Hyundai Motor Company, Daimler AG, Nissan, TW Horizon Fuel Cell Technologies, Altergy, Intelligent Energy Limited
Recent Development by Key Players
•    By 2021, Nikola introduced its fuel cell, truck model. According to the company, compared to other models already on the market, the truck would have the greatest driving range and the most powerful fuel stack.
•    For the anticipated deployment of hydrogen fuel cell electric buses (or "FCEB") throughout Europe in 2022, Ballard Power Systems received orders for a total of 40 FCmoveTM-HD (70kW) modules in November 2021. France, Germany, and the UK are all using these FCEBs. 
•    Ballard fuel cell technology is being used to power the first fleet of zero-emission FCEBs being deployed in Rouen, France, and the expansion of the FCEB fleet already in operation in Pau, France. Ballard fuel cell buses are now operating or being developed in four French towns.
•    The formation of the H2OzBus Project and the signing of an MoU with strategic partners, including Transit Systems, a division of the SeaLink Travel Group, Ballard Power Systems, BOC Limited, Palisade Investment Partners, and ITM Power, were announced by the UK-based manufacturer of hydrogen energy equipment on May 10, 2020. The consortium will test and demonstrate the viability of using hydrogen fuel cell electric buses for public transportation in Australia.
•    The new hydrogen fuel cell-powered van was introduced for the first time in North America on October 20, 2021, at the 2021 Plug Power Symposium by Plug Power Inc., a developer of turnkey hydrogen solutions for the global green hydrogen economy.
•    Dec. 20, 2021, A Memorandum of Understanding (MOU) has been signed between Groupe Renault, a major participant in the automotive industry, and Plug Power Inc., a producer of fuel cell systems and hydrogen-related services, to establish a 50-50 joint venture with a French basis by the end of the first half of 2021. In the upcoming years, this strategic JV will put Groupe Renault and Plug Power in a position to dominate Europe's research and development (R&D), transformation, production, and marketing of fuel cell-powered cars and hydrogen turnkey solutions. This joint venture platform will cater to the fuel cell light commercial vehicle, taxi, and commercial people transportation markets, all of which are rapidly expanding.
The Automotive Fuel Cell Market report offers a comprehensive market segmentation analysis along with an estimation for the forecast period 2023–2030.
Segments Covered in the Report
By Electrolyte Type
By Power Output

100 KW
100KW-200 KW
200 KW
50KW-125kW

By Type
By Vehicle Type

Car
Bus
Light Commercial Vehicle
Truck
Others
Region Covered in the Report
North America
Europe

Germany
U.K.
France
Italy
Spain
Russia
Rest of Europe

Asia-Pacific (APAC)

China
Japan
India
South Korea
Rest of Asia-Pacific

Rest of the World (RoW)

Brazil
Saudi Arabia
South Africa
U.A.E.
Other Countries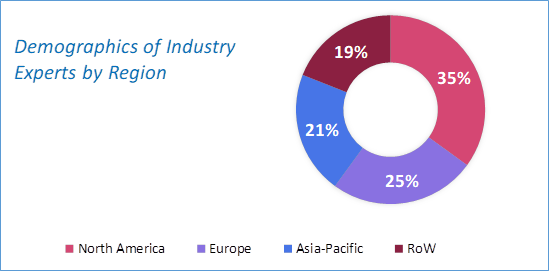 Source: VynZ Research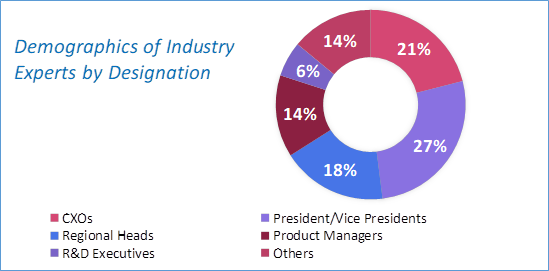 Source: VynZ Research