Industry Overview
The global market for coding and marking systems is US$3.6 billion in 2022 and is anticipated to reach US$ 8.8 billion by 2030, During the projected period it is expected to develop a strong CAGR of 5.86% . However, the primary cause of this would be the industry's explosive development in the pharmaceutical and food & beverage industry, where these devices are required by law. As a result of global economic expansion, there is a growing demand for packaged foods and beverages, which is driving up the price of coding and marking systems.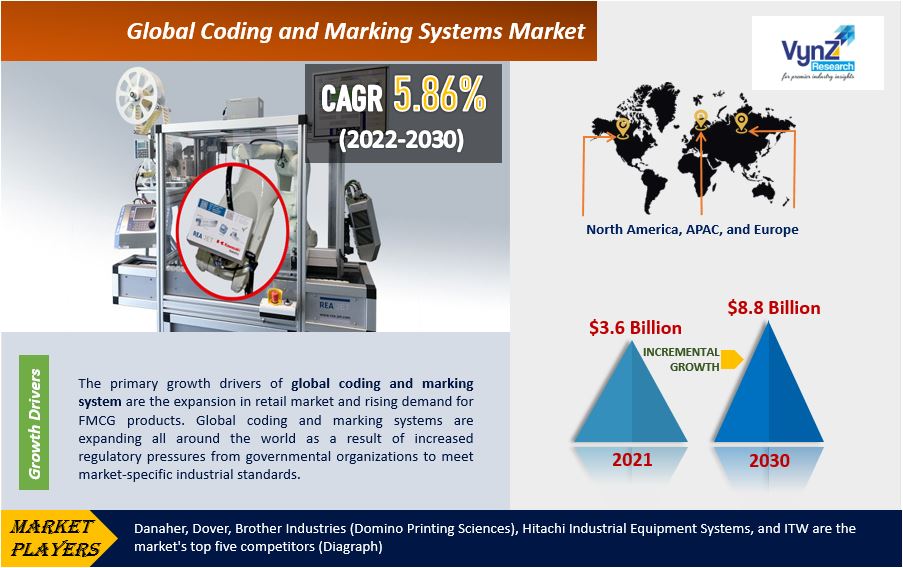 The global coding & marking market is continuously expanding as a result of the global packaging industry's consistent 5% annual growth rate. The demand for coding and marking solutions is on the rise due to rising cases of product counterfeiting and government rules requiring the printing of product-specific information on packets.
Covid-19 Impact
The pandemic outbreak severely has impacted the coding and marking systems because of worldwide lockdowns, shutdowns, and interruptions in global supply chain management. This threatening epidemic has jeopardized every production procedure in the market for coding and marking systems.
Manufacturers are struggling to recover from their losses by using advanced trends and technology in this market of coding and marking systems. They are focusing on providing environmentally friendly solutions in order to address the growing demand from a variety of end-use sectors, including the food and packaging industries. In addition to looking for new opportunities to address market challenges with coding and labeling systems, manufacturers are striving to make up losses brought on by the COVID-19 epidemic.
Market Segment
Insight by Technology
The global coding and marking systems are divided based on technology into coding printers, including Laser, PALM valve jet(PVJ), hot melt inkjet(HMJ), continuous inkjet(CIJ), thermal inkjet (TIJ), print and apply labelers, thermal transfer overprinting, laser coding and marking, and print and apply labelers.
CIJ technology is extensively used among all technology due to its abundance of installation. Thermal transfer printers are anticipated to experience the fastest growth throughout the forecast period, and this technology is also projected to create the highest revenue during the estimated time.
The laser segment was second in 2021, with a nearly 40% share of the global market, after the CIJ segment. During the projected period, market share gains in the coding and marking technology sectors for laser and TIJ are anticipated. The laser technology has no consumables like ink and is expected to grow by CAGR 9% during the forecast period.
Insight by Product Mix
On the basis of product mix the market of coding and marking systems is bifurcated into printer ink cartridges, toner cartridges, Viskoflex, paints, surface viral cleaner, and other pertinent product mix. The consumables market of coding and marking systems had the sale of 45% of all market sales in 2021. During the COVID-19 Pandemic, the global coding and marking market for consumables saw an increase in demand due to the enormous need for ink and other consumables from the healthcare, food, and beverage sectors.
Insight by End User
The coding and marking systems market on the basis of end users is bifurcated into F&B, Pharmaceutical, Construction, Personal and homecare, Electrical and electronics, Automotive, Chemical and fertilizers, and others. The COVID-19 coding and marking systems market is dominated by F&B and pharmaceutical end-users and F&B sector is anticipated to have the highest share during the projection period. The reason behind it is the coding and marking on all consumables and healthcare products have become mandatory by the law also.
Additionally demographics, rising investment, stringent government restrictions, and a move toward urbanization also impact the market growth. The growth of end-user industries is also being fueled by a number of additional factors, such as shifting consumer preferences regarding product consumption, rising demand for sustainable packaging, rising demand for attractive packaging, and more. These factors ultimately increase the demand for coding and marking in the global market.  
Global Sepsis Treatment Market Report Coverage
| | |
| --- | --- |
| Report Metric | Details |
| Historical Period | 2018–2022 |
| Base Year Considered | 2022 |
| Forecast Period | 2023 - 2030 |
| Market Size in 2021 | $3.6 billion |
| Revenue Forecast in 2030 | $8.8 billion |
| Growth Rate | CAGR 5.86% |
| Segments Covered in the Report | By Technology, By Product Mix, and By End User. |
| Report Scope | Market Trends, Drivers, and Restraints; Revenue Estimation and Forecast; Segmentation Analysis; Impact of COVID-19; Companies' Strategic Developments; Market Share Analysis of Key Players; Company Profiling |
| Regions Covered in the Report | North America, Europe, Asia-Pacific, Middle East, and Rest of the World |
Industry Dynamics
Growth Drivers
The primary growth drivers of the global coding and marking system are the expansion in the retail market and rising demand for FMCG products. Global coding and marking systems are expanding all around the world as a result of increased regulatory pressures from governmental organizations to meet market-specific industrial standards. It has been noted that the current market for environmentally friendly marking systems is expanding as a result of the launch of numerous marking tools made of biodegradable resin.
The automotive industry is also one of the prominent growth drivers of coding and marking systems. This industry prevents the sale of counterfeit components and frequently uses coding and marking systems to code part numbers or anti-counterfeit labels on vehicle machinery.
Moreover, environment-friendly coding technology plays a vital growth driver role in uplifting the coding and marking sector.  Manufacturers of coding and marking systems are required to reduce the use of hazardous solvents like methyl ethyl ketone (MEK), which lower the content of volatile organic compounds and prevent smearing, as a result of the regulations of the Hazardous Substances Directive (RoHS) and the Registration, Evaluation, Authorization, and Restriction of Chemicals (REACH) committee.
Challenges
Coding and marking devices tend to be very expensive. So, coding and marking systems installation into place is challenging. All supply chain participants, especially the smaller companies, might not have the financial means to set up the infrastructure necessary to adopt coding and marking systems. Therefore, it is anticipated that the market's expansion over the forecast period will be constrained by the high cost associated with the coding and marking equipment.
This market study on coding and marking systems includes information on recent developments, trade laws, import-export analysis, production analysis, value chain optimization, market share, and the effects of domestic and local market participants. It also analyses opportunities for new revenue streams, regulatory changes, market size, category market expansions, application niches and dominance, product approvals, and product launches.
Opportunities
Government norms and increased product innovation has made to opportunity for coding and marking system to grow.  Government norms all across the globe mandate the marking on F&B and pharmaceutical products. Because of the government's stringent regulations, end users are now adopting coding and marking systems to guarantee accurate labeling of the produced goods
The market's growth rate is also impacted by the rising number of product innovations. Market expansion is also aided by various product developments aimed at enhancing design and production procedures. Manufacturers are developing products that are more reliable, efficient, and practical.
Industry Ecosystem
Industry players throughout the world are taking advantage of market expansion through technological advancement in coding systems, innovation to adjust to constantly shifting market dynamics and becoming more pragmatic in their approach. The major players in this sector are upgrading their machinery with new features like touchscreens, increased productivity, and visible ink containers to improve and optimize the manufacturing process.
Industry News & Update
In the United States, the market for coding and marking systems and solutions is anticipated to reach US$783.1 Million in 2022. China, the second-largest economy in the world, is anticipated to have a market worth US$680.3 million by 2026, growing at a 7.3% CAGR throughout the study period.

The desire for quicker-drying and better-adhering inks is still present in thermal inkjet technology. Thermal inkjet is the best printing technology for printing on masks in a production line due to its high-resolution capabilities and modern ink kinds. The United States, Canada, Japan, China, and Europe are expected to fuel the segment's predicted 5.9% CAGR.
Geographical overview
With a revenue share of more than 32%, North America dominated the market for coding and marking equipment in 2020. The pharmaceutical and healthcare sector in North America can be defined as mature since multiple market leaders make significant investments in R&D to create new products and treatments. The U.S. is renowned for the strict laws it has created to oversee its food, pharmaceutical, and healthcare industries in order to prevent the sale of any potential fake goods. As a result, businesses in the area, particularly those in the pharmaceutical industry, are placing a high priority on establishing coding and marking systems, which is causing the regional market to expand.
Over the course of the projected period, Asia Pacific is anticipated to become the region with the quickest rate of growth. Emerging economies like India and China are located in the Asia Pacific region. India's packaging sector is expanding quickly, and Indian packaging firms are vigorously inventing their packaging strategies to support the expansion of the local market. On the other hand, China is a significant producer of printer ink, which is good news for the expansion of the local market.
Competitive Insight
The global market for coding and marking is incredibly fragmented. On the one hand, there are global companies offering coding and marking tools with excellent functionality and aesthetics. Danaher, Dover, Brother Industries (Domino Printing Sciences), Hitachi Industrial Equipment Systems, and ITW are the market's top five competitors (Diagraph). These businesses are all present on a worldwide scale in at least three significant geographic areas: North America, APAC, and Europe. Local suppliers, however, offer goods with comparable standards for less money. The cost of the CIJ systems offered by local suppliers is 6-7% less than the cost of those offered by foreign vendors.
The Coding and Marking Systems Market report offers a comprehensive market segmentation analysis along with an estimation for the forecast period 2023–2030.
Segments Covered in the Report
By Technology

Continuous inkjet

Thermal inkjet

Print & apply labelers

Thermal transfer overprinting

Laser coding and marking

Drop on demand

Valve jet & hot melt inkjet

By End-User 

Food & beverage

Electrical & electronics

Automotive 

Chemical

Healthcare

Others
Region Covered in the Report
North America
Europe

Germany

U.K.

France

Italy

Spain

Russia

Rest of Europe

Asia-Pacific (APAC)

China

Japan

India

South Korea

Rest of Asia-Pacific

Rest of the World (RoW)

Brazil

Saudi Arabia

South Africa

U.A.E.

Other Countries