Industry Overview
Global coding and marking systems market is projected to contribute USD 4.4 billion in 2020 and is expected to witness a CAGR of 7.0% during 2021–2027. Coding and marking are considered to be the most vital part of the manufacturing and logistics process in consumer and industrial products. It is the system that is extensively being used to print the details on the product and packaging relating to manufacturing date, lot size, expiry date, and other details in order to disperse authentic information to the customers. Moreover, these systems enable the manufacturers to track the products along with the enhanced focus of the manufacturers towards safety concerns, quality assurance of the product and brand establishment.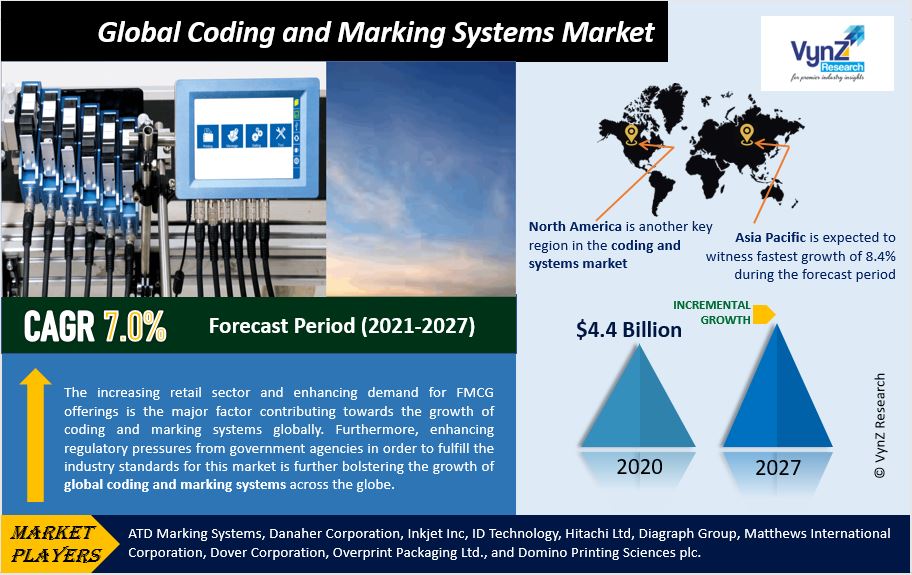 Market Segmentation
Insight by Technology
On the basis of technology, the global coding and marking systems is segmented into continuous inkjet, thermal inkjet, print & apply labelers, thermal transfer overprinting, laser coding and marking, drop on demand, and valve jet & hot melt inkjet. Among all these segments continuous inkjet coding is extensively being adopted by the business organizations due to its affluence of installation. Furthermore, this technology is further projected to generate the largest revenue during the estimated period and thermal transfer printers are expected to witness the fastest growth during the forecast period.
The thermal transfer overprinting technology is convenient for application when a huge bulk of data is expected to be printed on the controlled space. This technology is convenient and easy for its use and also requires low maintenance cost. This technology is extensively being used for marking and coding on primary and secondary packaging of food and beverage offerings, which includes dairy products, snacks and confectionaries. Furthermore, enhanced applicability and low cost benefits provided by this technology is strengthening the growth of this technology in the global coding and marking systems.
Insight by End User
On the basis of end use type, the global coding and marking system market is segmented into food & beverage, automotive & aerospace, electrical & electronics, healthcare, chemical, and others. Food & beverages is further sub-segmented into fruits & vegetables, meat & poultry, pet food & animal feed, dairy products, packaged food and others. Among all these segments food and beverage segment accounted for largest share of more than 45.0% in the global coding and marking systems.
Industry Dynamics
Growth Drivers
The increasing retail sector and enhancing demand for FMCG offerings is the major factor contributing towards the growth of coding and marking systems globally. Furthermore, enhancing regulatory pressures from government agencies in order to fulfill the industry standards for this market is further bolstering the growth of global coding and marking systems across the globe. It has been observed that in the present scenario enlargement of environment-friendly marking system is the existing market due to introduction of several marking devices established upon biodegradable resin.
The accelerating sale of processed foods, packaged snacks, non-alcoholic beverages, dairy items and processed food is enhancing the demand for packaged food and beverage sector across the globe. Additionally, this sector is observed to be the major consumer of coding and marking systems and as a result increasing demand for packaged products in developed as well as developing economy is extensively contributing towards the growth of global coding and marking systems.
Challenges
The high cost of coding and marking systems is expected to hinder the growth of this market amongst the industrial consumers from developing countries that are considered to be price sensitive. Moreover, stringent regulations by the government agencies are further expected to impede the growth of global coding and marking systems market.
Industry Ecosystem
Globally industry players are leveraging market growth through technological upgradation in coding systems, innovation to adapt with ever changing market dynamics and becoming more realistic in its approach. The key players in this industry are implementing new features in the equipment such as improved productivity, touchscreens and the implementation of visual ink containers are optimizing and enhancing efficiency of manufacturing process.
Geographic Overview
Geographically, Asia Pacific is expected to witness fastest growth of 8.4% during the forecast period due to extensive growth in the retail and industrial domain. Additionally, the emerging country in this region such as India is expected to further elaborate the global of this market in the near future. The implementation of legislative norms by the government of various countries in the region is expected to combat the situation of rapid penetration of piracy and counterfeiting. According to a recent report, it has been observed that China Food and Drug Administration has introduced reform for labelling of prepackaged products according to that norm the manufacturers operating in food and beverage industry are required to adhere to certain norms such as inclusion of detailed information pertaining to name of the product, details of producer, storage condition, ingredients and identification of batch. Implementation of these regulatory reforms is thus driving the growth of this market in Asia-Pacific at a rapid pace.
Moreover, North America is another key region in the coding and systems market witnessing considerable growth due to the to technological upgradation along with increasing emphasis of the key industry players upon research and development process.
Competitive Insight
Some of the major players operating in the coding and marking systems industry are ATD Marking Systems, Danaher Corporation, Inkjet Inc, ID Technology, Hitachi Ltd, Diagraph Group, Matthews International Corporation, Dover Corporation, Overprint Packaging Ltd., and Domino Printing Sciences plc.