Industry Overview
The global polylactic acid (PLA) market is anticipated to grow from USD 2.1 billion in 2022 to USD 6.2 billion by 2030, registering a CAGR of 18.3% during the forecast period 2023-2030. PLA is an aliphatic, linear polyester made from lactic acid monomers. It's biodegradable and similar to polypropylene (PP), polyethylene (PE), and polystyrene (PS) (PS). It's the most common sort of biodegradable plastic, made from renewable resources like maize starch, tapioca roots, chips, starch, or sugarcane. PLA is non-toxic and environmentally friendly owing to these renewable raw materials. It is witnessing robust growth owing to PLA's extensive application in the textile, transport, medical, packaging, and electronics industries.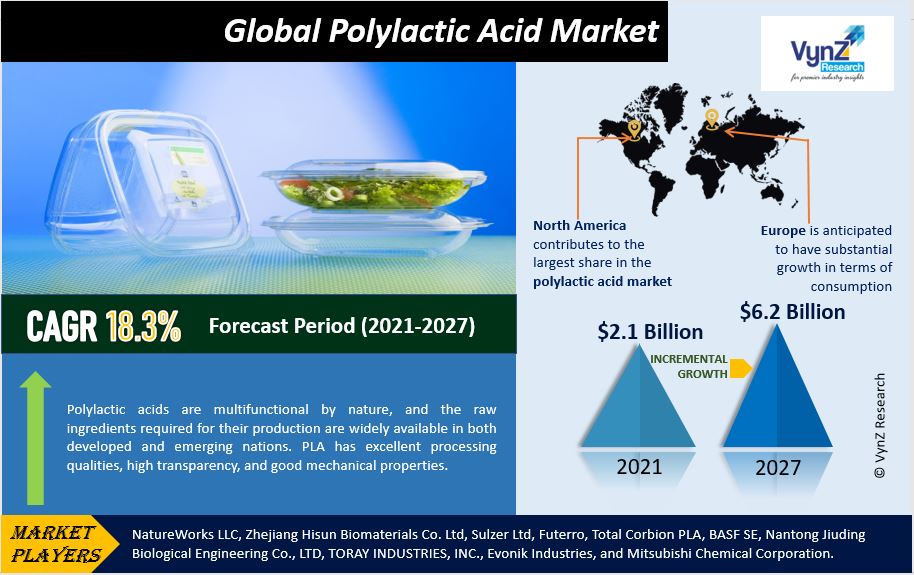 The COVID-19 pandemic has had a positive impact on the polylactic acid market owing to its increased adoption in the packaging industry. The packaged industry's demand has risen significantly as a result of increasing social distance and contactless activities. To ensure maximum hygiene and safety, people are increasingly resorting to packaged goods. Food and beverages have high demand when packed with all of the essential precautions.
Market Segmentation
Insight by Grade
Based on grade, the global polylactic acid market is segmented into thermoforming, extrusion, injection molding, and blow molding. The thermoforming grade category is anticipated to contribute to the largest share of the market as it has huge growth opportunities in several packaging applications like food & beverages, and other consumer products. PLA thermoformed parts have outstanding clarity, as compared to those formed by oriented polystyrene (OPS) and polyethylene terephthalate (PET). Owing to the need for proper temperature requirements for product storage along with thermoformed PL, thus suitable for food packaging trays for baked products, fruits, and vegetables.
Insight by Raw Material
Based on raw material, the global polylactic acid market is segregated into cassava, cornstarch, sugarcane sugar beet, and others. Cornstarch is anticipated to contribute the largest share during 2021-2027 as they are cost-effective and biodegradable.
Insight by Product Type
Based on product type, the global polylactic acid market is segmented into Racemic PPLA, Regular PLLA, PDLA, PDLLA.  PDLLA is anticipated to grow at a faster pace as it is adopted in dentistry for regenerative procedures such as pins, screws, and membranes. Furthermore, it offers a high rate of absorption and is used in orthopedic implants.
Insight by End-Use Vertical
Based on end-use vertical, the global polylactic acid market is classified into packaging, textiles, agriculture, biomedical, electronics, and others. Packaging dominates the polylactic acid market owing to the rising demand for sustainable solutions in various industries like e-commerce, FMCG, and food & beverages. The increased demand for packaged foods, snacks, ready-to-eat meals, etc, will drive the growth in the packaging industry for polylactic acid. Furthermore, the increased demand for flexible packaging will also drive its growth. Microwaveable containers, such as disposable silverware and food containers, are mostly made of polylactic acid. The advantages of packaging containers, like aesthetic appeal, greater printability, and grease and oil resistance, are driving up demand for PLA in the formulation of food packaging solutions around the world.
Industry Dynamics
Industry Trends
The companies and the key players in the industry are emphasizing the increased capacity addition of polylactic acid, thus this trend will proliferate the growth of the polylactic acid market during the forecast period 2021-2027.
Growth Drivers
Polylactic acids are multifunctional by nature, and the raw ingredients required for their production are widely available in both developed and emerging nations. PLA has excellent processing qualities, high transparency, and good mechanical properties. Factors attributing to the growth of the polylactic acid market include rapid industrialization, rising adoption in the packaging industry, mounting demand for polylactic acid in additive manufacturing, initiatives by the government to support PLA, rising preference for biodegradable plastics, and rising investment in research and development activities will proliferate the growth of the market. Also, the increased environmental awareness, ease in availability, low cost of raw material, reduced carbon emissions produced by PLA than conventional plastics, rising demand from personal care and cosmetics, and technological development will further accelerate the growth of the market. Its large-scale deployment in rigid containers used to store yogurt, juice, water, and a variety of other food products is projected to drive demand in the future. PLA is also used clinically as a biomedical scaffold for implants, medication delivery systems, and theranostics. Thus, the innovative applications provided by polylactic acid will create promising growth aspects for the key players in the functioning of the polylactic acid market.
Challenges
The increased production cost, the requirement for industrial composting, and the prevalence of competitive renewable packaging options like Bio-PE, PHA, and Bio-PET will hamper the growth of the market.
Opportunities
The increased prominence of novel applications such as coated cellophane, non-woven fibers, active packaging, agricultural mulching, etc. are being adopted in several industry verticals like agriculture, electronics, food & beverage packaging, biomedical, textiles, etc. will create lucrative opportunities for growth in the polylactic acid market. Furthermore, the increased production of genetically modified corn and increased adoption of Bio-PLA in 3D printing will offer growth avenues in the PLA market.
Geographic Overview
North America contributes to the largest share of the polylactic acid market as most of the PLA production facilities are located in North America. Moreover, subsidies offered by the government to adopt environmentally friendly products, rising demand for bioplastics, and technological development will accelerate the growth in the region.
Europe is anticipated to have substantial growth in terms of consumption owing to support from the government and rising consumer awareness about sustainability.
Competitive Insight
The industry players are adopting various strategies to sustain themselves in the polylactic acid market by going for M&A, collaborations, joint ventures, partnerships, establishing new production processes, establishing new product lines, and making improvements to existing products in the polylactic acid market.
Sulzer offers up an entire plant solution for PLA manufacturing. Sulzer's unique SMRTM technology and equipment are used to polymerize lactide monomers in a continuous, fully integrated process. Sulzer is collaborating with Futerro and Technip Energies to develop sugar-to-PLA plants.
FUTERRO S.A. is a well-known Belgian company that was one of the first to work on the invention of lactic acid and polylactic acid (PLA) in 1992. Futerro has vast industrial experience in the synthesis of lactic acid and PLA on various substrates, and it is constantly improving its methods to produce high-quality PLA with better properties: RENEWTM.
In January 2022, NatureWorks' latest biopolymer manufacturing plant, which will be located in the Nakhon Sawan Biocomplex in Thailand, will receive bespoke state-of-the-art production technology from Sulzer. The fully integrated plant, which was designed to meet the growing global demand for polylactic acid (PLA) bioplastics, will use Sulzer Chemtech's advanced lactide purification and polymer production technology to produce 75'000 tonnes of Ingeo polylactic acid (PLA) per year, which is used in applications such as compostable food packaging acid (PLA) annually, which is used in applications like compostable food packaging.
In November 2021, Danimer Scientific, Inc. and Total Corbion PLA, two leading bioplastics firms focused on the discovery and production of biodegradable materials, announced a long-term collaboration for the supply of Luminy® PLA, a biobased polymer used to make compostable products.
In August 2021, NatureWorks, one of the world's leading manufacturers of low-carbon PLA biopolymers made from renewable resources, announced the completion of their global manufacturing expansion plan for a new fully integrated IngeoTM PLA production facility in Thailand, which is expected to open in 2024. When fully operational, the new factory will have a capacity of 75,000 tonnes of Ingeo biopolymer per year and will be capable of producing the whole Ingeo grade portfolio.
Some of the major industry players in the global polylactic acid market include NatureWorks LLC, Zhejiang Hisun Biomaterials Co. Ltd, Sulzer Ltd, Futerro, Total Corbion PLA, BASF SE, Nantong Jiuding Biological Engineering Co., LTD, TORAY INDUSTRIES, INC., Evonik Industries, and Mitsubishi Chemical Corporation.

Region Covered in the Report
•    North America
- U.S.
- Canada
- Mexico
•    Europe
- Germany
- U.K.
- France
- Italy
- Spain
- Russia
- Rest of Europe
•    Asia-Pacific (APAC)
- China
- Japan
- India
- South Korea
- Rest of Asia-Pacific
•    Rest of the World (RoW)
- Brazil
- Saudi Arabia
- South Africa
- U.A.E.
- Other Countries