Industry Overview
The global busbar market size is expected to reach USD 30.5 billion by 2030 from USD 18 billion in 2022. It will register a CAGR of 6.8% during the forecast period. Busbar, a metallic strip or bar used in high current power distribution is a good conductor of electric current. They are typically found inside panel boards, switchgear, switch panels, and busway enclosures. Copper, aluminum, brass, and other effective alloys with high conductivity and low energy loss during transmission are the metals that are most frequently used to make busbars. Additionally, the busbar industry is expanding as a result of the fact that they minimize installation costs, have minimal downtime, and substitute wires and other related components. Some of the main benefits influencing product acceptance favorably in the busbar market include lower thermal resistance, adjustability of tap-off settings, bulk power transmission over long distances, minor fire threats, and reduced cable hassle. Thus, busbars are secure, reliable, and eco-friendly, thereby aiding the global busbar industry to expand.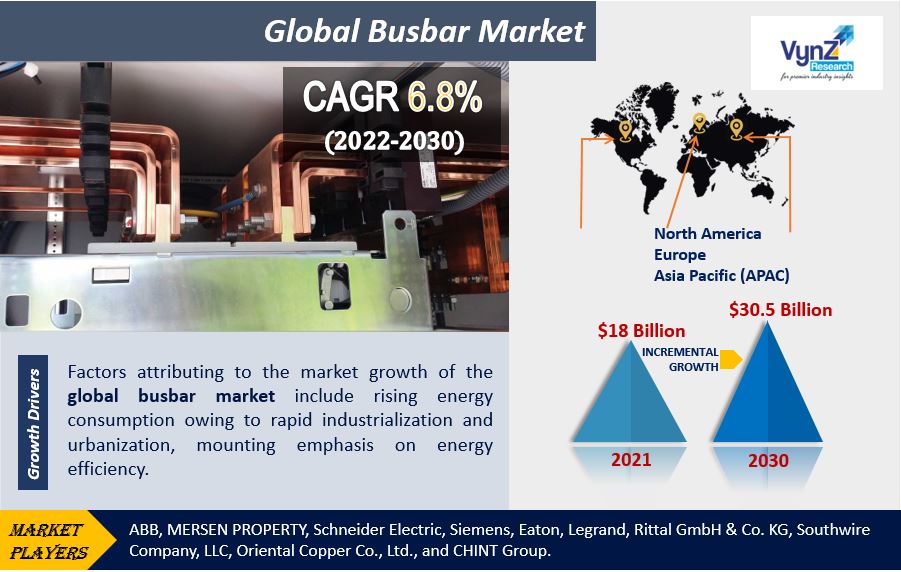 The expansion of busbar installations in commercial facilities such as hotels, research centers, and hospitals, as well as residential buildings, is expected to boost the global busbars market's positive outlook.
Market Segmentation
Insight by Conductor
Based on Conductor, the Global Busbar Market is bifurcated into Aluminum and Copper. Aluminum is expected to grow at a high CAGR during the forecast period as it offers high electrical conductivity and efficiency along with high metal strength and lighter weight. Moreover, the loss of energy during transmission is less in comparison to other metals, capacity to carry high loads over long distances, and cost viability over other accessible substitutes, thereby driving market demand for aluminum in the global busbar industry.
Insight by Power Rating
Based on Power Rating, the Global Busbar Market is segregated into Low Power (Below 125 A), Medium Power (125 A- 800 A), and High Power (Above 800 A). Low Power is expected to grow at a faster pace during the forecast period owing to increased demand from small buildings, warehouses, factories, subways, marine applications, etc. They are ubiquitously used in distribution panels and switchboards across utilities, industries, and residential applications, giving them a broader market coverage than medium and high-power busbars.
Insight by End-User
Based on End-User, the Global Busbar Market is segmented into Utilities, Residential, Commercial, and Industrial End-Users. Industrial End-Users include Chemicals & Petroleum, Metals & Mining, Manufacturing, and Others. The utility segment dominates the industry owing to the increased deployment in several applications like motor controls, switchgear, transformers, distribution borders, etc.
The commercial segment is expected to have a high CAGR during the forecast period owing to the development of smart and green city concepts. Also, busbars can be easily installed and save space, thereby substituting conventional cables with busbars in the commercial sector.
Global Busbar Market Report Coverage
| | |
| --- | --- |
| Report Metric | Details |
| Historical Period | 2018–2022 |
| Base Year Considered | 2022 |
| Forecast Period | 2023 - 2030 |
| Market Size in 2021 | $18.00 Billion |
| Revenue Forecast in 2030 | $ 30.50 Billion |
| Growth Rate | CAGR 6.8% |
| Segments Covered in the Report | By Conductor, By Power Rating, and By End-User |
| Report Scope | Market Trends, Drivers, and Restraints; Revenue Estimation and Forecast; Segmentation Analysis; Impact of COVID-19; Companies' Strategic Developments; Market Share Analysis of Key Players; Company Profiling |
| Regions Covered in the Report | North America, Europe, Asia-Pacific, Middle East, and Rest of the World |
Industry Dynamics
Growth Drivers
Factors attributing to the market growth of the global busbar market include rising energy consumption owing to rapid industrialization and urbanization, mounting emphasis on energy efficiency, and operational and cost benefits of busbar over cables will drive the market development of the global busbar industry. Also, the busbar has excellent mechanical strength, can withstand high temperatures, and can dissipate heat. Moreover, rising demand for reliable and uninterrupted supply in industrial and commercial sectors, increasing concern about reducing energy losses in electric transmission and distribution activities, increasing the number of data centers, and increased investment owing to technical innovation and operational efficiency in power infrastructure will bolster market advancement of the global busbar industry.
Sales of busbar systems have a significant opportunity because infrastructure spending is increasing and smart grid usage is expanding. Also, a solid aluminium busbar is used in the transportation industry to connect batteries to electrical components. Increased demand for commercial or passenger vehicles would help the busbar market grow, as the busbar is a necessary component of vehicular operations.
Busbars can be found in a diverse range of environments, including railway stations, logistics storage and warehouses, shopping malls, and airports. They can also be used in manufacturing and storage facilities. Busbar is in charge of providing trouble-free power distribution, thus improving busbar system market operations.
Challenges
Fluctuations in the price of raw materials such as copper and aluminum, the huge initial cost of busbar installations as well as low-quality and low-cost product offerings by competitors, are some key factors that may limit the market growth.
Opportunities
The industry players will have ample market opportunities in the global busbar industry owing to
Development of smart cities and power sector reforms that will upgrade transmission and distribution networks.
Surge in adoption by wind power generation and distribution industry that uses busbars at various levels of the power distribution process.
Increased Solar Power Capacity.
High Voltage Direct Current (HVDC) Transmission is in high demand.
Geographic Overview
North America
Europe
Asia Pacific (APAC)
Rest of the World (RoW)
Asia Pacific dominates the global busbar market. An increased emphasis on energy efficiency and high energy consumption as a result of the region's urbanization and industrial expansion will be the driving forces behind the Asia Pacific Busbar market. Due to significant investments in smart cities, green development, high-rise buildings, and transport systems, notably in Southeast Asia, the Asia Pacific region have the main market for busbar trucking. Rising power demand, industrialization, urbanization, and the quick expansion of a nation's corporate sectors are further important drivers.
Competitive Insight
The global busbar market is characterized by fierce competition among the world's largest manufacturers. The presence of multinational players makes it difficult for developed economies to compete; however, emerging economies such as China and India are driven by local players. Some of the key trends observed in the market include new product development, capacity expansion, and merger activities that are likely to have an impact on the market. Also, market participants are concentrating on introducing a new form of data transmission for the BD2, LD, and LI busbar trunking systems. Furthermore, key players are collaborating to improve the applications of Busbars and its technological foundation.
ABB busbar systems connect Miniature Circuit Breakers, Residual Current Devices, and other Modular DIN Rail components in a safe and cost-effective manner.  The following factors must be considered when choosing a busbar: MDRC terminal type (twin or cage terminal), number of poles, device type, combinations, busbar diameter (for calculating current carrying capacity), number of modules (choice of standard busbar or busbar for cutting).  The primary advantages:
Busbar systems ensure a secure and cost-effective connection.
Simple to incorporate.
Compatibility with a wide variety of codes
Eaton is an intelligent power management company that strives to enhance people's lives and protect the environment around the world. Eaton's busbar chamber system is intended to provide either compact, wall-mounting installations or easily assembled switchboards via optional pedestal sets. Every facility is provided to allow Eaton's switchgear and distribution gear to be easily and economically mounted to busbar chambers that can be applied to either a suitable load-bearing vertical surface or, using a pedestal set, to a vertical surface that does not need to be load-bearing.
Recent Development by Key Players
In January 2023, Mersen, a global leader in electrical power and advanced materials, has been chosen by Automotive Cells Company (ACC), a joint venture of Stellantis, TotalEnergies/Saft, and Mercedes-Benz, to supply smart laminated busbars for its next-generation of sustainable and efficient batteries for the European EV market. These busbars are essential for connecting Li-ion cells and communicating with the Battery Management System. Mersen will produce the busbars in Auvergne-Rhône-Alpes and deliver them to their gigafactory in Billy-Berclau Douvrin.
In January 2022, UK Power Networks, which serves 8.3 million homes and businesses in the United Kingdom, commissioned ABB to supply the world's first 36 kV medium-voltage double busbar AirPlus Gas Insulated Switchgear (GIS). It contains AirPlus gas, which acts as an insulator between the electrical contacts while causing almost no global warming. UK Power Networks, the UK's largest electricity distributor, has announced plans to use AirPlus, ABB's innovative sustainable alternative to SF6 switchgear, at its substation in Kent as part of its Environmental Action Plan to leave a sustainable planet to future generations.
Key Players Covered in the Report
Some of the major players operating in the global busbar market include ABB, MERSEN PROPERTY, Schneider Electric, Siemens, Eaton, Legrand, Rittal GmbH & Co. KG, Southwire Company, LLC, Oriental Copper Co., Ltd., and CHINT Group.
The Busbar Market report offers a comprehensive market segmentation analysis along with an estimation for the forecast period 2023–2030.
Segments Covered in the Report
By Conductor 
By Power Rating 

Low Power (Below 125 A)
Medium Power (125 A- 800 A)
High Power (Above 800 A)

By End-User 

Utilities
Residential
Commercial
Industrial End-Users

Chemicals & Petroleum
Metals & Mining
Manufacturing
Others
Region Covered in the Report
North America
Europe

Germany
U.K.
France
Italy
Spain
Russia
Rest of Europe

Asia-Pacific (APAC)

China
Japan
India
South Korea
Rest of Asia-Pacific

Rest of the World (RoW)

Brazil
Saudi Arabia
South Africa
U.A.E.
Other Countries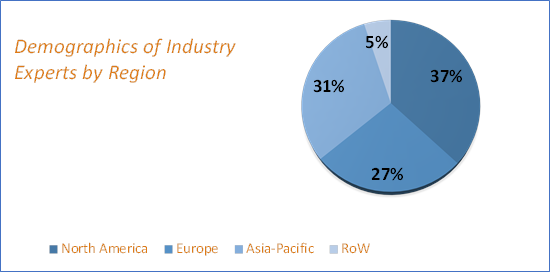 Source: VynZ Research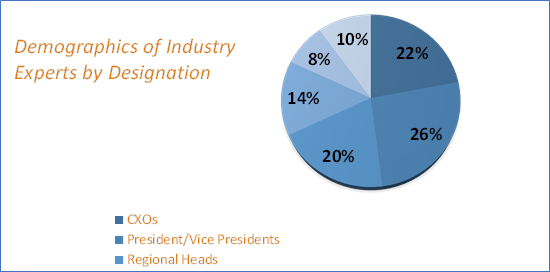 Source: VynZ Research