Industry Overview
The global concentrated photovoltaic (CPV) market is expected to grow from USD 76.0 billion in 2020 to USD 143.0 billion by 2030, at a CAGR of 8.0% during the forecast period.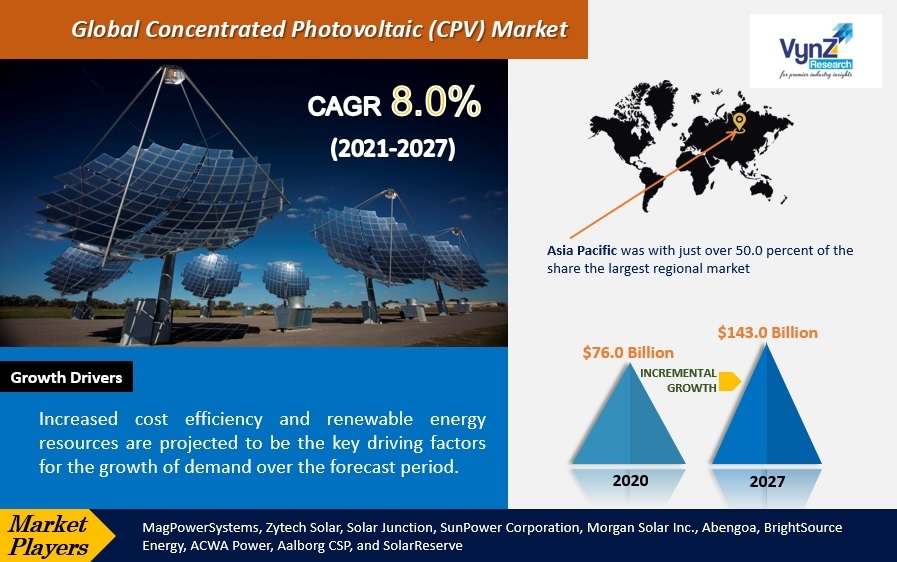 CPV technology uses optics such as curved mirrors or lenses for vast amounts of sunlight to generate energy from a small area of solar photovoltaic (PV) cells. The advantages of CPV systems over non-concentrated photovoltaic systems are numerous. As a smaller photovoltaic area is needed, the solar cells can save CPV money. To absorb the same sunlight as non-concentrated PV, CPV requires less photovoltaic materials. CPV uses high efficiency, but cost-effectively viable multi-connection cells due to lower space requirements. However, CPV systems need to spend additional money on solar trackers, focusing optics (mirrors, lenses) and cooling systems to achieve sunlight focus on the limited photovoltaic region. Continuous research and development nevertheless seek to boost and minimize CPV technology costs.  
Market Analysis of Concentrated Photovoltaic Market
The market for concentrated photovoltaics is expected to increase awareness of the use of renewable energy for generating power, combined with rising demand for grid-connected electricity. Previously, high photovoltaic prices relative to solar photovoltaics were a big restrain. During its prediction time, decreasing silicone prices and improving module designs should have a beneficial effect on the market.
Europe is projected to remain the largest regional market with 16,48 GW of PV demand, which accounts for approximately half of the global demand, according to the Plastics Institute of America. Asia-Pacific was the second largest market driven by the Chinese market's remarkable growth. To become the world's leading PV user, China is expected to outpace Germany in the coming year. The three main factors that drive solar adoption worldwide are government green goals, financial incentives, and technology cost reductions. Major drivers for solar photovoltaics are government policies. Solar, regardless of government policies and incentives around the world, is expected to be cost-effective in 2020 for conventional electricity.
Growth Drivers of Concentrated Photovoltaic Market
Rapid price declines for traditional photovoltaic modules have led to a rise in CPV demand and other silicone-based solar technologies. In addition, CPV needs a rather smaller installation area which is expected soon to increase its demand. Solar technology in areas of direct sunlight is used. The industry is still in its infancy and is used mainly for special purposes.
Governments across countries seek to make use of renewable energy sources. Commercial and utility sectors are the main application segments involving concentrating photovoltaic technologies. The usage segment dominates the photovoltaic concentrated market. The growing demand for centralized photovoltaic applications over the forecast period is expected to increase over the projected period in the energy purchase agreements between private companies and electricity boards. The global concentrated photovoltaic market is expected to dominate the Asia Pacific region. The market is expected to boost the presence of emerging economies such as India and China. The government of China is expected to adopt the 13th five-year plan to reduce carbon emissions to fuel the growth over the forecasted period of the global concentrated photovoltaic market.
The global industry demand for CPV will drive in the coming years forecasts of market competition, improved reliability, and efficiency improvements. In addition, the boom in the global photovoltaic concentrator market can be driven by incentives and government subsidies for achieving renewable energy objectives.
Increased cost efficiency and renewable energy resources are projected to be the key driving factors for the growth of demand over the forecast period. Moreover, the demand growth from 2016 to 2023 is also expected to increase from lower land requirements. In the next few years, however, the lack of technical acceptance and the restricted sites with high direct normal irradiations would likely hamper growth in demand.
Market Segmentation
By Product:
- Refractors
- Reflectors
Due to the growing preference for Fresnel lens, refractors are dominating the concentrated photovoltaic market. Fresnel lens and photovoltaic high-concentration systems together provide a maximum efficiency that is estimated to keep demand high over the forecast period. The capacity and performance of refractors in areas with varying light intensity to tolerate the misalignment of solar cells are high aspects that drive their demand.
By Level of Concentration:
- High Concentration Photovoltaic
- Low Concentration Photovoltaic
Due to the increased module performance, high levels of photovoltaics are expected to experience high demand during the forecast period. This decreases the size of the solar module by higher efficiency, thus increasing overall cost-effectiveness. The rising demand for high-efficiency and low-cost photovoltaic modules is expected to have a positive effect on the market penetration of high photovoltaic concentrations.
By Application:
With an 85.9 percent proportion of total volume, the utility application segment dominated the industry. With revised low CPV prices, manufacturers prefer CPV over photovoltaics. There is a need to raise investment associated with major construction pipelines. In large economies like India, China, and North America, the growth of this application segment is expected to be strong. This may be partly due to the extremely high level of radiation. In-host concentrated photovoltaic systems will likely be enhanced in the utility segment by expanded energy purchase arrangements between electricity boards and private-sector companies.
By Region:
- Asia Pacific
- Europe
- Middle East and Africa
- North America
- Central and South America
By value, Asia Pacific was with just over 50.0 percent of the share of the largest regional market. China, which is expected to increase its concentrated photovoltaic power, is particularly driving demand in the Region. The second fastest-growing region is projected to be the Middle East and Africa, with increasing demand mainly driven in South Africa. Areas covered in sand dunes achieve full surface sunlight and the installation of CPV is greatly increased. Further demand for concentrated photovoltaics will be increased over the forecast period in future solar projects in Morocco and Jordan.
Competitive Landscape and Key Players
- MagPowerSystems
- Zytech Solar
- Solar Junction
- SunPower Corporation
- Morgan Solar Inc.
- Abengoa
- BrightSource Energy
- ACWA Power
- Aalborg CSP
- SolarReserve
Mergers and acquisitions and the development of new goods are some of these players' strategic initiatives. Many businesses have embraced the technology to produce solar cells by launching the multi-junction Solar Cell. Saint-Augustin Canada Electric (STACE) is one of the most significant acquisitions of Soitec solar CPV technology. Profitability for the scaling challenges currently face manufacturers. In response to favorable environmental conditions and governmental support, Zytech Solar announced plans to enter both New Zealand and Australian markets.
News Update on the Concentrated Photovoltaic Market
The global concentrated photovoltaics industry will understand how consumers value post-COVID-19 and develop new research and personalized experiences based on these insights. The outbreak of the coronavirus is shaking the global economy massively. However, it could be an exciting opportunity in the globally focused photovoltaics market to battle the present and forthcoming economic implications of this Black Swan event.
The paint for a new generation of so-called solar concentrating plants is being produced (CSP). Firstly, it is very effective to absorb the sun. Second, it can withstand extremely high air temperatures above 700°C. The research is sponsored by the SunShot initiative of the US government that aims to make solar energy competitive as financially as other power production types at the end of the decade. According to the U.S. Energy Information Administration, solar energy accounts for less than 1% of all mass electricity output in the U.S.
Solar is the fastest-rising power technology in the world already. Ten years ago, there were just 20 gigawatts installed world-widespread solar energy – a gigawatt of approximately 1 gigawatt is the output of a single large power station. While Covid-19 has been disrupted, the predicted London-based research company IHS Markit is likely to add 105 new worldwide this year. Most solar cells consist of silicon crystal wafer-thin slices, 70% of which are manufactured in China and Taiwan.
A secret Bill Gates-funded start-up has achieved a solar breakthrough to save the world. Heliogen, a renewable energy firm that came out of stealth mode on Tuesday, said it found a way to use artificial intelligence and a mirror field to reveal too much solar light, producing extremely hot temperatures above 1,000° Celsius.
Primary Research
VynZ Research conducts extensive primary research to understand the market dynamics, validate market data, and have key opinions from industry experts. The key profiles approached within the industry include, CEO, CFO, CTO, President, Vice President, Product Managers, Regional Heads, and Others. Also, end user surveys comprising of consumers are also conducted to understand consumer behavior.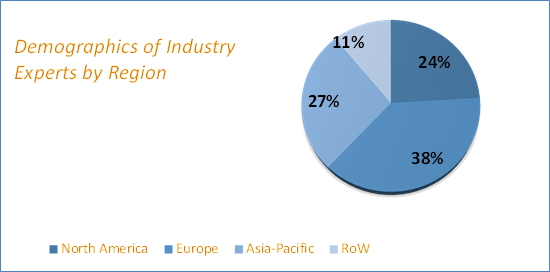 Source: VynZ Research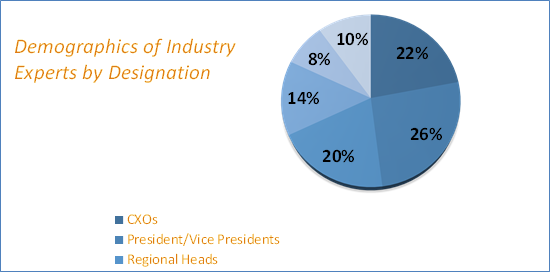 Source: VynZ Research