Industry Overview
Offshore wind farms are large-scale wind farms situated in bodies of water, typically oceans or seas. They consist of numerous wind turbines anchored to the seabed, with each turbine equipped with rotor blades that harness wind energy. This rotational motion drives a generator, converting kinetic energy into electricity (electric energy). Offshore locations are chosen for their consistent and powerful winds, allowing for higher energy output compared to onshore farms. The electricity generated is then transmitted via underwater cables to onshore substations and integrated into the electrical grid for distribution to homes and businesses. Offshore wind farms play a crucial role in sustainable energy production, reducing reliance on fossil fuels.
Global Offshore wind farms market was worth USD 24.70 billion in 2022 and is expected reach USD 102.00 billion by 2030 with a CAGR of 21.56% during the forecast period, i.e., 2023-2030. Offshore wind farms demand is rising due to increasing global demand for clean, renewable energy sources. Technological advancements, declining costs, and government incentives further accelerate the expansion, making offshore wind a pivotal component in combating climate change.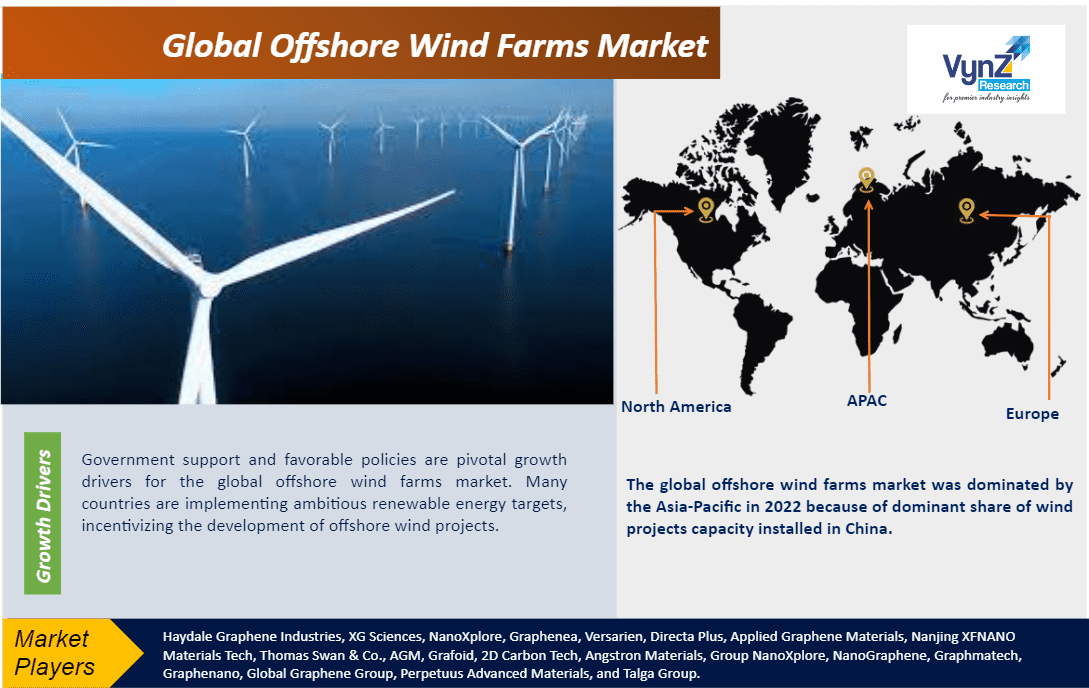 Geographically, the market is expanding rapidly in Europe and the Asia Pacific, as a result of the presence of suitable conditions for offshore wind farms, growing investment towards renewable energy, and favorable government policies; however, the market confronts constraints such as high upfront costs, complex regulatory approvals, potential environmental impacts, transmission infrastructure limitations, and geopolitical considerations in shared water territories. Overall, the global offshore wind farms market offers potential prospects for market participants to develop and fulfill the growing needs of wide range of industries including transportation, energy storage, consumer electronics, and other industries.
Market Segmentation
Insight by Power Rating
Based on the power rating, the global offshore wind farms market is segmented into ≤ 2 MW, >2 ≤ 5 MW, > 5 ≤ 8 MW, > 8 ≤ 10 MW, > 10 ≤ 12 MW, > 12 MW. In 2022, > 8 ≤ 10 MW power rating offshore wind farms dominated the global offshore wind farms market. Major projects such as the Hornsea One wind farm, equipped with Siemens Gamesa's 8 MW turbines, illustrate their widespread use. Partnerships between industry leaders, such as Ørsted and Siemens Gamesa's collaboration on multiple projects, demonstrate the preference for these high-capacity turbines. Their optimal balance of output and cost-efficiency positions them as a dominant choice for offshore wind farms; however, > 10 ≤ 12 MW power rating is emerging as promising options for the future, particularly in deep-sea locations.
Insight by Installation
Based on the installation, the global offshore wind farms market is segmented into fixed and floating. In 2022, fixed segment dominated the market due to established technology and cost-effectiveness. These foundations, firmly anchored to the seabed, are simpler and more economical to construct. For instance, the Hornsea One project in the UK, operated by Ørsted and with a capacity of 1.2 GW, showcases the success of fixed installations. Partnerships like Equinor and SSE's collaboration on the Arklow Bank Wind Park also highlight the industry's confidence in this approach. While floating platforms show promise in deeper waters, the maturity and proven track record of fixed installations currently secure their position as the prevailing choice in the global offshore wind farms market.
Offshore Wind Farms Market Report Coverage
| | |
| --- | --- |
| Report Metric | Details |
| Historical Period | 2018–2022 |
| Base Year Considered | 2023 |
| Forecast Period | 2023 - 2030 |
| Market Size in 2022 | $24.70 Billion |
| Revenue Forecast in 2030 | $102.00  Billion |
| Growth Rate | CAGR 21.56% |
| Segments Covered in the Report | By Power Rating and By Installation |
| Report Scope | Market Trends, Drivers, and Restraints; Revenue Estimation and Forecast; Segmentation Analysis; Impact of COVID-19; Companies' Strategic Developments; Market Share Analysis of Key Players; Company Profiling |
| Regions Covered in the Report | North America, Europe, Asia-Pacific, Middle East, and Rest of the World |
Industry Dynamics
Growth Drivers
Support from the government and favorable policies
Government support and favorable policies are pivotal growth drivers for the global offshore wind farms market. Many countries are implementing ambitious renewable energy targets, incentivizing the development of offshore wind projects. For instance, Denmark's ambitious plan to construct the Energy Island in the North Sea exemplifies this trend. Additionally, partnerships between governments and industry leaders, like the collaboration between Equinor and the UK government for the Dogger Bank Wind Farm, demonstrate the mutually beneficial efforts to drive the sector forward. These supportive policies and strategic alliances are instrumental in accelerating the expansion of offshore wind energy on a global scale.
Technological Advancement and Decreasing Costs
Another significant growth driver for the global offshore wind farms market is advancing technology and falling costs. Technological innovations have led to more efficient turbines and streamlined installation processes, reducing overall project expenses. Noteworthy collaborations, like Ørsted's partnership with Eversource for the Revolution Wind project, showcase the industry's momentum. Landmark developments such as the Hornsea One wind farm in the UK, boasting a record-breaking capacity, exemplify the sector's progress. These advancements, coupled with increased investments and ambitious production targets, underscore the industry's potential to play a dominant role in the transition towards sustainable, renewable energy sources on a global scale.
Challenge
Transmission and Grid Integration
One major challenge for the global offshore wind farms market is transmission and grid integration. Harnessing energy at sea necessitates efficient transmission infrastructure to deliver power to onshore grids. Constructing high-capacity underwater cables and upgrading onshore substations require substantial investments and careful planning. Additionally, the variability of wind patterns at sea demands advanced grid management techniques to ensure a reliable power supply. Overcoming these logistical and technical hurdles is crucial for maximizing the potential of offshore wind energy and realizing its role in the transition towards sustainable, low-carbon power generation on a global scale.
Geographic Overview
North America

Europe

Asia Pacific (APAC)

Rest of the World
The global Offshore wind farms market is segmented into North America, Europe, the Asia-Pacific, and rest of the world region. The global offshore wind farms market was dominated by the Asia-Pacific in 2022 because of dominant share of wind projects capacity installed in China. According to the 'Offshore Wind Market Report: 2023 Edition' by the US Department of Energy, out of 8,385MW of new offshore wind projects, 5,719.6MW capacity was installed in China and 331MW in Vietnam.
Moreover, robust investments, supportive policies, and strategic partnerships further support the dominant position of the region in the global offshore wind farms market. Notable projects like the Chuncheon and Yunlin wind farms showcase the region's capacity and collaborations between key players like Ørsted and local companies further bolster the region's dominance, establishing it as a pivotal force in offshore wind energy space.
Competitive Insight
Ørsted stands at the forefront of the global offshore wind farm market, holding a dominant position. Renowned for its pioneering role, Ørsted has spearheaded numerous significant projects worldwide including notable partnerships with major energy companies and governments. For instance, in the US, Ørsted collaborated with Eversource to develop critical wind farms like Revolution Wind and South Fork Wind. The company's substantial investment in research and development further solidifies its leadership, enhancing turbine efficiency and lowering costs. With an impressive production capacity and a track record of successful ventures, Ørsted continues to drive the industry's transition towards sustainable energy solutions.
Siemens Gamesa Renewable Energy holds a formidable position in the global offshore wind farm market. The company's strategic collaborations with industry leaders and governments, such as Ørsted and Orsted, have propelled its influence. Noteworthy projects like the Hornsea One and Hornsea Two wind farms in the UK exemplify Siemens Gamesa's technical prowess and scale of operation. Substantial investments in cutting-edge technology and infrastructure underscore their commitment to advancing the sector. With an impressive production capacity and a strong track record of successful ventures, Siemens Gamesa remains a vital force in driving the transition towards sustainable offshore wind energy solutions around the world.
Recent Development by Key Players
In October 2023, Statkraft completed the acquisition of Njordr Offshore Wind (NOW) from Vindkraft Värmland and Njordr. NOW holds a pre-permit portfolio of nine offshore wind projects in the Swedish economic zone with a total potential for up to 21 GW of installed capacity and as part of the acquisition agreement, Statkraft has committed to fully fund the maturation of the portfolio in the coming two years.
In October 2023, A consortium of leading Danish players, DTU, DHI, Siemens-Gamesa Renewable Energy, Stiesdal Offshore, Stromning and Ørsted, established a test lab for floating wind turbines in the 20 MW class. The lab includes wind, waves and a model scale wind turbine with measurements connected directly to calculation models in a 'Digital Twin' setup.
Key Players Covered in the Report
Ørsted, Siemens Gamesa, Vestas, Equinor, RWE, E.ON, Enbridge, EnBW, Dominion Energy, Vattenfall, SSE, Iberdrola, ScottishPower, Shell, Northland Power, wpd, EDPR, CGN (China General Nuclear Power Group), Macquarie Group, and Copenhagen Infrastructure Partners (CIP).
The Offshore wind farms market report offers a comprehensive market segmentation analysis along with an estimation for the forecast period 2023–2030.
Segments Covered in the Report
≤ 2 MW

>2 ≤ 5 MW

> 5 ≤ 8 MW

> 8 ≤ 10 MW

> 10 ≤ 12 MW

> 12 MW
Region Covered in the Report
Germany

U.K.

France

Italy

Spain

Russia

Rest of Europe
China

Japan

Vietnam

India

South Korea

Rest of Asia-Pacific
Primary Research Interviews Breakdown