Industry Overview
The global photovoltaic market size is expected to reach USD 140.5 billion by 2030 from USD 85.6 billion in 2022. It is expected to register a CAGR of 9.5% during the forecast period.  The technique of converting light (Sunlight) into electricity using specific types of materials, such as semiconductors, is known as photovoltaic (PV). The photovoltaic effect is noticeable in these semiconducting materials. It is environmentally friendly since it may generate electricity from a renewable source without increasing the carbon impact. Because it differs from traditional systems, it has proven to have low operating costs. The need for solar panels for power generation is growing as daily electricity demand rises. The growth of the solar photovoltaic (PV) market is due to the growing need for alternative energy sources and the rising concern over climate change. The favorable initiatives by the government and the surge in demand for PV systems for residential applications will propel the market demand for the global photovoltaic industry.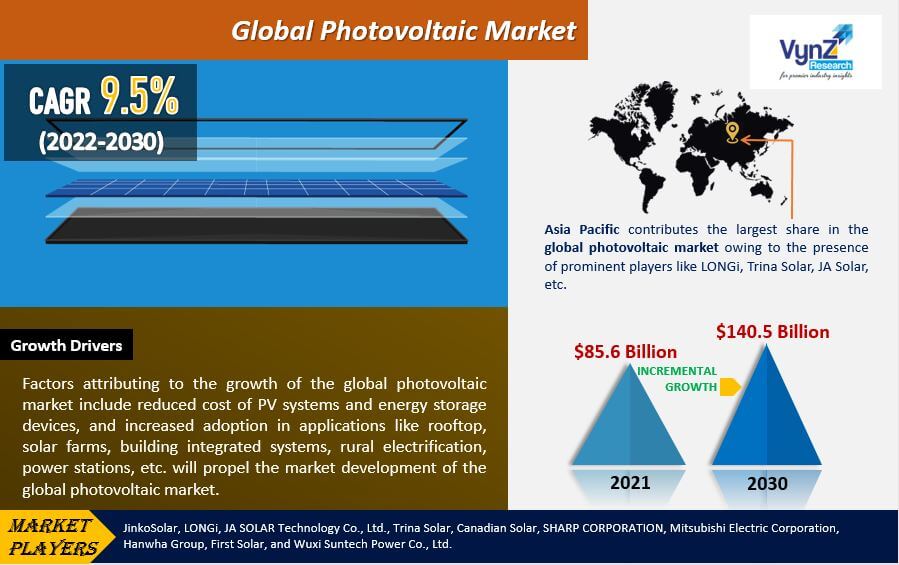 Market Segmentation
Insight by Type
Based on Type, the global Photovoltaic market is segregated into Modules, Inverters, and Balance of Systems (BOS). The market share of inverters is anticipated to dominate in the coming years. The market's expansion is attributed to the rising use of PV inverters in utilities and residential applications. PV inverters are commonly employed in the business electrical grid and for domestic purposes as it convert the variable DC power of a PV solar panel into AC power. The advantages that PV inverters offer, include independent functioning of each panel, increased fire safety, ease of installation, and low cost, thereby increasing inverter demand in the photovoltaic industry.
Insight by Technology
Based on technology, the market of photovoltaic is segmented into Monocrystalline Silicon, Thin Film, Polycrystalline Silicon, and Others. The monocrystalline silicon category contributes the largest market share in the photovoltaic industry as it is one of the most prominent solar panels in rooftop systems and is commonly used for large-scale installations in residential and commercial areas.
Insight by Grid Type
Based on Grid Type, the photovoltaic market is bifurcated into On-Grid and Off-Grid. The on-grid category is anticipated to grow at a higher pace owing to its low maintenance and operating costs and offering non-complexity to the grid-connected PV systems. On-grid PV systems are inexpensive since they transmit any excess electricity they produce to grids. These solutions do not require the installation of battery storage near them.
Insight by Installation
Based on the installation, the photovoltaic market is segregated into Ground Mounted, Rooftop, and Others. The ground-mounted category contributes the highest market share in the photovoltaic industry. Ground-mounted solar for utility or commercial projects is extremely cost-effective and there is an increased number of installations owing to high maintenance and operation efficiencies. During the projected period, the increased demand for utility-scale is anticipated to persist, with significant demand from China and several developing economies worldwide leading to the installation of ground-mounted PV modules. Moreover, the rooftop is growing at a faster pace as the solar rooftop model offers fewer pollution threats to the environment.
Insight by Application
Based on Application, the global Photovoltaic market is subdivided into Residential, Non-Residential, and Utilities. The residential segment is anticipated to have a high CAGR during the forecast period owing to the increasing number of PV systems installations on homes or building rooftops to provide electricity, the surge in the integration of building-integrated photovoltaic (BIPV) on the walls or roof of new industrial and domestic buildings as an auxiliary or primary source of electrical power will bolster the growth of the photovoltaic market.
Photovoltaic Market Report Coverage
| | |
| --- | --- |
| Report Metric | Details |
| Historical Period | 2018–2022 |
| Base Year Considered | 2022 |
| Forecast Period | 2023 - 2030 |
| Market Size in 2021 | $85.6 Billion |
| Revenue Forecast in 2030 | $140.5 Billion |
| Growth Rate | CAGR 9.5% |
| Segments Covered in the Report | By Type, By Technology, By Grid Type, By Installation, and By Application |
| Report Scope | Market Trends, Drivers, and Restraints; Revenue Estimation and Forecast; Segmentation Analysis; Impact of COVID-19; Companies' Strategic Developments; Market Share Analysis of Key Players; Company Profiling |
| Regions Covered in the Report | North America, Europe, Asia-Pacific, Middle East, and Rest of the World |
Industry Dynamics
Growth Drivers
Factors attributing to the growth of the global photovoltaic market include reduced cost of PV systems and energy storage devices, and increased adoption in applications like rooftop, solar farms, building integrated systems, rural electrification, power stations, etc. will propel the market development of the global photovoltaic market. Moreover, increased emphasis on PV frameworks for commercial and residential applications, declining cost of energy storage devices and PV frameworks, developing projects related to renewable energy sources, continuous technological advancements in the production of sun-powered cells, and steadily increasing the number of PV installations worldwide are expected to improve the development of the market in the coming years. Furthermore, the rising number of off-grid areas globally and mounting investment in solar energy will propel the market development of the global photovoltaic industry.
Challenges
The two main barriers to market expansion are a dearth of technically qualified employees for PV installation and maintenance and the higher costs associated with installing PV systems. Moreover, solar power projects necessitate a large amount of land for power generation. The selection of land may be one of the other restraints that may hamper the global photovoltaic market.
Opportunities
The following factors provide key players with numerous opportunities in the global photovoltaic market:
•    Rising demand for renewable energy
•    Technological development in solar cell manufacturing 
•    In the near future, it is anticipated that numerous government initiatives in developing nations like Southeast Asia and Africa to provide 100% access to electricity in rural areas, along with off-grid applications and technological advancements in solar PV modules, will lead to a wealth of opportunities.
Geographic Overview
Asia Pacific contributes the largest share in the global photovoltaic market owing to the presence of prominent players like LONGi, Trina Solar, JA Solar, etc. in the region along with increased usage of PV modules, increased government investment, and policies to save energy and promote solar energy will drive the growth in the region. Asia-Pacific is also the largest producer and consumer of PV modules and components.
Competitive Insight
A radical movement toward profitable new product innovations, precise manufacturing, optimization, and standardized production processes for power output, lower emissions, and affordable installation costs will have an even greater impact on the corporate landscape. Some of the crucial marketing tactics the industry participants employ to keep their place on the market include mergers and acquisitions, partnerships, new product development, business expansions, collaborations, supply contracts, agreements, and contracts. The top market participants are expanding their product offerings by developing product lines tailored to particular industries.

JA Solar, a producer of high-performance photovoltaic products, was established in 2005 and offers silicon wafers, cells, modules, and photovoltaic power stations. It has 12 manufacturing facilities and more than 20 branches worldwide. Ground-mounted power plants, commercial and industrial rooftop PV systems, and residential rooftop PV systems all frequently use JA Solar equipment. Their PV module includes a 60-cell MBB Half-cell Module, 72-cell MBB Half-cell Module, 72-cell MBB Bifacial PERC Half-Cell Double Glass Module, 54-cell MBB Half-cell Module, 60-cell MBB Bifacial PERC Half-Cell Double Glass Module, and 72-cell MBB Bifacial PERC Half-Cell Double Glass Module.

Mitsubishi Electric is a leading manufacturer of photovoltaic modules and AC-DC inverters around the world. Mitsubishi currently offers Diamond Pro, Diamond Premium, Black Diamond, Neo Solar Power (NSP), and NSP Plus series. Furthermore, the 120 half-cut, four-busbar cells in the Diamond Premium monocrystalline modules (265W-280W) make them perfect for household and smaller commercial systems. Alternative aesthetic and efficiency choices are provided by the 60-cell monocrystalline Diamond Pro (265W-275W) and Black Diamond (275W-280W) modules. The 72-cell monocrystalline XL solar panels of the NSP (350W-360W) and NSP Plus (320W-330W) lines, however, are specifically made for industrial and commercial installations.
Recent Development by Key Players
•    A new solar module from Longi has been launched In September 2022 for domestic and commercial use in the US. Beginning in early 2023, it will be offered as a mono-facial module first, then as a bifacial module. New M10 182 mm monocrystalline wafers are used to construct the Hi-MO 5 54-cell module. The module has a maximum efficiency of 21.3% and generates up to 415 W.
•    In May 2022, JinkoSolar contracted to deliver 200 MW of its Tiger Neo PV modules to China General Nuclear Power Group (GCN). The n-type Topcon cells used in the solar panels have an average efficiency of up to 24%. The panels will be used by GCN for a number of projects in Inner Mongolia, China.
Key Players Covered in the Report
Some of the major players operating in the global photovoltaic market include JinkoSolar, LONGi, JA SOLAR Technology Co., Ltd., Trina Solar, Canadian Solar, SHARP CORPORATION, Mitsubishi Electric Corporation, Hanwha Group, First Solar, and Wuxi Suntech Power Co., Ltd.
The Photovoltaic Market report offers a comprehensive market segmentation analysis along with an estimation for the forecast period 2023–2030.
Segments Covered in the Report
By Type

Modules
Inverters
Balance of System

By Technology

Monocrystalline Silicon
Thin Film
Polycrystalline Silicon
Others

By Grid Type 
By Installation 

Ground Mounted
Rooftop
Others

By Application 

Residential
Non-Residential
Utilities
Region Covered in the Report
North America
Europe

Germany
U.K.
France
Italy
Spain
Russia
Rest of Europe

Asia-Pacific (APAC)

China
Japan
India
South Korea
Rest of Asia-Pacific

Rest of the World (RoW)

Brazil
Saudi Arabia
South Africa
U.A.E.
Other Countries

Source: VynZ Research