Industry Overview
Sodium-ion batteries are a kind of rechargeable energy storage devices, similar to lithium-ion batteries, which uses sodium ions as charge carriers. Sodium ions transfer energy during charging from the positive electrode, or anode, to the negative electrode, or cathode. The opposite happens during discharging, releasing stored energy. Potential benefits of sodium-ion batteries include lower costs and a more plentiful raw ingredient (sodium) compared to lithium-ion batteries. They usually have a lower energy density than their lithium-ion cousins, though. Research is being done to improve their performance for use in electric cars and renewable energy storage, which could result in a viable replacement for the battery technology used today.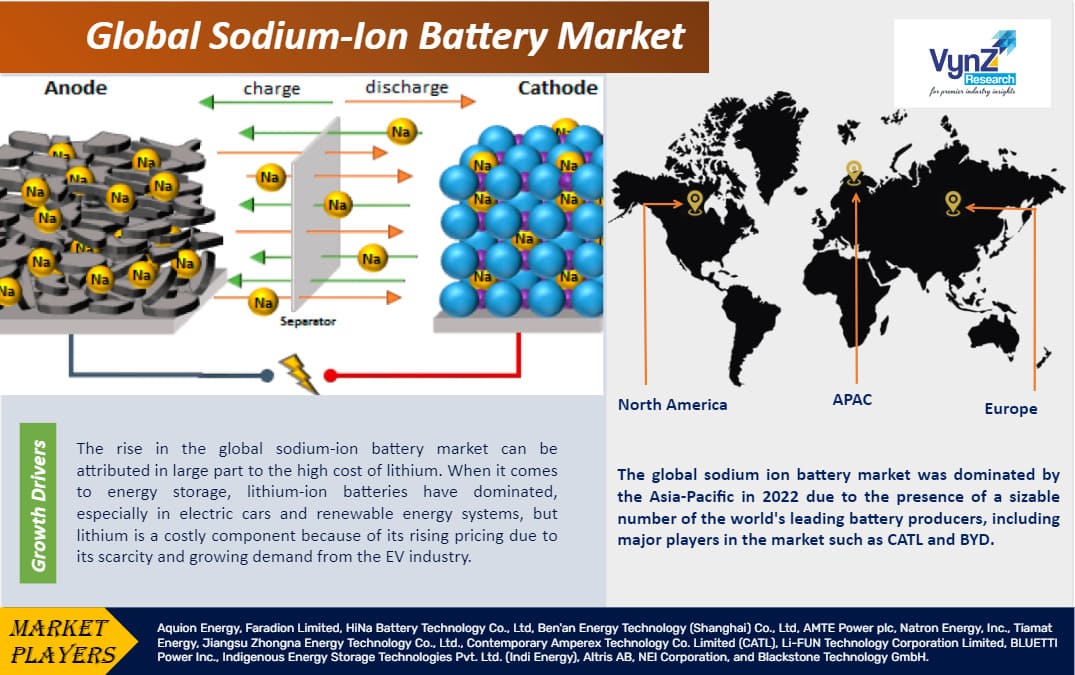 Global sodium ion battery market was worth USD 0.85 billion in 2022 and is expected reach USD 4.80 billion by 2030 with a CAGR of 25.85% during the forecast period, i.e., 2023-2030. The growing demand for sodium ion battery is driven by the abundance of sodium resources, lower production costs than lithium-ion batteries, and increasing demand for sustainable energy storage solutions. Additionally, ongoing research and development efforts are further propelling the growth of the global sodium-ion battery market.
Geographically, the market is expanding rapidly in North America, Europe, and the Asia Pacific, as a result of the presence of large companies, huge investment in the R&D, and high awareness among end-users; however, the market confronts constraints such as achieving high energy density, limited commercial availability, and competition from established lithium-ion technology. Overall, the sodium-ion battery market offers potential prospects for market participants to develop and fulfill the growing needs of wide range of industries including transportation, energy storage, consumer electronics, and other industries.
Market Segmentation
Insight by Technology
Based on the technology, the global sodium-ion battery market is segmented into Sodium-Sulfur Batteries, Sodium-Salt Batteries, and Sodium-Oxygen Batteries. Owing to their exceptional energy density and efficiency, sodium-sulfur (Na-S) batteries are the market leader in the global sodium-ion battery market and are therefore well-suited for grid-scale energy storage. Their acceptance has been accelerated by regulatory support for the integration of renewable energy sources and the growing demand for dependable energy storage systems. Prominent partnerships that demonstrate their usefulness include NGK Insulators' grid-scale project partnership with Tesla. Furthermore, the Na-S battery market has been supported by well-established production facilities, such as NGK's facility in Japan, which have met the need for large-scale energy storage solutions and accelerated their expansion in the global sodium-ion battery market.
Insight by End-use Industry
Based on end-use industry, the global sodium ion battery market is segmented into transportation, energy storage, consumer electronics, industrial, residential, and other end-use industry. Energy storage industry dominated the global sodium ion battery market in 2022 owing to the growing reliance on renewable energy sources and growing application of sodium-batteries for energy storage. The demand for effective energy storage systems is being driven by regulations and incentives related to grid modernization and decarbonization activities. Collaborations between utilities and battery manufacturers, like Fluence's with Enel, highlight how important sodium-ion batteries are to large-scale energy storage projects. Furthermore, the construction of specialized manufacturing facilities, such as Faradion's UK site, demonstrates a determined attempt to fulfill the growing need for energy storage technologies, securing sodium-ion batteries' position as a key component of the world's energy transition.
Sodium-Ion Battery Market Report Coverage
| | |
| --- | --- |
| Report Metric | Details |
| Historical Period | 2018–2022 |
| Base Year Considered | 2023 |
| Forecast Period | 2023 - 2030 |
| Market Size in 2022 | $0.85 Billion |
| Revenue Forecast in 2030 | $4.80 Billion |
| Growth Rate | CAGR 25.85% |
| Segments Covered in the Report | By Technology and By End-use Industry |
| Report Scope | Market Trends, Drivers, and Restraints; Revenue Estimation and Forecast; Segmentation Analysis; Impact of COVID-19; Companies' Strategic Developments; Market Share Analysis of Key Players; Company Profiling |
| Regions Covered in the Report | North America, Europe, Asia-Pacific, Middle East, and Rest of the World |
Industry Dynamics
Growth Drivers
High prices of lithium
The rise in the global sodium-ion battery market can be attributed in large part to the high cost of lithium. When it comes to energy storage, lithium-ion batteries have dominated, especially in electric cars and renewable energy systems, but lithium is a costly component because of its rising pricing due to its scarcity and growing demand from the EV industry. The prices of lithium had increased ten-fold (10x) by November 2022. Sodium, on the other hand, is more widely available and more profitable. Because of this financial benefit, sodium-ion batteries are a desirable substitute. 
Moreover, sodium-ion batteries present a strong argument in sectors and areas where economy of scale is critical, such as grid-scale energy storage. Their reduced production costs result in energy storage devices that are more reasonably priced. This pricing issue is especially important for applications that need large-scale energy storage capacity and for emerging markets.
Furthermore, sodium-ion batteries offer a strategic advantage to nations with restricted access to lithium sources, minimizing reliance on external lithium supplies. This encourages battery manufacture to be self-sufficient and secure in terms of energy. All things considered, the high cost of lithium highlights the benefits of sodium-ion batteries, encouraging their uptake and creating a more diverse and competitive energy storage industry.
Demand from energy storage industry
The growth of the global sodium-ion battery market is primarily driven by the rising demand for energy storage devices. Effective energy storage solutions are becoming more and more necessary as renewable energy sources like solar and wind power grow in popularity. Sodium-ion batteries are becoming a strong competitor due to their low cost and plentiful raw material. Global governments are enacting laws and offering financial incentives to promote the use of energy storage and renewable energy sources, creating an environment that is conducive to the expansion of sodium-ion batteries.
The synergy between sodium-ion batteries and renewable energy systems is demonstrated by partnerships between battery manufacturers and renewable energy firms, such as CATL's partnerships with solar energy giant SunPower. Furthermore, a determined attempt to increase the output of sodium-ion batteries for energy storage applications is demonstrated by the creation of Gigafactories and specialized production facilities, such as AMTE Power's proposed multimillion-pound facility in the UK. This increase in production capacity is expected to keep up with the growing demand for energy storage, which will drive the growth of the global sodium-ion battery market even further.
Challenge
Low energy density of sodium-ion batteries
Higher energy density is a major challenge for the global sodium-ion battery market. Although sodium-ion batteries are less expensive and have more readily available raw materials than their lithium-ion batteries, the energy density of sodium-ion batteries is usually lower than lithium-ion batteries. This restricts their use in applications such as electric vehicles that call for high-capacity, compact energy storage. In order to fully realize sodium-ion batteries' promise as a competitive option in the transportation and renewable energy storage sectors, researchers are working religiously to create cutting-edge materials and technologies that can increase the energy density of sodium-ion batteries.
Geographic Overview
The global sodium ion battery market is segmented into North America, Europe, the Asia-Pacific, South America, and the Middle East and Africa region. The global sodium ion battery market was dominated by the Asia-Pacific in 2022 due to the presence of a sizable number of the world's leading battery producers, including major players in the market such as CATL and BYD. Innovation in sodium-ion batteries has been further supported by government incentives and favorable regulatory rules for renewable energy storage systems. Notable alliances between Asian companies and foreign automakers – like CATL's partnership with Tesla and BMW – have increased market presence even more. In addition, the Asia-Pacific's leadership in this emerging market has been cemented by the swift establishment of production facilities and significant research initiatives in nations like China and Japan.
Competitive Insight
CATL, the biggest battery producers in the world, holds a prominent position in the global sodium-ion battery market. CATL has been aggressively exploring the sodium-ion technology, despite being best known for its lithium-ion products. They have aspirations to produce sodium-ion batteries and have a strong R&D infrastructure and gained a major breakthrough for sodium-ion batteries in 2021. With a wide-ranging production network throughout China and alliances with well-known manufacturers like Tesla and BMW, CATL's foray into the sodium-ion market demonstrates a significant player's desire to expand the range of batteries they offer. The company has plans to introduce sodium-ion batteries in Chery's iCar line, which is scheduled to be on sale in late 2023. This action demonstrates CATL's dedication to broadening its selection of batteries.
One of the major players in the sodium-ion battery market is the UK-based company AMTE Power plc. When it comes to the creation, development, and manufacturing of energy storage technologies, they are clearly superior. One of their most well-known products is the Urban 24V, a sodium-ion battery system made specifically for business cars. The alliance between AMTE Power and Faradion Limited, a leader in sodium-ion technology, demonstrates the company's dedication to developing sodium-ion batteries. Furthermore, the company has announced its plans to build a multimillion-pound Gigafactory in the UK, establishing itself as a major participant in the global sodium-ion battery market.
Recent Development by Key Players
In October 2023, Peak Energy announced that it will set up to tap the domestic market for sodium-ion batteries. The company will leverage partnerships with international and domestic sodium cell manufacturers to introduce this technology to the United States, while generating enough income to establish a local engineering site and gigafactory.
In August 2023, Biwatt Power, a Chinese battery manufacturer, launched new residential sodium-ion batteries with an efficiency rate of 97% and a projected lifespan of more than 3,000 cycles. The batteries have cell capacity is 75Ah and the rated battery voltage is 48V with the maximum DC power of 6kW and the maximum input voltage of 500V.
Key Players Covered in the Report
Aquion Energy, Faradion Limited, HiNa Battery Technology Co., Ltd, Ben'an Energy Technology (Shanghai) Co., Ltd, AMTE Power plc, Natron Energy, Inc., Tiamat Energy, Jiangsu Zhongna Energy Technology Co., Ltd., Contemporary Amperex Technology Co. Limited (CATL), Li-FUN Technology Corporation Limited, BLUETTI Power Inc., Indigenous Energy Storage Technologies Pvt. Ltd. (Indi Energy), Altris AB, NEI Corporation, and Blackstone Technology GmbH.
The sodium ion battery market report offers a comprehensive market segmentation analysis along with an estimation for the forecast period 2023–2030.
Segments Covered in the Report
Sodium-Sulfur Batteries

Sodium-Salt Batteries

Sodium-Oxygen Batteries
Region Covered in the Report
Germany

U.K.

France

Italy

Spain

Russia

Rest of Europe
China

Japan

India

South Korea

Rest of Asia-Pacific
Saudi Arabia

U.A.E

South Africa

Rest of MEA
Argentina

Brazil

Chile

Rest of South America
Primary Research Interviews Breakdown