Industry Overview
The global water treatment systems market is expected to reach around USD 5.9 billion in the year 2022 and is expected to account for a value of USD 211.3 billion by 2030, with a 6.5% CAGR from 2023-2030.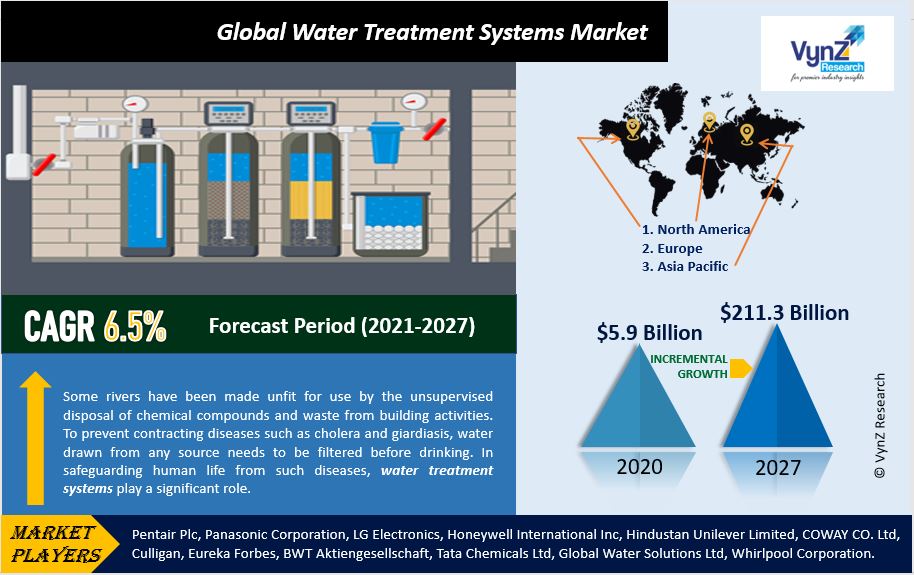 Some of the key drivers factoring to this growth in this market are increasing global demand for clean water, stringent regulatory rules and issues, and rising concerns about the environment. The growth of this market is also helped by rapid urbanization and population growth, growing demand for new water supplies, increasing emphasis on water quality and public health, increasing the prevalence of waterborne diseases, increasing industrial demand, and strict government regulations on wastewater treatment.
However, the growth of this market is somewhat impeded by the high cost of equipment, operations, and disposal. Besides that, aging water infrastructure, excess energy use as well and increasing expenditure due to the development of excess sludge are some of the key challenges in the overall demand for water and wastewater treatment.
The COVID-19 pandemic has greatly affected the water market. Due to the pandemic, organizational stability and economic growth have become the main focal points of expenditure. Supply chains and labor supply for manufacturing have been greatly disrupted by the lockdowns due to the pandemic worldwide; both factors have dramatically affected the development of the worldwide water industry.
Customers have become highly price responsive on the demand side and are focusing their new investments on digital and smart technologies that can enable remote operation and visibility of their systems or infrastructure to be seamless. The urban water and wastewater sector has shown the greatest resilience due to government funding packages and their global criticality.
MARKET SEGMENTATION
To treat wastewater, water treatment systems are built to make it suitable for particular end uses, such as irrigation, drinking, and preservation of river flow. Typically, such systems are mounted at either point-of-entry or point-of-use. Rising industrial activities and increasing water pollution in almost all economies have made water treatment a requirement.
1. Based on Technology: The Filtration segment of the global water treatment system is estimated to be the fastest-growing for the forecasted period.
As per the Technology, the market for water treatment systems is segmented into the following: -
a. Water softeners
b. Reverse osmosis systems
c. Distillation systems
d. Disinfection methods
e. Filtration methods
f. Others (adsorption and electrolysis)
In 2019, the water softener group dominated the market. However, due to the cost-effectiveness of this technology and increasing demand from the residential sector, the filtration technology is expected to experience the fastest CAGR during the forecast period.
2. Based on Application: The Industrial segment of the global water treatment system is estimated to be the fastest-growing for the forecasted period.
The demand for water treatment system market as per application, is segmented into-
a. Residential
b. Non-residential
c. Commercial
d. Industrial
e. Healthcare
f. Educational Institutes
g. Others (stadiums, railway stations, and airports)
DRIVERS
1. Some rivers have been made unfit for use by the unsupervised disposal of chemical compounds and waste from building activities. To prevent contracting diseases such as cholera and giardiasis, water drawn from any source needs to be filtered before drinking. In safeguarding human life from such diseases, water treatment systems play a significant role.
2. The COVID-19 pandemic will stimulate the world's demand for better, cleaner water and more effective and efficient treatment of wastewater. Progress towards the Sustainable Development Goals (SDGs) on water and waste water is likely to be motivated by this.
3. The global market for water treatment systems is identified by the presence of leading players who account for a leading market value share. Key players are introducing product offerings as well as establishing mergers & acquisitions (M&A) to broaden their regional presence in an attempt to counter the potential entry of new players.
4. Growing water pollution and construction activities, along with increasing understanding of the benefits of clean drinking water, are key parameters that drive the growth of the demand for water treatment systems.
5. The adoption of the product is facilitated by stringent environmental legislation by the relevant government authorities to monitor water protection issues. In addition, rapid industrialization and the region's increasing population are key factors driving the landscape of the industry.
OPPORTUNITIES
IoT-enabled water treatment systems provide the ability for market players to boost efficiency and effectiveness while enhancing customer support. Moreover, IoT is emerging as a much-needed option, considering the amount of labor and time needed to collect water and transport it to treatment sites.
CHALLENGES
1. Another pattern - weakening confidence in public services - is reinforcing the public health crisis. As such, water treatment system developers worldwide need to significantly update their contact and management practices.
2. The implementation of water treatment systems by households has been constrained by the high cost of equipment and maintenance. Due to its easy handling and portability, the market for packaged drinking water is growing. Demand for packaged drinking water is a big challenge for the water treatment system's market development.
GEOGRAPHICAL ANALYSIS
Based on Geography, the water treatment system market is segmented into-
1. North America – US, Canada
2. Europe – Germany, UK, France, Italy, Spain, Rest of Europe
3. Asia Pacific (APAC) – India, Japan, China, Rest of APAC
4. Rest of the World – Middle East & Africa.
Significant growth is to be witnessed by the Asia Pacific segment from the year 2020 to 2025.
The key driver for APAC to grow over the next 5 years, at the estimated highest CAGR. With China, India, and Japan, led by Europe and North America, Asia-Pacific is the leading region in the global water treatment system industry. However, due to the increasing population and higher economic results, Europe had the second largest market share in the water treatment system market.
COMPETATIVE ANALYSIS
Companies focus on designing technologies that are capable of operating without a continuous supply of electricity that can also be used in remote and rural areas. To boost their product portfolio, they engage in R&D activities.
Key significant players in the global water treatment market include:
• Pentair Plc. (UK)
• Panasonic Corporation (Japan)
• LG Electronics (South Korea)
• Honeywell International Inc. (US)
• Hindustan Unilever Limited (UK)
• COWAY CO. Ltd (South Korea)
• Culligan (US)
• Eureka Forbes (India)
• BWT Aktiengesellschaft (Austria)
• Tata Chemicals Ltd. (India)
• Global Water Solutions Ltd. (Jersey)
• Whirlpool Corporation (US).
RELATED NEWS
1. Toshiba Corporation has established a contract with the Indian government for the establishment operation and maintenance of two sewage treatment facilities (O&M). These STPs are related to sewage construction projects launched to clean up the River Ganga by the country's government.
2. At the zero-liquid discharge site in India, Clariant has rolled out wastewater treatment plants (WWTP). Approximately 300 kL of wastewater daily is likely to be processed by the plant. The WWTP features countless highly efficient methods to allow contaminants to be filtered and extracted at different stages.
3. To offer water solutions throughout the Philippines, Hitachi Aqua-Tech Engineering Pte Ltd has partnered with Filinvest Development Corporation (FDC). The joint venture will provide water treatment engineering for water treatment plants, including reclaimed water, desalination, and sewage treatment for internal FDC operations and for external customers in the private and public sectors, like construction and installation, design, and operation & maintenance.
Primary Research
VynZ Research conducts extensive primary research to understand the market dynamics, validate market data, and have key opinions from industry experts. The key profiles approached within the industry include, CEO, CFO, CTO, President, Vice President, Product Managers, Regional Heads, and Others. Also, end user surveys comprising of consumers are also conducted to understand consumer behavior.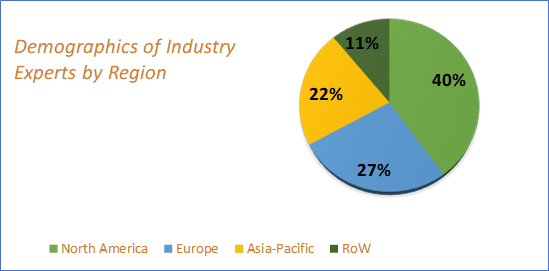 Source: VynZ Research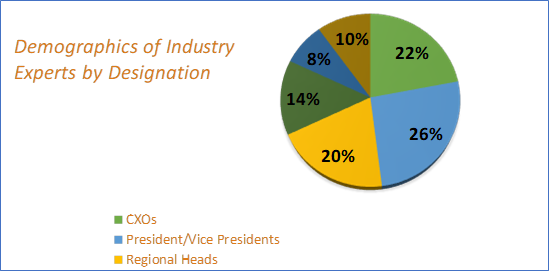 Source: VynZ Research