Industry Overview
The global baked chip market accrued earnings worth approximately USD 7.5 billion in 2022 and is predicted to earn market revenue of about USD 15.5 Billion by 2030, thereby registering a CAGR of nearly 5.5% during the forecast period 2023-2030. Baked chips are low-fat alternatives to fried chips. With less fat and grease on the hands, this lighter version of chips gives the same taste and crunch as traditional chips. These are some of the most widely consumed snacks by people globally as it enhance people's quality of life and is simple to produce. Baked chips are widely available, easy to pack, and have a long shelf life. The baked chip market is expanding noticeably as a result of several factors such as availability, lifestyle choices, and cultural preferences, all of which have an impact on consumers' purchasing behavior and dietary preferences, resulting in an increase in the acceptance of baked foods.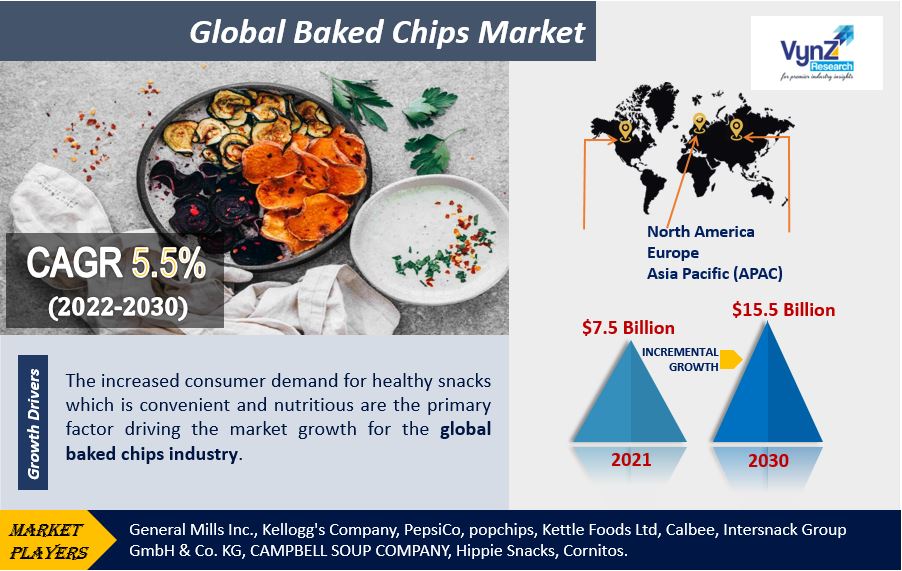 Baked chips are typically made of vegetables, fruits, grains, and cereals and are available in a variety of interesting flavors like tomato, masala, BBQ, chaat, pepper, chili lime, carrot, coconut, chocolate, and others to satisfy a variety of taste buds.
Market Segmentation
Insight by Source
Based on the Source, the Global Baked Chips Market is segmented into Grains, Fruits, Vegetables, Cereals, and Others. Due to its affordable costs and superior taste, the vegetable category in the baked chips market will dominate during the forecast period.
Insight by Functionality
Based on Functionality, the Global Baked Chips Market is segmented into Low Sodium, Low Calorie, Gluten-Free, Organic, and Others. Gluten-free is expected to have a high CAGR during the forecast period. Customers are continually seeking baked chip products that are gluten-free, additives-free, and preservative-free, as well as those that have a higher proportion of organic or clean-label ingredients. Although there has been an increase in gluten-free claims in Asian countries due to people's allergies to gluten products, which can lead to serious health problems, some nations have established regulatory standards that manufacturers must adhere to when introducing gluten-free baked chip products.
Insight by End Use
Based on End Use, the Global Baked Chips Market is classified into Households, Restaurants and cafes, and Others. The household category is anticipated to have a high CAGR during the forecast period owing to the remote working culture amidst the COVID-19 crisis that requires ready-to-eat food items at home for the working population.
Insight by Distribution Channel                          
Based on the Distribution Channel, the Global Baked Chips Market is segregated into Supermarkets and Hypermarkets, Convenience Stores, Online Retail, and Others. The online retail segment is expected to have a high CAGR during the forecast period as these are virtual stores that do not require physical space. Moreover, online platforms are easy to access and offer heavy discounts, leading to increased purchases of baked chips.
Global Baked Chips Market Report Coverage
| | |
| --- | --- |
| Report Metric | Details |
| Historical Period | 2018–2022 |
| Base Year Considered | 2022 |
| Forecast Period | 2023 - 2030 |
| Market Size in 2021 | $7.5 Billion |
| Revenue Forecast in 2030 | $15.5 Billion |
| Growth Rate | CAGR 5.5% |
| Segments Covered in the Report | By Source, By Functionality, By End Use, and By Distribution Channel |
| Report Scope | Market Trends, Drivers, and Restraints; Revenue Estimation and Forecast; Segmentation Analysis; Impact of COVID-19; Companies' Strategic Developments; Market Share Analysis of Key Players; Company Profiling |
| Regions Covered in the Report | North America, Europe, Asia-Pacific, Middle East, and Rest of the World |
Industry Dynamics
Growth Drivers
The increased consumer demand for healthy snacks that are convenient and nutritious is the primary factor driving the market growth for the global baked chips industry. The increased need to maintain a healthy body metabolism, enhancement in flavors of vegetable baked chips, changing lifestyle of consumers, and easily available at affordable prices are the other factors that drive the market development of the global baked chips industry. Moreover, the rising standard of living, development of online retail platforms, and are simple to make because all the necessary raw materials for baked chips are readily available will bolster market advancement. Another factor driving the market is the rise in the consumption of nutritious snacks among the global working population, which serves to maintain the body's metabolism and helps to control appetite in between meals. Compared to deep-fried chips, which increase the risk of heart disease, it contain healthy fat content, which is good for the heart. Hence, the increased demand from the younger generation to choose healthier baked snacks, preference for gluten free products, and widespread acceptance of Westernized culture will drive market revenue for the baked chips industry.
Challenges
High quantities of potassium, sodium, and an acrylamide-derived carcinogen are variables that could restrain the market expansion of the baked chips market over the anticipated time. Additionally, the majority of Indian snacks contain significant amounts of preservatives, chemicals, and trans-fat to extend their shelf life, which may inhibit market expansion. Also, the lack of adequate storage in several countries and the inadequate supply chain will restrain market expansion.
Opportunities
The change to digital media had a significant impact on marketing and easy audience outreach for the global baked chips industry. Therefore, the market's opportunities are bolstered by novel technological developments. New flavor innovations and a sharp rise in organized retail outlets will provide the market with fresh prospects. Along with it, new opportunities are anticipated owing to the adoption of a sedentary lifestyle and an increase in packaged food demand.
Geographic Overview
North America
Europe
Asia Pacific (APAC)
Rest of the World (RoW)
During the projected timeframe, North America will control the majority of the market. Customers' hectic lifestyles and ' rising propensity for an "on-the-go" lifestyle will propel market growth. Moreover, key players launching new products are all contributing factors to the market development of the baked chips industry in the region.
The market for baked chips in Europe is anticipated to rise significantly over the projected period, mostly due to the rising popularity of convenience foods.
Competitive Insight
Due to the existence of numerous national and international competitors that offer a diverse range of baked chip products while vying to preserve their dominance in the industry under study, the global baked chips market is extremely competitive. Additionally, the increased competitiveness in this industry has increased market volatility, which is why the manufacturers have been concentrating on incorporating various techniques to maintain their position. Some of these strategies are new product development and product innovation. This is because it will allow them to give their customers new offerings.
Popchips are healthier potato chip that is never fried and is full of flavor. Popchips are great as a snack or for sharing and they are excellent in appetizers, favorite chips, and dip recipes. Simply replace the carb-heavy toasts, chips, or crackers with Popchips that have crunchiness, and flavors and satisfy salt cravings.   Their Product Portfolio includes Popchips Original Sea Salt, popchips Original BBQ, popchips Original Sour Cream Onion, popchips Original Sea Salt and Vinegar, popchips Original Crazy Hot, popchips Original Aged White Cheddar, popchips Original Fiery Buffalo, and Popchips Original Fully Loaded.
Calbee, a Japanese snack manufacturer, has had its finger on the pulse of better-for-you snacking trends for several generations. The company was founded in 1949 and began selling Saya pea snacks and Shrimp Chips in North America in 1970. Snapea Crisps, later renamed Harvest Snaps, were introduced by Calbee in 1999.
A forerunner in the plant-based snacking segment, Calbee has always made baked snacks with real veggies as the first ingredient. With the introduction of certified organic, Artisan Sea Salt pea snacks, Crunchy Loops red-lentil rings, and a Mixed Snack Pack featuring a variety of single-serve bags, the brand continues to innovate.
Recent Development by Key Players
In October 2022, General Mills, Inc., Minneapolis, is giving its Old El Paso brand a "twist" with the introduction of Old El Paso Fiesta Twists, a new snack described as "light and airy corn twists." The new product's twist shape provides the key snack principles of crispy and crunchy textures, and it marks Old El Paso's entry into the snack category and the chip aisle, based on consumer research and testing. Fiesta Twists come in three Tex-Mex flavors: queso, tangy zesty ranch, and sweet cinnamon churro.
In April 2022, Popchips, the better-for-you salty snack brand known for its popped, never-fried potato chips, announced a complete brand revamp, including a reimagined visual identity and the introduction of two new delicious flavors. Popchips has revitalized its distinct package design after conducting extensive market research to redefine its brand strategy. The two new products, Fiery Buffalo and Fully Loaded, respond to consumer demand for salty snacks that don't skimp on flavor, proving that better-for-you doesn't have to be boring.
Key Players Covered in the Report
The following are some of the significant players who are enabling their business in the relevant fields: General Mills Inc., Kellogg's Company, PepsiCo, popchips, Kettle Foods Ltd, Calbee, Intersnack Group GmbH & Co. KG, CAMPBELL SOUP COMPANY, Hippie Snacks, Cornitos.
The Baked Chips Market report offers a comprehensive market segmentation analysis along with an estimation for the forecast period 2023–2030.
Segments Covered in the Report
By Source

Grains
Fruits
Vegetables
Cereals
Others

By Functionality 

Low Sodium
Low Calorie
Gluten-Free
Organic
Others

By End Use 

Households
Restaurants & Cafes
Others

By Distribution Channel 

Supermarkets and Hypermarkets
Convenience Stores
Online Retail
Others
Region Covered in the Report
North America
Europe

Germany
U.K.
France
Italy
Spain
Russia
Rest of Europe

Asia-Pacific (APAC)

China
Japan
India
South Korea
Rest of Asia-Pacific

Rest of the World (RoW)

Brazil
Saudi Arabia
South Africa
U.A.E.
Other Countries

To explore more about this report - Request a free sample copy