Industry Overview
The Global Biostimulants Market Size was valued at USD 2.9 billion in 2022 and is anticipated to reach USD 5.9 billion by 2030, witnessing a CAGR of 12.3% during the forecast period 2023-2030. Biostimulants are naturally derived additives or microorganisms used in crops to increase crop production and cultivation so as to enhance nutritional efficiency, and crop quality, and maintain soil quality. They are used to improve the stress tolerance level of plants and crops specifically in times of drought.
Global food and agricultural production systems are facing certain challenges owing to rising demand for food due to increasing population, growing hunger and malnutrition, adverse climate change, soil degradation, overutilization of natural resources, loss of biodiversity, loss of food, and waste. With the prospering agriculture industry and rising adoption of organic farming practices, biostimulants are significantly adopted coupled with organic manure to enhance soil fertility and plant health. Furthermore, the rising demand for sustainably produced food has less concentration of synthetic chemicals and a high concentration of biologicals, resulting in the need for biostimulants.
The COVID-19 pandemic has led to positive growth in the biostimulants market as it helps in plant growth and increases crop and food production. However, lockdown measures and a lack of labor force have restricted production and trade movements in the initial months of the COVID-19 crisis along with reduced demand from major markets has decreased the profits of biostimulant manufacturers.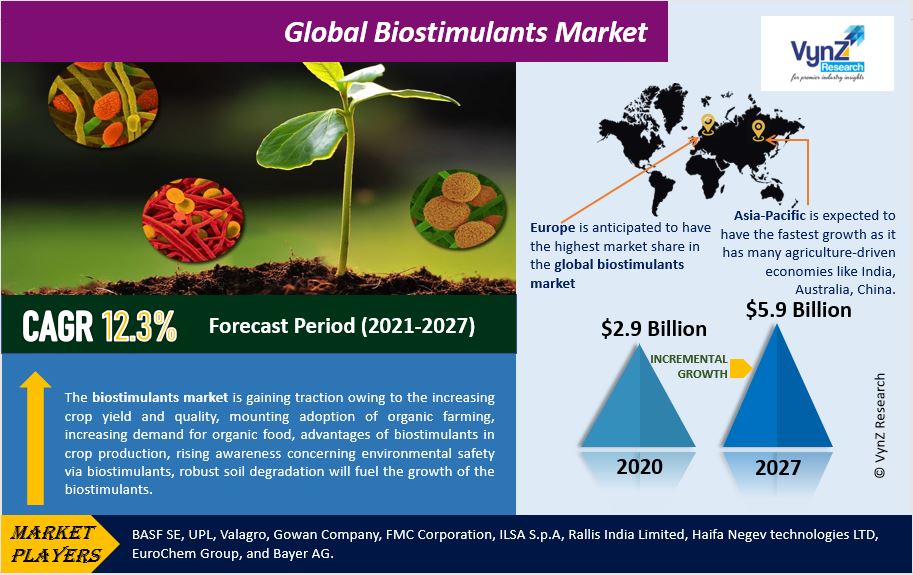 Market Segmentation
Insight by Active Ingredients
On the basis of active ingredients, the global biostimulants market is divided into acid-based, extract-based, microbial amendments, trace minerals and vitamins, and others. The acid-based segment is further divided into humic acid, amino acid, and fulvic acid. The extract-based segment is subdivided into seaweed extracts and other botanical extracts. The acid-based biostimulants dominate the market in 2020 as they stimulate fruit setting, flowering, pollination, and fruit development of plants. Moreover, ease in availability offers benefits to the plants, increases productivity will accelerate the growth of the acid-based biostimulants segment.
Seaweed extracts are anticipated to have the fastest growth as they are used as a plant growth substance like cytokinins, auxins, and gibberellins carbohydrates, and many nutritive metal elements such as iron, aluminum, nitrogen, manganese, and potassium. Some of the widely used seaweed extracts include brown, green, and red algae. Brown seaweed extract like Sargassum, Laminaria, and Fucus offers benefits like high nutrient uptake, increased yield, fast seed germination flower, fruit set, and increased fruit quality.
Insight by Crop Type
Based on the crop type, the global biostimulants market is divided into cereals & grains, oilseeds & pulses, fruits & vegetables, turfs & ornamentals, and others. The fruits & vegetables segment dominates the market as it widely applies biostimulants on crops so as to improve quality and sustain its standards as per exports. There is increasing demand for fruits & vegetables in the COVID-19 crisis as people have become conscious about their health and prefer nutritious and safe products. The cereals & grains segment is projected to have fast growth over the projected period and it adopts biostimulants as it improve the uptake of nutrients, tolerance to abiotic stress, and enhances the crop yield like wheat, rice, and barley. Thus, the increasing acceptance of sustainable and organic farming will create opportunities for growth in the global biostimulants market.
Insight by Formulation
Based on formulation, the global biostimulants market is bifurcated into liquid formulation and dry formulation. The liquid formulation is subdivided into suspension concentrates, soluble liquid concentrates, and emulsifiable concentrates. The dry formulation is subdivided into dry granules, wettable powder, and water dispersible. The liquid formulation dominates the biostimulants market as they can be easily applied and transported. Moreover, the liquid form provides fast absorption of nutrients by leaves, improves nutrient uptake, and enhances cellular activity.
Industry Dynamics
Industry Trends
The increasing demand for clean label and organic food products in developed countries and the rising demand for sustainability in agriculture practices are the key trends prevailing in the global biostimulants market.  
Growth Drivers
The biostimulants market is gaining traction owing to the increasing crop yield and quality, mounting adoption of organic farming, increasing demand for organic food, advantages of biostimulants in crop production, rising awareness concerning environmental safety via biostimulants, robust soil degradation will fuel the growth of the biostimulants. In addition, biostimulants are non-toxic in nature, have a low ecological footprint, are effective substitute for chemical-based agro products, and are replaced at a high rate as it is environmentally friendly and has high performance. Furthermore, the rising need to support crops from abiotic stress due to changes in climatic conditions, technological development by key players, and reduction in the availability of arable land will propel the growth of the biostimulants market.
Challenges
The increasing R&D cost, high demand for synthetic fertilizers, scientific and technical difficulties in developing biostimulants, commercialization of low-quality biostimulant products, underdeveloped regulator framework in global markets, limited awareness about the availability of quality products in emerging economies will hamper the growth of the global biostimulants market. Furthermore, the lack of regulations associated with product commercialization will hamper the market growth rate.
Opportunities
Rising awareness regarding the ill effects of synthetic fertilizers coupled with rising initiatives by the government in order to promote biostimulants will further create lucrative growth opportunities.
Geographic Overview
Europe is anticipated to have the highest market share in the global biostimulants market as it has a high focus on agricultural sustainability and the rising advancement of innovative products. Spain, Italy, and France are the major drivers and exporters of biostimulants to the markets globally. Moreover, supportive regulations to enhance the production of organic foods will propel the growth of the biostimulant market in the region.
Asia-Pacific is expected to have the fastest growth as it has many agriculture-driven economies like India, Australia, and China. The population is dependent on the agriculture sector resulting in providing opportunities for growth in the region.
Competitive Insight
The industry players are adopting strategies such as product innovation, acquisitions, technology development, product expansion, and research & development activities to sustain in the market. Moreover, there are limited barriers to entry that allow new players to enter the market and enhance their geographical reach. The companies are integrating forward and backward to enhance their profit margins and gain high bargaining power.
UPL AgroSolutions Canada has received registration from the Canadian Food Inspection Agency for its first biosolutions product i.e., OHM Biostimulant. OHM is a highly concentrated liquid form of Ascophyllum nodosum seaweed extract that enhances the efficiency of nutrient use so as to improve plant growth and development.
Valagro manufactures a unique biostimulant line that provides farmers with a product line containing purely naturally derived active ingredients that stimulate the plant's major physiological processes while promoting plant growth and productivity.
FMC Corporation is an agricultural science company that offers innovative solutions to farmers around the world with a rapid product portfolio that leverages a market-driven R & D  in crop protection, plant health, professional pest, and turf management. FMC product Accudo® biostimulant, a microbial innovation will lead to a yield increase of over 15%. It improves root development and has antifungal resistance, resulting in significantly higher yields compared to competing products.
Some of the key players operating in the biostimulants market: are BASF SE, UPL, Valagro, Gowan Company, FMC Corporation, ILSA S.p.A, Rallis India Limited, Haifa Negev Technologies LTD, EuroChem Group, Bayer AG.

Source: VynZ Research