Industry Overview
The global seaweed protein market size is expected to grow from USD 0.50 billion in 2022 to USD 1.56 billion by 2030, registering a CAGR of 15.5% during the forecast period. Seaweeds are a substitute protein source that may help resolve the deficiencies of existing proteins while maintaining a healthy, sustainable diet. The ingredient contains a variety of vitamins and minerals that may aid in the prevention of chronic diseases such as cancer and obesity. The growing consumer preference for plant-based products will drive up demand for seaweed protein in the food and pharmaceutical industries. Countries such as the United Kingdom are making promising advances in the growth of eco-friendly and sustainable plant-based and alternative protein products. The revenue forecasts for the global seaweed protein market are being boosted by consumers' growing preference for natural ingredients in their food and beverage products and healthy eating.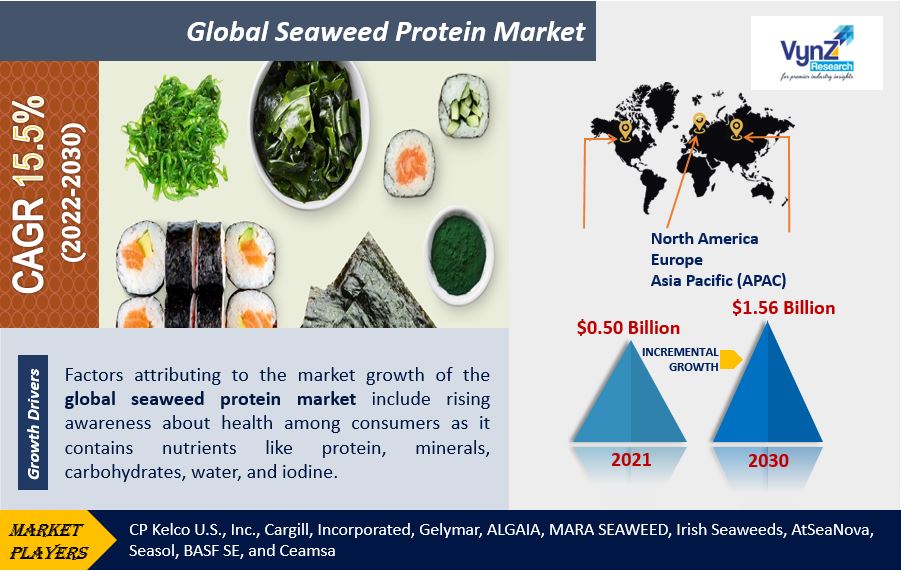 The businesses use a variety of both traditional and cutting-edge procedures to extract protein from sources of seaweed. Two of the traditional methods of extraction are the physical process and chemical extraction, while ultrasound-assisted extraction is one of the latest recent techniques.
Market Segmentation
Insight by Source
Based on Source, the Global Seaweed Market is segmented into Red Seaweed, Brown Seaweed, and Green Seaweed. The red seaweed category was predicted to have the largest market share as it is a good source of vitamins, proteins, fatty acids, minerals, and trace elements. Red seaweed proteins are increasingly being used in the food industry as a gelling ingredient and can cure medical ailments. Businesses are attempting to enhance the entire seaweed cultivation process on a commercial scale. Food manufacturers' development of plant-based meat substitutes will spur red seaweed protein's acceptance over the forecast period.
Insight by Extraction Method
Based on the Extraction Method, the Global Seaweed Market is bifurcated into Advanced and Conventional. The conventional extraction process is expected to hold the largest share in the seaweed protein market and includes chemical extraction, enzymatic hydrolysis, and physical processes. Since raw, unprocessed seaweed contains little protein, scientists have concentrated on developing more effective ways to extract algal proteins to boost bioavailability.
Insight by Application
Based on Application, the Global Seaweed Market is segregated into Food, Animal Feed and additives, Pharmaceutical and nutraceuticals, Personal Care and cosmetics, and Others. Food and beverage industry dominates the seaweed protein market as a result of ongoing research and innovations in the use of seaweed in food products for emulsifying, gelling, preserving, and thickening, thereby accelerating market development of the global seaweed protein industry. Also, seaweed may be an amazing source of protein for athletes who need a lot of protein, particularly vegan athletes who might not be able to eat eggs or dairy whey protein.
 It is anticipated that the market share for seaweed protein in pharmaceutical and nutraceutical applications will grow at a high CAGR during the forecast period. The increased awareness of the nutritional content and benefits of seaweed protein consumption has increased product use. Seaweed has pharmacological bioactivities such as anti-inflammatory, anticoagulant, antioxidant, anticarcinogenic, and antiviral properties. Its popularity is growing in Asian countries such as Japan and India, where consumers prefer to consume beneficial compounds through foods rather than pills.
Global Seaweed Protein Market Report Coverage
| | |
| --- | --- |
| Report Metric | Details |
| Historical Period | 2018–2022 |
| Base Year Considered | 2022 |
| Forecast Period | 2023 - 2030 |
| Market Size in 2021 | $0.50 Billion |
| Revenue Forecast in 2030 | $1.56 Billion |
| Growth Rate | CAGR 15.5% |
| Segments Covered in the Report | By Source, By Extraction Method, and By Application |
| Report Scope | Market Trends, Drivers, and Restraints; Revenue Estimation and Forecast; Segmentation Analysis; Impact of COVID-19; Companies' Strategic Developments; Market Share Analysis of Key Players; Company Profiling |
| Regions Covered in the Report | North America, Europe, Asia-Pacific, Middle East, and Rest of the World |
Industry Dynamics
Growth Drivers
Factors attributing to the market growth of the global seaweed protein market include rising awareness about health among consumers as it contains nutrients like protein, minerals, carbohydrates, water, and iodine. Moreover, increased demand for ocean skincare products, increased need for healthy plant-based products, the surge in incidences of chronic diseases, widespread adoption of seaweed in dietary supplements, and the presence of a high concentration of bioactive compounds in seaweed will propel market development of seaweed protein industry. In addition, the rising demand in the beauty and cosmetics sector for applications in both hair and skin care products is anticipated to support the growth of the global seaweed protein market over the course of the forecast timeline.
The food and nutrition industry is emphasizing increased consumer awareness about alternative protein sources and is focused on providing a personified experience so as to consume plant-based protein in a more suitable way. The market for seaweed protein may benefit from favorable government efforts to promote a sustainable food system and ease production using effective farming methods.
Seaweeds have many benefits that stimulate people to consume them in Asian cuisine, use them to supplement micronutrients, and produce plant-based diets to benefit both people and animals. As a result of their health, nutritional, and socioeconomic advantages, seaweed proteins are becoming a more popular alternative source of protein around the world, which will drive the market for seaweed proteins during the forecast period.
Challenges
The toxicity levels of certain types of seaweed are anticipated to raise possible health concerns among consumers, which may hinder the seaweed protein estimates. Moreover, because of the high sodium and potassium content, individuals who have kidney disease are apprehensive about consuming seaweed-based products. Furthermore, seaweed farming is more costly than land farming. Also, the macroalgae also contain the anticoagulant fucoidan and vitamin K, which is not suitable for individuals who are on blood-thinning medications, limiting the ingredient's consumer base despite seaweed protein's numerous health benefits.
Opportunities
New applications for seaweed fueled its prominence. Seaweed is used in the textile industry as a thickener and in agriculture to improve soil quality. Additionally, seaweeds have prebiotic, antiviral, anti-inflammatory, and antioxidant properties. As a result, seaweed is included in the diet of individuals, which may create lucrative growth prospects.
Industries interested in seaweed farming are implementing new burgeoning technologies like machine learning, the Internet of Things (IoT), and artificial intelligence to improve seaweed production and monitor seaweed biomass and habitats. The seaweed cultivation industry is seeing profitable commercial potential as a result of technological advancements. These factors will create new market opportunities for growth in the global seaweed protein industry during the forecast period.
Geographic Overview
North America
Europe
Asia Pacific (APAC)
Rest of the World (RoW)
APAC is expected to dominate the seaweed protein market owing to an increased number of alliances between local producers and processors, governing bodies, and public and private firms. Moreover, China has surpassed the United States as the largest importer of edible and non-edible seaweed for further processing. Similarly, after China, the Philippines is the second-largest exporter of semi-processed and processed carrageenan. Furthermore, increased investments in R&D activities to develop novel methods for seaweed protein cultivation and extraction will propel the market development in the region.
Europe is expected to have a high CAGR during the forecast period in the seaweed protein market owing to increased demand for natural ingredient-based cosmetics and personal care products, the surge in awareness about the advantages associated with plant-based proteins, and increased investment to support production activities.
Competitive Insight
Because of the presence of a few players, the nature of competition in this market is consolidated. Leading players in the seaweed protein market are pursuing joint venture and merger strategies in order to gain a competitive advantage in the overall market. Others are investing in the introduction of new products in order to give the market a boost. The primary goal is to maintain a significant market position and earn substantial revenues.
ALGAIA provides natural seaweed, algae, and other plant-based extracts and solutions for the Food, Agriculture, Personal Care, and Nutraceutical industries that are produced in a sustainable manner. ALGAIA is laying the groundwork for the development of a diverse range of sustainable specialty ingredients and products with innovative features, owing to:
Agreements on joint development
Exclusive access to seaweed sources
Onboarding of talented and experienced individuals
Investing in specific businesses and technologies
Thus, Algaia creates new active ingredients with a focus on healthy lipids, proteins, pigments, and micronutrients. Some of these new molecules have photoprotective, antioxidant, antimicrobial, immunostimulatory, or nutritional properties, making them suitable for the Agro-Nutrition, Personal Care, and Nutraceutical industries.
Mara is a global success story and the UK's most innovative seaweed brand. MARA SEAWEED carefully hand-harvests healthy plants from pristine waters and dries them at low temperatures, concentrating the nutrients to the point where even a teaspoon a day can provide health benefits.  Iodine, fiber, potassium, and magnesium are all abundant in Mara Seaweeds. MARA seaweed is also low in sugar, fat, and calories, making it suitable for vegans and gluten-free individuals.
Mara Seaweed is harvested sustainably from the pure, wild waters off the coasts of Scotland and Ireland, and they are committed to the long-term viability and safety of their operations. MARA SEAWEED's harvesting and processing are accredited by the Soil Association Organic Certificate. They carefully process and package seaweed so that one can easily add delicious nutritional benefits to their meals.
Recent Development by Key Players
In August 2022, BASF Venture Capital, the corporate venture company of German ingredients giant BASF, and Dutch investment fund Aqua-Spark are investing in Sea6 Energy as part of a Series B round. The Bangalore, India-based company is a market leader in the production and processing of tropical red seaweed, and its existing investors include Tata Capital Innovations Fund. Sea6 Energy's Series B transaction will total INR1,402m (US$18.5m) if BASF and Aqua-Spark invest. Red seaweed biomass grows quickly and can be used as a gelling ingredient in the cosmetics and food industries. It is also used in animal feed and crop protection products, and Sea6 Energy is researching the development of red seaweed-based bioplastics and biofuels.
In March 2022, CP Kelco, one of the major players in nature-based ingredient solutions, is pleased to announce the launch of a new portfolio of offerings to support product development in the dynamic, rapidly growing market of plant-based meat alternatives. Nature-based, cleaner label-friendly ingredient solutions for formulating plant-based burger and sausage alternatives and delivering a meat-like eating experience are among the new solutions. CP Kelco's new meat alternative (MA) line of multifunctional solutions for creating plant-based burger and sausage alternatives includes KELCOGEL MA-60 Gellan Gum, GENU Pectin MA-50, GENU Texturizer MA-1, NUTRAVA Citrus Fiber boost.
Key Players Covered in the Report
Some of the major players operating in the global seaweed protein market include CP Kelco U.S., Inc., Cargill, Incorporated, Gelymar, ALGAIA, MARA SEAWEED, Irish Seaweeds, AtSeaNova, Seasol, BASF SE, and Ceamsa.
The Seaweed Protein Market report offers a comprehensive market segmentation analysis along with an estimation for the forecast period 2022–2030.
Segments Covered in the Report
By Source 

Red Seaweed
Green Seaweed
Brown Seaweed

By Extraction Method
By Application 

Food
Animal Feed & Additives
Pharmaceutical & Nutraceuticals
Personal Care & Cosmetics
Others
Region Covered in the Report
North America
Europe

Germany
U.K.
France
Italy
Spain
Russia
Rest of Europe

Asia-Pacific (APAC)

China
Japan
India
South Korea
Rest of Asia-Pacific

Rest of the World (RoW)

Brazil
Saudi Arabia
South Africa
U.A.E.
Other Countries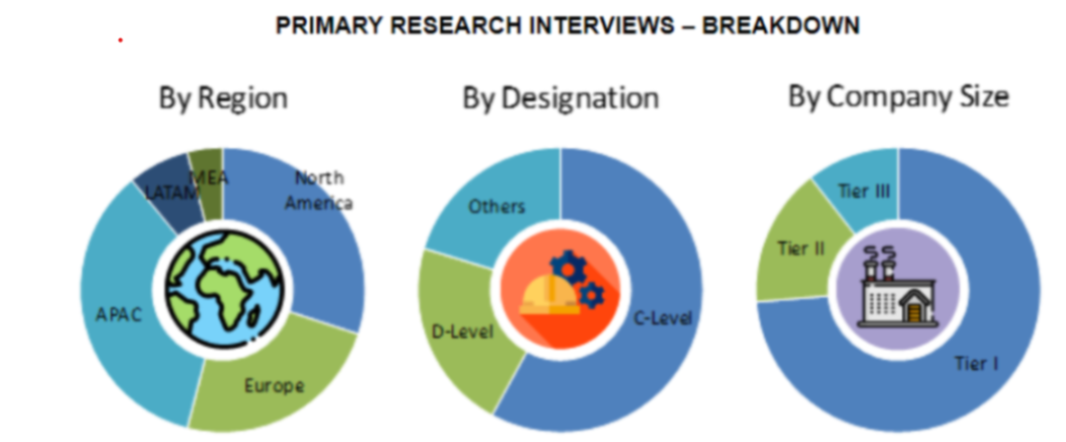 To explore more about this report - Request a free sample copy