Industry Overview
During the forecast period 2022-2028, the Global Essential Oil Market Size is expected to rise at a CAGR of 9.5 percent, from USD 10.7 billion in 2022 to USD 16.75 billion in 2030.
Essential oils can be defined as the concentrated extracts of various plants, which are used by practitioners in alternative and natural health practices such as naturopath and aromatherapy. Essential oils generally have a stronger smell than plants as they are extracted from and contain a concentration of active ingredients, which is dependent on the amount of plant matter that is needed to make essential oil.
There are different methods such as water distillation, cold pressing, and others that are used by essential oil manufacturers for the extraction of essential oil. In cold pressing hot steam or water passes through the plants, which results in the pulling away of essential compounds from the plants. However, in cold pressing, the essential oil is extracted by mechanically squeezing or pressing the plant matter to release the essential oils or juices out of it. In addition, manufacturers operating in the market use essential oil to create a wide range of products, that have various applications in different industries.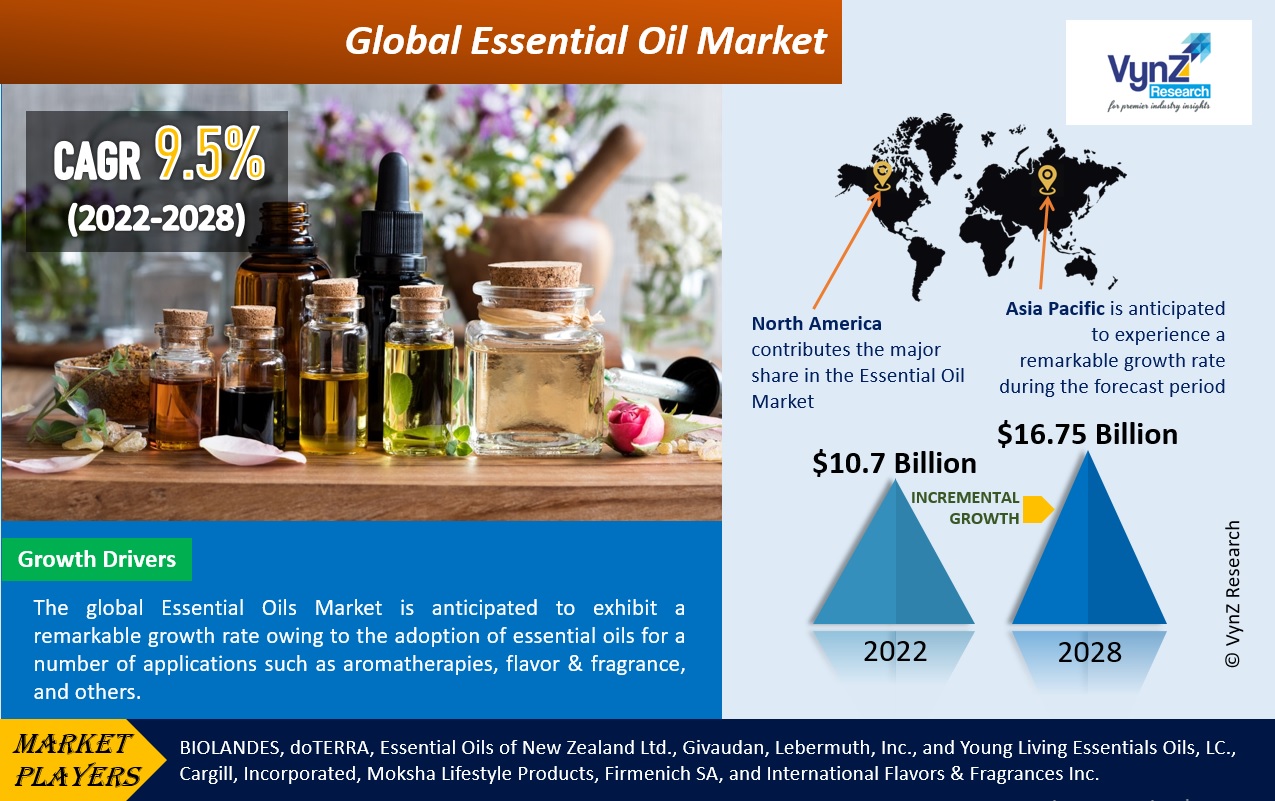 Industry Trends
A lot of industries such as Automotive, Aviation, and others experienced negative impacts owing to the COVID-19 pandemic. However, the Essential Oils market experienced positive growth during the pandemic. In addition, Essential Oils offers antioxidant, antimicrobial, and anti-infective properties, which are beneficial and utilized in treating different health conditions such as immunity disorders, stress conditions, depression, and sleep disorders. Thus, the Essential Oil market experienced significant growth during the pandemic as the number of patients experiencing mental problems increased, which in turn boosted the Essential Oils market growth.
Furthermore, the increased trend of clean labeling will lead to market expansion owing to the rising awareness among consumers about the simplicity and use of less synthetic ingredients on product labels.
Market Segmentation
Insight by Type
Orange
Lemon
Eucalyptus
Peppermint
Clove Leaf
Lime
Cornmint
Citronella
Spearmint
Geranium
Jasmine
Tea Tree
Rosemary
Lavender
Others
The orange segment dominated the global Essential Oil market and is anticipated to maintain its lead during the forecast period as Orange has characteristics of being non-greasy, skin elastic, firm, treats acne, scars, and stretch marks, and environment friendly. Thus, making it the preferred choice for use in pest controls, household cleaners, and others.
In addition, the Clove Leaf segment is anticipated to exhibit a remarkable growth rate during the forecast period as it has a strong germicide property and has increased adoption in dental applications. Also, it offers fragrance in soaps, toiletries, lotions, toothpaste, massage oils, perfumes, cosmetics, etc.
Insight by Application
Food & Beverages
Medical
Animal Feed
Spa & Relaxation
Cleaning & Home
Others
The Food & Beverages segment dominated the market and is expected to maintain its dominance throughout the forecast period owing to the increased adoption of essential oil as a natural ingredient while preparing food. Essential Oils have antimicrobial and antioxidant properties that control or prevent the growth of bacteria in food. Thus, they can be easily used to replace synthetic preservatives with harmful effects.
However, Cleaning & Home is anticipated to experience a remarkable growth rate during the forecast period due to the preference of consumers toward the adoption of a chemical-free solution for cleaning. In addition, Essential oil also has a wide range of applications in home cleaners. Also, Essential Oils are a natural, non-toxic, safe way of cleaning the home and they are a versatile and inexpensive way of personal care.
Essential Oil Market Report Coverage
| | |
| --- | --- |
| Report Metric | Details |
| Historical Period | 2018–2022 |
| Base Year Considered | 2022 |
| Forecast Period | 2023-2030 |
| Market Size in 2022 | $10.7 Billion |
| Revenue Forecast in 2028 | $16.75 Billion |
| Growth Rate | CAGR 9.5% |
| Segments Covered in the Report | By Type and By Application |
| Report Scope | Market Trends, Drivers, and Restraints; Revenue Estimation and Forecast; Segmentation Analysis; Impact of COVID-19; Companies' Strategic Developments; Market Share Analysis of Key Players; Company Profiling |
| Regions Covered in the Report | North America, Europe, Asia-Pacific, Middle East, and Rest of the World |
Industry Dynamics
Growth Drivers
Development of Aromatherapy Will Drive the Growth
The global Essential Oils Market is anticipated to exhibit a remarkable growth rate owing to the adoption of essential oils for a number of applications such as aromatherapies, flavor & fragrance, and others. Also, Essential Oils are also used majorly aromatherapy, owing to their psychological and physiological benefits for the body. Moreover, the demand for aromatherapy has also increased in recent years due to factors such as the general rise in disposable income of the population in the past decade. Thus, aromatherapy has increased the use of these volatile oils as potential therapeutic agents, including massage, inhalation, and bathing. Growing public awareness about the importance of aromatherapy owing to people's growing interest in natural care and getting back to nature will spur the creation of natural/organic components with healing properties.
Other factors attributing to the market growth of essential oil includes the wide range of use of Essential Oils in commercial, industrial, and household application, and a number of health benefits offered by essential oils are driving the growth of the market. Also, the use of Essential Oils for making flavors & fragrances is boosting the market growth. In addition, the usage of Essential Oil also offers various health benefits, which in turn is expected to propel the growth of the global market.
Challenges
Adulteration of Essential Oil may stymie the Market Growth
The adulteration of Essential Oils is one of the major challenges that is hindering the global market growth. Also, some of the Essential oils may contain some synthetic adulterants and may not be created equal. Thus, this processed and adulterated Essential Oil can only act as fragrance products and does not possess any Essential Oil properties. Moreover, adulterated Essential Oils are extremely dangerous and they might also have a number of side effects and can also result in some permanent damage, which in turn is restraining the growth of the Global Essential Oil Market.
In addition, the high prices associated with Essential Oil will also act as one of the major factors restraining the growth of the global Essential Market.
Opportunities
Continuous Research & Development will offer Potential Opportunities for Essential Oil Producers
Many manufacturers in the market are introducing and developing new methods of producing heath and natural ingredients to provide maximum benefits to the consumer, which is a remarkable growth opportunity for the players operating in the global Essential Oil Market. Thus, essential oil functioning is being improved in a variety of applications, including food, cosmetics, medicines, and animal nutritional items.
Growing demand for Essential Oils as natural preservatives is anticipated to provide a remarkable growth opportunity for the players operating in the market. In addition, demand for natural ingredients has been increasing due to growing awareness about the benefits offered by natural ingredients and rising disposable income among the population, which in turn results in consumers spending money to buy expensive natural products.
Geographic Overview
North America contributes the major share in the Essential Oil Market owing to the growing presence of end-use industries in this region, the expansion of aromatherapy market, and rising awareness related to the adoption of Essential Oil among consumers.
In addition, Asia Pacific is anticipated to experience a remarkable growth rate during the forecast period as it is the prime market for natural antioxidants, increased prominence of the health sector, and has favorable conditions for agriculture, availability of raw materials, and Others. Also, consumers are choosing natural essential oil ingredients like pepper and spearmint, thereby surging the market demand for essential oils.
Competitive Insight
Leading companies operating in the global Essential Oils Market are exhibiting a rise in product sales. Therefore, the market players in the industry are primarily focused on improving their supply and production strategy to fulfill the exponentially growing demand for the products and make effective marketing strategies. In addition, the demand for peppermint oil, tea tree oil, and eucalyptus oil, which have the potential as antiviral & antibacterial, and aromatherapy has increased in recent years.
Various companies operating in the Essential Oils Market are adopting various strategies to fulfill the increasing demand for essential oils like collaborations, acquisitions, product launches and expansions, and partnerships to offer extensive offerings, a wide customer base, and a strong foothold in the market.
Essential Oils of New Zealand Ltd. offers a comprehensive range of essential oils, vegetable (carrier) oils, essential oil blends, fragrances, perfumes, and flavors, as well as glass bottles. Experiments with more exotic plants like clary sage, imported cardamom seeds, Australian tea tree grown in Karamea, and New Zealand native kanuka and manuka oils have all contributed to a better understanding of essential oil crop management, harvesting, and distillation techniques, as well as the overwhelming importance of quality as a key ingredient in successfully marketing essential oils globally. These essential oils can be used by a massage therapist, a candle maker, an aromatherapy practitioner, a personal care products producer, or someone who utilizes essential oils to improve their own well-being.
Young Living Essential Oils, LC, based in Lehi, Utah, is one of the prominent global leaders in essential oils and oil-infused products. Young Living is committed to industry leadership, setting the bar with its Seed to Seal® quality promise, which is built on three pillars: sourcing, science, and standards. These guiding principles enable Young Living to safeguard the environment while still providing pure, authentic items that members may use and share with friends and family.
Recent Development by Key Players
Backyard poultry owners seek natural, nutritious feeds that help their birds thrive, produce healthy eggs, and keep their coops clean. In October 2021, essential oils have been added to Cargill's Nutrena® Naturewise® poultry feeds to meet this demand. Natural* essential oils help to promote egg weight, size, and production, as well as improved palatability and a fresh aroma straight from the bag.
Leading multination manufacturers of fragrances, flavors, and other cosmetic manufacturers are acquiring technology companies to expand their capabilities in the market. For instance, in April 2021, Givaudan, a cosmetic product manufacturer acquired Myrissi, an Artificial Technology company to expand its capabilities in Artificial Intelligence. In addition, Myrissi has introduced a patented AI-based technology that is capable of translating fragrances into images and color patterns, relevant to the consumers and also predicting the emotional response of end customers. This development will allow the company to make advancements in the fragrance and cosmetic industry, which in turn will benefit the Global Essential Oil Market.
Global Essential Oils companies are introducing a new range of products related to Essential Oils, which in turn is anticipated to drive market growth. For instance, in October 2020, doTERRA Essential Oil company announced various Essential Oil products and 3 new wellness programs that are specifically designed to help people focus on their health goals. Also, the pre-packaged kids are one of the efficient ways to help consumers understand which doTERRA oil and products will be most beneficial for them. In addition, the pre-packaged kits are offered in recyclable and reusable bags with a focus on reducing their footprint.
Global leaders operating in the Flavor and Fragrance Industry are acquiring companies involved in the supply of naturally derived ingredients to expand the business over the coming years. For instance, in May 2020, Flavor and Fragrance Industry leader, Firmenich International SA acquired DRT, a leader in the supply and development of renewable, high-quality, and naturally derived ingredients. In addition, this acquisition will make Firmenich International SA a key player in development of renewable and natural ingredients for products related to perfume and beyond. In addition, this acquisition will also strengthen Firmenich's already leading business in Perfumery and ingredients and the company's capability to offer consumers high quality products.
Leading fragrances and grooming brands in various countries are introducing a new range of products that are developed by using Essential Oil, which in turn is anticipated to boost the market in various countries. For instance, in March 2022, Denver, one of India's leading men's grooming and fragrance brands introduced high-quality self-care men's grooming products. In addition, the mix of Essential Oils and their high quality fragrance make the company's products stand out.
Key Players Covered in the Report
Some of the industry players in the global Essential Oil Market included BIOLANDES, doTERRA, Essential Oils of New Zealand Ltd., Givaudan, Lebermuth, Inc., and Young Living Essentials Oils, LC., Cargill, Incorporated, Moksha Lifestyle Products, Firmenich SA, and International Flavors & Fragrances Inc.
The Essential Oil Market report offers a comprehensive market segmentation analysis along with an estimation for the forecast period 2023–2030.
Segments Covered in the Report
By Type
Orange
Lemon
Eucalyptus
Peppermint
Clove Leaf
Lime
Cornmint
Citronella
Spearmint
Geranium
Jasmine
Tea Tree
Rosemary
Lavender
Others
By Application
Food & Beverages
Medical
Animal Feed
Spa & Relaxation
Cleaning & Home
Others
Region Covered in the Report
North America
Europe
Germany
U.K.
France
Italy
Spain
Russia
Rest of Europe
Asia-Pacific (APAC)
China
Japan
India
South Korea
Rest of Asia-Pacific
Rest of the World (RoW)
Brazil
Saudi Arabia
South Africa
U.A.E.
Other Countries