Industry Overview
The Global Wheat Starch Market is estimated to be worth USD 15.3 billion in 2022, rising to USD 19.6 billion by 2030, reflecting a CAGR of 3.1% It is seeing tremendous growth as a result of its growing use in a large variety of foods, as well as the cost-effectiveness and improved functionalities it provides over native starch. Modified starch is in high demand due to the increased demand for packaged and convenience foods among customers. Modified starch is being more widely used as a result of the advancement of emerging innovations and groundbreaking experiments in the food and beverage industry.
Wheat starch is produced by separating the proteins from wheat flour which resembles corn starch or flour in appearance when refined. Wheat starch is also an important component of the food industry, where it is used as a thickening agent, a food additive, and an active ingredient in a variety of products. It's also used in the garment and paper industries as a manufacturing component. It acts as an emulsifier, stabilizer, and glazing agent in addition to being a fat substitute. Wheat starch is also used in the formation of gels, adhesion, sealing, and moisture preservation.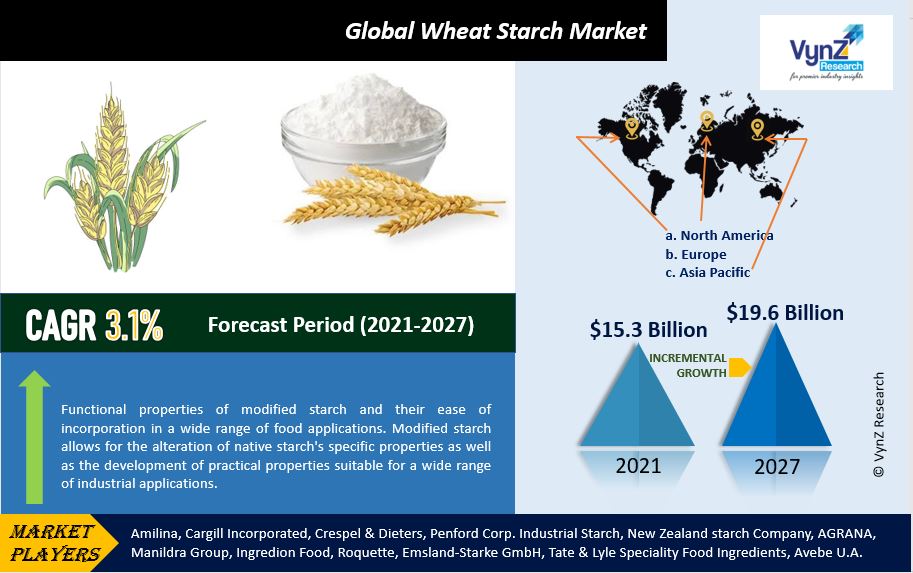 COVID-19 Impact
Due to lockdowns, travel bans, and industry shutdowns, COVID-19 has had a negative impact on markets and businesses in a number of countries. Food and beverage are one of the world's most important markets, and it has been hit hard by supply chain failures, technological event cancellations, and office closures. China is the world's largest industrial centre and a major producer of raw materials for a variety of industries. The closure of numerous Chinese plants and factories is disrupting global supply chains, influencing production, distribution times, and material prices. Several firms have also warned of potential delays in product delivery and a drop in future sales. Furthermore, multinational travel bans implemented by countries in Europe, Asia, and North America are impacting the opportunities for business alliances and partnerships.
 
Market Segmentation
By Application
•  Food & Beverages
    •  Bakery & Confectionery Products
    •  Processed Foods
    •  Beverages
    •  Other Food Applications
•  Feed
•  Industrial
By application, the market is segmented into food & beverages, industrial, and feed. The food & beverage segment is further classified into bakery & confectionery products, processed food, beverages, and others, which include snacks and soups.
Modified starches have been around for a long time, and their applications in the food and beverage industry are becoming more and more relevant. Modified starches are food additives that are made by partly degrading starch or its granules using chemicals or enzymes. Because of their mechanical properties, they are used in a variety of food applications.
For instance- today pet food manufacturers are actively using starch or its co-products as they are high in protein content which makes them a good substitute for meat.
By Products
•    Native Starch
•    Modified Starch
•    Sweeteners
With multiple functionalities and advantageous properties, starch acts as one of the most proficient constituents of any food item such as Sweeteners, which are able to crystallize easily, hence it is used by a number of candies, jam, and jelly manufacturers.
By Grade 
•    Food Grade 
•    Industrial Grade
In 2019, the food-grade segment dominated the market. Wheat starch is a nutritional supplement that can also be used as a fat substitute in the food and beverage industry. Through the processes of gelatinization and retrograde, it thickens food. Puddings, soups, sauces, and pie fillings all use food-grade wheat starch to thicken or reinforce them. Texture, viscosity, gel formation, adhesion, attachment, and moisture preservation are all aided by it. This starch is also used in high-end restaurants, hotels, and domestic kitchens.
By End-Use Industry
•    Food and Beverages
•    Cosmetics 
•    Others
In 2019, the food and beverages segment dominated the market. Wheat starch is used as a thickening agent in the food industry. Furthermore, because of its ability to resist dough elasticity, it is most commonly used as a thickener, food additive, and active ingredient in the food and beverage industry. It also aids in the binding of ingredients and is used in the preparation of gluten-free and low-calorie foods. It's also used as an emulsifier, stabilizer, fat replacement, and clouding or glazing agent in a variety of food applications. It's also used in Chinese dumpling wrapper dough recipes to help give the wrappers a transparent consistency.
By Region
•    North America
•    Europe
•    Asia Pacific
•    Rest of the World (RoW)
Because of the change in dietary trends, Asia Pacific has a leading position in the market for processed foods. People who lead busy lives are hunting for ready-to-eat food choices.
Asia Pacific is also the fastest-growing market, as the region's manufacturing applications and technology for starch production change at a rapid pace. Modified starch is becoming more common as more companies incorporate it into their production processes and products. In addition, major players are spending more in the Asia Pacific modified starch industry.
Market Trends
Wheat starch's vast uses in the food and beverage industry, aided by its outstanding stabilizing, thickening, and gelling properties, are driving the global market. Rapid urbanization and the disposable income levels have given the sector a lift, boosting demand for wheat starch across the world.
Wheat starch is now becoming more common with health-conscious customers and people with gluten allergies, as the manufacturing of the starch eliminates gluten proteins from the flour. Apart from that, starch is commonly used to make a variety of low-calorie sweeteners, such as sorbitol. Another big growth-inducing cause is the shifting eating habits of the masses, as well as the increasing incidence of lifestyle disorders around the world.
Wheat starch is increasingly being used in the formulation of a variety of skincare and personal care items, which is fuelling the demand. Since starch is known for its ability to effectively absorb excess oil and impurities from the skin, it is used in the production of face masks and body cleansers. This is aided even further by the growing preference for natural skincare products around the world.
Wheat starch's widespread use as a sizing agent and output variable in the textile and paper industries, as well as its growing use as a fat replacer in the food industry, are some of the other factors driving market development. The demand is projected to develop at a CAGR of 1% between 2021 and 2026 as a result of the aforementioned factors.
Market Drivers
Functional properties of modified starch and their ease of incorporation in a wide range of food applications. Modified starch allows for the alteration of native starch's specific properties as well as the development of practical properties suitable for a wide range of industrial applications. It serves as a thickener, texture agent, fat replacer, and emulsifier, among other things. In food products, starch is often used as a thickener or a gelling agent, as texture is one of the most significant factors in determining whether or not customers can tolerate the food. In sauces, jellies, puddings, and ice creams, oxidized starches are used as thickeners and subsidiary gelatin agents.
A major factor driving the global Wheat starch market is the growing demand for wheat starch as a stabilizing and gelling agent in various end-use industries. Wheat starch is a thickening agent found in a variety of foods. Because of the growing need for wheat starch as a stronger gelling agent in a range of meat items, many wheat starch manufacturers are offering healthy food options.
Wheat starch is primarily found in gluten-free food items, which are primarily eaten by gluten-intolerant people, though it can also be used as a fat substitute in a number of foods. As a result, over the projected period, the global wheat starch demand is projected to rise significantly.
Opportunities
There are a number of untapped application areas that could be lucrative for changed starch producers. Expanding the commodity sources for starch extraction and mixing alteration methods expands the list of possible applications.
Modified starch can be used as a fermentation base for the bulk processing of organic acids, enzymes, vitamins, and hormones, among other biotechnology items. Fermenting starch-derived glucose to create lactic acid, which can then be polymerized to make biodegradable films or bioplastics. Potato starch wastes, on the other hand, can be used as a feedstock in fermentation reactions. A variety of starch-based feedstocks can be used to make a variety of polymers.
Challenges
The rising cost of raw materials: For the production of refined starch and its derivatives, natural sources such as maize, cassava, corn, and rice are used as raw materials. These raw materials are extensively used in the manufacture of refined starch and bio-ethanol products. Increased demand for changed starch in segments such as food and drinks, feed, pharmaceuticals, cosmetics, and paper contributes to higher raw material prices. The price of raw materials is determined by the crop plantation area and harvest from which they are obtained.
Limited sources and the high cost of natural additives: Because of its mechanical properties, modified starch is used in a variety of industrial applications. However, starch can only be derived from a small number of sources, including maize, cassava, wheat, potato, rice, and others. The development of these sources is influenced by the weather. Cassava development, for example, is influenced by weather conditions. The overall production of cassava is hampered by the unfavourable environment, which causes price fluctuations.
Key Market Players
Some of the key players identified across the value chain of the global Wheat starch market include Amilina, Cargill Incorporated, Crespel & Dieters, and Penford Corp. Industrial Starch, New Zealand starch Company, AGRANA, Manildra Group, Ingredion Food, Roquette, Emsland-Starke GmbH, Tate & Lyle Speciality Food Ingredients, Avebe U.A. are among others.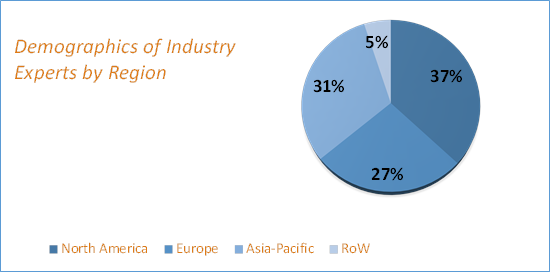 Source: VynZ Research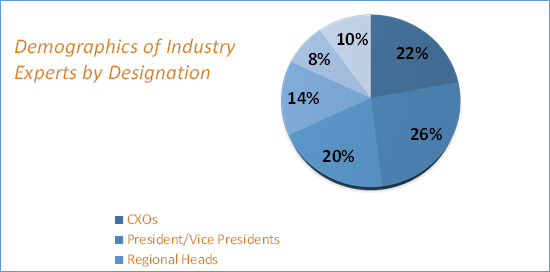 Source: VynZ Research