Industry Overview
The Global Polyphenols Market Size is anticipated to grow from USD 1.65 billion in 2022 to USD 2.5 billion by 2030, registering a CAGR of 7.5% during the forecast period 2023-2030.
Polyphenols can be defined as micronutrients or plant compound that offers a number of health-related benefits. Also, polyphenols are the category of compounds naturally occurring in vegetables, fruits, herbs, spices, and others.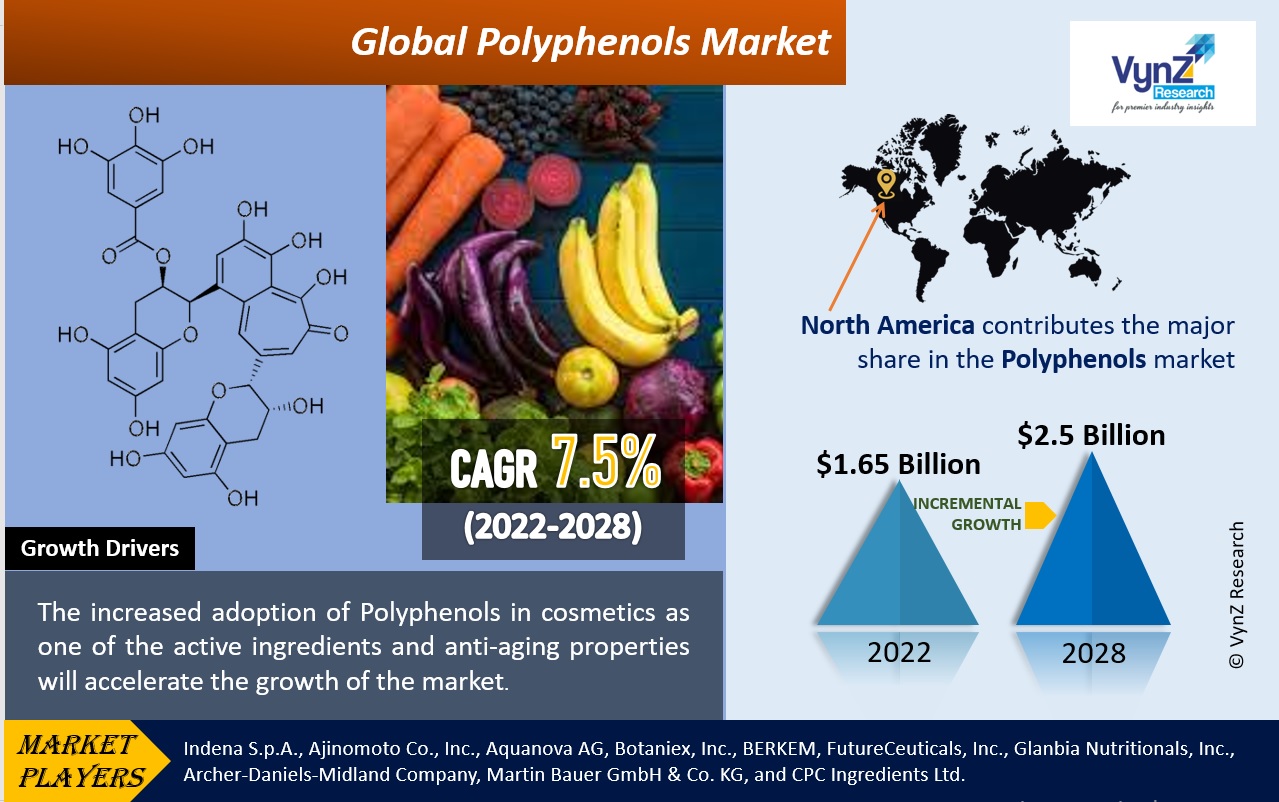 In addition, they can act as antioxidants and neutralize harmful radicals that can damage our cells and increase the risk of health conditions such as diabetes, cancer, and heart disease.  Further, polyphenol compounds can also help to stimulate the secretion of insulin, a hormone that keeps the blood sugar level stable. Also, these compounds help to reduce chronic inflammation, a risk factor responsible for heart attack.
Industry Trends
The global polyphenols market has benefitted from the COVID-19 epidemic. Also, owing to growth in the healthcare segment, increased production of functional food, and adoption of dietary supplements, global polyphenols have exhibited significant growth. In addition, companies operating in the global polyphenols market are comprehending new strategies in order to capture a significant market share during the forecast period.
Awareness related to the importance of good health is growing exponentially among consumers, which is to some extent done by the online health sector. This rising awareness is resulting in consumers' attention to staying healthy, which in turn is boosting the demand for polyphenols-rich food as it is one of the essential components of the body. In addition, market players are also involved in the development of polyphenol-rich products for the improvement of health and immunity owing to the protective effects of Polyphenols against diseases.
Market Segmentation
Insight by Source
Fruits

Apples
Cherries
Grapes
Lemons
Others

Vegetables

Broccoli
Carrots
Potatoes
Others

Plant Extracts

Carawa
Curry Powder
Mexican Oregano
Others

Others
Fruits and vegetables segments are anticipated to hold the major share of the market during the forecast period owing to various health benefits of polyphenols-rich food. Grapes have significant adoption in the Polyphenols industry as it is stable to light, pH, and heat. Furthermore, they are excellent replacers of artificial red food colors, thus increasing adoption as natural colorant sources in the food & beverage industry.
Insight by Class
Phenolic acids
Flavonoids
Stilbenes
Lignans
The Phenolic acids segment is anticipated to contribute significantly to the global Polyphenols Market during the forecast period owing to the health benefits it provides by acting as antioxidants and preventing cellular damage caused due to free-radical oxidation reactions.
Further, Stilbenes is anticipated to exhibit a remarkable growth rate during the forecast period owing to adoption in various industries such as Food and beverages, pharmaceuticals, and Others.
Phenolic acids are the class of Polyphenols that are abundantly found in foods and exhibit high antioxidant property and thus is very beneficial for human health. Also, Favonoids are a class of Polyphenols that has over 4,000 varieties, many of which are responsible for the attractive colors of fruits & leaves, flowers, and others. In addition, the stilbenes class acts as antifungal phytoalexins, a compound that is produced only in response to injury or infection. Furthermore, Lignans is a class of Polyphenolic compounds found majorly in plant-based foods such as whole grains, legumes, fruits, vegetables, and others.
Insight by Application
Functional Foods
Functional Beverages
Dietary Supplements
Cosmetics & Toiletries
Animal Feed
Dyes
Others
The dietary Supplements segment is anticipated to dominate the market and maintain its lead during the forecast period as it helps in offering solutions to several health diseases and provides support to the immune system. Also, the increased awareness about the importance of nutrition in improving health will drive the market growth of the segment.
In addition, the functional foods segment is expected to show an exponential growth rate throughout the forecast period as it provides a desirable impact on the human body like enhanced gut health and decreased intestinal inflammation. Furthermore, increased awareness about preventive healthcare due to several factors like a surge in disposable income, enhanced standard of living, and rising geriatric population will propel the growth of the market segment during the forecast period.
Polyphenols Market Report Coverage
| | |
| --- | --- |
| Report Metric | Details |
| Historical Period | 2018–2022 |
| Base Year Considered | 2022 |
| Forecast Period | By 2030 |
| Market Size in 2022 | $1.65 Billion |
| Revenue Forecast in 2028 | $2.5 Billion |
| Growth Rate | CAGR 7.5% |
| Segments Covered in the Report | By Source, By Class, and By Application |
| Report Scope | Market Trends, Drivers, and Restraints; Revenue Estimation and Forecast; Segmentation Analysis; Impact of COVID-19; Companies' Strategic Developments; Market Share Analysis of Key Players; Company Profiling |
| Regions Covered in the Report | North America, Europe, Asia-Pacific, Middle East, and Rest of the World |
Industry Dynamics
Growth Drivers
Increased Adoption in the Cosmetics Industry will drive the market growth of the Global Polyphenols Market
The increased adoption of Polyphenols in cosmetics as one of the active ingredients and anti-aging properties will accelerate the growth of the market. Consumers are focusing on personal care and have increased their spending on these products as they protect skin from dangerous radioactive rays, thus accelerating the market development of Polyphenols during the forecast period. 
Increasing health benefits offered by Polyphenol owing to their anti-inflammatory and antioxidant properties, rising demand for herbal products, and growing population of old age people are the major factors propelling the growth of the global Polyphenol market. Also, the anti-carcinogenic and antitumor properties associated with Polyphenol coupled with anti-aging properties are anticipated to boost the growth of the market during the forecast period. Furthermore, increased consumption of Polyphenols due to their application in liquors and wines to improve their quality will drive the growth of the global Polyphenols market. Nevertheless, developments in health products and nutritional products have propelled manufacturers to produce innovative product solutions, thereby propelling the market revenue for the global Polyphenols industry. 
Challenges
The challenges faced by the Polyphenols market include a lack of awareness about the benefits of the application of polyphenols in various industries such as pharmaceuticals, food & beverages, etc., and ease in availability and increased utilization of various alternatives having similar properties of polyphenols may stymie the growth of the market. In addition, the major factor restraining the growth of the global Polyphenols market is the complex manufacturing process from several sources and the high price associated with polyphenols.
Opportunities
The extraction of polyphenol from artichoke and organic rosemary is anticipated to provide remarkable growth opportunities to the companies operating in the global Polyphenol market. In addition, the growing application of Polyphenols in healthcare and growing health consciousness among the population provides a significant growth opportunity to the market players. Nevertheless, Polyphenols are well-known as functional components and an important part of the nutraceutical business. There could be a better opportunity for market participants to produce polyphenols for the burgeoning nutraceutical business.
Geographic Overview
North America contributes the major share in the Polyphenols market owing to increased consumption of functional food and dietary supplements in the region. Moreover, the significant adoption in the food and beverages industry is due to various benefits such as lowering diabetes risk, improving health conditions, anticancer properties, and others. In addition, the UK is anticipated to exhibit a remarkable growth rate during the forecast period due to high awareness regarding the health benefits of consuming high food with high polyphenol concentration.
Competitive Insight
The industry players are investing in R&D activities to enhance their product portfolio and have increased participation in the value chain. Leading players operating in the Global Polyphenols Market are focusing on the extraction of high-quality Polyphenols, which will have a wide range of applications in various industries, which in turn will drive the market growth. Moreover, the players adopted organic strategies such as Product Launches and product Development for market expansion. In addition, inorganic strategies such as mergers and acquisitions were also adopted by the players.
Major companies involved in the production of high-quality flavors, sweeteners, and others are expanding in botanicals to expand their portfolio in botanical extracts. For instance, Layn Natural Ingredients, a flavors and sweeteners manufacturer is expanding in botanical to propel its portfolio on Non-GMO Project Verified botanical extracts. In addition, the new ranges is majorly focused on botanical extracts that are rich in polyphenol that offers high functional benefits in the dietary supplement sector, and food & beverages and sports nutrition. Also, the expansion also closely follows the company securing $148 million from the stocks that are to be invested in innovation and expansion.
Leading winemakers are also producing wines with high concentration of polyphenols in grapes, which in turn is anticipated to boost the growth of the polyphenols market. For instance, Morande Wine Group is a winemaker that consistently focuses on the production of high-quality wines. Also, 10 years of research with French and Japanese technologies has resulted from HAX, a wine with high concentrations of polyphenols, which means it has more flavors, aromas, and intensity. In addition, the vinification of such high-quality wines begins with the selection of grapes with a high concentration of polyphenol content. This exceptional innovation is anticipated to boost the growth of the polyphenols market during the forecast period.
Recent Development by Key Players
A specialist from France in plant extraction has introduced a new active ingredient that is taken from organically grown flowers such as false acacia or black lotus. The new ingredient is rich in polyphenols and sugars which in turn can soothe sensitive skin. In addition, In November 2021, Berkem, an Italian chemical company incorporated a new plant active ingredient with a focus on relieving the skin of discomfort and stress due to wearing masks also known as "mask" (mask-related acne). The new components, which are high in sugars and polyphenols, can help soothe sensitive skin. In addition, this protein also plays a very important in the regulation of immune response and inflammatory processes. Thus, such use of polyphenols in pharmaceutical products is anticipated to boost market growth.
Key Players Covered in the Report
Some of the industry players in the global Polyphenols market include Indena S.p.A., Ajinomoto Co., Inc., Aquanova AG, Botaniex, Inc., BERKEM, FutureCeuticals, Inc., Glanbia Nutritionals, Inc., Archer-Daniels-Midland Company, Martin Bauer GmbH & Co. KG, and CPC Ingredients Ltd.
The Polyphenol Market report offers a comprehensive market segmentation analysis along with an estimation for the forecast period 2023–2030.
Segments Covered in the Report
•    By Source
Fruits
Apples
Cherries
Grapes
Lemons
Others
Vegetables
Broccoli
Carrots
Potatoes
Others
Plant Extracts
Carawa
Curry Powder
Mexican Oregano
Others
Others
•    By Class
Phenolic Acids
Flavonoids
Stilbenes
Lignans
•    By Application
Functional Foods
Functional Beverages
Dietary Supplements
Cosmetics & Toiletries
Animal Feed
Dyes
Others
Region Covered in the Report
•    North America
•    Europe
Germany
U.K.
France
Italy
Spain
Russia
Rest of Europe
•    Asia-Pacific (APAC)
China
Japan
India
South Korea
Rest of Asia-Pacific
•    Rest of the World (RoW)
Brazil
Saudi Arabia
South Africa
U.A.E.
Other Countries

To explore more about this report - Request a free sample copy