Industry Overview
The global pharmaceuticals and biotech industry's testing, inspection, and certification market reached USD 13.5 billion in 2030, currently in 2022 the market is USD 6.8 billion with a projected CAGR of 5.6% from 2023 to 2030. These services improve manufacturing quality and compliance with global regulations. Inspection and testing are crucial for quality control, impacting costs, productivity, on-time delivery, and market share.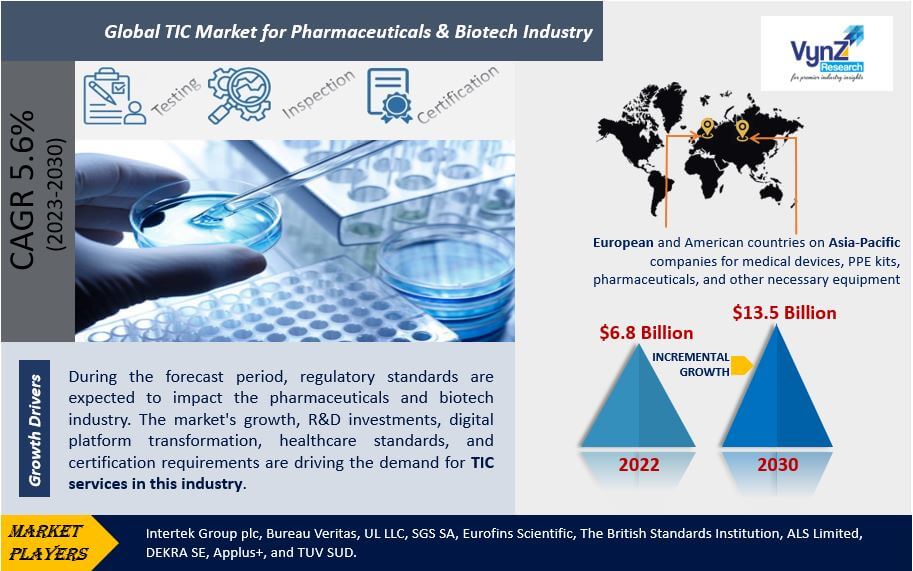 The pharmaceutical and biotech industry develops drugs and other products so that people and animals can live healthier lives, recover from injuries, and fight diseases. Moreover, globalization, urbanization, stringent safety regulations, increasing trade of counterfeit and pirated products, growth in networking and communication technology, favorable government initiatives, rules & regulations by the government has propelled the growth of the TIC market in the pharmaceuticals and biotech industry. Quality, assurance, and transparency are significant for manufacturers in the pharmaceuticals & biotech industry. Manufacturers of pharmaceutical products must strictly control the distribution of their products to ensure the correct dosage and minimize the risk of overdose or dependence on the patient., resulting in the growth of TIC services.
TIC services are used by pharmaceutical & biotech companies, diagnostic centers, medical devices, clinical research, and digital health applications in the healthcare sector to curb the spread of coronavirus. Pharmaceutical companies are producing medicines, remedies, and injections to battle against the coronavirus. Countries are spending huge amounts of money on R&D vaccines, increasing their budgets for the healthcare industry, and need to work closely with regulators and policymakers resulting in the growth of TIC services in the pharmaceuticals and biotech industry.
Market Segmentation
Insight by Sourcing Type
Based on sourcing type, the TIC market for the pharmaceuticals and biotech industry is categorized into in-house and outsourced. Among the two segments, the in-house segment contributes in holding the largest share during the forecast period 2023-2030. The in-house testing provides benefits of controlling the technology, skilled personnel, full-service laboratories, and testing and measurement equipment. Moreover, it can also help manufacturers in reducing in-house compliance costs and easily respond to global market demands. Therefore, the pharmaceuticals and biotech industry chose in-house services over outsourced services due to the criticality of applications.
Insight by Service Type
Based on service type, the TIC market for the pharmaceuticals and biotech industry is segmented into testing, inspection, and certification. Testing dominates the TIC market in the pharmaceutical and biotech industry in 2020 due to diverse standards, mandatory regulations, rising adoption for improved safety, industrialization, and a need to provide credibility. Testing in the pharmaceutical industry should be on quality assurance, ingredient validation, and label reviews, microbiological testing, benchmarking analysis, and testing according to U.S. FDA and others.
Insight by Industry Vertical
Based on industry vertical, the TIC market for the pharmaceuticals and biotech industry is divided into extractable and leachable studies, environmental monitoring, biopharmaceutical, and biologics analysis, sterile compounding, pharmaceutical method development, and research, pharmaceutical X-ray diffraction, excipient raw materials, and container testing, material sciences testing, disinfection qualification, trace metal services, and others. There is a need to study the impact of extractable and leachable substances on the safety and drug product interaction and is significant in order to protect the patient and comply with regulations. Medications that need to be sterile include injectables, IV, intraocular, and compounding medications will allow pharmacists to make individual prescriptions for patients that require unique dosing, allergies, or rare diseases to prevent them from taking commercially available formulations.
Global TIC Market for Pharmaceuticals & Biotech Industry Report Coverage
| | |
| --- | --- |
| Report Metric | Details |
| Historical Period | 2018–2022 |
| Base Year Considered | 2022 |
| Forecast Period | By 2030 |
| Market Size in 2022 | $6.8 Billion |
| Revenue Forecast in 2030 | $13.5 Billion |
| Growth Rate | CAGR 5.6% |
| Segments Covered in the Report | By Sourcing Type, By Service Type, and By Industry Vertical |
| Report Scope | Market Trends, Drivers, and Restraints; Revenue Estimation and Forecast; Segmentation Analysis; Impact of COVID-19; Companies' Strategic Developments; Market Share Analysis of Key Players; Company Profiling |
| Regions Covered in the Report | North America, Europe, Asia-Pacific, Middle East, and Rest of the World |
Industry Dynamics
Industry Trends
The TIC market for the pharmaceuticals and biotech industry is characterized by various industry trends like AI and machine learning in drug discovery, the evolution of cloud computing in providing innovation in pharmaceuticals, and molecular computers are developing the future of medicine, rising mergers & acquisitions by the market players.
Growth Drivers
During the forecast period, regulatory standards are expected to impact the pharmaceuticals and biotech industry. The market's growth, R&D investments, digital platform transformation, healthcare standards, and certification requirements are driving the demand for TIC services in this industry. Additionally, manufacturing companies are focusing on quality products to retain customers, while the increasing demand for connected devices and IoT is fueling the growth of the TIC market in pharmaceuticals and biotech.
Challenges
Trade wars, growth fluctuations, massive investment in automation, increasing costs involved due to various standards and regulations globally, lack of testing facilities, and lack of skilled personnel are the challenges faced by the TIC market for the pharmaceuticals and the biotech industry. Furthermore, pharmaceutical products have a specified shelf life, the challenge in the supply chain, and storage conditions may restrict the growth of the pharmaceutical & biotech industry.
Opportunities
Technologies such as AI, robotics, drones, big data analytics, next-generation automation, and cloud and cybersecurity are the opportunities in the TIC market for the pharmaceuticals and the biotech industry.
Geographic Overview
Geographically, APAC is projected to have a high CAGR during the estimated period due to the rising investment in R&D, urbanization, huge manufacturing capabilities and exports, changes in lifestyle, and growing consumer awareness about the importance of certification. Moreover, the increasing dependence of European and American countries on Asia-Pacific companies for medical devices, PPE kits, pharmaceuticals, and other necessary equipment, will result in bolstering the growth of the TIC market in the pharmaceuticals & biotech industry. Nevertheless, the rising middle-class population will create growth in private consumption and bolstering demand for safety and product quality, resulting in providing opportunities in pharmaceutical and biotech testing.
Competitive Insight
The industry players are making technological changes to enhance their product portfolio, prioritizing their R&D, technological transformation, and providing a global market presence. Moreover, the industry players in the TIC market have started building strategies like mergers and acquisitions to generate new revenue channels.
Intertek announced that IntertekMedical Notified Body AB (IMNB) was designated against MDR 2017/745 by the Swedish Competent Authority. This designation may help the company to better penetrate its service and solutions in the European region.
Some of the key players operating in the TIC market in the mining industry: Intertek Group plc, Bureau Veritas, UL LLC, SGS SA, Eurofins Scientific, The British Standards Institution, ALS Limited, DEKRA SE, Applus+, and TUV SUD.
The TIC Market for Pharmaceuticals & Biotech Industry report offers a comprehensive market segmentation analysis along with an estimation for the forecast period 2023–2030.
Segments Covered in the Report
By Sourcing Type
By Service Type

Testing
Inspection
Certification

By Industry Vertical

Extractable and Leachable Studies
Environmental Monitoring
Biopharmaceutical and Biologics Analysis
Sterile Compounding
Pharmaceutical Method Development and Research
Pharmaceutical X-Ray Diffraction
Excipient Raw Materials and Container Testing
Material Sciences Testing
Disinfection Qualification
Trace Metal Services
Others
Region Covered in the Report
North America
Europe

Germany
U.K.
France
Italy
Spain
Russia
Rest of Europe

Asia-Pacific (APAC)

China
Japan
India
South Korea
Rest of Asia-Pacific

Rest of the World (RoW)

Brazil
Saudi Arabia
South Africa
U.A.E.
Other Countries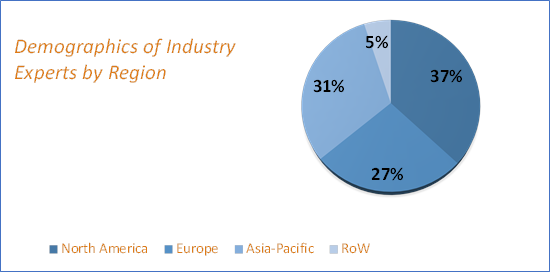 Source: VynZ Research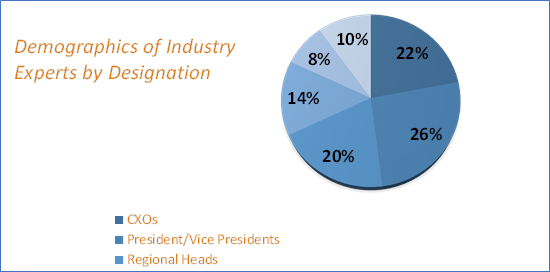 Source: VynZ Research