Industry Overview
The global ceftriaxone market size is expected to grow from USD 2.0 billion in 2021 to USD 2.8 billion by 2030. It will register a CAGR of 3.2% during the forecast period. Ceftriaxone are Active Pharmaceutical Ingredient (API) that belongs to the antibiotic class known as cephalosporins. Ceftriaxone is given intravenously or intramuscularly via injection. Ceftriaxone has a bioavailability of less than 1% when taken orally. Moreover, ceftriaxone is used to treat bacterial infections throughout the body like gonorrhea (sexually transmitted disease), meningitis (membrane infection that surrounds the brain and spinal cord), pelvic inflammatory disease (infection of female reproductive organs that may cause infertility), and infection in lungs, skin, ears, blood, bones, urinary tract, abdomen, and joints. It exhibits a broad range of activity against Gram-positive and Gram-negative bacteria, just like other third-generation cephalosporins. It is typically thought of as being equally safe and effective to cefotaxime. Before some types of surgery, this medicine is also used to prevent infections.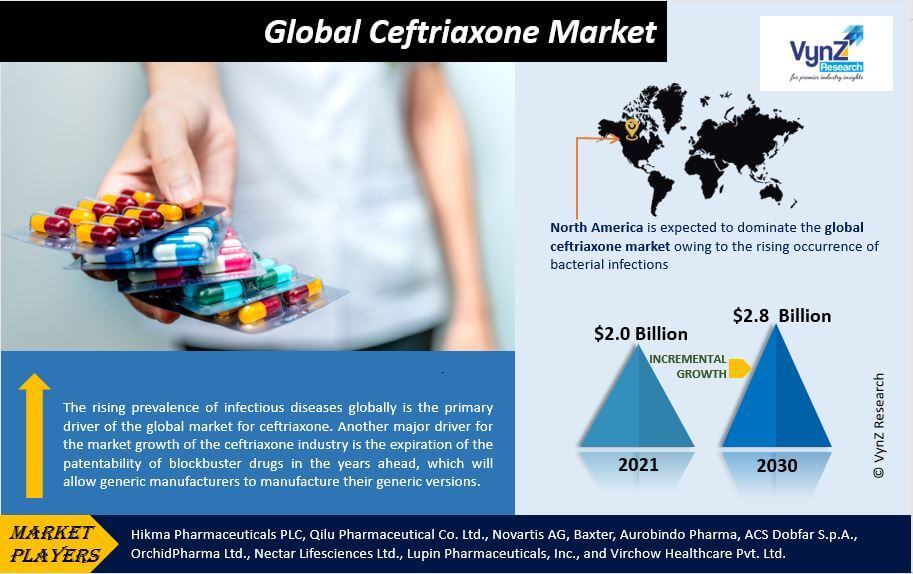 The parenteral formulations of both generic and branded ceftriaxone (Rocephin) are driving the global ceftriaxone market size. The majority of ceftriaxone medications are used off-label for a number of purposes.
Market Segmentation
Insight by Indication
Based on Indication, the Global Ceftriaxone Market is segmented into Intra-Abdominal Infections, Endocarditis, Meningitis, Urinary Tract Infections, Acute Bacterial Otitis Media, Pneumonia, and Others. Urinary Tract Infection is expected to have significant market growth during the forecast period owing to increased preference in emerging economies to treat UTIs. Moreover, there are more common among the adult population.
Insight by Distribution Channel
Based on Distribution Channel, the Global Ceftriaxone Market is classified into Hospital Pharmacies, Retail Pharmacies, and Online Pharmacies. Hospital Pharmacies are expected to have high growth during the projected timeframe as ceftriaxone is increasingly used to treat bacterial infections owing to favorable reimbursement policies. Ceftriaxone is administered intravenously and calls for a prescription from a doctor. It is mostly used in hospitals.
Global Ceftriaxone Market Report Coverage
| | |
| --- | --- |
| Report Metric | Details |
| Historical Period | 2018–2021 |
| Base Year Considered | 2022 |
| Forecast Period | 2022 - 2030 |
| Market Size in 2021 | $2.00 Billion |
| Revenue Forecast in 2030 | $ 2.80 Billion |
| Growth Rate | CAGR 3.2% |
| Segments Covered in the Report | By Indication and By Distribution Channel |
| Report Scope | Market Trends, Drivers, and Restraints; Revenue Estimation and Forecast; Segmentation Analysis; Impact of COVID-19; Companies' Strategic Developments; Market Share Analysis of Key Players; Company Profiling |
| Regions Covered in the Report | North America, Europe, Asia-Pacific, Middle East, and Rest of the World |
Industry Dynamics
Growth Drivers
The rising prevalence of infectious diseases globally is the primary driver of the global market for ceftriaxone. Another major driver for the market growth of the ceftriaxone industry is the expiration of the patentability of blockbuster drugs in the years ahead, which will allow generic manufacturers to manufacture their generic versions.  After these deadlines, the big pharma companies outsource the manufacturing process, allowing them to focus on their core competencies of drug development. These collaborations are expected to propel the market expansion of the ceftriaxone industry forward. People are becoming more susceptible to infections as their lifestyles and life choices change, which will drive the global market for ceftriaxone growth. Moreover, the increased adoption of ceftriaxone to treat urinary tract infection (UTI) also known as bladder infection among women, and the surge in the geriatric population having an improper immune system will fuel the market growth of the global ceftriaxone industry.
In addition, for patients who are allergic to penicillin, ceftriaxone is used as the first-line treatment for neurosyphilis. Ceftriaxone injection is also given prior to certain types of surgery to prevent infections from developing after the procedure. These factors may propel the market development of the ceftriaxone industry.
Challenges
Huge capital expenditures are required to establish production capabilities, which may restrain the growth of the ceftriaxone market.  Lack of skilled labor in production facilities in emerging markets can be added to the list of factors limiting the growth of the global ceftriaxone market. Also, pain, tenderness, hardness, pale skin, diarrhea, weakness, and shortness of breath when exercising are some of the side effects of ceftriaxone. Ceftriaxone medicine, on the other hand, is ineffective against colds, flu, and other viral infections. To receive the drug, a prescription from a doctor is necessary. These factors may impede the market growth of the ceftriaxone industry.
Opportunities
Ceftriaxone generic versions provide affordable therapy. In the upcoming years, this is expected to give considerable prospects for market advancement, particularly in emerging nations.
Geographic Overview
North America
Europe
Asia Pacific (APAC)
Rest of the World (RoW)
North America is expected to dominate the global ceftriaxone market owing to the rising occurrence of bacterial infections, innovation of technologically developed products, increased healthcare expenditure, ease in availability of developed technologies, favorable subsidies by the government, and increased R&D activities in the region.
Competitive Insight
The global ceftraxione business is competitive, with a large number of players adopting strategies to expand their product portfolio and acquire new businesses.  The majority of ceftriaxone market companies are investing heavily in research and development, primarily to introduce generic forms of ceftriaxone.
Novartis is reshaping medicine to help people live longer and healthier lives. As a leading global pharmaceutical company, they use cutting-edge scientific and digital technologies to develop transformative treatments in areas of high medical need. In their efforts to discover new medicines, Novartis consistently rank among the world's top companies investing in research and development. Novartis announced a new initiative to help patients in low-income and lower-middle-income countries by providing affordable medications and treat major symptoms of COVID-19 - a critical need in the absence of a vaccine or curative treatment. Inflammation and respiratory problems linked to COVID-19 can result in severe medical complications and even death in some people, putting enormous strain on already overburdened healthcare systems. The Novartis COVID-19 Response Portfolio of medications consists of the following items: Amoxicillin, Ceftriaxone, Clarithromycin, Colchicine, Dexamethasone, Loperamide, Pantoprazole, Prednisone, Prednisolone, Salbutamol, Vancomycin, Fluconazole, Heparin, and Levofloxacin.
Nectar Lifesciences is one of the prominent global leader in the production of cephalosporin antibiotics, ensuring patient safety in over 45 countries. NLL has grown from a small domestic API player to one of the most coherent player in the global cephalosporins industry within the anti-infective therapeutic segment. Cefixime, Cefuroxime Axetil Amorphous, Cefuroxime Axetil Crystalline, Cefotaxime Sodium, and Ceftriaxone Sodium are among NLL's leading global capacities. NLL is the leading manufacturer of Cefixime Trihydrate, Cefuroxime Axetil, Cefpodoxime Proxetil, and Sterile APIs in the world.
Recent Development by Key Players
In November 2022, Orchid Pharma has completed global clinical trials of a drug product that is a combination of Enmetazobactam with Cefepime. This is an injectable product, which is highly effective to treat complex Urinary Tract Infections (cUTI)
The US FDA has granted final approval to Aurobindo Pharma for two ANDAs: ceftriaxone for injection USP 250mg, 1g, 2g, and ceftriaxone for injection USP 10g pharmacy bulk pack. Cephalosporins are products in the anti-infective segment.
Baxter Healthcare Corporation has been granted US FDA approval for Ceftriaxone Injection, USP 1g/50 mL and 2g/50 mL packaged in single-dose plastic containers, Ceftriaxone, the generic form of Roche Pharmaceuticals' Rocephin, will be added to Baxter's frozen portfolio.
Key Players Covered in the Report
Some of the key players in the global Ceftriaxone Industry include Hikma Pharmaceuticals PLC, Qilu Pharmaceutical Co. Ltd., Novartis AG, Baxter, Aurobindo Pharma, ACS Dobfar S.p.A., OrchidPharma Ltd., Nectar Lifesciences Ltd., Lupin Pharmaceuticals, Inc., and Virchow Healthcare Pvt. Ltd.
The Ceftriaxone Market report offers a comprehensive market segmentation analysis along with an estimation for the forecast period 2022–2030.
By Indication

Intra-Abdominal Infections
Endocarditis
Meningitis
Urinary Tract Infections
Acute Bacterial Otitis Media
Pneumonia
Others

By Distribution Channel

Hospital Pharmacies
Retail Pharmacies
Online Pharmacies
Region Covered in the Report
North America
Europe

Germany
U.K.
France
Italy
Spain
Russia
Rest of Europe

Asia-Pacific (APAC)

China
Japan
India
South Korea
Rest of Asia-Pacific

Rest of the World (RoW)

Brazil
Saudi Arabia
South Africa
U.A.E.
Other Countries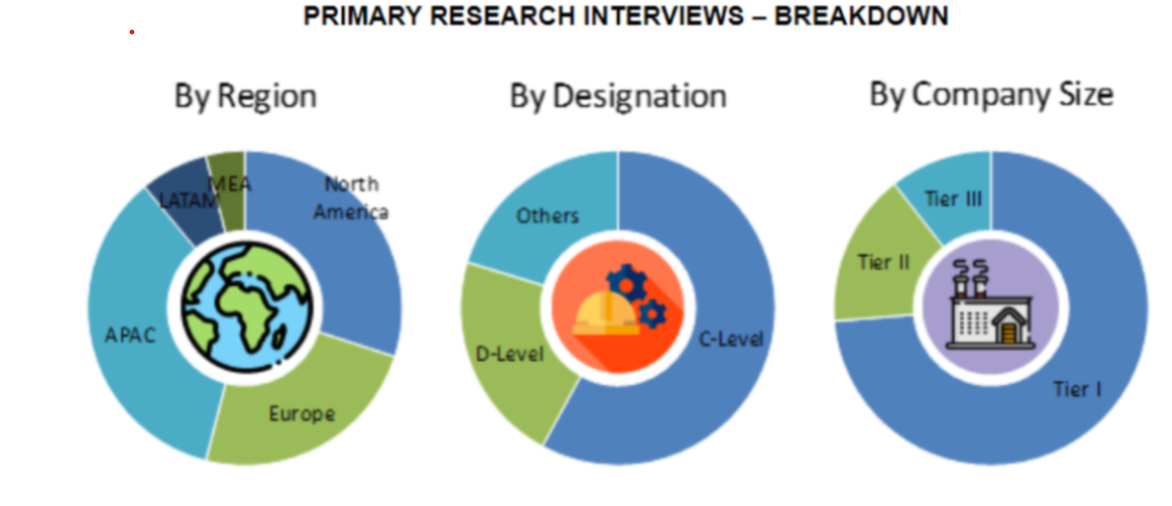 To explore more about this report - Request a free sample copy