Industry Overview
The global cleanroom door market is expected to grow at a CAGR of 4.9% during the forecast period with its market size predicted to reach USD 4.3 billion by 2030. The global market is primarily driven by technological advancements in the industry, high demand from the life sciences industry, and increasing demand for replacement doors. Different types of products including swinging doors, sliding doors, and roll-up doors contributed to the cleanroom door market size. The market has witnessed a high demand for sliding doors over the last few years due to technological advancements.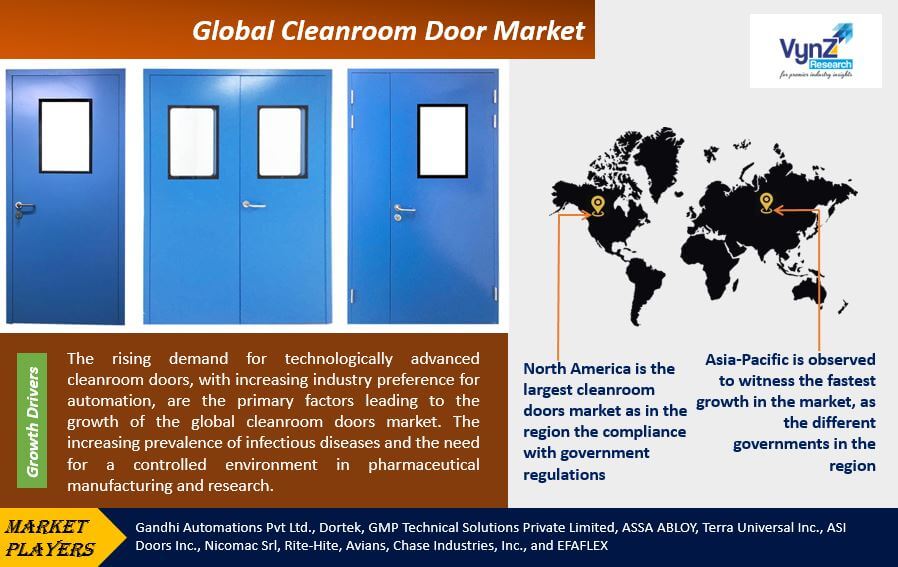 Cleanroom doors are an essential component of these controlled environments as they play a vital role in maintaining the integrity of the cleanroom. These doors are designed to minimize the transfer of particulate matter, dust, and other contaminants from one area to another. They are typically made with materials that are easy to clean, have smooth surfaces, and provide an airtight seal when closed.
Market Segmentation
Insight by Product
On the basis of product, the market is categorized into swinging doors, roll-up doors, sliding doors, and others. Swinging doors hold the largest share of the market due to their comparatively lower cost, and their conventional uses in pharmaceutical, and medical device industries. Moreover, technological advancements have led to the adoption of sliding and rollup doors among the manufacturing facilities in the pharma and biotech industries. These doors are more effective in maintaining a cleanroom environment in hospitals, medical devices, and pharmaceutical companies.
Insight by Mode of Application
Among the two types of modes of application including new construction and aftermarket, of which, the aftermarket of cleanroom doors is anticipated to increase significantly in the coming years due to the increasing compliance for maintaining a cleanroom environment in the existing manufacturing facilities.
Insight by End-User
The different end-users in the market are academic research institutes and laboratories, biotechnology, pharmaceutical, and medical device industry, hospitals, diagnostic laboratories, and others. The biotechnology, pharmaceutical, and medical device industry altogether account for the largest demand for cleanroom doors across the healthcare sector. Manufacturing of biopharmaceuticals, pharmaceuticals, vaccines, and development of medical devices require cleanroom conditions for best quality products. A controlled environment is required to maintain in clean rooms, and the doors are key to either maintaining or disrupting those conditions. High-quality doors for cleanrooms are efficient and easily operated, hence leading to less or no contamination when concerned personnel access cleanrooms.
Global Cleanroom Door Market Report Coverage
| | |
| --- | --- |
| Report Metric | Details |
| Historical Period | 2018–2022 |
| Base Year Considered | 2022 |
| Forecast Period | 2023 - 2030 |
| Market Size in 2022 | $x.x Billion |
| Revenue Forecast in 2030 | $4.3 Billion |
| Growth Rate | CAGR 4.9% |
| Segments Covered in the Report | By Product, By Mode of Application and By End User |
| Report Scope | Market Trends, Drivers, and Restraints; Revenue Estimation and Forecast; Segmentation Analysis; Impact of COVID-19; Companies' Strategic Developments; Market Share Analysis of Key Players; Company Profiling |
| Regions Covered in the Report | North America, Europe, Asia-Pacific, Middle East, and Rest of the World |
Industry Dynamics
Growth Drivers
The rising demand for technologically advanced cleanroom doors, with increasing industry preference for automation, are the primary factors leading to the growth of the global cleanroom doors market. The increasing prevalence of infectious diseases and the need for a controlled environment in pharmaceutical manufacturing and research and developments are further anticipated to fuel the growth of the cleanroom doors market. Stringent regulations and guidelines for cleanrooms are increasing demand for advanced doors for cleanrooms, globally. The key players are developing doors with high standard and in order to meet the varying requirements of their diverse customer base, offer custom solutions to their customers.
Increasing Demand for Cleanroom Facilities: The demand for cleanroom facilities is rising across industries such as pharmaceuticals, biotechnology, healthcare, electronics, and research laboratories. These industries require controlled environments to maintain product quality, ensure employee safety, and meet regulatory requirements. As the need for cleanroom facilities expands, so does the demand for cleanroom doors.
Stricter Regulations and Quality Standards: Regulatory authorities and industry standards organizations impose stringent regulations and quality standards on cleanroom environments. Compliance with these regulations necessitates the use of specialized cleanroom doors that meet specific criteria for cleanliness, air pressure differentials, and contamination control. The need for adherence to these standards drives the market for cleanroom doors.
Technological Advancements: The cleanroom doors market is witnessing technological advancements that enhance functionality and efficiency. Manufacturers are incorporating features like automatic opening and closing mechanisms, touchless sensors, smart integration with cleanroom systems, and advanced materials with improved cleanliness and durability. These technological advancements attract customers looking for more advanced and user-friendly solutions, thereby driving market growth.
Growing Focus on Contamination Control: With the increasing emphasis on product quality and safety, industries are placing a greater emphasis on contamination control. Cleanroom doors play a crucial role in maintaining the integrity of cleanroom environments by preventing the entry of contaminants and maintaining proper air pressure differentials. The growing awareness and focus on contamination control are driving the demand for high-quality cleanroom doors.
Expansion of Healthcare and Life Sciences Sectors: The healthcare and life sciences sectors, including pharmaceuticals, biotechnology, and research laboratories, are witnessing significant growth. These sectors require cleanroom facilities for various applications, such as drug manufacturing, medical device production, and research activities. As these sectors expand, the demand for cleanroom doors increases correspondingly.
Increasing Investments in R&D Activities: Research and development activities in industries like pharmaceuticals, biotechnology, and electronics are driving the need for cleanroom facilities. Companies are investing in R&D to develop new products, technologies, and processes, which often require controlled environments with cleanroom specifications. This investment leads to increased demand for cleanroom doors.
The cleanroom doors market is driven by the growing demand for cleanroom facilities across various industries, including pharmaceuticals, biotechnology, electronics, healthcare, and research laboratories. Factors such as increasing regulatory standards, the need for contamination control, and the rising focus on product quality and safety are contributing to the market growth.
 
Challenges
The high cost of advanced and lightweight materials for manufacturing doors for cleanrooms, fluctuation in other raw material prices, and difficulty in implementing or developing doors with high cleanroom standards are the major challenges to the growth of the cleanroom doors market. As technologies and industry practices evolve, cleanroom door manufacturers need to keep up with the latest developments to remain competitive. This includes incorporating advanced features such as automated opening and closing mechanisms, touchless operation, enhanced sealing systems, and integration with cleanroom monitoring and control systems. Staying abreast of technological advancements and investing in research and development can be a challenge for some companies.
Cleanroom doors often require specialized materials, construction techniques, and additional features to meet the stringent requirements of cleanroom environments. These factors can increase the cost of manufacturing cleanroom doors, making them more expensive compared to standard doors. Balancing cost-effectiveness while maintaining the necessary performance standards is a challenge for manufacturers and buyers in the market.
 
Industry Ecosystem
Globally, manufacturing companies are trying to expand their market in developing economies, especially in Asia. Key players are trying to utilize the opportunities in the growing Asian healthcare industry. Also, established players have an edge over the local players, as local players need a huge capital to meet the standards for the cleanroom doors set by the industry.
Geographic Overview
Geographically, North America is the largest cleanroom doors market in the region compliance with government regulations for cleanrooms is very high, with the presence of several key players and the development and adoption of technologically advanced products. The life science industry in North America especially in the U.S. has very high standards of manufacturing and developing products. Pharmaceutical, biotechnology, and medical device companies adhere to the regulations set by the government and by the U.S. FDA, which leads to the large adoption of cleanroom doors in the region.
Asia-Pacific is observed to witness the fastest growth in the market, as the different governments in the region are taking the initiative to develop and maintain healthcare infrastructure. The high growth in the pharmaceutical and medical device industry in the region also illustrates the huge demand for cleanroom doors in Asia-Pacific.
Competitive Insight
Gandhi Automations Pvt Ltd., Dortek, GMP Technical Solutions Private Limited, ASSA ABLOY, Terra Universal Inc., ASI Doors Inc., Nicomac Srl, Rite-Hite, Avians, Chase Industries, Inc., and EFAFLEX are the key players offering cleanroom doors.
The Cleanroom Doors Market report offers a comprehensive market segmentation analysis along with an estimation for the forecast period 2022–2030.
By Product

Swinging Doors
Roll-up Doors
Sliding Doors
Others

By Mode of Application

New Construction
Aftermarket

By End-User

Academic Research Institutes and Laboratories
Biotechnology, Pharmaceutical, and Medical Device Industry
Hospitals
Diagnostic Laboratories
Others
Cleanroom Doors Market by Region
North America
Europe

U.K.
Germany
France
Italy
Spain
Rest of Europe

Asia-Pacific

Japan
China
India
Australia
South Korea
Rest of Asia-Pacific

Rest of the World

Brazil
South Africa
Saudi Arabia
U.A.E.
Other Countries
PRIMARY RESEARCH INTERVIEWS - BREAKDOWN