Industry Overview
The global hybrid operating room size is anticipated to rise significantly and will reach USD1.98 billion by 2030, growing at a CAGR of 10.9% during the forecast period 2023-2030. A hybrid operating room is a surgical space that is equipped with medical imaging devices such as fixed C-Arms, CT scanners, or MRI scanners. Hybrid Operating Room (OR) Market is on the rise due to the increasing number of surgeries, rising demand for non-invasive methods of surgery, technological development in hybrid operating room (OR) equipment such as robot-assisted surgeries, and the rise in the geriatric population. Moreover, hybrid operating rooms (OR) allow patients to get treatment within the same facility for procedures with complexities. The advantage of hybrid ORs are ease of conducting minimal invasive surgeries, saving patients time from multiple surgeries, lower administrative costs, and reduced recovery time. It is used in neurosurgeries, cardiovascular surgeries, orthopedic surgeries, and thoracic surgeries. Nevertheless, it is suitable for other treatments such as laparoscopic surgery, biopsy, and trauma surge.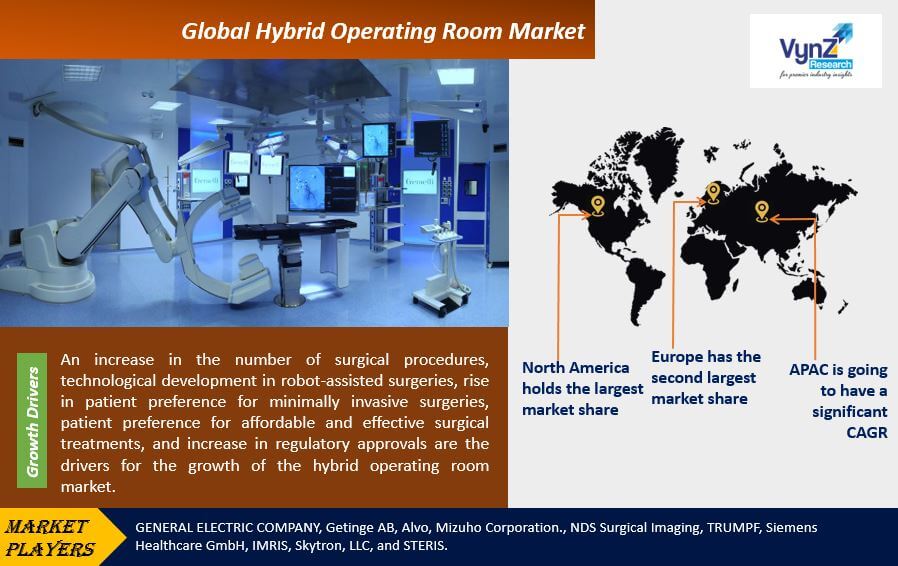 The COVID-19 outburst has made enormous changes in managing patient care and medical procedures in the healthcare field. The covid pandemic has given rise to unusual situations for frontline workers and healthcare workers across the world and is opening new challenges in the operating room (OR) management market. Healthcare workers are working at a  fast pace to contain the pandemic and to provide emergency procedures to patients having coronavirus. Because of the deadly nature of SARS-CoV-2, there is a need to have safety protocols in the OR management market. The increasing demand for new technologies such as robotic platforms, and comprehensive control systems will help healthcare staff and surgeons fight against infection and will provide avenues in the operating room (OR) market.
Market Segmentation
Insight by Component
Based on components, the hybrid operating room market is categorized into intraoperative diagnostic systems (angiography systems, MRI systems, CT scanners, and others), operating room fixtures (operating tables, operating room lights, surgical booms, and radiation shields), surgical instruments, audio display systems and tools, and others. The intraoperative diagnostic system segment held the largest share and is expected to have a major share of the market in the future as well. This is attributed to factors such as substantial installation costs associated with diagnostic imaging products, magnetic resonance imaging, and 3D ultrasound, usage in minimally invasive surgeries, guidance to surgeons and anesthesiologists, and installation of hybrid ORs in countries.
Insight by Application
Based on application, the global hybrid operating room market is segmented into cardiovascular, neurosurgical, thoracic, orthopedic, and others. Cardiovascular surgery has the largest market share in the global hybrid operating room market due to the increase in preference for hybrid operating rooms by heart surgeons during target surgical procedures, increasing incidences of cardiovascular diseases, rise in adoption of endovascular procedures during cardiovascular surgeries, the surge in demand for minimally invasive surgeries, and increase in several patients suffering from obesity. The thoracic segment is anticipated to have the fastest CAGR because of the increase in the number of thoracic surgeries and awareness among medical professionals towards the cost and therapeutic efficacy offered by hybrid ORs will propel the growth of the market.
Insight by End-User
Based on end-users, the hybrid operating room market is divided into hospitals and surgical centers, and ambulatory surgical centers. The hospitals and surgical centers segment are expected to have the largest share due to the increasing number of diagnostic and surgical procedures performed in the hospitals and the increased emphasis on timely and effective disease management of the patients.
Hybrid Operating Room Market Report Coverage
| | |
| --- | --- |
| Report Metric | Details |
| Historical Period | 2018–2022 |
| Base Year Considered | 2022 |
| Forecast Period | 2023 - 2030 |
| Market Size in 2022 | $x.xx Billion |
| Revenue Forecast in 2030 | $1.98 Billion |
| Growth Rate | CAGR 10.9% |
| Segments Covered in the Report | By Component, By Application, By End-User |
| Report Scope | Market Trends, Drivers, and Restraints; Revenue Estimation and Forecast; Segmentation Analysis; Impact of COVID-19; Companies' Strategic Developments; Market Share Analysis of Key Players; Company Profiling |
| Regions Covered in the Report | North America, Europe, Asia-Pacific, Middle East, and Rest of the World |
Industry Dynamics
Industry Trends
The industry is anticipated to have high growth because of the favorable government norms and policies, increasing adoption of minimally invasive surgeries, huge investment in R&D, and development of innovative technologies which will improve healthcare systems for patients.
 Robotic-assisted surgery systems are being integrated into hybrid ORs, allowing surgeons to perform complex procedures with enhanced precision and dexterity. The use of robotics in hybrid ORs can improve surgical outcomes and enable procedures that were previously difficult or impossible.
Growth Drivers
An increase in the number of surgical procedures, technological development in robot-assisted surgeries, rise in patient preference for minimally invasive surgeries, patient preference for affordable and effective surgical treatments, and increase in regulatory approvals are the drivers for the growth of the hybrid operating room market.
Growing demand for minimally invasive procedures: Minimally invasive surgeries offer numerous benefits, including reduced hospital stays, faster recovery, and decreased morbidity. Hybrid ORs enable surgeons to perform these procedures with greater precision and real-time imaging guidance.
Increasing prevalence of chronic diseases: Conditions like cardiovascular diseases, cancer, and neurological disorders require complex surgical interventions. Hybrid ORs equipped with advanced imaging systems help surgeons navigate complex anatomical structures, improving surgical outcomes.
Rising geriatric population: The aging population is more susceptible to chronic diseases and requires specialized surgical interventions. Hybrid ORs offer a versatile platform to address the unique challenges presented by elderly patients, including multimorbidity and anatomical complexities.
Challenges
The procedural risks associated with hybrid operating rooms, high operational cost, and complexity of deployment may affect the market of hybrid operating rooms globally. Moreover, the lack of skilled surgeons can also challenge the growth of the hybrid operating room market. Incorporating hybrid ORs into existing healthcare workflows can be challenging. It requires coordination among different departments, such as radiology, cardiology, and surgery, to establish efficient processes and streamline patient care pathways.
Opportunities
The increase in the adoption of robot-assisted surgeries acts as a value-generation proposition for high-quality surgical outcomes and the growth in emerging economies will offer significant growth opportunities for the hybrid operating room market in the forecast period of 2023 to 2030. In addition, massive investment for research and development in healthcare and strong economic conditions are lucrative opportunities for the growth of the hybrid OR market.
Geographic Overview
Geographically, North America holds the largest market share due to its technologically advanced operating room equipment, rising number of hospitals and ambulatory surgery centers in the U.S., and rise in old age population. Europe has the second largest market share owing to its investments in R&D and the rising number of surgical outcomes. APAC is going to have a significant CAGR due to its improvement in healthcare infrastructure, an increasing number of hospitals equipped with advanced medical facilities, development in R&D, improvement in healthcare reforms, and technological development in a hybrid operating room setting. The rise of medical tourism and the inflow of foreign visitors can be a plus for the global hybrid operating room market.
Competitive Insight
The companies in the hybrid operating room market are engaging in partnerships and collaborations in order to increase their share in the market. Also, there are strategic alliances among multinational players and regional and small-scale OEMS to sustain their position in the hybrid operating room market
In December 2022, GE Healthcare introduced a new version of its robotic-driven angiography system for image-guided therapy, the Allia IGS 7 angiography system. Upon entry to the interventional or hybrid operating room, with just one click on the personalized interfaces, the users can access their essential functions to make it their room. In addition, with the redesigned C-arm making the controls more accessible, the assistant will enable an optimized ergonomic setup for the user's clinical needs, even in complex working positions at the head, neck, or left side.GE's AutoRight technology uses intelligent image chain features on GE's interventional X-ray systems, from image acquisition to image processing and display. 
Some of the leading players operating in the global hybrid operating room market are GENERAL ELECTRIC COMPANY, Getinge AB, Alvo, Mizuho Corporation., NDS Surgical Imaging, TRUMPF, Siemens Healthcare GmbH, IMRIS, Skytron, LLC, and STERIS.
The Hybrid Operating Room Market report offers a comprehensive market segmentation analysis along with an estimation for the forecast period 2023–2030.
Segments Covered in the Report
By Component

Intraoperative Diagnostic Systems

Angiography System
MRI System
CT Scanner
Others

Operating Room Fixtures

Operating Table
Operating Room Light
Radiation Shield
Others

Surgical Instruments
Audio Display System and Tools
Others

By Application

Neurosurgical
Cardiovascular
Thoracic
Orthopaedic
Others

By End-User

Hospitals & Surgical Centers
Ambulatory Surgical Centers
Region Covered in the Report
North America
Europe

Germany
U.K.
France
Italy
Spain
Russia
Rest of Europe

Asia-Pacific (APAC)

China
Japan
India
South Korea
Rest of Asia-Pacific

Rest of the World (RoW)

Brazil
Saudi Arabia
South Africa
U.A.E.
Other Countries

Source: VynZ Research