Industry Overview
The market for implantable loop recorders is anticipated to increase significantly, going from $1.23 billion in 2022 to $4.6 billion in 2030. It will register a CAGR of 8.6% during the forecast period.
The implantable loop recorder market is a rapidly growing segment in the medical device industry, focusing on small devices implanted under the skin to continuously monitor and record a patient's heart rhythm. These devices are used to diagnose and monitor various cardiac conditions, such as arrhythmias, syncope, and unexplained heart palpitations. The market's growth is driven by the increasing prevalence of cardiovascular diseases like atrial fibrillation and heart failure, resulting in a higher demand for monitoring devices.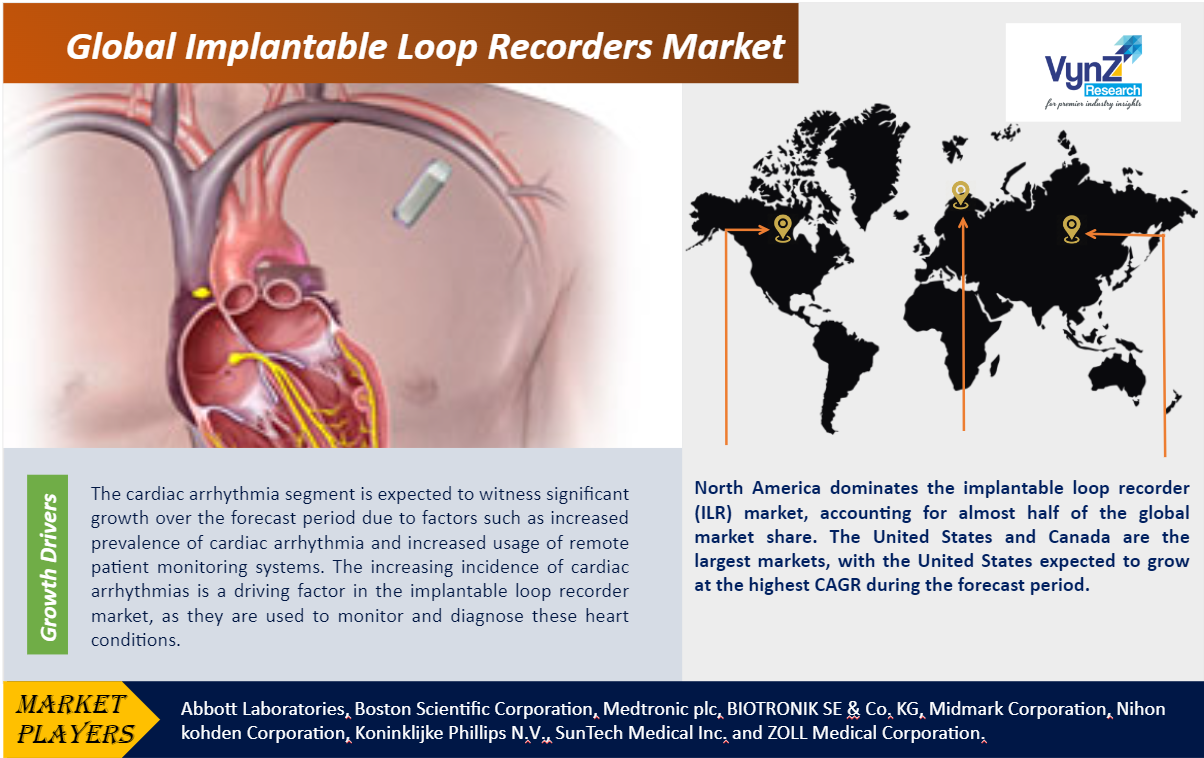 Additionally, advancements in technology have made implantable loop recorders more effective, smaller, and longer-lasting, driving market growth. The growing demand for minimally invasive diagnostic procedures has made implantable loop recorders attractive for patients experiencing infrequent symptoms or those not captured by other tests. These recorders eliminate the need for frequent hospital visits and external devices, making them an attractive option for patients with infrequent symptoms.
Overall, the implanted loop recorder market is expanding rapidly as a result of growing cardiovascular disease incidence, technological developments, and increased demand for less invasive diagnostic treatments. This industry is likely to continue growing in the following years due to constant innovation and expanded applications.
Market Segmentation
Insight by Product type
Based on product type, the implantable loop recorder Market is bifurcated into single-lead ILRs and Dual-lead ILRs. The single-lead ILR market dominates the implanted loop recorder (ILR) business. This is because single-lead ILRs are less costly, smaller, and easier to operate than dual-lead ILRs. Furthermore, single-lead ILRs are enough for many patients who need to monitor the electrical activity of their hearts. The single-lead ILRs market is expected to be the fastest-growing category during the forecast period. This growth is being driven by the increasing incidence of cardiac diseases, the growing need for remote patient monitoring, and developments in single-lead ILRs.
However, the dual-lead ILRs market is growing at a slower pace due to its improved diagnostic capabilities, longer recording period (72 hours), and less frequent replacements compared to single-lead ILRs. These advantages make them suitable for patients seeking a more accurate and timely diagnosis.
Insight by Application Type
Based on application, the implantable loop recorders Market is segregated into Atrial fibrillation, Cardiac arrhythmia, Cardiac syncope, Heart failure, Stroke, and Bundle branch block. The cardiac arrhythmia segment is the largest implantable loop recorder market segment. This is due to the increasing incidence of cardiac arrhythmias, such as atrial fibrillation and ventricular tachycardia.
Cardiac arrhythmia is rapidly increasing due to factors like the aging population, obesity, diabetes, high blood pressure, improved detection methods, and increased awareness. The US incidence of cardiac arrhythmia affects 1 in 4 adults, and this number is expected to grow. The cardiac arrhythmia segment is expected to experience significant growth due to the prevalence of arrhythmias and remote patient monitoring devices. With over 2 million people experiencing arrhythmias in the UK, demand for electrophysiology devices is rising. The rise of advanced technology, such as Boston Scientific's LUX-Dx Insertable Cardiac Monitor, contributes to market growth.
Insight by End-Users
Based on End-Users, the market is divided into three segments: Hospitals, Cardiac Centers and Clinics, and Ambulatory Surgical Centers. The Hospitals segment continues to be the largest market share throughout the forecast years. This is due to the fact that hospitals are the major care providers for people suffering from cardiac arrhythmias and others. Implantable loop recorders are used to diagnose and treat arrhythmia, as well as to monitor individuals who are at risk for arrhythmia.
Insight by Distribution Channel
Based on the distribution channel, the implantable loop recorder Market is categorized into direct and indirect. The direct distribution channel has captured the largest market share. This is because the majority of implantable loop recorders are sold directly to hospitals, cardiac centers, and other healthcare providers. Additionally, direct distribution allows manufacturers to control pricing, as implantable loop recorders are high-cost medical devices, ensuring competitive pricing and avoiding markups compared to distributors or retailers. However, the indirect channel's market share is likely to expand as more customers become aware of the benefits of implanted loop recorders.
Global Implantable Loop Recorders Market Report Coverage
| | |
| --- | --- |
| Report Metric | Details |
| Historical Period | 2018–2022 |
| Base Year Considered | 2023 |
| Forecast Period | 2023 - 2030 |
| Market Size in 2022 | $1.23 Billion |
| Revenue Forecast in 2030 | $4.6 Billion |
| Growth Rate | CAGR 8.6% |
| Segments Covered in the Report | By Product Type, By Application Type, By End-User, By Distribution channel |
| Report Scope | Market Trends, Drivers, and Restraints; Revenue Estimation and Forecast; Segmentation Analysis;  Strategic Developments; Market Share Analysis of Key Players; Company Profiling |
| Regions Covered in the Report | North America, Europe, Asia-Pacific, Middle East, and Rest of the World |
Industry Dynamics
Growth Drivers
The cardiac arrhythmia segment is expected to witness significant growth over the forecast period due to factors such as increased prevalence of cardiac arrhythmia and increased usage of remote patient monitoring systems. The increasing incidence of cardiac arrhythmias is a driving factor in the implantable loop recorder market, as they are used to monitor and diagnose these heart conditions. The increment in heart problems and the prevalence of ischemic heart disease, are driving the demand for electrophysiology devices. The increasing myocardial ischemia creates an unstable electrical substrate for arrhythmias, causing increased monitoring of cardiac activity.
Additionally, companies developing advanced devices for monitoring cardiac rhythms and product launches, such as Boston Scientific's LUX-Dx Insertable Cardiac Monitor (ICM) System, are contributing to market growth. The growing burden of cardiac arrhythmia disorders and increased company activities and product launches are expected to drive the market's growth over the forecast period. The American Heart Association reports that about 1 in 4 adults in the US has some form of arrhythmia, and the number of people with arrhythmias is expected to increase significantly by 2030. Arrhythmias are the leading cause of sudden cardiac death, responsible for most of the deaths. The increasing incidence of cardiac arrhythmias is a major driver of market growth, and this trend is expected to continue in the coming years.
Challenges
The high cost of implantable loop recorders (ILRs) poses challenges in the market due to their accessibility, difficulty in justifying reimbursement by insurance companies, and discouragement of innovation. Patients in developing countries or with limited financial resources may face disparities in access to care due to undiagnosed or untreated cardiac arrhythmias. Additionally, the cost of ILRs can make it difficult for insurance companies to justify reimbursement, leading to patients having to pay out-of-pocket for the device. Healthcare providers can educate patients about the benefits of ILRs and the financial assistance available to help them pay for the devices. Addressing the challenge of ILRs can help the market grow and provide patients with the benefits they offer. The cost of ILRs can vary depending on the manufacturer, device features, and country of purchase. Insurance may cover the cost in some cases, but not all cases. Patients who cannot afford ILRs may be eligible for financial assistance from government programs or charitable organizations.
Opportunities
The implantable loop recorder market is experiencing significant opportunities due to the development of new technologies. Wireless implantable loop recorders and AI-powered algorithms are gaining interest, allowing patients to transmit ECG data to their doctors without the need for device removal. These advancements would eliminate the need for surgery and allow doctors to monitor patients' heart rhythms more closely, leading to earlier diagnosis and treatment of cardiac arrhythmias. AI-powered algorithms could also help identify and diagnose arrhythmias more quickly and accurately than traditional methods, allowing doctors to intervene early and prevent complications. Medtronic is developing a wireless implantable loop recorder called the Reveal LINQ, powered by a battery that lasts up to three years. Boston Scientific is developing an AI-powered algorithm called CardioInsight, designed to identify and diagnose cardiac arrhythmias more quickly and accurately than traditional methods.
 Geographic Overview
North America
Europe
Asia Pacific (APAC)
Rest of the World (RoW)
North America dominates the implantable loop recorder (ILR) market, accounting for almost half of the global market share. The United States and Canada are the largest markets, with the United States expected to grow at the highest CAGR during the forecast period. Factors driving this growth include increasing cardiovascular disease prevalence, rising awareness about ILRs, and improved reimbursement policies. Canada's growth is expected to be slower due to its smaller population. Other countries, such as Mexico and Mexico, also have significant ILR markets but are expected to grow at a slower pace. Overall, the ILR market in North America is expected to grow due to factors like increasing prevalence, increased awareness, improved reimbursement policies, and demand for remote patient monitoring.
Competitive Insight
The industry players in the implantable loop recorder industry are implementing several strategies to be in the forefront position. Some of the strategies being adopted by the key players include acquisition, collaborations, and partnerships. Moreover, these players are emphasizing growth techniques like technological development, product launch, geographical expansion, and product approvals.
In 2022, Abbott Laboratories and Medtronic are partnering to develop a heart failure device that combines CRT and leadless pacemaker technology. The device is expected to be smaller and more effective than current CRT devices, improving blood flow and reducing symptoms. The partnership represents a significant step forward in developing this new technology.
SunTech Medical has merged partners with Bard Access Systems. The Company established cooperation with Bard Access Systems, a medical equipment firm, in January 2023. It will be able to combine its Merlin@home implanted loop recorder with Bard's vascular access solutions as a result of this collaboration. This will make it simpler for cardiologists to identify and treat cardiac arrhythmias in patients who have had vascular access operations using Merlin@home.
Recent Development by Key Players
In 2023, launched the Confirm Rx 360™ by Abbott Laboratory which is a new remote monitoring system with enhanced features, including increased data storage, improved visualization, enhanced patient engagement, and integration with Apple Health.
Developed the Evera™ MRI SureScan Loop Recorder by Medtronic which is the first and only implantable loop recorder that is MRI-compatible. This means that patients with the device can undergo an MRI scan without having to remove the device.
Key Players Covered in the Report
Some of the major players operating in the Implantable loop recorders industry include Abbott Laboratories, Boston Scientific Corporation, Medtronic plc, BIOTRONIK SE & Co. KG, Midmark Corporation, Nihon kohden Corporation, Koninklijke Phillips N.V., SunTech Medical Inc. and ZOLL Medical Corporation.
The Implantable Loop Recorders Market report offers a comprehensive market segmentation analysis along with an estimation for the forecast period 2023–2030.
Segments Covered in the Report
By Product Type

Single-lead ILRs
Dual-lead ILRs

By Condition

Atrial fibrillation
Cardiac arrhythmia
Cardiac syncope
Heart failure
Stroke
Bundle branch block

By End-User

Hospitals
Cardiac Centers and Clinics
Ambulatory Surgical Centers

By Distribution Channel
Region Covered in the Report
North America
Europe

Germany
U.K.
France
Italy
Spain
Russia
Rest of Europe

Asia-Pacific (APAC)

China
Japan
India
South Korea
Rest of Asia-Pacific

Rest of the World (RoW)

Brazil
Saudi Arabia
South Africa
U.A.E.
Other Countries

Source: VynZ Research