Industry Overview
The Indian telemedicine market was about USD 0.91 billion in 2022 and is anticipated to be valued at 6.1 billion by 2030, registering a CAGR of 31% during the forecast period 2023-2030. The Indian healthcare industry is shifting from conventional in-person doctor-patient interaction to virtually-enabled remote consultations.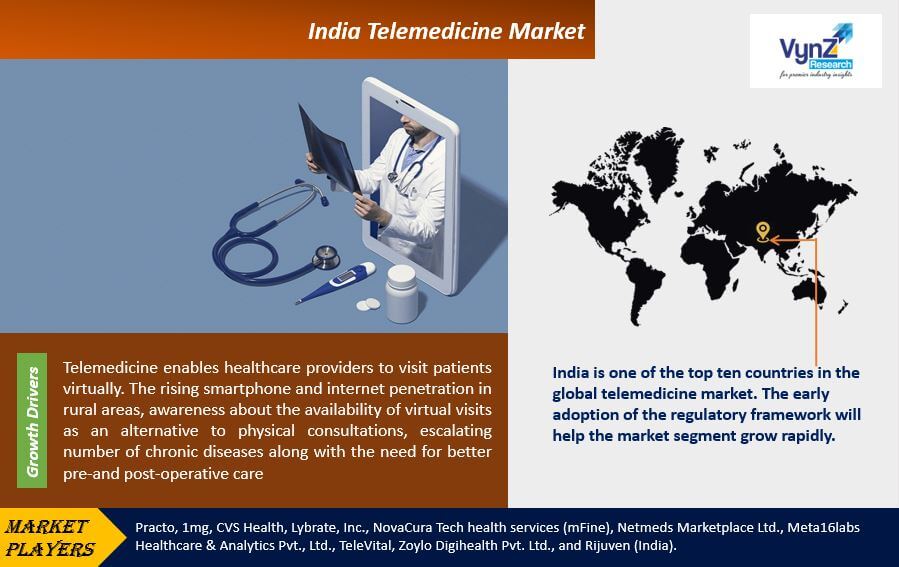 The COVID-19 pandemic has accelerated the growth of virtual care in the country which includes teleconsultation, teleradiology, telepathology, and e-pharmacy. The healthcare providers, such as hospitals and e-pharmacies, have integrated teleconsultation platforms and expanded their existing digital products. There is a steep growth in the teleconsultation and e-pharmacies platform as it is adopted by doctors and patients. This has resulted in a boom in the Indian telemedicine market. The rising smartphone and internet penetration in rural areas, awareness about the availability of virtual visits as an alternative to physical consultations, escalating number of chronic diseases along with the need for better pre-and post-operative care, and access to affordable home monitoring equipment are the factors that are propelling the growth of telemedicine market in India. Telemedicine is an excellent medium to provide medical help to those who lacked the chance to get help in person and also it is cost-effective and efficient.
Nevertheless, telemedicine is an advanced technology through which patients can be monitored from home, doctors can keep track of their progress and intervene when needed, resulting in the growth of the Indian telemedicine market. Thus, healthcare is shifting from hospital to home and providing patients with 24/7 care via mobile phones.  Covid-19 has impacted India in the most detrimental ways, the country now has an excellent opportunity to become a digital health leader.
Market Segmentation
Insight by Type
Based on type, the Indian telemedicine market is divided into hardware, software, and telemedicine consultation services. Hardware is further subdivided into communication and networking, medical devices, and other devices (telemedicine cart, PAT, kits). Of these segments, telemedicine consultation services dominate the Indian telemedicine market as 64% of the consumers are willing to adopt teleconsultation post-COVID-19 Telemedicine consultation services have the potential to add value to the patient-provider experience. It can become the next frontier to deal with a public health crisis and act as a pillar of patient care in the post-Covid world, thus boosting the Indian telemedicine market.
Insight by Modality
Based on modality, the Indian telemedicine market is segmented into real-time telemedicine, remote patient monitoring, store-and-forward practice, consultation between specialists and primary caregivers, medical imaging, and telemedicine networks. Real-time telemedicine is the fastest-growing segment in the Indian telemedicine market due to the shortage of hospital beds in the COVID-19 outburst and innovative technologies are providing health organizations to have access and decrease the burden on hospitals through real-time consultation with doctors via smartphones, tablets, laptops, or PCs. This will boost India's telemedicine market.
Insight by Application
Based on application, the Indian telemedicine market is categorized into teleradiology, telepathology, telecardiology, telepsychiatry, teledermatology, and others. Teleradiology is anticipated to dominate the market during the forecast period. This is due to the advancement in S&F technology and the scarcity of radiologists in rural areas. There is also a need for telemedicine to understand behavioral health such as bipolar disorders, attention disorders, anxiety, and depression, especially during the COVID-19 pandemic, which will lead to the growth of the telepsychiatry segment. The telecardiology segment will have a faster growth due to the rapid adoption of remote monitoring devices and m-health apps for tracking heart and pulse rates.
Insight by End-User
Based on end-user, the Indian telemedicine market is bifurcated into healthcare facilities and homecare. The homecare segment is anticipated to have significant growth during the forecast period. Factors contributing to the growth are cost-savings in healthcare service expenditure, increase in the geriatric population, and use of telemonitoring to eliminate the risk of visiting hospitals in the COVID-19 situation will accelerate the growth of the segment.
Industry Dynamics
Industry Trends
India Telemedicine Market Report Coverage
| | |
| --- | --- |
| Report Metric | Details |
| Historical Period | 2018–2022 |
| Base Year Considered | 2022 |
| Forecast Period | 2023 - 2030 |
| Market Size in 2022 | $0.91 Billion |
| Revenue Forecast in 2030 | $6.1 Billion |
| Growth Rate | CAGR 31% |
| Segments Covered in the Report | By Type, By Modality, By Application and By End-User |
| Report Scope | Market Trends, Drivers, and Restraints; Revenue Estimation and Forecast; Segmentation Analysis; Impact of COVID-19; Companies' Strategic Developments; Market Share Analysis of Key Players; Company Profiling |
| Regions Covered in the Report | North America, Europe, Asia-Pacific, Middle East, and Rest of the World |
The telemedicine industry is undergoing a technology revolution in India. Telemedicine is becoming a primary healthcare delivery channel. New telemedicine platforms and start-ups are evolving in India such as Phable, Practo, mfine, CallHealth, and Lybrate. The government of India such as the National Digital Health Mission is taking necessary steps through active policy formulation to develop a telemedicine ecosystem and increase its usage rate.
Growth Drivers
Telemedicine enables healthcare providers to visit patients virtually. The rising smartphone and internet penetration in rural areas, awareness about the availability of virtual visits as an alternative to physical consultations, escalating number of chronic diseases along with the need for better pre-and post-operative care, and access to affordable home monitoring equipment are the factors that are propelling the growth of telemedicine market in India.
Increasing smartphone and internet penetration: India has witnessed a rapid increase in smartphone and internet usage, even in rural areas. This widespread connectivity has made telemedicine services more accessible to a larger population.
Rising demand for convenient healthcare: Telemedicine offers convenience by eliminating the need to travel long distances and wait in crowded hospitals or clinics. Patients can consult with doctors from the comfort of their homes, saving time and effort.
Shortage of healthcare professionals: India faces a shortage of healthcare professionals, particularly in rural areas. Telemedicine helps bridge this gap by connecting patients in remote locations with doctors and specialists from urban centers.
As a result of these factors, the telemedicine market in India has experienced remarkable growth. Several telemedicine platforms and startups have emerged, offering a wide range of services, including video consultations, online prescription delivery, remote monitoring, and electronic health records.
Challenges
Telemedicine has certain limitations such as miscommunication of symptoms by patients, misinterpretation and misdiagnosis of symptoms by physicians, and non-medical issues such as network problems, app usage, threats, etc. Lack of digital infrastructure, lack of awareness and digital literacy, especially in rural areas, lack of specialized staff to diagnose illness virtually, and need for regulation and framework are the challenges faced by the Indian telemedicine market.
Opportunities
There is a need to build a complete digital health ecosystem in India for seamless care and a need to automate parts of the telemedicine process, the COVID-19 phase has ramped up the telemedicine infrastructure and set up complete integrated solutions across India which create a lucrative opportunity for growth of Indian telemedicine market.
Telemedicine can be utilized as a tool for health awareness campaigns, preventive care, and patient education. Telemedicine platforms can create content and deliver educational sessions on various health topics, empowering individuals to make informed decisions about their health. There is an opportunity to leverage telemedicine technology for health promotion and disease prevention initiatives.
Geographic Overview
India is one of the top ten countries in the global telemedicine market. The early adoption of the regulatory framework will help the market segment grow rapidly. Telemedicine is a field that bridges the healthcare gap between rural India and urban India. In rural India, the use of medical facilities, expert opinions, and advanced medical services is limited, telemedicine acts as a primary healthcare provider to provide services of specialist doctors in rural India. During the COVID-19 pandemic, telemedicine can also help in reducing the burden on tertiary hospitals by providing diagnosis and treatment to patients in their own geographical location and the patient will not be exposed to hospital visits.
Competitive Insight
There is a high investment from the private sector in the field of telemedicine and it has a bright future. India's health tech industry is primarily driven by startup players rather than large corporations.  Nevertheless, the industry players such as Practo and mine, and startups such as Meddo and Navia Lifecare have also implemented teleconsultations via voice and video facilities. The main purpose is to reduce the patients' visits to hospitals for non-emergency cases. For instance, Health tech AI startup MFine has raised $16m in a new funding round led by Heritas Capital with participation from the Singapore-based family office of Y'S Investment Pte Ltd. MFine plans to use this funding to triple its investment in AI development, mobile engineering, and device integration. Besides this, it will look into expanding its hospital network across the country and scaling the recently launched services such as delivering medicines, preventive health screenings, and diagnostic tests.
Some of the key players operating in the India telemedicine market: Practo, 1mg, CVS Health, Lybrate, Inc., NovaCura Tech health services (mine), Netmeds Marketplace Ltd., Meta16labs Healthcare & Analytics Pvt., Ltd., TeleVital, Zoylo Digihealth Pvt. Ltd., and Rijuven (India).
The India Telemedicine Market report offers a comprehensive market segmentation analysis along with an estimation for the forecast period 2023–2030.
By Type

Hardware
Software
Telemedicine Consultation Services

By Modality

Real-Time Telemedicine
Remote Patient Monitoring
Store-and-Forward Practice
Consultation Between Specialists and Primary Caregivers
Medical Imaging
Telemedicine Networks

By Application

Teleradiology
Telepathology
Telecardiology
Telepsychiatry
Teledermatology
Others

By End-User

Healthcare Facilities
Homecare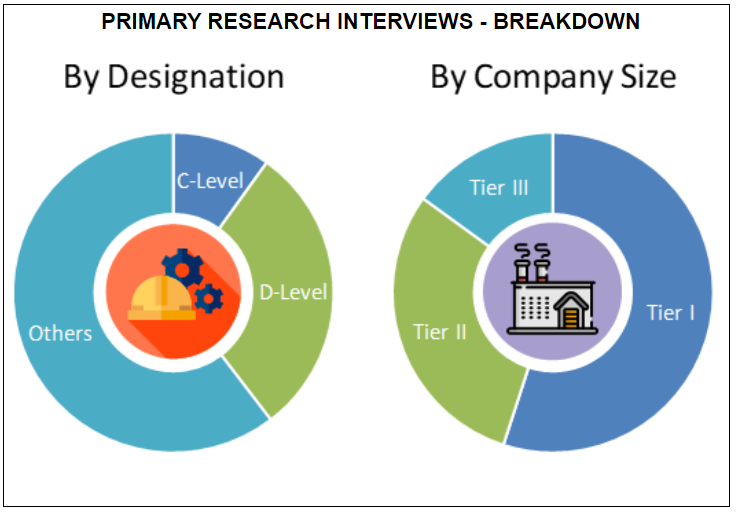 Source: VynzResearch