Industry Overview
The global medical tubing market is anticipated to witness growth from USD 4.76 billion in 2021 to USD 8.35 billion by 2027, registering a CAGR of 10.2% during the forecast period 2021-2027.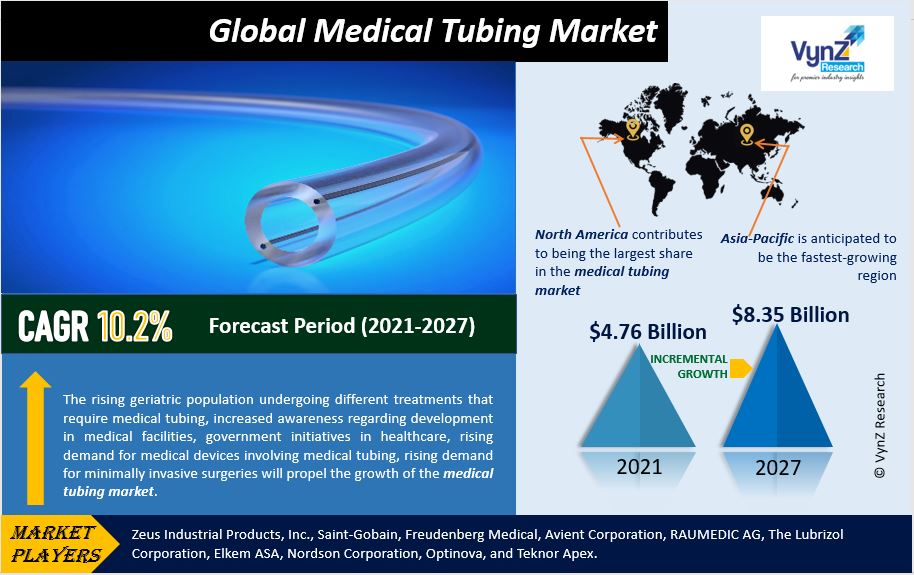 Medical tubing is a polymer-based tube created through the extrusion process. To remove fluids and deliver drugs, medical tubes can be inserted into the human body. They are also used in a variety of medical equipment like catheters and cannulas, as well as peristaltic pumps, to remove fluids or insert drugs. The increased awareness and initiatives by the government to offer high-quality healthcare services will fuel the growth of the global medical tubing market. The development in design has enabled manufacturers to address the medical industry's customized needs. The increasing incidences of respiratory diseases like asthma, lung cancer, and pulmonary fibrosis will propel the demand for medical tubing as it is an important component of respiratory devices like ventilators that facilitate breathing.
The current COVID-19 epidemic has increased hospitalizations, resulting in a surge in product demand for improved patient treatment. Disposable medical equipment is vital for patient care in Intensive Care Units (ICUs), leading to increased demand for medical tubing, which is one of the important components of numerous medical devices.
Market Segmentation
Insight by Material
Based on material, the global medical tubing market is segmented into plastics, rubbers, and speciality polymers. The plastics are sub-divided into Polyvinyl chloride (PVC), Polyolefin (Polyethylene (PE) Polypropylene (PP)), Polyamide, Polytetrafluoroethylene (PTFE), Polyether ketone (PEEK), Perfluoroalkoxy (PFA), and Polycarbonate (PC). The rubber is sub-divided into Thermoplastic elastomer (TPE), Thermoplastic polyurethane (TPU), Silicone, Polyurethane (PU), Ethylene propylene diene monomer (EPDM), and Latex. The speciality polymers are sub-divided into Bioabsorbable polymer and Ethylene-vinyl acetate (EVA). Plastic contributes to the largest share in the global medical tubing market owing to its low cost and ease of manufacturing. Because of its low cost, PVC is the most common plastic material used to make medical tubing. It is a favoured material for medical tubing because of its simplicity of manufacture, production, and assembly. Moreover, it has strong chemical resistance, is biocompatible, and is durable, PVC may be employed in a wide range of applications.
Silicone is estimated to be having a high CAGR owing to its increased adoption in medical implants, feeding tubes, and catheters as it offers gaskets, sealing, and safe fluid transfer properties.
Insight by Structure
The global medical tubing market is divided into single-lumen, co-extruded, multi-lumen, tapered or bump tubing, balloon tubing, heat shrink tubing, and braided tubing based on structure. Single-lumen tubing holds a substantial share in the medical tubing market as it is used to transport liquids, gases, or surgical devices. Urological, IV, and drainage catheters all make use of single-lumen tubing.
Insight by Application
Based on application, the global medical tubing market is divided into bulk disposable tubing, catheters, cannulas, drug delivery systems, and speciality chemicals. Bulk disposable tubing dominates the market owing to the rising need to develop healthcare infrastructure and prevention of infection. This segment is growing at an exponential rate in developing countries, owing to expanding economic growth, augmented disposable income and purchasing power, and improved government investments in providing high-quality healthcare facilities. Tubes used in blood bags for blood transfusion, IV infusion tubing, drug delivery disposables, respiratory disposables, dialysis products, laboratory disposables, and wound management disposables are all examples of bulk disposable tubing.
Catheter demand has increased significantly as a result of the increasing number of chronic conditions that necessitate hospitalization, boosting the catheter segment growth.
From 2021 to 2027, the drug delivery systems segment is expected to grow at the fastest rate as injectable, respiratory, and connected drug delivery systems all use medical tubes to deliver drugs to the target location. The continuing COVID-19 disease has also seen an increase in the use of drug delivery systems.
Medical Tubing Market Report Coverage
| | |
| --- | --- |
| Report Metric | Details |
| Historical Period | 2015–2020 |
| Base Year Considered | 2022 |
| Forecast Period | By 2027 |
| Market Size in 2021 | $4.76 Billion |
| Revenue Forecast in 2027 | $8.35Billion |
| Growth Rate | CAGR 10.2% |
| Segments Covered in the Report | By Material, By Structure and, By Application |
| Report Scope | Market Trends, Drivers, and Restraints; Revenue Estimation and Forecast; Segmentation Analysis; Impact of COVID-19; Companies' Strategic Developments; Market Share Analysis of Key Players; Company Profiling |
| Regions Covered in the Report | North America, Europe, Asia-Pacific, Middle East, and Rest of the World |
Industry Dynamics
Industry Trends
The significant increase in the disease among the population increased expenditure and technological development as well as innovation and customization of polymers and tubing structure in the healthcare industry, and increasing purchasing power owing to a rapid surge in the population are the key trends in the medical tubing market.
Growth Drivers
The rising geriatric population undergoing different treatments that require medical tubing, increased awareness regarding development in medical facilities, government initiatives in healthcare, rising demand for medical devices involving medical tubing, and rising demand for minimally invasive surgeries will propel the growth of the medical tubing market. Furthermore, the rising incidence of osteoporosis has propelled the demand for surgery and rising occurrences of diseases like cancer, cardiovascular diseases, and arthritis will drive the demand for the medical tubing market. Fluid management and drainage, as well as anesthesiology and respiratory equipment, IVs, catheters, peristaltic pumps, and biopharmaceutical laboratory equipment, are all applications for medical tubing. Nevertheless, the reduced cost, durability, and reliability will bolster the growth of the medical tubing market.
Challenges
Medical tube manufacturing requires massive investment and time and delays in regulatory approvals might increase the development procedure, resulting in a decline in the investment in medical product development technology.  Furthermore, increased R&D costs, and strict regulatory standards may pose challenges in the market. All of these challenges could stifle the medical tubing market's expansion.
Opportunities
The healthcare industry is growing at a robust pace owing to the growth in emerging economies like Brazil, Russia, India, China, and South Africa and changes in consumer preferences, increase health awareness, replacement of metals with plastics and growing geriatric population will offer significant opportunities for growth in medical tubing market.
Geographic Overview
North America contributes to being the largest share in the medical tubing market owing to the well-established healthcare infrastructure, rising geriatric population requiring high-quality healthcare facilities, and focus on R&D activities.
Asia-Pacific is anticipated to be the fastest-growing region owing to the increasing demand for minimally invasive technologies and growing healthcare infrastructure in the region. Furthermore, the rising demand from end-use applications like bulk medical tubing, catheters & cannulas, drug delivery systems will drive the growth in the region.
Competitive Insight
Owing to rising pressure on businesses in the field to create high-quality solutions, the medical tubing market is fiercely competitive. The industry offer expansion, novel product launches, agreement, acquisitions, and contracts to stay competitive in the market.
Saint-Gobain is a leading provider with unrivalled material competence in silicone, thermoplastic elastomers, and fluoropolymers.  Tubing is still an essential component of today's sophisticated medical devices and is a technology expert in moulding, extrusion, and all-encompassing customized fabrication for medical orif=ginal equipment manufacturers. By delivering a comprehensive range of high-performance materials under the Tygon® BioSil® and C-Flex® brand names, Saint-Gobain tackles these difficulties with quality and consistency. Standard and custom-sized tubing can be colour-matched, printed, and shipped on spools or in cut lengths. Materials used include silicone, polyurethane, polyolefin, fluoropolymers, thermoplastics, and other special formulations.
Freudenberg Medical is a global partner in the design, development, and production of cutting-edge medical products. The company's products include catheter solutions for minimally invasive surgery and components built from complex medical materials.  Freudenberg Medical is a world-class manufacturer of high-precision silicone and thermoplastic components and tubing, metal hypotubes and coating technology.
In June 2021, Zeus Industrial Products, Inc. (Zeus) is one of the leading global providers of advanced polymer solutions and signed an agreement to incorporate CathX Medical Inc. (Cathy) into its organization. Cathy is a medical device contract manufacturer based in San Jose, California, that provides customers with a single source for catheter design engineering services, rapid prototyping, manufacturing, and full or sub-assemblies.
In May 2021, Freudenberg Medical, a global contract design and production provider for the medical device sector, will expand its operations in Alajuela, Costa Rica. The expansion project adds 8600 square feet to the current facility and includes the addition of an ISO Class 7 cleanroom for catheter assembly, moulding, extrusion, and packing, as well as more office space.
Some of the industry players in the medical tubing industry include Zeus Industrial Products, Inc., Saint-Gobain, Freudenberg Medical, Avient Corporation, RAUMEDIC AG, The Lubrizol Corporation, Elkem ASA, Nordson Corporation, Optinova, and Teknor Apex.
The Medical Tubing Market report offers a comprehensive market segmentation analysis along with an estimation for the forecast period 2021–2027.
Segments Covered in the Report
By Material

Plastics

Polyvinyl cChloride (PVC)
Polyolefin

Polyethylene (PE)
Polypropylene (PP)

Polyamide
Polytetrafluoroethylene (PTFE)
Poly Ether Ketone (PEEK)
Perfluoroalkoxy (PFA)
Polycarbonate (PC)

Rubbers

Thermoplastic Elastomer (TPE)
Thermoplastic Polyurethane (TPU)
Silicone, Polyurethane (PU)
Ethylene Propylene Diene Monomer (EPDM)
Latex

Specialty Polymers
Bioabsorbable Polymer
Ethylene-Vinyl Acetate (EVA)

By Structure

Single-Lumen
Co-Extruded
Multi-Lumen
Tapered Or Bump Tubing
Balloon Tubing
Heat Shrink Tubing
Braided Tubing

By Application

Bulk Disposable Tubing
Catheters
Cannulas
Drug Delivery Systems
Specialty Chemicals
Region Covered in the Report
North America
Europe

Germany
U.K.
France
Italy
Spain
Russia
Rest of Europe

Asia-Pacific (APAC)

China
Japan
India
South Korea
Rest of Asia-Pacific

Rest of the World (RoW)

Brazil
Saudi Arabia
South Africa
U.A.E.
Other Countries