Industry Overview
The Minimally Invasive Spine Technologies market is expected to grow rapidly, from $7.69 billion in 2022 to $9.77 billion in 2030. It will register a CAGR of 44.5% during the forecast period. The market for Minimally Invasive Spine Technologies is a fast-developing industry that focuses on the development and implementation of minimally invasive surgical procedures for spine-related disorders. This market includes diverse technology, including surgical equipment, implants, and imaging systems, that enable surgeons to execute spinal treatments with smaller incisions, less tissue damage, and shorter recovery periods than traditional open surgeries. Factors driving the market include an increasing number of spinal diseases, developments in surgical techniques and technology, and patient demand for less intrusive treatment choices.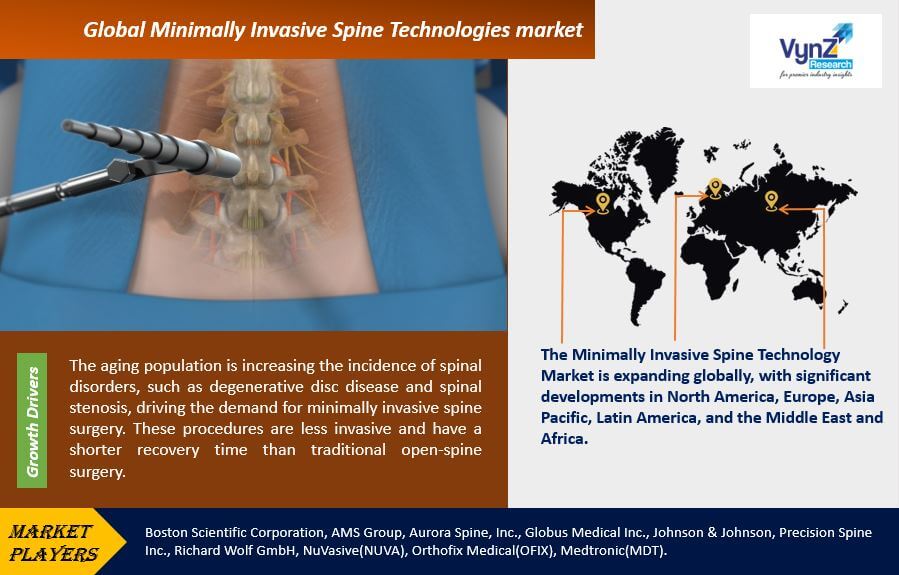 Furthermore, the growing geriatric population, which is more vulnerable to spine-related diseases, as well as the increased use of minimally invasive techniques by healthcare providers to improve patient outcomes and minimize healthcare costs, are driving the market. Geographically, the market is expanding rapidly in North America, Europe, and Asia Pacific, as a result of well-established healthcare infrastructure and increased expenditures in minimally invasive spine technology. However, the market confronts constraints such as high equipment costs and limited reimbursement rules. Overall, the Minimally Invasive Spine Technologies Market offers potential prospects for market participants to develop and fulfill the growing needs of spine surgery patients and healthcare professionals.
Market Segmentation
Insight by Product Type
 Based on product types, the minimally invasive spine technologies market is divided into three categories: implants, instruments, and software. The implant type is expected to grow at a faster pace than the other segments due to the increasing demand for spinal fusion procedures. The instruments segment includes surgical navigation systems, retractors, and drills, while the software segment includes image guidance software and navigation software. Other product types are expected to grow at a slower pace.
Insight by Condition
The market for minimally invasive spine technologies may be divided into conditions including degenerative disc disease, spinal stenosis, scoliosis, spinal infection, herniated disc, and spondylolisthesis. Degenerative disc disease (DDD) is the most common spinal disorder. This disease type is expected to have a high CAGR during the forecast period due to a number of factors, including ageing, obesity, and sedentary lifestyles. This growth is driven by the increasing problem of DDD, the growing demand for minimally invasive spinal procedures, and the advances in minimally invasive spine technology. 
Insight by End-User
Based on end users the market can include healthcare providers (as ambulatory surgical centers, hospitals, and clinics), surgeons, or patients. Each end-user category may have unique requirements and goals, and addressing them specifically may help organizations customize their services and communication methods.          
Minimally Invasive Spine Technologies Market
| | |
| --- | --- |
| Report Metric | Details |
| Historical Period | 2018–2022 |
| Base Year Considered | 2022 |
| Forecast Period | 2023 – 2030 |
| Market Size in 2022 | $7.69 Billion |
| Revenue Forecast in 2030 | $9.77 Billion |
| Growth Rate | CAGR 44.5% |
| Segments Covered in the Report | By Product Type, By Condition,  By End-Users |
| Report Scope | Market Trends, Drivers, and Restraints; Revenue Estimation and Forecast; Segmentation Analysis;  Strategic Developments; Market Share Analysis of Key Players; Company Profiling |
| Regions Covered in the Report | North America, Europe, Asia-Pacific, Middle East, and Rest of the World |
Industry Dynamics
Growth Drivers
The aging population is increasing the incidence of spinal disorders, such as degenerative disc disease and spinal stenosis, driving the demand for minimally invasive spine surgery. These procedures are less invasive and have a shorter recovery time than traditional open-spine surgery. Obesity is a major risk factor for spinal disorders, making minimally invasive spine surgery a good option for obese patients. Advances in minimally invasive techniques have made these procedures more precise, effective, and safe, leading more surgeons to adopt these techniques and making them more attractive to patients. The growth of the minimally invasive spine technology market is driven by the rising demand for spine care in emerging markets, which are experiencing an increase in spinal disorders and healthcare resources, making them more attractive to patients.
Overall, the market for minimally invasive spine technologies is likely to expand significantly in the coming years. Many kinds of causes are driving this rise, including the rising incidence and prevalence of spinal diseases the growing desire for minimally invasive spine techniques, improvements in minimally invasive spine technology, and increasing demand for spine care in developing countries.
Challenges
Due to the growing expense of treatment procedures, the market for spinal implants and surgical devices is expected to increase modestly throughout the target period. Due to physician scarcity as well as a lack of knowledge and education, the demand for spinal implants and surgical equipment may face more challenges in the near future.
Opportunities
Minimally invasive spine technology provides enormous prospects for innovation and growth in the field of spine surgery. Technological developments such as better surgical tools, imaging systems, navigation systems, and robots can increase the precision and efficiency of minimally invasive operations. Extending the indications for minimally invasive spine surgery to more difficult disorders offer up new therapeutic options. Emerging markets have tremendous potential for launching innovative minimally invasive techniques. The combination of artificial intelligence and data analytics has the potential to transform surgical decision-making and tailored treatment planning. Patient-centric solutions that emphasize comfort, contentment, and remote monitoring can help increase adoption. Collaboration and education among industrial actors, healthcare providers, and research institutes are critical for information exchange and field advancement. These opportunities have the potential to boost patient outcomes, extend treatment options, and advance the practice of minimally invasive spine surgery.
Geographic Overview
North America
Europe
Asia Pacific (APAC)
Rest of the World (RoW)
The Minimally Invasive Spine Technology Market is expanding globally, with significant developments in North America, Europe, Asia Pacific, Latin America, and the Middle East and Africa. Because of its sophisticated healthcare infrastructure and high frequency of spine illnesses, North America, particularly the United States, dominates the market. Europe has a substantial market presence, owing to well-established healthcare systems and an emphasis on R&D. Due to a big patient population and rising healthcare costs, Asia Pacific is seeing tremendous expansion. Latin America, the Middle East, and Africa are all seeing development, owing to improved healthcare infrastructure and increased demand for sophisticated healthcare services. Overall, the global market for minimally invasive spine technology is rising, driven by regional variables such as healthcare infrastructure, patient population, and technical breakthroughs.
Competitive Insight
Boston Scientific Corporation is one of the world's largest medical device companies, it is a pioneer in the field of minimally invasive spine technology. Surgeons worldwide utilize the company's products to treat a range of spinal problems. Boston Scientific is dedicated to creating breakthrough minimally invasive spine solutions that improve patients' lives. It develops, manufactures, and markets medical devices for a wide range of therapeutic areas, including cardiovascular, neurological, urological, and minimally invasive surgery. The company's products are used to treat various conditions, including heart disease, stroke, cancer, chronic pain, and urinary incontinence.
Aurora Spine is a medical device firm that creates and sells minimally invasive spine solutions. The company's solutions are intended to treat a number of spinal problems and have gotten positive feedback from surgeons and patients. Aurora Spine has a solid management team and financial support, which will allow it to expand in the minimally invasive spine technology sector. Its solutions are intended to treat a wide range of spine disorders, such as spinal stenosis, degenerative disc degeneration, and scoliosis.
Recent Development by Key Players
In January 2023, Johnson & Johnson achieved FDA approval for their JOURNEY™ XT Interbody Fusion System, which is designed to give surgeons a more flexible and specific decision for spine fusion surgery.
In May 2023, Globus Medical introduced the SYNCHRONY™ Cervical Disc Replacement System, which is designed to provide patients with a more excellent natural range of motion post-cervical disc replacement surgery.
Key Players Covered in the Report
Boston Scientific Corporation, AMS Group, Aurora Spine, Inc., Globus Medical Inc., Johnson & Johnson, Precision Spine Inc., Richard Wolf GmbH, NuVasive(NUVA), Orthofix Medical(OFIX), Medtronic(MDT).
The Minimally Invasive Spine Technologies market report offers a comprehensive market segmentation analysis along with an estimation for the forecast period 2023–2030.
Segments Covered in the Report
By Product Type

implants
instruments
software

By Condition 

Degenerative Disc Disease
Spinal Stenosis
Scoliosis
Spinal Infection
Herniated Disc
Spondylolisthesis

By End-User

ambulatory surgical centers
hospitals
clinics
surgeons
Patients
Region Covered in the Report
North America
Europe

Germany
U.K.
France
Italy
Spain
Russia
Rest of Europe

Asia-Pacific (APAC)

China
Japan
India
South Korea
Rest of Asia-Pacific

Rest of the World (RoW)

Brazil
Saudi Arabia
South Africa
U.A.E.
Other Countries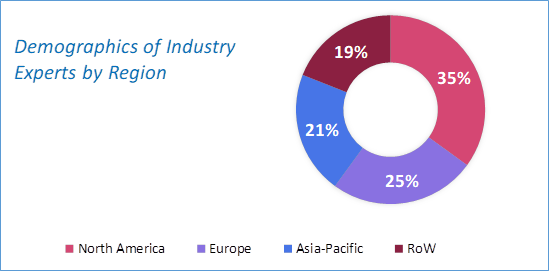 Source: VynZ Research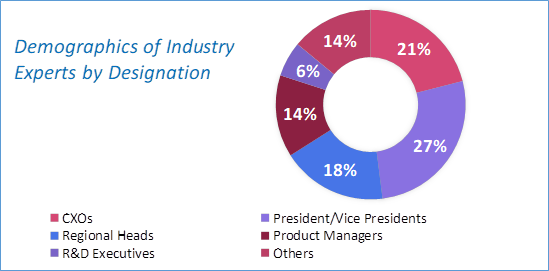 Source: VynZ Research