Industry Overview
The Global NGS (Next-Generation Sequencing) Informatics Market size is anticipated to grow from USD 1.5 billion in 2021 to USD 4.75 billion by 2030. During the forecast period, it will grow at a CAGR of 15.7%. Next-generation DNA sequencing (NGS) technology has reduced the cost of genome and RNA sequencing thereby can be used in a diverse range of research applications. Metagenomics, gene expression, epigenetics, whole-genome and transcriptome sequencing, and other applications are used in NGS informatics. Next-generation sequencing informatics makes DNA sequencing easier for researchers and organizations by utilizing bioinformatics methods. Certain benefits provided by NGS, such as cost-effectiveness, rapid and accurate sample analysis, and technological innovations, are expected to drive NGS technology during the forecast period. Furthermore, the development of genomics programs in a number of countries is expected to benefit the market for next-generation sequencing. The introduction of next-generation sequencing-based diagnosis, as well as proactive government support, are also key market growth factors.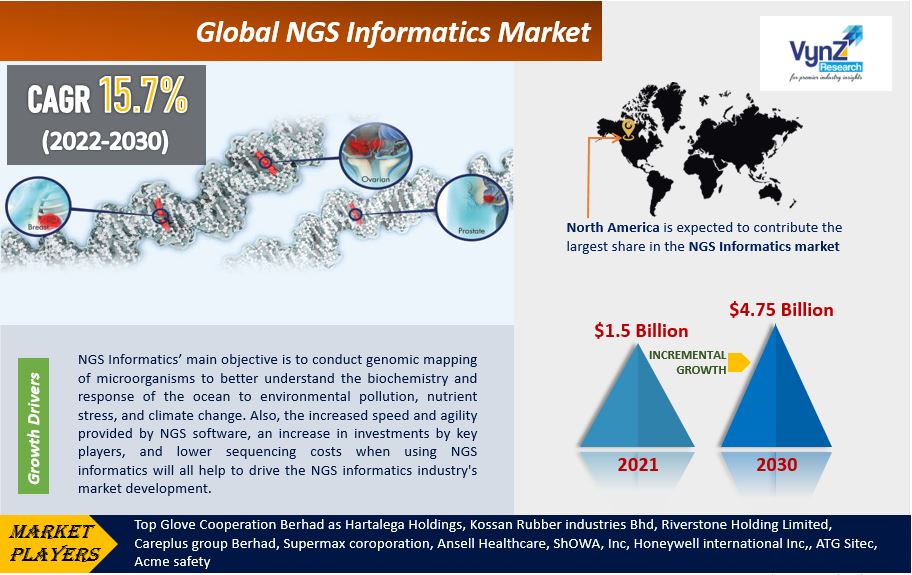 Next Generation Sequencing (NGS) is regarded as a valuable tool in the characterization and identification of the SARS-CoV2 virus, as NDS technologies play an important role in studying viral genome mutations and their impact on human health.
Market Segmentation
Insight by Product
Based on Product, the Global NGS Informatics Market is segmented into Data Analysis & Management Tools, Primary and Secondary Data Analysis Tools, and NGS Informatics Services. The Data Analysis and Management Tools are further divided into Data Interpretation and Reporting Tools and Laboratory Information and Management Systems (LIMS). The data analysis and management tools contribute the largest share in the market due to increased market demand and technological development in NGS informatics tools.
Insight by Application
Based on Application, the Global NGS Informatics Market is segregated into Drug Discovery, Genetic Screening, Biomarker Discovery, Diagnostics, Agriculture and Animal Research, and Precision Medicine. The biomarker discovery is expected to witness the largest share in the market owing to the increased prominence of cancer. These biomarkers will aid in enhancing the quality of cancer treatment, thereby offering technological development in NGS informatics.
Insight by End User
Based on End-User, the Global NGS Informatics Market is divided into Pharmaceutical Companies, Academic and Research Centers, Hospitals and Clinics, and Others. The Academic and Research Centers contribute the largest share owing to the upsurge in the application-based deployment in these institutes and the mounting development of oncology research.
Global NGS Informatics Market Report Coverage
| | |
| --- | --- |
| Report Metric | Details |
| Historical Period | 2018–2021 |
| Base Year Considered | 2022 |
| Forecast Period | 2022 - 2030 |
| Market Size in 2021 | $1.5 Billion |
| Revenue Forecast in 2030 | $4.75 Billion |
| Growth Rate | CAGR 15.7% |
| Segments Covered in the Report | By Product, By Application, and By End-User |
| Report Scope | Market Trends, Drivers, and Restraints; Revenue Estimation and Forecast; Segmentation Analysis; Impact of COVID-19; Companies' Strategic Developments; Market Share Analysis of Key Players; Company Profiling |
| Regions Covered in the Report | North America, Europe, Asia-Pacific, Middle East, and Rest of the World |
Industry Dynamics
Growth Drivers
NGS Informatics' main objective is to conduct genomic mapping of microorganisms to better understand the biochemistry and response of the ocean to environmental pollution, nutrient stress, and climate change. Also, the increased speed and agility provided by NGS software, an increase in investments by key players, and lower sequencing costs when using NGS informatics will all help to drive the NGS informatics industry's market development.
Also, increased clinical applications of next-generation sequencing (NGS) owing to rapid result time, flexibility, and faster processing will provide a favorable environment for the market expansion of the NGS informatics industry. The burgeoning clinical applications of NGS in oncology for the clinical management of cancer patients, as well as mutation profiling to identify subsequent treatment options, are driving up demand for NGS. Furthermore, advances in big data technology will allow for better storage and management of NGS data, resulting in increased demand for NGS and greater adoption of NGS software.
Challenges
Market growth will be hampered by a lack of accuracy, precision, and standardization of technology. In addition, there is a dearth of skilled labor and technicians in the market for NGS informatics services, which is impeding the market growth. Ethical and legal constraints, like access to medical records and their distribution, are also having a negative impact on the market.
Opportunities
Increased integration of NGS technology into other research programs, increased prominence of personalized medicines, rising cancer incidences, and untapped market opportunities in developing markets are expected to provide lucrative market opportunities in the NGS informatics industry.
Geographic Overview
North America
Europe
Asia Pacific (APAC)
Rest of the World (RoW)
North America is expected to contribute the largest share in the NGS Informatics market owing to the presence of high per capita healthcare expenditure, the presence of several clinical laboratories that deploy NGS to provide genetic testing services, increased awareness among patients, and the mounting prevalence of target diseases. Additionally, a number of governmental organizations, like the National Human Genome Research Institute (NHGRI) in the United States, have been sponsoring studies on the sequencing of the human genome as well as studies on the structure, functionality, and importance of the genome in health and disease. Furthermore, these organizations fund research into the ethical, legal, and social implications (ELSI) of genome research.
Competitive Insight
The market for next-generation sequencing informatics is consolidated, with only a few key players. Few key players presently dominate the industry in terms of market share. Few other smaller players are expected to enter the market, owing to rising patient awareness levels and the increasing incidence of chronic diseases. To stay competitive, the major players in the NGS Informatics sector are focusing on mergers and acquisitions (M&A), collaborations, partnerships, increased R&D activities, and new product launches.
In the fields of genomics and transcriptomics, Lasergene Genomics stands out. The software, which is powered by SeqMan NGen, DNASTAR's revolutionary and user-friendly assembler, allows one to set up complex genomic sequencing projects in minutes and automates tasks that would normally require extensive manual intervention in other software packages. Intuitive project setup and analysis, combined with patented assembly algorithms, enable unrivaled ease and speed in assembling and aligning NGS data, allowing you to focus on the results. There will be no need to switch between software tools to assemble sequences, identify important variants, and identify differentially expressed genes.
GENEWIZ is a leading global genomics service provider and trusted provider of Sanger sequencing, NGS, gene synthesis, molecular biology, bioinformatics, and GLP regulatory services. GENEWIZ is a recognized partner at top academic, pharmaceutical, biotechnology, agricultural, governmental, and clinical institutes and is easily accessible throughout the world. NGS Services include RNA-Seq, Single-Cell Sequencing, Sequencing Only, Whole Genome Sequencing, Exome Sequencing, Targeted Sequencing, Amplicon Sequencing, CRISPR Validation, Digital Spatial Profiling, AAV Genome Sequencing, Metagenomics Solutions, Immunogenomics, and Epigenomics.
Recent Development by Key Players
QIAGEN Digital Insights (QDI), a QIAGEN's bioinformatics business, stated their augmented QIAGEN CLC Genomics Workbench Premium in January 2023, which removes the data-analysis bottleneck of next-generation sequencing (NGS) by adding game-changing analysis speed to analyse and interpret whole genome sequencing (WGS), whole exome sequencing (WES), and large panel sequencing data. The QIAGEN CLC Genomics Workbench Premium update includes LightSpeed technology, a software accelerator that converts raw sequencing data in FASTQ files from any paired-end short read sequencing platform into interpretable lists of genetic variants in the VCF format at an unprecedented rate. It can analyse an entire human genome at 34x coverage on a standard computer in 25 minutes and a whole exome at 50x coverage in 90 seconds in standard cloud environments. Using cloud infrastructure and QIAGEN CLC LightSpeed technology, labs can run WGS analyses for about $1 per genome and WES for a few cents per exome. Alternatively, labs can run the QIAGEN CLC LightSpeed technology on existing local hardware with comparable results.
In September 2022, Illumina, Inc., one of the prominent leaders in DNA sequencing and array-based technologies, announced the release of the NovaSeqTM X Series (NovaSeq X and NovaSeq X Plus), two new production-scale sequencers that will push the boundaries of genomic medicine by enabling faster, more powerful, and more sustainable sequencing.
Key Players Covered in the Report
Some of the major players operating in the NGS Informatics Market include Illumina, Inc., Thermo Fisher Scientific Inc., F. Hoffmann-La Roche Ltd, QIAGEN, Dassault Systèmes, DNASTAR, GENEWIZ, Eagle Genomics, Abbott, and Agilent Technologies, Inc.
The NGS Informatics Market report offers a comprehensive market segmentation analysis along with an estimation for the forecast period 2022–2030.
Segments Covered in the Report
By Product 

Data Analysis & Management Tools

Data Interpretation and Reporting Tools
Laboratory Information and Management Systems (LIMS)

Primary and Secondary Data Analysis Tools
NGS Informatics Services

By Application

Drug Discovery
Genetic Screening
Biomarker Discovery
Diagnostics
Agriculture and Animal Research
Precision Medicine

By End User

Pharmaceutical Companies
Academic and Research Centers
Hospitals and Clinics
Others
Region Covered in the Report
North America
Europe

Germany
U.K.
France
Italy
Spain
Russia
Rest of Europe

Asia-Pacific (APAC)

China
Japan
India
South Korea
Rest of Asia-Pacific

Rest of the World (RoW)

Brazil
Saudi Arabia
South Africa
U.A.E.
Other Countries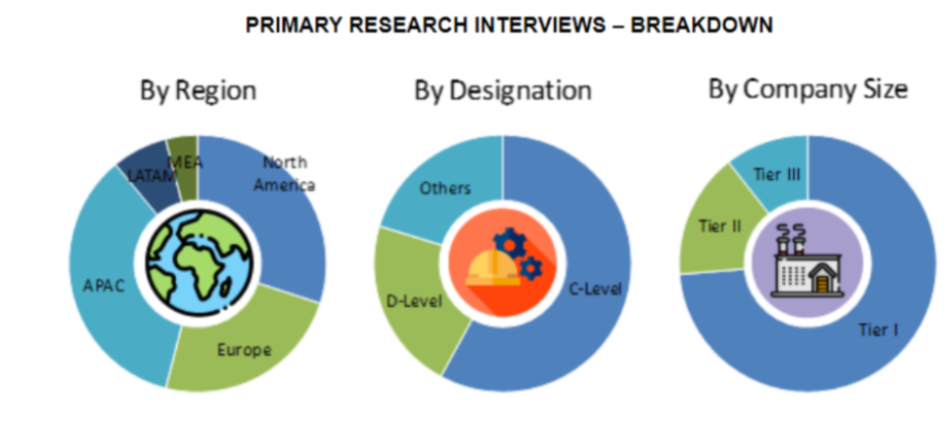 To explore more about this report - Request a free sample copy