Industry Overview
The global cloud telephony service market is anticipated to grow from USD 19.10 billion in 2022 to USD 53.10 billion in 2030, thus growing at a CAGR of 13.25% during the forecast period. Cloud telephony service is an internet-enabled voice and data communication infrastructure, in which a third-party host multiple applications, such as storage, telecommunications, and switching, and is further accessed through internet channels. These parties perform operations on the VoIP (Voice Over Internet Protocol) telephone system and Public Switched Telephone Network (PSTN) because they perform functions in a virtual model and therefore do not require a physical connection with the network provider. Furthermore, the increasing penetration of mobile phones rise in demand for SAAS tools around the world is the main reason for the growth of the global cloud telephony market.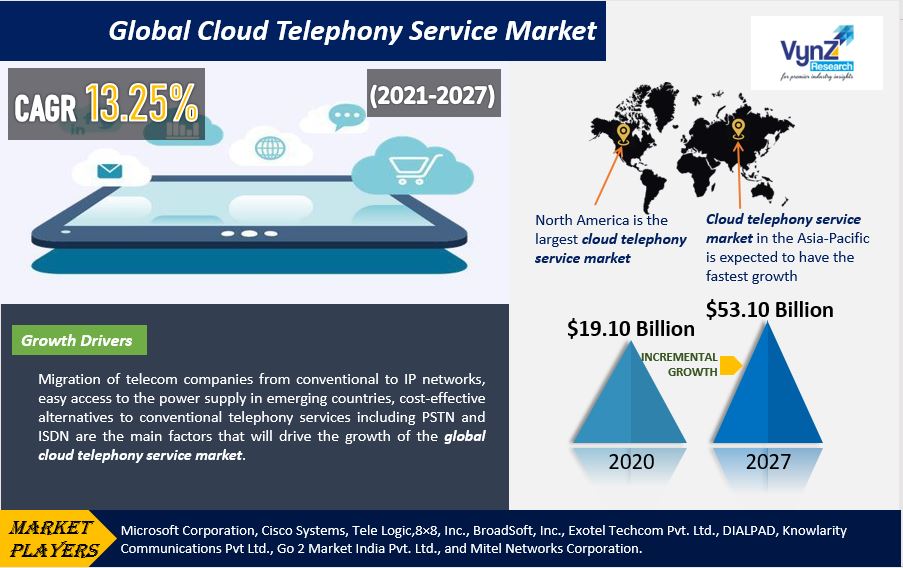 The COVID-19 pandemic has a positive impact on the global cloud telephony service market as all offices are closed and businesses have shifted to the online mode for their operations. Cloud telephony services help businesses and companies to set up proper communication via call centers with no investment and infrastructure and solve customers' queries efficiently.
Market Segmentation
Insight by Organization Size
Based on organization size, the cloud telephony service market is divided into large and small and medium enterprises. Small and medium enterprises are expected to grow faster during the forecast period because they can provide simple business operations. Cloud telephony services provide these companies enormous financial value by facilitating efficient communication within the organization or on mobile devices and reducing subscription costs. Furthermore, cloud telephony services are becoming popular in small and medium-sized enterprises, thus driving the growth of the global cloud phone services market.
Insight by Deployment Type
Based on deployment type, the cloud telephony service market is bifurcated into the cloud and hosted. Among both these segments, cloud deployment is generating and is expected to generate higher revenues over the estimated period. The introduction of cloud computing and storage space enables companies to improve the reliability of their business operations and enables business organizations to operate safely and efficiently. Moreover, cloud deployment will provide many benefits such as scalability, affordability, 24/7 service, flexibility, auto-update feature, thus boost the demand for the cloud telephony service market globally.
Insight by End User
Based on end user, the cloud telephony market is segmented into media & entertainment, telecom & IT, health care, BFSI, government, retail, education, and others. Telcom and IT category are expected to grow the fastest during the forecast period. The demand for cloud telephony services in this area is high because the enterprises are shifting their focus from traditional communication technologies to cloud telephony services because it provides improved voice audits.
 In addition, enterprises are using the network to improve the performance of mail, media, social networking, voice, and chat, and further strengthen the growth of the global cloud telephony service market.
Industry Dynamics
Growth Drivers
Migration of telecom companies from conventional to IP networks, easy access to the power supply in emerging countries, cost-effective alternatives to conventional telephony services including PSTN and ISDN are the main factors that will drive the growth of the global cloud telephony service market. This technology is more economical than the traditional telephony systems as today we are focused on digitalization and adoption of cloud services, thus, is getting adopted by major business operators across the globe.
Challenges
Lack of knowledge about cloud telephony service tools, interoperability, security concerns, and less suppleness of this technology for all kinds of business models is the challenge for the expansion of the cloud telephony service industry. This technology also requires improved visibility and accessibility through appropriate marketing channels that make cloud telephony services more expensive and less attractive.
Industry Ecosystem
Globally, industry players are leveraging market growth through the development of innovative solutions in the global cloud telephony services market. Technology vendors offer users a variety of solutions, including advanced technology for faster and better connectivity. Many R&D activities are undertaken to improve security and make it more efficient and accessible worldwide.
Geographic Overview
Geographically, North America is the largest cloud telephony service market due to increasing developments made by the key players with regard to the internet of things compared to other technologies. The increasing utilization of cloud computing technology advanced IT infrastructure, and growing telecom domain are also the factors contributing to the growth of the cloud telephony service market in the region.
Furthermore, the cloud telephony service market in the Asia-Pacific is expected to have the fastest growth due to increasing adoption of the technology to reduce operational cost, growing digitalization, and increasing access to electricity. Furthermore, due to technological development in cloud telephony services in countries such as India, this has made it accessible to SEBI and has further enhanced the growth of the cloud telephony service market.
Competitive Insight
Major players in the cloud telephony market are concentrating on launching new products in order to earn major revenue from early adopters of the adoption cycle that is further improving the quality of their offerings and to gain competitive advantage. Also, it has been observed that key players in the cloud telephony service market are depending upon new technology by increasing investment in R&D activities to develop cost efficiencies, thereby increasing the rivalry in the market to some extent.
Tata Tele business services has launched a cloud-based communication solution basically for enterprises, that offers hybrid connectivity across various platforms especially between various employees and customers.
Oracle has entered the multi-cloud and hybrid administration and monitoring arena. The Oracle cloud observability and management platform was launched, which is a collection of management, diagnostic, and analytics tools for managing multiple clouds and on-premises settings.
Some of the key players in the cloud telephony market are Microsoft Corporation, Cisco Systems, Tele Logic,8×8, Inc., BroadSoft, Inc., Exotel Techcom Pvt. Ltd., DIALPAD, Knowlarity Communications Pvt Ltd., Go 2 Market India Pvt. Ltd., and Mitel Networks Corporation.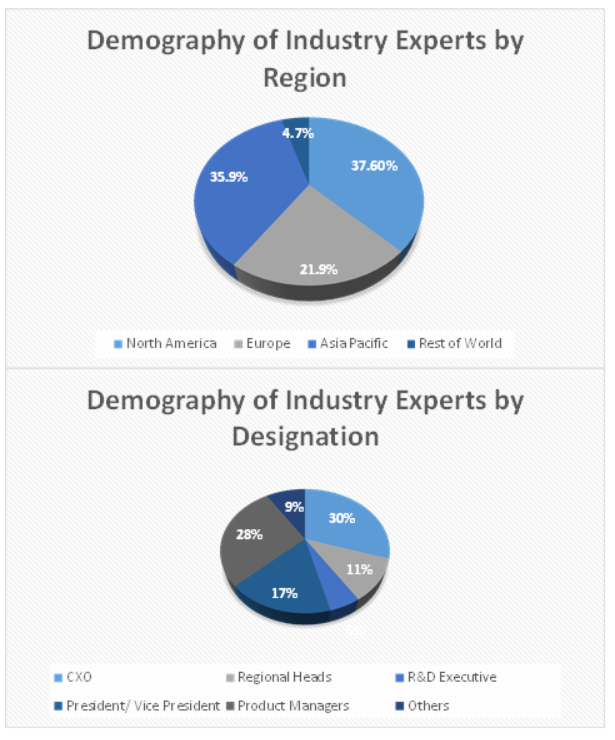 Source: VynZ Research