Industry Overview
The global e-signature market is estimated to be valued at USD 1,265.6 million in 2022 and is expected to reach USD 3,834.3 million by 2030, growing at CAGR of 20.5% during the forecast period (2023–2030). The e-signature market size has witnessed enormous growth for these solutions over the last few years due to the increasing online transaction in the banking and finance industry and increasing need for security and efficiency in documentation and operations. With the shifting banking and finance processes to mobile devices, these organizations need to provide consumer with an efficient way for documentation and their verification.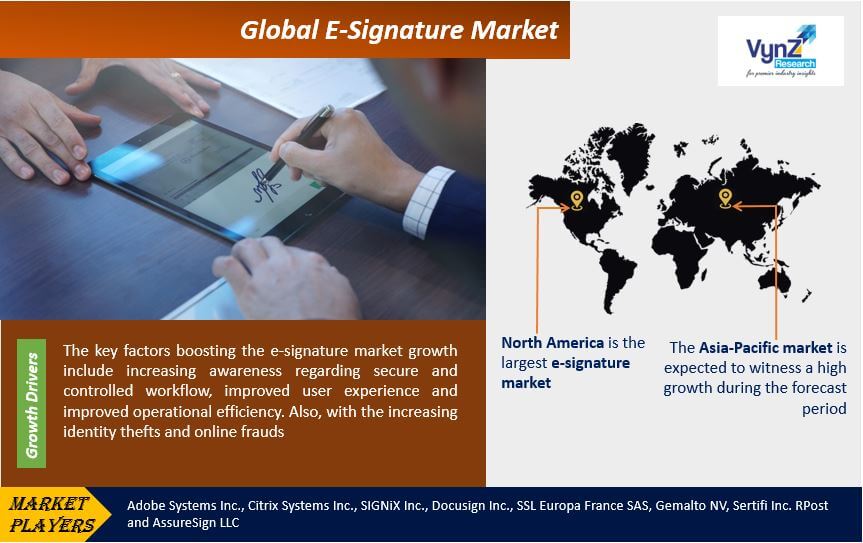 E-signature or electronic signature refers to the electronic data associated with other electronic data used by an individual or entity to sign electronically. These signatures have same legal standing as handwritten signatures if adheres to the regulations regarding it.
Market Segmentation
Insight by Type
On the basis of type, the e-signature market is categorized into public key infrastructure, clickwrap, signature pad at POS, voice signature, username & pin, and others. Of all types, public key infrastructure segment holds the largest share in the market as it involves the management of public key encryption. Public key infrastructure facilitates the secure and encrypted transfer of information for different activities ranging from online banking transactions to e-commerce. The technology provides authentic communication and among different individuals or parties validating their identity.
Insight by User-Case
Based on user case, the market is segmented into unmediated, third party, mediated, and internal user case. The unmediated e-signature market size was the largest among all user case. The segment is also anticipated to grow at the fastest CAGR during the forecast period as unmediated user case are more user-friendly and faster to complete.
Insight by Deployment Type
On the basis of deployment type, the e-signature market is segmented into cloud-based and on-premise. Of both, cloud-based category holds the largest share in the e-signature market globally. The category is also predicted to exhibit a higher CAGR during the forecast period as it offers faster and easier workflow without any hardware burden.
E-Signature Market Report Coverage
| | |
| --- | --- |
| Report Metric | Details |
| Historical Period | 2018–2021 |
| Base Year Considered | 2022 |
| Forecast Period | By 2030 |
| Market Size in 2022 | $X.XX Billion |
| Revenue Forecast in 2030 | $26.8 Billion |
| Growth Rate | CAGR 4.2% |
| Segments Covered in the Report | By Product Type, By Wound Type, By Application, and By End-User |
| Report Scope | Market Trends, Drivers, and Restraints; Revenue Estimation and Forecast; Segmentation Analysis; Impact of COVID-19; Companies' Strategic Developments; Market Share Analysis of Key Players; Company Profiling |
| Regions Covered in the Report | North America, Europe, Asia-Pacific, Middle East, and Rest of the World |
Industry Dynamics
Growth Drivers
The key factors boosting the e-signature market growth include increasing awareness regarding secure and controlled workflow, improved user experience, and improved operational efficiency. Also, with the increasing identity thefts and online frauds, different organizations and entities operating online are compelled to use electronic signature solutions to retain and improve end-to-end customer relationships and provide a safer mode of daily transactions and communication. E-signature provides faster and more secure validation of documents and communications by ensuring the identification of individuals.
Remote Work and Collaboration: The COVID-19 pandemic has accelerated the adoption of remote work practices and highlighted the importance of digital collaboration tools. E-signatures enable individuals and teams to securely sign and share documents remotely, facilitating seamless collaboration and business continuity.
Mobile Technology and Accessibility: The widespread use of smartphones and tablets has made e-signatures more accessible than ever before. Mobile-friendly e-signature solutions allow users to sign documents on the go, enhancing convenience and flexibility.
Integration with Workflow and Document Management Systems: E-signature solutions can be integrated with existing workflow and document management systems, allowing for seamless integration into business processes. This integration enables automated signing workflows, improves efficiency, and eliminates manual errors.
Environmental Sustainability: The move towards paperless processes aligns with sustainability goals, as e-signatures reduce paper consumption and contribute to environmental conservation efforts. Organizations are increasingly adopting e-signatures as part of their corporate social responsibility initiatives.
Cost and Time Savings: E-signatures eliminate the need for printing, scanning, and mailing documents, leading to significant cost and time savings. Businesses can accelerate contract cycles, reduce administrative overhead, and improve productivity by enabling remote signing and eliminating the need for physical document handling.
Enhanced Security and Compliance: E-signature solutions offer robust security measures, including encryption and authentication protocols, to ensure the integrity and confidentiality of signed documents. Digital audit trails and tamper-evident features help businesses comply with industry regulations and provide evidentiary proof in legal. 
Challenges
The key challenges faced by the e-signature industry are adherence to traditional business practices and lack of awareness regarding the legality of e-signatures. In addition, lack of robust policies regarding recognition of e-signature across different countries and the challenges faced for the implementation of e-signature solutions are hindering the growth of the market, globally.
Geographic Overview
Geographically, North America is the largest e-signature market due to the increased level of internet penetration and adoption of online business practices. U.S.is the largest market among all the North American countries and is also predicted to witness significant growth during the forecast period. Although still unexplored, the Asia-Pacific e-signature market will witness the highest growth among all the regions during the forecast period. The region provides immense opportunities for industry players as the region is witnessing a boom in e-commerce industries especially in the developing nations like India and China. The Asia-Pacific market is expected to witness a high growth during the forecast period.
Global E-Signature Market, By Region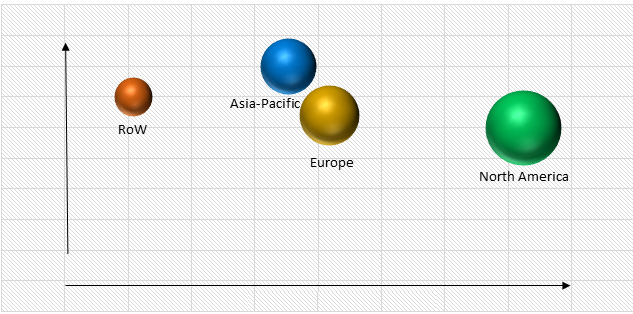 Competitive Insight
Market players in the e-signature industry are partnering or collaborating with other players and are also looking for acquisition of new technology players to retain their market share by providing solutions related to documentation and workflow. In July 2018, DocuSign, Inc. signed a definitive agreement to acquire SpringCM, a cloud-based document generation and contract lifecycle management software company based in Chicago. The company reported that with the addition of SpringCM's capabilities in document generation, redlining, advanced document management, and end-to-end agreement workflow the deal further accelerates DocuSign's broadening of its solution beyond e-signature to the rest of the agreement process—from preparing to signing, acting on, and managing agreements.
Adobe Systems Inc., Citrix Systems Inc., SIGNiX Inc., Docusign Inc., SSL Europa France SAS, Gemalto NV, Sertifi Inc. RPost and AssureSign LLC are some of the key players offering solutions and services for E-Signature.
Primary Research
VynZ Research conducts extensive primary research to understand the market dynamics, validate market data and have key opinions from the industry experts. The key profiles approached within the industry includes, CEO, CFO, CTO, President, Vice President, Product Managers, Regional Heads and Others. Also, end user surveys comprising of consumers are also conducted to understand consumer behaviour.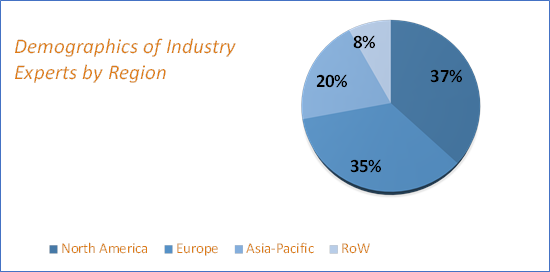 Source: VynZ Research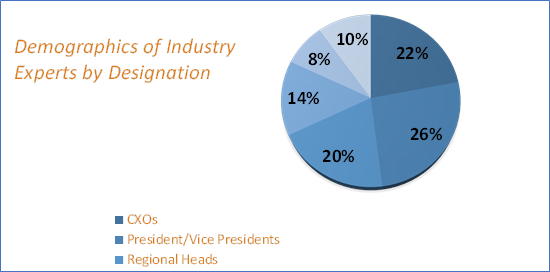 Source: VynZ Research