Industry Overview
The global market for image sensors generated a revenue of $25.6 billion in 2022, and it is anticipated to grow $39.6 billion in 2030 at a CAGR of 10.5% during the forecast period. This is mostly due to the automotive industry's excessive use of image sensor technology. Also, image sensors are widely employed in imaging devices and digital cameras to convert optical images into electrical ones, which aid in turning imaging devices into digital images.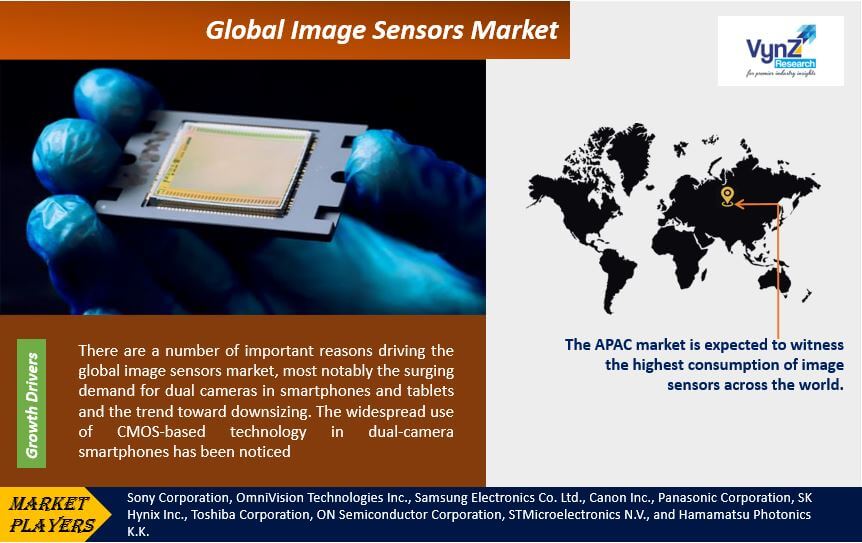 Market Segmentation
Insight by Technology
The market for image sensors is categorized into complementary metal-oxide-semiconductors, charge-coupled devices, and others, based on technology. Among these, the complementary metal-oxide-semiconductor category accounted for the highest market share in 2022. Also, it is anticipated to remain in the lead during the projected period, owing to its advantageous characteristics, including lower power usage and reduced system size.
Insight by Processing Type
Based on processing type, the market is bifurcated into 2D and 3D image sensors. Due to its widespread use in ADAS, computer vision, and machine vision, the demand for 3D image sensors is expected to witness faster growth between the two categories throughout the projection period. Additionally, it is expected that the use of artificial intelligence in smartphones would fuel the market for 3D image sensors.
Insight by Spectrum
The worldwide image sensor market is divided into visible and non-visible spectrums, based on the spectrum segment. Since cameras that can operate in the invisible spectrum have more applications in security and surveillance, the non-visible spectrum category is expected to witness faster growth throughout the projected period. Furthermore, this market is witnessing a wave of investments from major companies like Panasonic Corporation to expand their product line. Additionally, X-ray light and infrared non-visible spectrum are subcategories of the non-visible spectrum market.
Insight by Array Type
Area and linear array image sensors are the key categories of the global image sensors market, based on array type. Of the two, the demand for linear array image sensors is projected to increase more quickly over the projected period.
Insight by Vertical
Automotive, healthcare and life sciences, commercial, consumer electronics, industrial, aerospace, and defense and homeland security are the major verticals of the worldwide image sensors market. Due to the continuous advancement of the CMOS method, which has had a substantial impact on the distribution of image sensors into smart devices, the consumer electronics sector is projected to continue holding the highest industry share over the projection period. Further, the high demand for dual and secondary cameras in smartphones expands the market growth.
Additionally, desktops and laptops, photography and videography, commercial drones, wearables, service robots, commercial copiers and scanners, smartphones and tablets, and home security are subcategories of the image sensors market, on the basis of consumer electronics applications.
The global market for image sensors for automotive applications holds a significant share. It is further divided into four subgroups: in-cabin ADAS, rear- and side-view, camera mirror systems, and forward-looking ADAS.
In addition, the market is categorized into endoscopy, X-ray imaging, and others, based on healthcare and life sciences applications. Moreover, the market for image sensors for industrial use is further divided into three subgroups: machine vision, robotic vision, and industrial surveillance and monitoring.
Global Image Sensors Market Report Coverage
| | |
| --- | --- |
| Report Metric | Details |
| Historical Period | 2018–2022 |
| Base Year Considered | 2022 |
| Forecast Period | By 2030 |
| Market Size in 2021 | $25.6 Billion |
| Revenue Forecast in 2030 | $39.6 Billion |
| Growth Rate | CAGR 10.5% |
| Segments Covered in the Report | By Technology, By Processing Type, By Spectrum, By Array Type and By Vertical |
| Report Scope | Market Trends, Drivers, and Restraints; Revenue Estimation and Forecast; Segmentation Analysis; Impact of COVID-19; Companies' Strategic Developments; Market Share Analysis of Key Players; Company Profiling |
| Regions Covered in the Report | North America, Europe, Asia-Pacific, Middle East, and Rest of the World |
Industry Dynamics
Trends
The main developments and advances in CMOS imaging technology, design, and production are those that are always occurring. The signal-to-noise ratio (SNR) intensities in machine visualization presentations at greater speeds have been significantly enhanced thanks to recent advancements in CMOS technology, which also gives the CCD technology more functionality, improved performance, and cost-effectiveness.
Growth Drivers
There are a number of important reasons driving the global image sensors market, most notably the surging demand for dual cameras in smartphones and tablets and the trend toward downsizing. The widespread use of CMOS-based technology in dual-camera smartphones has been noticed, which contributes to the rise in popularity of these phones among a variety of gen-next photographers. Another factor contributing to the market's growth is the increasing demand for better medical imaging equipment.
Growing smartphone market: The global smartphone market has been expanding rapidly, with manufacturers constantly competing to enhance camera capabilities. Consumers now demand high-resolution images and advanced features such as low-light performance, image stabilization, and depth sensing. This drives the need for improved image sensors in smartphones.
Increasing adoption of advanced driver-assistance systems (ADAS): ADAS technologies, including lane departure warnings, adaptive cruise control, and collision avoidance systems, heavily rely on image sensors for capturing and processing real-time images. The growing demand for safety features in vehicles is driving the integration of image sensors in automotive systems.
The rising popularity of machine vision applications: Machine vision technology is extensively used in industries such as manufacturing, robotics, and automation for inspection, quality control, and process optimization. Image sensors play a crucial role in capturing accurate and detailed images for machine vision systems, facilitating the automation of various industrial processes.
Expanding applications in healthcare: Medical imaging devices, such as X-ray machines, CT scanners, endoscopes, and ultrasound systems, rely on image sensors to capture and produce high-resolution images for diagnostic purposes. The increasing adoption of digital imaging technologies in healthcare is boosting the demand for image sensors.
Advancements in image sensor technology: Ongoing advancements in image sensor technology, such as the development of backside-illuminated (BSI) sensors, stacked sensors, and complementary metal-oxide-semiconductor (CMOS) image sensors, have significantly improved image quality, low-light performance, and power efficiency. These technological advancements are driving market growth as they enable the integration of image sensors into a wider range of devices and applications.
Increasing demand for surveillance systems: The need for enhanced security and surveillance in public places, commercial buildings, and residential areas is driving the demand for surveillance cameras. Image sensors play a critical role in capturing high-resolution images and videos for effective surveillance, contributing to the growth of the image sensors market.
Industry Ecosystem
The image sensors market expansion is being supported globally by industry players who are leveraging market growth through increased investments, new product developments, partnerships, mergers and acquisitions, and technical advancement.
Geographic Overview
During the forecast period, the APAC market is expected to witness the highest consumption of image sensors across the world. This can be ascribed to the increased industrialization and R&D activities, a large number of accident cases, and the rise in safety-related directives, across the world.
Global Image Sensors Market, By Region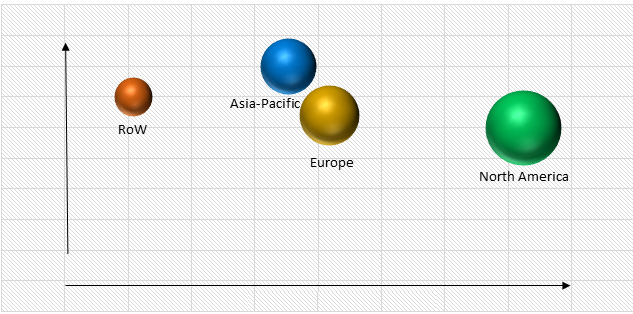 As a result of numerous accident cases, an advanced driver assistance system (ADAS) is becoming increasingly necessary in the automotive industry. Thus, the integration of advanced image sensing capabilities is a key market driver and is further enhancing the growth of the image sensors market in this region.
Competitive Insight
Some of the major players in the global image sensors market include Sony Corporation, OmniVision Technologies Inc., Samsung Electronics Co. Ltd., Canon Inc., Panasonic Corporation, SK Hynix Inc., Toshiba Corporation, ON Semiconductor Corporation, STMicroelectronics N.V., and Hamamatsu Photonics K.K.
The Image Sensors Market research includes a comprehensive market segmentation analysis as well as projections for the analysis period 2022-2030.
Segments Covered in the Report
By Technology 

Charge-Coupled Device (CCD)

Complementary Metal-Oxide-Semiconductor

Others

By Processing Type 

2D Image Sensors

3D Image Sensors

By Spectrum 

Visible Spectrum

Non-Visible Spectrum

X-Ray Light

Infrared Non-Visible Spectrum

By Array Type 

Area Image Sensor

Linear Image Sensor

By Vertical 

Automotive

Commercial

Healthcare and Life Sciences

Consumer Electronics

Aerospace

Defense

Homeland Security

Industrial
Region Covered in the Report
North America

Europe

Germany

U.K.

France

Italy

Spain

Russia

Rest of Europe

Asia-Pacific (APAC)

China

Japan

India

South Korea

Rest of Asia-Pacific

Rest of the World (RoW)

Brazil

Saudi Arabia

South Africa

U.A.E.

Other Countries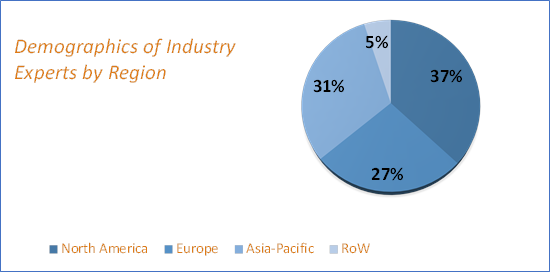 Source: VynZ Research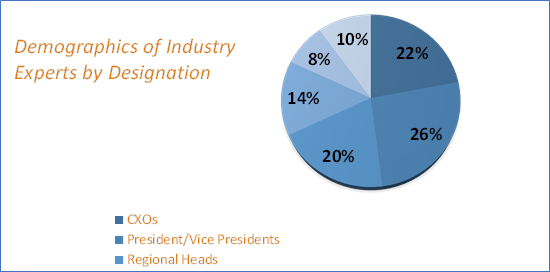 Source: VynZ Research