Industry Overview
The global smart toys market is expected to grow at a significant rate during the forecast period due to the increasing internet penetration, increasing disposable income, and a large population base. With technological advancements, smart toy has their own intelligence and are interactive, which makes them popular among kids. Also, manufacturers are introducing new products with several benefits for kids such as learning and developing a skill, thus creating greater acceptance among parents for these toys.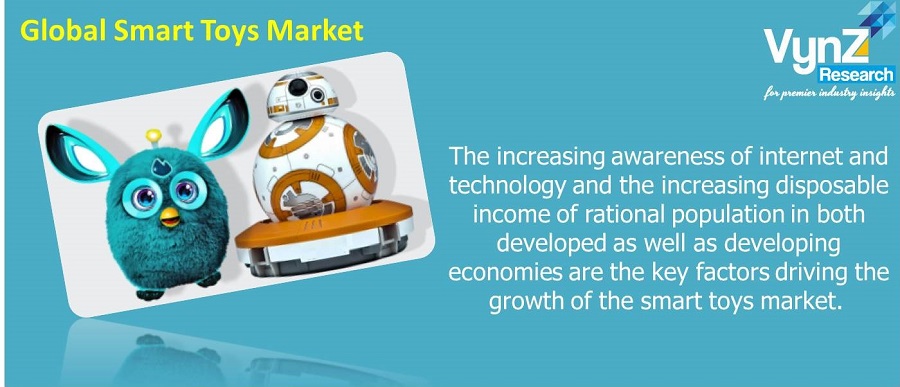 Market Segmentation
Insight by Technology
Bluetooth, Wi-Fi, RFID and NFC are the technologies used in smart toys market. Among all these categories, RFID technology is anticipated to witness the fastest growth during the forecast period due to the increasing adoption of RFID for tracking and tagging products. Also, it contains a memory chip and antenna to store data, which result in the better consumer experience. Package and inventory tracking are the two most crucial benefits of RFID that make this technology popular in the smart toys market across the globe.
Insight by Type
The different types of these toys include app-enabled mechanical toys, health-tracking toys or wearable, voice or image recognition toys, screenless toys, puzzles and building games, toys-to-life, among others. Of all these toys, voice or image recognition toys are expected to witness the fastest growth during the forecast period due to the rapid adoption of artificial intelligence in several developed as well as developing economies.
Insight by Distribution Channel
Based on the distribution channel, the smart toys market is segmented into offline stores, toy shops, specialty stores, online stores, and others. Among all channels, toy shop record the largest sale of these toys, however, online stores are anticipated to witness the fastest growth during the forecast period. This is primarily due to the increasing penetration of e-commerce increasing awareness pertaining to online stores.
Industry Dynamics
Industry Trends
All the major players in the toy industry have started investing in research and development activities. The hotel and tourism industry and coaching centers have started utilizing smart toys to attract customers and increase their market base. Advancements in technology and the adoption of artificial intelligence by the market players to develop their products are other key trends witnessed in the smart toy industry.
The market for smart toys includes a wide range of products, such as interactive robots, app-connected toys, coding toys, virtual reality headsets for kids, smart building blocks, and more. Major toy manufacturers, technology companies, and startups are actively participating in the development and production of smart toys.
Smart toys offer various benefits to children, parents, and educators. They can provide educational content, promote cognitive development, enhance problem-solving skills, and foster creativity. Many smart toys also offer personalized learning experiences by adapting to a child's preferences and abilities. Parents and educators appreciate the educational value and interactive nature of these toys, as they can supplement traditional learning methods.
Growth Drivers
The increasing internet penetration, increasing disposable income, and large consumer base are the key factors driving the growth of the smart toys market. The increasing traction for these toys is attributed to the marketing campaign run by the industry players promoting their products as key in the development and growth of their kids. This is leading to the increasing adoption by parents to provide their kids with these toys to benefit their children in learning and skill development and also have health benefits as claimed by the manufacturers.
Increasing Digital Connectivity: The growing penetration of smartphones, tablets, and other connected devices has created a favorable environment for smart toys. These toys can connect to mobile apps, online platforms, and other digital interfaces, allowing for enhanced interactivity, content updates, and connectivity with other devices.
Rising Demand for Educational Toys: There is a growing emphasis on educational toys that promote learning and skill development in children. Smart toys offer educational content, interactive lessons, and personalized learning experiences, making them attractive to parents and educators who seek to supplement traditional learning methods.
Parental Convenience and Safety Concerns: Smart toys often offer features that enhance parental convenience, such as remote control, monitoring capabilities, and safety features. Parents appreciate the ability to remotely interact with their children's toys or track their activities, providing them with peace of mind.
Interactive and Immersive Play Experiences: Smart toys provide children with interactive and immersive play experiences. These toys can respond to gestures, voice commands, and touch, creating a more engaging and dynamic playtime. The incorporation of technologies like AR and VR also offers a heightened level of immersion and interactivity.
With the increasing disposable income and internet penetration, more consumers are able to afford these toys, thus leading to significant growth in the market. These toys work as an assistant that can wake up the child in the morning, remind them of assignments, answer their questions, and get them to bed on time. Parents can analyze the activity of their children through an online dashboard as well. All these benefits are anticipated to lead to significant growth in the smart toy industry in the coming years.
Challenges
The high cost of these toys, and security and privacy concerns related to the data collected by these devices are the key factors hampering the growth of the smart toys market. Protection of the privacy of the consumer is the most challenging factor since toys with artificial intelligence involve the risk of losing private or confidential records to hackers.
Industry Ecosystem
Globally industry players are leveraging market growth through the development of innovative solutions in smart toys. The vendors of smart toys are providing various solutions to users such as artificial assistance, source of knowledge, and entertainment, and are further improving productivity with the help of artificial intelligence.
Geographic Overview
Geographically, North America is the largest smart toys market due to technological advancements, high disposable income, and the adoption of these toys as engagement for kids by their working parents. The artificial intelligence sector has witnessed enormous development over the years in the U.S. The manufacturers of the toy industry have utilized these opportunities and boosted the sales of their toys with advanced features. Smart toys play a significant role as an assistant to kids helping them in their day-to-day schedule and studies. Furthermore, these toys help the parents to analyze the productivity of their children and are reliable for working mothers.
Asia-Pacific is observed to witness the fastest growth in the market due to the increasing disposable income and large consumer base. Also, the popularity of artificial intelligence among the large population in the country such as Japan is enabling the country to extensively invest in these smart toys. Moreover, the country has amended several norms in order to secure the privacy of the customers utilizing this technology.
Competitive Insight
Key players in the smart toys industry are investing heavily in research and development to improve the quality of the product and are also adopting the latest technologies which are strengthening their position in the market. Moreover, it has been observed that local players are depending upon new technology to develop cost efficiencies in their business operations thus increasing the rivalry in the market to some extent.
Some major players in the smart toys market include Sanrio Company Ltd., Konami Corporation, Fisher Playmates Toys, TOMY Company Ltd., Dream International Ltd., Kids II Sanrio Company Ltd., JAKKS Pacific Inc., Integrity Toys, Inc., Mattel, Inc. and Leap-Frog Enterprises Inc.