Industry Overview
The Global 3D Scanner Market has experienced significant growth, with a valuation of USD 1.2 billion in 2022. It is projected to continue expanding at a Compound Annual Growth Rate (CAGR) of 7.5% and reach USD 3.12 billion by the end of 2030. A 3D scanner is a valuable device used to capture precise measurements and visual representations of physical objects, including their weight and appearance. The rising need among manufacturers to ensure product quality and their growing demand for advanced technical solutions are key factors fueling the increased adoption of 3D scanners.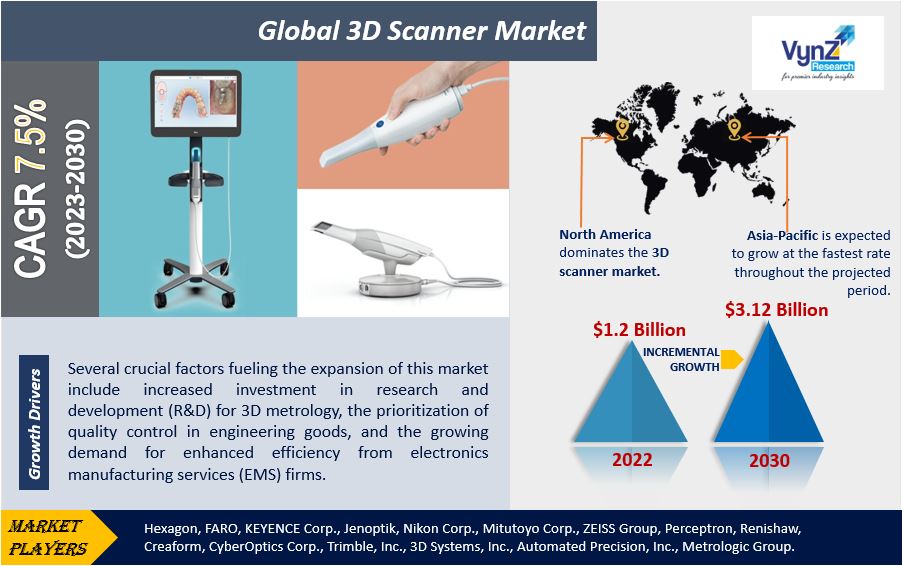 Automobile, healthcare, aerospace and defense, architecture and construction, energy and power, and other end user verticals will all see growth and expansion and this will have a favorable impact on the global demand for 3D scanners. Furthermore, rising usage of high-performance Complementary Metal-Oxide Semiconductor (CMOS) sensors in place of Charge-Coupled Device (CCD) imagers is predicted to boost market growth.
The occurrence and the spread of COVID-19 have exaggerated the 3D scanner market. Numerous industry experts believe that this pandemic will diminish by the end of the first quarter of FY2021. Since the offerings from various industry experts from diverse phases of the 3D scanner value chain (include OEMs, suppliers, and distributors) as well as subsequently accessing financial statements of different firms in the 3D scanner ecosystem for the year 2020.
Market Segmentation
Insight by Type Outlook
Based on the type outlook, the global 3D scanner market is spread into Tripod Mounted, Fixed CMM Based, Portable CMM Based, Desktop. In 2022, largest market share was held by a fixed CMM-based segment with significant share in terms of revenue of the total market. These 3D scanners support in the capture of the whole object from many angles at a stable location. The portable CMM-based segment, on the other hand, is expected to show promising growth prospects throughout the forecast period.
Insight by Range Outlook
Based on the range outlook, the global 3D scanner market is spread into Short Range, Medium Range, Long Range. In 2022, Short-range dominated the market with a considerable share in terms of revenue of the total market. This segment growth can be ascribed to the availability of portable and low-cost scanning devices. Also, rising awareness about various application areas such as product design, material inspection, and modelling is likely to bolster segment growth.
Insight by Offering Outlook
Based on the offering outlook, the global 3D scanner market is spread into Hardware, Software, Services. In 2022, hardware dominated the market with a considerable share in terms of revenue of the total market. This is attributed to the growing demand for 3D scanner gears, as well as high-tech enhancements in imaging and printing applications. During the forecast period, the services segment is expected to increase significantly.
Insight by Application Outlook
Based on the application, the global 3D scanner market is segmented into Quality Control & Inspection, Reverse Engineering, Rapid Prototyping, Face/Body Scanning. In 2020, quality control and inspection accounted dominated the market with considerable share in terms of revenue of the total market. The process of quality control and inspection is vibrant for production as it allows faster response to quality issues, thus leading to the growing demand for 3D scanning systems.
Insight by End User Outlook
Based on the end-user outlook, the global 3D scanner market is spread into Automotive, Healthcare, Aerospace & Defense, Architecture & Construction, Energy & Power, Petrochemicals, Tunnel & Mining, Artifacts & Heritage Preservation, Others. In 2020, Automotive dominated the market with a considerable share in terms of revenue of the total market. 3D scanning's active solicitations in material processing, automobile design and manufacturing, and plant inspection applications used in the automobile sector.
Global 3D Scanner Market Report Coverage
| | |
| --- | --- |
| Report Metric | Details |
| Historical Period | 2018–2022 |
| Base Year Considered | 2022 |
| Forecast Period | By 2030 |
| Market Size in 2022 | $1.2 Billion |
| Revenue Forecast in 2030 | $3.12 Billion |
| Growth Rate | CAGR 7.5% |
| Segments Covered in the Report | By Type Outlook, By Range Outlook and By Offering Outlook, By Application Outlook, By End User Outlook. |
| Report Scope | Market Trends, Drivers, and Restraints; Revenue Estimation and Forecast; Segmentation Analysis; Impact of COVID-19; Companies' Strategic Developments; Market Share Analysis of Key Players; Company Profiling |
| Regions Covered in the Report | North America, Europe, Asia-Pacific, Middle East, and Rest of the World |
Industry Dynamics
Industry Trends
The emerging trends, such as mixed authenticity, Internet of Things (IoT), and the growing conjunction between a wearable device in automotive production and aerospace designing fields are projected to drive the market growth. Moreover, pairing tablets and phones with professional-grade systems to facilitate ease of use is also one of the biggest trend in this industry. There is an immense push for portability and handiness amongst specialized 3D scanners. Systems are getting minor, denser, and handier than ever before.
Growth Drivers
Several crucial factors fueling the expansion of this market include increased investment in research and development (R&D) for 3D metrology, the prioritization of quality control in engineering goods, and the growing demand for enhanced efficiency from electronics manufacturing services (EMS) firms. Engineering companies are opting to outsource their 3D metrology dimension and examination tasks to service providers in order to achieve faster measurement times, reduced measurement uncertainty, and improved process stability. As a result, the 3D scanner market is experiencing significant growth.
Challenges
While 3D scanning technology can be used in several fields, there are certain encounters that come with it. Lighting, for example, is one of the foremost criteria for 3D scanner. If the lighting is either less or too much, it can prove to be a limitation. Another factor that can prove to be challenging is proper information and understanding of how technology can be used to get the best results.
Opportunities
Factors such as growing adoption of cloud computing services and flowing demand for industry 4.0 are expected to provide growth opportunities to players in the market. Additionally, factors such as increasing use of high definition content recording for movies and ancient site conservation by 3D scanners are likely to create lucrative growth opportunities during the forecast period.
Geographic Overview
North America dominates the 3D scanner market. Expanding demand for handheld scanning devices and the increasing integration of 3D scanners into machinery and other automated equipment by various end-user sectors the market in this region is driving the regional market growth. Due to the deployment of 3D scanners in the aerospace and defense industries, Asia-Pacific is expected to grow at the fastest rate throughout the projected period. In response to the growing number of model and equipment variants in the vehicle design and development processes, 3D scanning technology is increasingly being used in the production of automotive components. Automobile businesses, for example, might employ 3D scanning to transfer historical equipment coordinate data to actual car design models, allowing component analysis. As a result, it would reduce the amount of time and money spent on product development.
For artists of all types, 3D scanning opens up a world of possibilities, allowing them to bring their most imaginative ideas to life. For example, the US media and entertainment (M&E) market, which accounts for 33% of the worldwide M&E business, is the world's largest, notably in terms of 3D animation production in the country, which is home to animation studios such as Disney.
Competitive Insight
The global 3D scanner market is moderately competitive and involves of some major players. In terms of market share, few of the key players presently dominate the market. Nonetheless, with technological advancement and quality facility provision, mid-size to smaller firms are increasing their market presence by presenting new services with fewer prices. Companies, like Nikon Metrology NV, Autodesk, Inc. Hexagon AB hold a substantial market share in the 3D scanner market.
ZEISS Group and Microsoft Corp. announced a multi-year strategic partnership to accelerate the transformation of ZEISS into a digital service provider. ZEISS provides to offer customers enhanced digital experiences by regulating equipment and practices on Microsoft Azure as its preferred cloud platform.
Some of the major players in 3D scanner market are Hexagon, FARO, KEYENCE Corp., Jenoptik, Nikon Corp., Mitutoyo Corp., ZEISS Group, Perceptron, Renishaw, Creaform, CyberOptics Corp., Trimble, Inc., 3D Systems, Inc., Automated Precision, Inc., Metrologic Group.
The 3D Scanner Market report offers a comprehensive market segmentation analysis along with an estimation for the forecast period 2023–2030.
Segments Covered in the Report
By Type

Tripod Mounted
Fixed CMM Based
Portable CMM Based
Desktop

By Range

Short Range
Medium Range
Long Range

By Offering Size

Hardware
Software
Services

By Application

Quality Control & Inspection
Reverse Engineering
Rapid Prototyping
Face/Body Scanning

By End-User

Automotive
Healthcare

Dental
Orthopedics
Neurosurgery
Others

Aerospace & Defense

Commercial Aircraft
Space Exploration

Architecture & Construction

Plant Scanning
Outdoor & Indoor Scanning

Energy & Power
Petrochemicals
Tunnel & Mining
Artifacts & Heritage Preservation
Others
Region Covered in the Report
North America
Europe

Germany
U.K.
France
Italy
Spain
Russia
Rest of Europe

Asia-Pacific (APAC)

China
Japan
India
South Korea
Rest of Asia-Pacific

Rest of the World (RoW)

Brazil
Saudi Arabia
South Africa
U.A.E.
Other Countries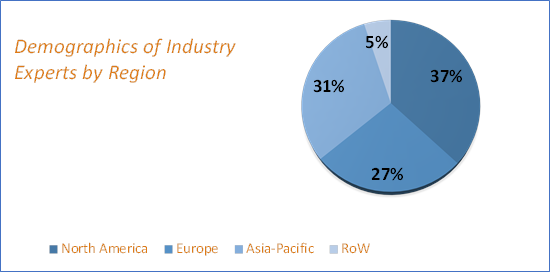 Source: VynZ Research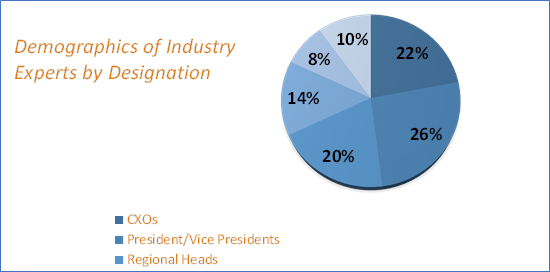 Source: VynZ Research