Industry Overview
The global 3D sensor market is poised for remarkable growth, with its global size expected to reach USD 5.5 billion by 2022 and USD 15.7 billion by 2030, exhibiting a CAGR of 28.6% throughout the forecast period. These advanced devices perceive and respond to the external world in three dimensions, creating 3D maps of the surrounding environment by amalgamating various sensing methods like ultrasonic, TOF, and structured light. As the demand for gesture analysis applications surges, 3D sensors are becoming increasingly important in sectors such as automotive and electronics to enhance the efficiency and performance of complex systems. As 3D sensors come in different types, technologies, and with application-specific functionalities, they find use in numerous industries like healthcare, industrial robots, security, automotive, surveillance, and consumer electronics, among others. Given their compact size, low power usage, and ability to transmit data rapidly, 3D sensors are a game-changer in the world of technology.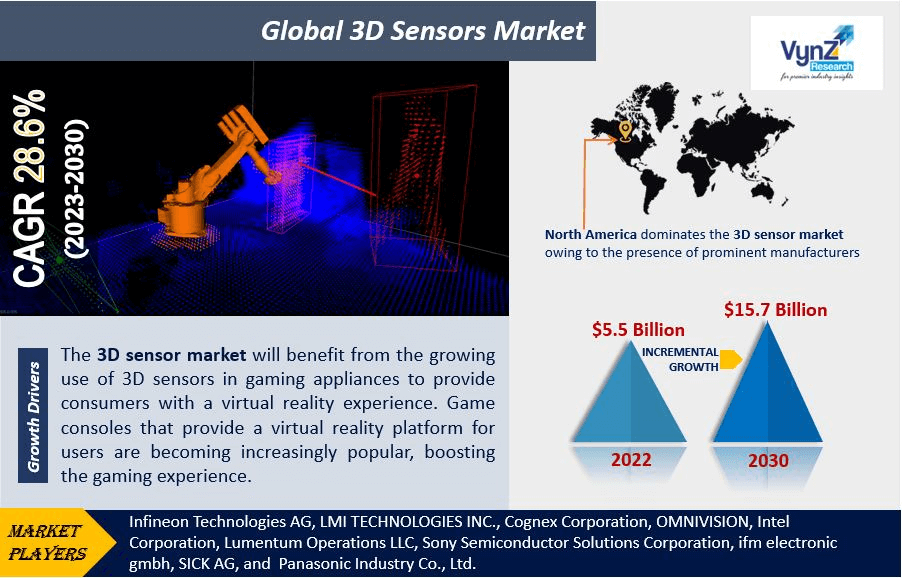 Industry Trends
The increasing trend of deploying robots in diverse industrial applications for optimizing the production process, enhancing quality control, and decreased manufacturing costs, thus will lead to market development of 3D sensors.
The COVID-19 pandemic has hampered the growth of the 3D sensor manufacturing companies owing to disruption in supply chain that has resulted in revenue losses. However, The COVid-19 pandemic has enhanced the possibility for AV technology adoption in other areas like autonomous vehicles (AV) in the e-commerce and logistics industries. The market for 3D sensing applications is projected to be driven by sophisticated automobiles.
Market Segmentation
Insight by Product
Position Sensor
Image Sensor

CMOS
Electro-Optical
Time-of-Flight (ToF) Sensors

Temperature Sensor
Accelerometer Sensor
Acoustic Sensor
Others
The image sensor segment is anticipated to gain the largest market share during the forecast period owing to increased adoption in robot guidance, biomedical image analysis, autonomous navigation, virtual reality, robot computer interface, etc. Furthermore, CMOS 3D image sensors are becoming increasingly popular in cameras and smartphones because of its ability to identify size, shape, and distance within their field of vision as it has high speed, enhanced resolution and fast frame rate. Many electronic products like smartphones, laptops, and PCs, have inbuilt 3D CMOS imaging technology, which increases image accuracy and allows viewing from various angles. Video surveillance, security, defense, high-end digital cameras, and biomedical imaging all employ this technology.
Insight by Application
Stereo Vision
Ultrasound
Structured Light
Time of Flight
Others
The time-of-flight is expected to witness the largest share in the 3D sensor market during the forecast period as it offers higher frame rate and lower z-resolution as compared to other 3D sensors. For 3D modeling, 3D sensors use Time-of-Flight technology, which measures the time taken by the reflected light to travel to the sensor. Infrared waves are reflected by the object whose image is to be developed, and this is how 3D sensors work. Sensors detect the time delay between the transmission and receipt of infrared photons. A 3D picture of the object can be precisely constructed based on the calculated time.
Insight by End-Use Industry
Consumer Electronics
Automotive
Healthcare
Aerospace & Defense
Industrial Robotics
Entertainment
Surveillance & Security
Others
The consumer electronics segment contributes the largest share in the 3D sensor market owing to the increased adoption of 3D depth-sensing technology to measure objects or scenes in three dimensions and several applications like fingerprint sensing, facial recognition, and depth-sensing in photography. Furthermore, 3D sensors are widely adopted in TV, smartphones, and laptops and AR/VR applications in gaming consoles. Businesses are concentrating on developing 3D imaging sensors that can penetrate through walls. This functionality would benefit the cable, broadband, and smart home industries. This function will improve home security by allowing us to watch the activity of multiple persons in a room. The feature is simple to set up and cost effective because it does not require several sensors.
The 3D sensor are deployed in medical sector to observe the inner layers of skin, tumours, and veins, thereby propelling growth. The usage of Simultaneous Localization, Mapping, and Augmented Reality is a recent advancement in smartphone technology. This technique will be very useful since it will assist medical staff in swiftly reconstructing 3D body sections by directing the smartphone to the area of interest and viewing minute details that would otherwise be undetectable. Doctors will be able to see tumors, veins, and various ulcers in the inner body using this method.
3D Sensors Market Report Coverage
| | |
| --- | --- |
| Report Metric | Details |
| Historical Period | 2018–2022 |
| Base Year Considered | 2022 |
| Forecast Period | By 2030 |
| Market Size in 2022 | $5.5 Billion |
| Revenue Forecast in 2030 | $15.7 Billion |
| Growth Rate | CAGR 28.6% |
| Segments Covered in the Report | By Product, By Application, and By End-Use Industry |
| Report Scope | Market Trends, Drivers, and Restraints; Revenue Estimation and Forecast; Segmentation Analysis; Impact of COVID-19; Companies' Strategic Developments; Market Share Analysis of Key Players; Company Profiling |
| Regions Covered in the Report | North America, Europe, Asia-Pacific, Middle East, and Rest of the World |
Industry Dynamics
Growth Drivers
Increased Adoption of 3D Sensors in Gaming Applications
The growing utilization of 3D sensors in gaming devices to enhance consumers' virtual reality experience is set to benefit the 3D sensor market. The rising popularity of game consoles that offer virtual reality platforms has significantly elevated the gaming experience. This innovative integration of virtual reality into gaming platforms has created a new market segment, giving gaming businesses a competitive edge in meeting the industry's demand for 3D sensors. Additionally, the increased adoption of digital gaming has accelerated the development of necessary hardware and software, such as 3D gaming consoles, further driving the market growth of 3D sensors.
Apart from gaming, the expansion of 3D sensors' application base from consumer electronics to sectors like automotive and healthcare is another significant factor contributing to the growth of the 3D sensor market. Moreover, the integration of Artificial Intelligence (AI) and Machine Learning (ML) algorithms with 3D sensors enhances industrial processes' productivity and overall performance efficiency. These factors, combined with the projected growth during the forecast period, are expected to fuel market expansion.
Challenges
Huge Cost Required to Maintain 3D Sensor Devices May Stymie Market Expansion
The increased maintenance cost, restoration cost, and production cost along with its integration in several devices may pose challenge for the market growth of 3D sensor technologies during the forecast period.
The market growth for 3D sensors is challenged by factors like lack of product differentiation, dearth of skilled expertise in manufacturing these devices, and technologies deployed for fabricating 3D sensors are not developed to match product's advancement level. These are some of the other challenges faced by the 3D sensor market.
Opportunities
The ongoing research and development activities in the field of 3D sensor engineering will create promising opportunities to enhance sensor technologies across several applications. Also, the surge in demand for advanced surveillance camera and security will offer growth opportunities in the market.
The use of 3D motion detection for indoor navigation, particularly in media applications using cameras, as well as making 3D sensors compatible with nanotechnology across a wide range of applications, present significant market growth opportunities.
Geographic Overview
North America
Europe
Asia Pacific (APAC)
Rest of the World (RoW)
North America dominates the 3D sensor market owing to the presence of prominent manufacturers of consumer electronics and automotive industry that are developing novel technologies and are employing 3D sensors for multiple applications in their domain. Several support from the government to implement 3D surveillance systems to detect suspicious activity or capture images of speeding automobiles are propelling regional market expansion. The growing need for 3D sensors is being driven by the growing demand for security systems in homes across the globe. Using facial recognition software, these live broadcasts can be evaluated to identify possible criminals.
Competitive Insight
Companies are incorporating 3D sensors into user interfaces to recognize gestures. Gestures can be utilized to control games or entertainment items with this technology. Manufacturers are merging this technology with other optical elements, electronic drivers, and control logic that may be customized to fit the needs of our gesture and 3D sensing customers and thus satisfy their needs.
The 3D sensor market's competitors are concentrating on upgrading their offerings and expanding into developing and emerging countries. The industry players are competing on the basis of solutions provided, efficiency, reliability, affordability, and modern technology. Several players are extending their businesses through strategic mergers and acquisitions and alliances with various industries, thereby expanding market and underlying demand.
Cognex Corporation creates, develops, manufactures, and sells a variety of image-based devices that all employ artificial intelligence (AI) approaches to give them the ability to make judgments based on what they observe. Machine vision systems, machine vision sensors, and barcode scanners are among the Cognex products that are utilised in factories and distribution centres across the world to eliminate production and shipping errors. Cognex Corporation portfolio includes 3D laser displacement sensors, industrial vision controller, and powerful 3D vision tools.
The XENSIVTM line of sensors from Infineon was created to address today's sensing issues in automotive, industrial, and consumer applications. It is the broadest portfolio of sensor types in the market, giving customers the widest option of ready-to-use solutions with quick time-to-market. XENSIVTM offers magnetic sensors, current sensors, pressure sensors, acoustic sensors, 3D image sensors (REAL3TM), and radar sensor MMICs (RASICTM for automotive) to meet all performance and integrity requirements, regardless of industry.
XENSIVTM sensors are meant to "smarten" lives by allowing "things" to "see," "hear," "feel," and "understand" their surroundings. They enable clients to incorporate more intelligence into their designs, paving the door for more intuitive interaction and contextual awareness in new and engaging applications. Infineon also collaborates with its ecosystem partners to create creative, synergized use cases that give clients a clear competitive advantage in growing markets like robotics, autonomous driving, and building automation.
Recent Development by Key Players
In May 2022, for Magic Leap 2, Infineon and pmdtechnologies are developing 3D indirect-Time-of-Flight (iToF) depth-sensing technology, which will enable enhanced industrial and medical applications. The REAL3TM 3D Image Sensor is demonstrated in Magic Leap 2. The IRS2877C Time-of-Flight imager records the physical environment surrounding the user, allowing the equipment to understand and interact with it. Infineon and pmd's Time-of-Flight technology generates a precise 3D mapping of the environment as well as a 3D image of faces, hand details, or objects in real-time. With this breakthrough, the Magic Leap 2 will be able to interact with the surroundings more accurately. In addition, the sensor allows Magic Leap 2 users to use enhanced gesture controls. The 3D sensor was enhanced by Infineon and pmd to reduce power consumption, reduce heat, and extend the battery life of the Magic Leap 2.
In May 2022, LMI Technologies (LMI), one of the prominent provider of 3D scanning and inspection solutions, has launched a new Gocator® 5500 series of smart 3D line confocal sensors. The first line confocal sensor utilizing Gocator renowned smart sensor platform is available, along with next-generation on-sensor IIoT vision web-based software, onboard measurement tools, I/O connection, etc.
Key Players Covered in the Report
Some of the prominent players in the global 3D Sensor industry include Infineon Technologies AG, LMI TECHNOLOGIES INC., Cognex Corporation, OMNIVISION, Intel Corporation, Lumentum Operations LLC, Sony Semiconductor Solutions Corporation, ifm electronic gmbh, SICK AG, and  Panasonic Industry Co., Ltd.
The 3D Sensor Market research includes a comprehensive market segmentation analysis as well as projections for the analysis period 2023-2030.
Segments Covered in the Report
By Product

Position Sensor
Image Sensor

CMOS
Electro-Optical
Time-of-Flight (ToF) Sensors

Temperature Sensor
Accelerometer Sensor
Acoustic Sensor
Others

By Application

Stereo Vision
Ultrasound
Structured Light
Time of Flight
Others

By End-Use Industry  

Consumer Electronics
Automotive
Healthcare
Aerospace & Defense
Industrial Robotics
Entertainment
Surveillance & Security
Others
Region Covered in the Report
North America
Europe

Germany
U.K.
France
Italy
Spain
Russia
Rest of Europe

Asia-Pacific (APAC)

China
Japan
India
South Korea
Rest of Asia-Pacific

Rest of the World (RoW)

Brazil
Saudi Arabia
South Africa
U.A.E.
Other Countries

To explore more about this report - Request a free sample copy