Industry Overview
The global autonomous vehicle market size in terms of volume was 17.7 million units in 2022 and is expected to reach 53.2 million units by 2030, growing at a CAGR 17.8% during 2023 – 2030.  The growth of the autonomous vehicle market is attributed to the extensive development of an autonomous fleet of parcel and cab delivery services along with OTA updates availed for automotive software. Moreover, autonomous vehicles emit less amount of carbon dioxide and further eliminate accidents that are majorly occurring due to manual errors. Additionally, the low amount of consumption of gas and battery capacity by autonomous vehicles is another factor bolstering growth of the global autonomous vehicle market.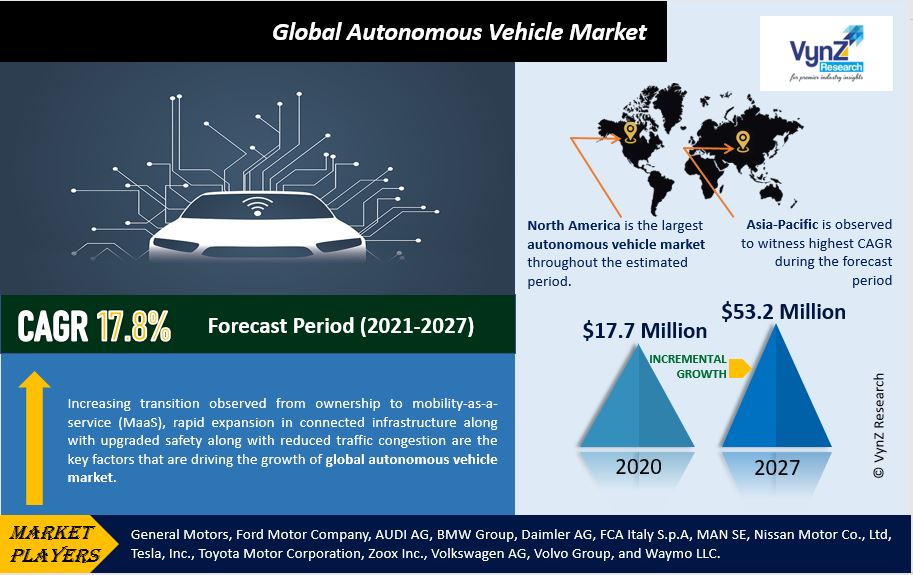 Autonomous vehicle are also known as self-driving or driverless car that is capable of sensing and observing the environment and further operates without any human input. Several key players are emphasizing their efforts and capabilities towards development of semi-autonomous or fully autonomous vehicles and is further contributing towards the growth of global autonomous vehicle market.
Market Segmentation
Insight by Level of Autonomy
On the basis of level of autonomy, the global autonomous vehicle market is categorized into level 1, level 2, level 3, level 4 and level 5. Amongst these levels of autonomy, level 1 is anticipated to generate largest revenue throughout the estimated period. The growth of this segment is attributed towards extensive demand for high end passenger cars that include various features such as lane departure warning, adaptive cruise control and drowsiness monitoring. 
Industry Dynamics
Industry Trends
Extensive integration of IoT driven by AI technology in automotive industry and rapid development and introduction of HD maps for autonomous vehicles are the key trends observed in the growth of global autonomous vehicle market.  With the use of internet of things (IOT) assimilated automobile companies respond to real-time mechanical issues and update the software by further facilitating data communication system. In addition, IOT helps in improving the performance of the vehicle and helps the users in avoiding safety hazards along with accidents. 
Growth Drivers
Increasing transition observed from ownership to mobility-as-a-service (MaaS), rapid expansion in connected infrastructure along with upgraded safety along with reduced traffic congestion are the key factors that are driving the growth of global autonomous vehicle market. Connected cars are gaining huge momentum globally from various domains such as consumer electronics companies, software vendors, automobile manufacturers or telecom operators. The connected vehicles utilize IoT, where several vehicles interact with each other. It also enables coordination with road infrastructure like traffic signals and send real-time alerts to the service center pertaining to the car condition.
Challenges
Increase in number of cyber threat cases due to increase of data along with unavailability of required infrastructure and indefinite legal responsibility are the key factors that are hampering the growth of global autonomous vehicle market. 
Geographic Overview
Geographically, North America is the largest autonomous vehicle market throughout the estimated period.  The growth of autonomous vehicle in this region is attributed towards extensive growth of economies that is enabling flourishing development from transport infrastructure to development of smart cities. There are several countries such as the U.S., Canada and Mexico are rapidly implementing digital infrastructure in order to facilitate easy connectivity between infrastructures and vehicles in order to gather crucial information that further leads to enhanced road safety along with reduced traffic congestion. Additionally, increasing initiatives from government, accessibility of high end infrastructure and increasing investments attained form the automakers are another factors that are pertaining towards the growth of autonomous vehicle market in this region.
Asia-Pacific is observed to witness highest CAGR during the forecast period as the government organizations in this region are facilitating the growth of electric vehicles. Furthermore, increasing development of parcel delivery services and autonomous fleet of cab are another factors that are driving the growth of autonomous vehicle market in Asia-Pacific. 
Competitive Insight
Key players in the autonomous vehicle market are catering to the demand of these devices by investing in technologically advanced products in their product portfolio across the globe along with increasing their funding capability for research and development of autonomous vehicles their accentuating the global demand of this product. 
Some of the major players operating in the global autonomous vehicle market are General Motors, Ford Motor Company, AUDI AG, BMW Group, Daimler AG, FCA Italy S.p.A, MAN SE, Nissan Motor Co., Ltd, Tesla, Inc., Toyota Motor Corporation, Zoox Inc., Volkswagen AG, Volvo Group, and Waymo LLC.
Forecast Parameters
- Identifying variables and establishing market impact.
- Establishing market trends regionally.
- Analyzing opportunities and market penetration rates by understanding product commercialization, regional expansion.
- Analyzing demand and supply trends and changes in industry dynamics to establish future growth.
- Analyzing sustainability strategies adhered by market participants in an attempt to determine future course of the market.
- Analyzing historical market trends and super-imposing them on the current and future variables to determine the year-on-year trends.
- Understanding adoption, production, export, import and regulatory framework.
Data Validation
- Estimated and forecasted data was validated through industry experts.
- Apart from industry experts, data triangulation methods were used for validation.
- Bottom up and top-down approach has been used for estimation and forecast of market data, whereas top-down approach was used for validation.
- Demand, as well as supply-side surveys, were conducted in order to understand the industry dynamics and data validation.
Primary Research
VynZ Research conducts extensive primary research to understand the market dynamics, validate market data and have key opinions from the industry experts. The key profiles approached within the industry includes, CEO, CFO, CTO, President, Vice President, Product Managers, Regional Heads and Others. Also, end user surveys comprising of consumers are also conducted to understand consumer behaviour.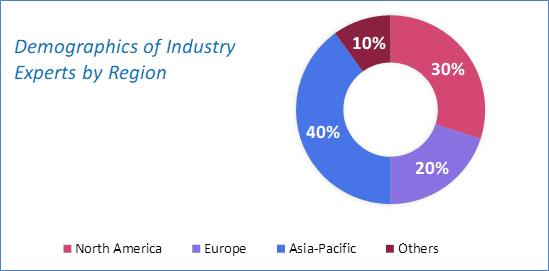 Source: VynZ Research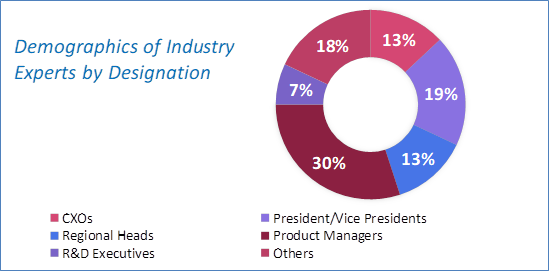 Source: VynZ Research