Industry Overview
The electricity transmission and distribution EPC market of GSA witnessed a valuation of USD 397.3 billion in 2022. It is projected to experience significant growth at a CAGR of 3.6% and is estimated to reach USD 474.7 billion by the year 2030.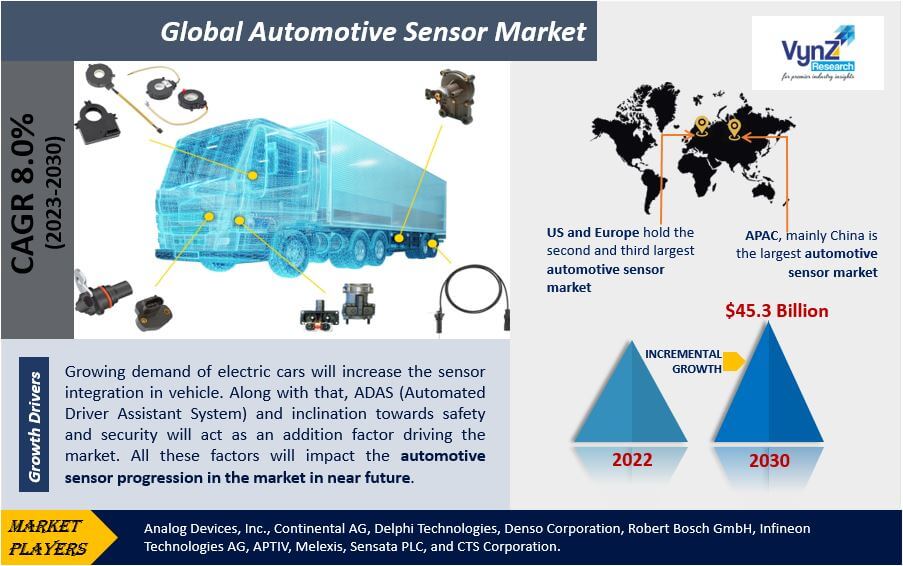 Different types of sensors are used for in automotive to support and enhance its features of in terms of safety, security, comfort and performance. The number and types sensors deployed in a car has drastically grown in past decade with introduction of several advance features such as automated car, electric car, and other new car models.
Market Segmentation
Insight by Sensor Types
On the basis of sensor type, the market is bifurcated into LED, image sensor, position sensor, temperature sensor, pressure sensor, MEMs, gas sensor, and, others. Among these sensor types, position sensor segment captures highest market share in 2020 and is expected to grow at fastest rate, owing to its numerous applications in vehicle for position measurement in chassis, powertrain, safety & control, and others.
Insight by Sales Channel
On the basis of Sales Channel, the market is subdivided into OEM (Original Equipment Manufacturers) and After-Market. Among these OEM accounted for the foremost share in the automotive sensor market with most of the sensors these days in the vehicles are fitted by the manufacturers. However, after-market sales channel is growing rapidly and is expected to capture decent share of the automotive sensor market in years to come. 
Insight by Application 
On the basis of application, the market is subdivided into ADAS (Advanced Driver-Assistance Systems), powertrain, chassis, safety & control, telematics and others. Of all these applications, the powertrain application segment accounted for a foremost share in the automotive sensor market, owing to integration of different sensor types to track the speed, position, pressure, and temperature of the vehicle part.
Insight by Vehicle Type
On the basis of vehicle type, the market is bifurcated into fuel based vehicle and electric vehicle. The fuel based vehicle is further broken down into passenger car, light commercial vehicle (LCV) and medium & heavy commercial vehicle (MHCV). Passenger car is expected to account the highest market share in current year and is expected to grow at fastest rate with adoption of ADAS, electric and hybrid cars.
Global Automotive Sensor Market Report Coverage
| | |
| --- | --- |
| Report Metric | Details |
| Historical Period | 2018–2022 |
| Base Year Considered | 2022 |
| Forecast Period | By 2030 |
| Market Size in 2022 | $397.3 billion |
| Revenue Forecast in 2030 | $474.7 billion |
| Growth Rate | CAGR 3.6% |
| Segments Covered in the Report | By Sales Channel, By Sensor Type, By Application and By Vehicle Type |
| Report Scope | Market Trends, Drivers, and Restraints; Revenue Estimation and Forecast; Segmentation Analysis; Impact of COVID-19; Companies' Strategic Developments; Market Share Analysis of Key Players; Company Profiling |
| Regions Covered in the Report | North America, Europe, Asia-Pacific, Middle East, and Rest of the World |
Industry Dynamics
Industry Trends
There is a constant increase in the number of sensors integration in vehicle to improve its performance. Due to which, there is a rise in the number of partnerships and collaborations among the automotive OEMs and sensor manufacturers is one of the major trends prevailing in the automotive sensor market currently. 
Growth Drivers
The rising popularity of electric vehicles is expected to drive the integration of sensors in vehicles, thereby impacting the automotive sensor market in the near future. Additionally, the increasing adoption of ADAS (Automated Driver Assistant System) and the growing emphasis on safety and security will further contribute to this market growth.
Challenges
Low awareness towards aftermarket sensor sales may obstructs the growth of the automotive sensor market. Aftermarket is one of the largest revenue contributors to the automotive industry, however, in terms of automotive sensors, the market is still in nascent stage.
Opportunities
Increasing demand for connected and automated cars in years to come will boost the demand of different types of sensors in the vehicle. The number of sensors integrated in the vehicle is growing up to 300 to 400 per cars. This will act as an opportunity for the global automotive sensor market in near future.
Geographic Overview
Geographically, APAC, mainly China is the largest automotive sensor market with largest number of electric vehicle production. Besides, the country is home for some of the major automotive manufacturers, this will further up surge the growth of the China automotive sensor market in years to come.
Further, US and Europe hold the second and third largest automotive sensor market share respectively, due to the growing electric vehicle adoption, and the increasing deployment of connected cars. In addition, some of the other developed nations in APAC and Europe are also rapidly deploying the electric vehicle, this as result is also creating a positive impact on the automotive sensor market growth globally. 
Competitive Insight
Key players in the in the automotive sensor market includes automotive OEMs who are making huge investments in development of new sensor technologies. Further, partnership and collaboration are other key strategies adopted by the vehicle OEMs. For instance, Delphi has collaborated with TomTom and Audi has Partnered with ON Semiconductor to grow their technical expertise.
Some of the key players operating in the market automotive sensor market are Analog Devices, Inc., Continental AG, Delphi Technologies, Denso Corporation, Robert Bosch GmbH, Infineon Technologies AG, APTIV, Melexis, Sensata PLC, and CTS Corporation.
Forecast Parameters
- Identifying variables and establishing market impact.
- Establishing market trends regionally.
- Analyzing opportunities and market penetration rates by understanding product commercialization, regional expansion.
- Analyzing demand and supply trends and changes in industry dynamics to establish future growth.
- Analyzing sustainability strategies adhered by market participants in an attempt to determine future course of the market.
- Analyzing historical market trends and super-imposing them on the current and future variables to determine year-on-year trend.
- Understanding adoption, production, export, import and regulatory framework.
Data Validation
- Estimated and forecasted data was validated through industry experts.
- Apart from industry experts, data triangulation methods were used for validation.
- Bottom up and top down approach has been used for estimation and forecast of market data, whereas top down approach was used for validation.
- Demand, as well as supply-side surveys, were conducted in order to understand the industry dynamics and data validation.
Primary Research
VynZ Research conducts extensive primary research to understand the market dynamics, validate market data and have key opinions from the industry experts. The key profiles approached within the industry includes, CEO, CFO, CTO, President, Vice President, Product Managers, Regional Heads and Others. Also, end user surveys comprising of consumers are also conducted to understand consumer behaviour.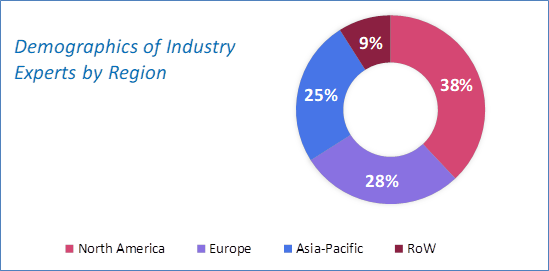 Source: VynZ Research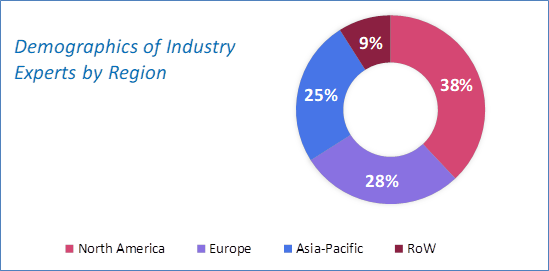 Source: VynZ Research