Industry Overview
The global display market size is expected to grow from USD 163.1 billion in 2022 to USD 220.5 billion by 2030, registering a CAGR of 4.5% during the forecast period. A display is an output device that is used to present information in visual or tactile form. When the input data is provided by an electrical signal, the display is referred to as an electronic display. Screens that project information like images, videos, and text are examples of displays. Light-emitting diode (LED), organic light-emitting diode (OLED), liquid crystal display (LCD), and other technologies are used in these display screens. It is also widely used in consumer electronic devices such as televisions, tablets, laptops, smartwatches, etc. The advent of advanced technologies allows for improved visualizations in a variety of end-use industries, including consumer electronics, transportation, sports and entertainment, retail, etc.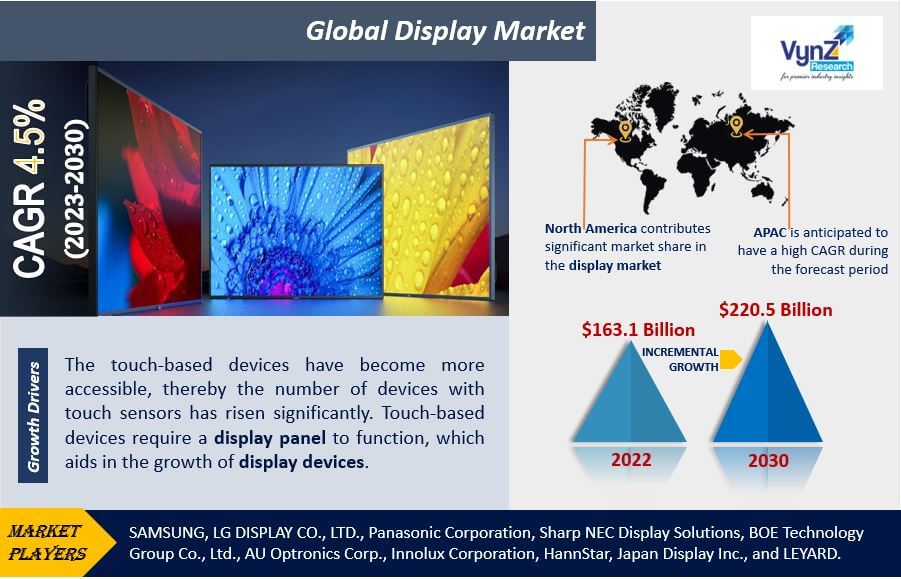 Industry Trends
3D displays are the key trends in the consumer electronics and entertainment industries to project the dimensions. The increased demand for 4K digitized sign displays with embedded software and media players will accelerate the market growth for the display industry.
The COVID-19 epidemic has expanded the market for smartphones and laptops due to remote work culture.  Furthermore, financial and educational institutions make extensive use of digital displays as teaching tools. These trends are affecting an increase in the use of small and large-scale displays for commercial and business purposes.
Market Segmentation
Insight by Device Type
Fixed Device
Portable Device
During the forecast period, the fixed device is estimated to hold the largest market share. Because of its low cost, high scalability, longer life, contrast and pixel resolution, and other advantages, resulting in wide acceptance of fixed devices rather than portable devices. Because of the aforementioned factors, fixed devices are being implemented more widely in the market by automobiles and other industries, which is anticipated to enhance the Display market. Organic Light Emitting Diode (OLED) and LED displays are commonly used in these fixed devices.
Insight by Device Deployment
The embedded software is anticipated to grow at a faster pace owing to increased adoption of automated embedded devices which provides high efficiency, long life, enhanced scalability, and low price, thereby propelling the market growth for the global display industry.
Insight by Technology
OLED
Quantum Dots
LED
E-Paper
LCD
Others
LED technology is anticipated to have a high market share owing to high efficiency, high intensity, long life, high-pixel pitch, improved resolution, and increased brightness. Because of nanotechnology, LED screens have become ultra-thin and have grown to enormous sizes, allowing them to be placed on any surface, inside or out. LED displays are also frequently used for digital signage applications like advertising and digital billboards, which assists businesses to stand out.
Insight by Application
Smartphone & Tablet
Television & Digital Signage
Smart Wearable
Vehicle Display
PC & Laptop
Others
Smartphones are predicted to account for a largest share in the market. This expansion will be driven primarily by smartphone manufacturers' who are increasing the use of OLED and flexible displays. Shipments of high-priced flexible OLED displays are rapidly increasing, and this trend is expected to continue throughout the forecast timeframe. The smart wearables segment has emerged as the global market's new growth avenue. The demand for these devices is increasing significantly, and with the widespread adoption of AR/VR technologies, the demand for smart wearables is expected to skyrocket during the forecast period.
Insight by Industry Vertical
Consumer Electronics
Automotive
Sports & Entertainment
Transportation
Retail, Hospitality, and BFSI
Industrial & Enterprise
Education
Healthcare
Defense & Aerospace
Others
In comparison to rigid traditional displays that are relatively heavier, flexible display technology provides many advantages like lightweight, versatile nature, brightness, consumption of less power, and shatter-proof. These displays can be found in a variety of consumer electronics devices. The rise in demand for consumer electronics, particularly TVs, smartphones, computers, smart wearable devices, etc., is propelling the display market growth forward. These factors have led to largest market share of the display market in consumer electronics segment.
Display Market Report Coverage
| | |
| --- | --- |
| Report Metric | Details |
| Historical Period | 2018–2022 |
| Base Year Considered | 2022 |
| Forecast Period | By 2030 |
| Market Size in 2022 | $163.1 Billion |
| Revenue Forecast in 2030 | $220.5 Billion |
| Growth Rate | CAGR 4.5% |
| Segments Covered in the Report | By Device Type, By Device Deployment, By Technology, By Application, and By Industry Vertical |
| Report Scope | Market Trends, Drivers, and Restraints; Revenue Estimation and Forecast; Segmentation Analysis; Impact of COVID-19; Companies' Strategic Developments; Market Share Analysis of Key Players; Company Profiling |
| Regions Covered in the Report | North America, Europe, Asia-Pacific, Middle East, and Rest of the World |
Industry Dynamics
Growth Drivers
Touch-based Devices are becoming prominent leading to the growth of the Global Display market
The touch-based devices have become more accessible, thereby the number of devices with touch sensors has risen significantly. Touch-based devices require a display panel to function, which aids in the growth of display devices. As a result, a wide range of home appliances, including refrigerators, chimneys, washing machines, microwaves, etc.,are equipped with touch sensor displays. Furthermore, the automobile industry has seen an increase in the availability of advanced display devices in vehicles, like navigation systems, head-up displays, digital dashboards, digital rearview mirrors, and others. Furthermore, the increased adoption of digital signage and touch-based displays in commercial buildings like malls, theatres, entertainment hubs, and others has increased owing to the complex and large architecture of these structures. These displays include touch sensors, which the user can use to navigate and extract additional information. As a result, the growth of the display market is being driven by the trend of touch-based devices.
Displays are extensively used in railway platforms, bus stops, airports to provide information bout arrival and departures to the travellers. It plays an important role in digital advertising like digital LED billboards, used to broadcast live events or concerts, thereby driving the market growth of display industry.
Other factors attributing to the growth of the global display market include rising usage of OLED displays in several applications, increased adoption of LED displays for video wall, TVs, and digital signage, increased adoption of electronics components in automotive sector, mounting market demand for display-based medical equipment like ventilators and respirators as a result of COVID-19 outbreak will propel the market growth for the global display industry. The market is currently producing energy-saving devices, primarily in the form of wearable devices.
Challenges
The increased cost of the latest display technologies, like transparent displays and quantum dot displays, as well as the slow growth of desktop PCs, notebook computers, and tablets, are impeding market growth. Moreover, the presence of widescreen alternatives, like projectors and screenless displays, as well as a decline in retail display demand due to a shift toward online advertising, are expected to stymie market growth.
Opportunities
Increased Adoption of AR/VR devices and Commercialization of Autonomous Vehicles are Creating Tremendous Opportunities in the Global Display Market
The global display market is emphasizing on developing technology and products for large-sized displays and high-resolution images. However, in the future, they will concentrate on flexible displays which are thin, light, and are less prone to breakage. Because of the emerging popularity of autonomous vehicles and the use of flexible displays in AR/VR devices, these display systems are being embedded into vehicles. These factors are anticipated to fuel profitable growth opportunities in the worldwide display industry.
The increased adoption of foldable and flexible displays will create tremendous market opportunities in the global display market. Foldable displays have become increasingly popular in tablets, smartphones, and notebook computers in recent years. Smartphone manufacturers' increased use of OLED and flexible displays drives the global display market forward.
Furthermore, increased adoption of AMOLED displays owing to emergence of 5G and use cases of display will accelerate market opportunities in the global display industry.
Geographic Overview
North America
Europe
Asia Pacific (APAC)
Rest of the World (RoW)
APAC is anticipated to have a high CAGR during the forecast period as China has made a huge investment in the manufacturing of high-resolution LCD displays and South Korea has made significant investments in OLED technology. Furthermore, the rising number of display panel manufacturing plants and less labor cost has led to the growth of the global display market.
North America contributes significant market share in the display market owing to the rapid adoption of developed technology and mounting use of connected and smart devices along with upsurge in expenditure on media & entertainment across the United States, which will proliferate the growth in the region.
Competitive Insight
Technological development, M&A, and increased R&D activities are the major strategies adopted by the industry players in the global display market.
BOE, which is at the forefront of TFT LCD innovation and development, is committed to accelerating the development of AMOLED, flexible displays, VR/AR, and other new display devices and sensors.  The company emphasizes focus on gene sequencing, molecular antennas, multi-sign sensors, photoelectronic sensing, fingerprint identification, and security.  They are also working on improving the information exchange ports and related sensors on the display's base. This contributes to the BOE offering better products and services in smartphones, tablets, laptops, televisions, industrial control devices, healthcare, VR/AR, and other applications.
AUO recognizes itself as a supplier of smart vertical solutions supported by premium display technologies. The company distinguishes itself and stands out through its deep expertise, innovative capabilities, and corporate sustainability. With its strong R&D capacity, solid manufacturing expertise, and comprehensive product portfolio to meet the market's diverse needs, AUO has achieved global recognition for its total solutions. To access the diversified field economy application industry, AUO aims to integrate software, hardware, cloud, and service platforms. AUO offers a wide range of solutions in retail, healthcare, transportation, education, enterprise, manufacturing, and energy, ushering people into a brand new smart lifestyle.
Recent Development by Key Players
In May 2022, BOE, a prominent global display industry leader, unveiled a slew of technologies and products under its technology brands of ADS Pro, f-OLED, and α-MLED, as well as cutting-edge applications such as metaverse, glasses-free 3D, and smart cabin. These trailblazing exhibits displayed a technological extravaganza, setting the trend for the display industry, which is working to make displays "ubiquitous."
In May 2022, Panasonic Automotive Systems Co., Ltd.'s has developed large-screen WS HUD (Wind Shield Head-Up Display) that is installed in Nissan Motor Corporation's new model crossover EV, the Ariya. Following the Skyline, Rogue, Qashqai, Pathfinder, and QX60, this is Nissan's sixth vehicle to use Panasonic's WS HUD.
The WS HUD is a system that projects information such as vehicle speed, navigation instructions, and ProPILOT 2.0*1 driver assist information onto the windshield and into the driver's line of sight. Because the display is projected near the centre of the driver's field of view, it reduces the driver's workload by reducing eye movements and improves the smooth interaction between the driver and the system.
Key Players Covered in the Report
Some of the prominent players in the global display industry include SAMSUNG, LG DISPLAY CO., LTD., Panasonic Corporation, Sharp NEC Display Solutions, BOE Technology Group Co., Ltd., AU Optronics Corp., Innolux Corporation, HannStar, Japan Display Inc., and LEYARD.
The Display Market research includes a comprehensive market segmentation analysis as well as projections for the analysis period 2023-2030.
Segments Covered in the Report
By Device Type

Fixed Device
Portable Device

By Device Deployment
By Technology

OLED
Quantum Dots
LED
E-Paper
LCD
Others

By Application

Smartphone & Tablet
Television & Digital Signage
Smart Wearable
Vehicle Display
PC & Laptop
Others

By Industry Vertical

Consumer Electronics
Automotive
Sports & Entertainment
Transportation
Retail, Hospitality, and BFSI
Industrial & Enterprise
Education
Healthcare
Defense & Aerospace
Others
Region Covered in the Report
North America
Europe

Germany
U.K.
France
Italy
Spain
Russia
Rest of Europe

Asia-Pacific (APAC)

China
Japan
India
South Korea
Rest of Asia-Pacific

Rest of the World (RoW)

Brazil
Saudi Arabia
South Africa
U.A.E.
Other Countries

To explore more about this report - Request a free sample copy