Industry Overview
The global linear motor market is projected to witness significant growth in the coming years. According to estimates, the market size reached USD 1.4 billion in 2022 and is anticipated to reach USD 2.8 billion by 2030, reflecting a compound annual growth rate (CAGR) of 4.8%. Linear motors are electric motors designed with an unrolled stator and rotor configuration, generating linear force instead of rotational torque. It's important to note that linear motors can have non-linear shapes. Essentially, these motors are advanced synchronous brushless motors that operate similarly to torque motors, but with a flattened and extended structure.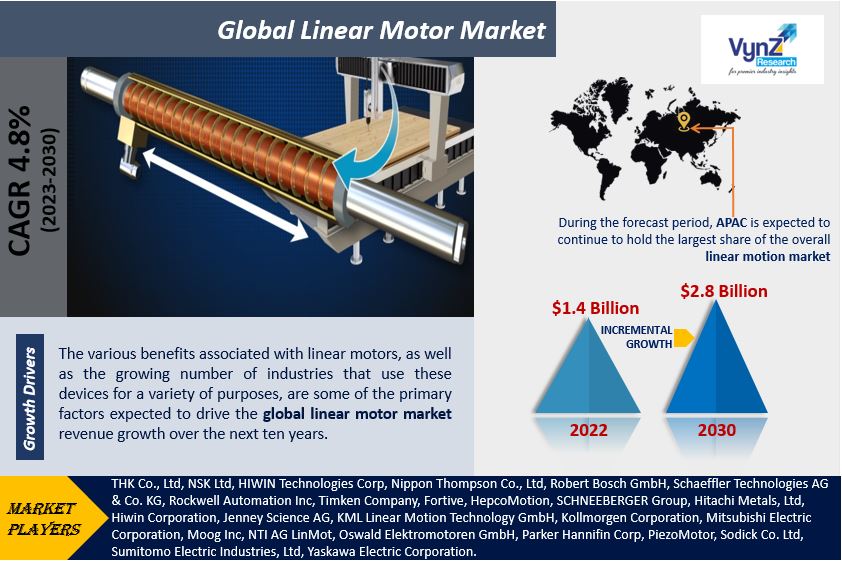 The semiconductor industry's increasing demand for quality inspection and automation, as well as reduced time-to-market and growing demand for miniaturisation of electronic devices, are a few major driving factors propelling the market growth.
Market Segmentation
Based on Application
•    Automotive
•    Electronics
•    Machine tools
•    Medical & Pharmaceuticals
•    Packaging/Labelling
•    Robotics
•    Mobile off highways
•    Agricultural and construction
•    Petrochemical
•    Printing
•    Paper
•    Textile
•    Woodworking
In the linear motion market, the automotive industry is one of the fastest-growing. In terms of manufacturing and manufacturing technology, this industry has seen rapid advancements. To produce a better, cheaper product in less time, automotive manufacturers are upgrading systems, adding inspection and networking capabilities, and leveraging integration. Linear rail guides, linear motors, controllers, and linear actuators are in high demand around the world because they help improve the efficiency of production and manufacturing facilities in the automotive industry.
Based on Region
•    North America
•    Europe
•    APAC
•    Latin America
•    MEA
During the forecast period, APAC is expected to continue to hold the largest share of the overall linear motion market in terms of value. APAC's emerging economies, such as China and India, are experiencing rapid changes in the adoption of new technologies and manufacturing advancements. In addition, the government has launched a number of large-scale initiatives to improve IT infrastructure. As a result of these factors, APAC has the highest growth rate in the linear motion market. In almost every business sector, the region is highly focused on adopting new technologies, and it is more interested in technologically innovative, cost-effective solutions. In APAC, Japan has one of the highest rates of linear motion product adoption.
Global Linear Motor Market Report Coverage
| | |
| --- | --- |
| Report Metric | Details |
| Historical Period | 2018–2022 |
| Base Year Considered | 2022 |
| Forecast Period | By 2030 |
| Market Size in 2021 | $1.4 Billion |
| Revenue Forecast in 2030 | $2.8 Billion |
| Growth Rate | CAGR 4.8% |
| Segments Covered in the Report |      By Application |
| Report Scope | Market Trends, Drivers, and Restraints; Revenue Estimation and Forecast; Segmentation Analysis; Impact of COVID-19; Companies' Strategic Developments; Market Share Analysis of Key Players; Company Profiling |
| Regions Covered in the Report | North America, Europe, Asia-Pacific, Middle East, and Rest of the World |
Market Trends
Motor manufacturers all over the world are focused on new technologies, and as a result, they are engaging in a variety of activities.
The ball screw and inherent reliability of direct drive linear motors are controlled by a new direct drive–Green Drive actuator (combination of speed and rugged operation) designed by Servo Components and Systems Ltd. The Green Drive actuator has a speed of up to 5m/s and a positional accuracy of 50 microns, making it suitable for a wide range of industrial applications and propelling the linear motor industry forward.
As a result, the demand for linear motors in a variety of industrial applications can be attributed to technological advancements in direct drives, which are fueling the linear motor market's growth.
Market Drivers
The various benefits associated with linear motors, as well as the growing number of industries that use these devices for a variety of purposes, are some of the primary factors expected to drive the global linear motor market revenue growth over the next ten years. Furthermore, linear motors are frequently used in conjunction with servo controls, allowing for easy coordination and cost-effectiveness even in the most complex of configurations. Additionally, their compact design, high accuracy, and low maintenance costs are expected to contribute to the global linear motor industry's continued growth in the coming years.
Linear motion components are used in the machining tools industry to automate processes such as cutting, boring, grinding, shearing, and other types of metal deformation in order to provide a high-reliability and low-maintenance solution. Linear motion components like linear guides, ball screws, linear actuators, linear motors, and so on are designed to maximise the efficiency of equipment that performs repetitive tasks. As a result, there is a strong demand for linear motion's precision and path-following capabilities to provide consistent results with greater versatility than other dedicated cutting machines.
Opportunities
Furthermore, linear motors do not rely on mechanical parts like pulleys, belts, pinions, etc., which are commonly found in traditional systems, and do not need elastic components like couplings, gearboxes, etc., minimising the likelihood of motion errors and backlash. The potential for additional business growth is projected to skyrocket over the next ten years as a result of the aforementioned factors.
Challenges
The high cost and complicated construction of the electromagnets used in linear motors is one of the major issues with them. To raise and transfer one magnet over the other, more powerful electromagnets are needed, which consume a lot of electric power. To overcome this problem, linear motors use superconducting magnets.
COVID-19 Impact on the Global Linear Motor Markets
Due to enforced lockdowns and placed restrictions by respective regulatory bodies in the wake of the recent COVID-19 outbreak, various industries' activities have either been temporarily suspended or are operating with a reduced workforce. This is no different in the global linear motor market, and this factor is expected to have a negative effect on the industry's revenue growth. Furthermore, the relatively high set-up costs associated with the installation and implementation of linear motors in respective industries may limit the global linear motor market's revenue growth in the coming years.
Market Key Players
Some of the key players in the global linear motor market are:
•    THK Co., Ltd. 
•    NSK Ltd.
•    HIWIN Technologies Corp. 
•    Nippon Thompson Co., Ltd. 
•    Robert Bosch GmbH 
•    Schaeffler Technologies AG & Co. KG 
•    Rockwell Automation Inc. 
•    Timken Company 
•    Fortive 
•    HepcoMotion 
•    SCHNEEBERGER Group 
•    Hitachi Metals, Ltd
•    Hiwin Corporation
•    Jenney Science AG
•    KML Linear Motion Technology GmbH
•    Kollmorgen Corporation
•    Mitsubishi Electric Corporation, Moog Inc.
•    NTI AG LinMot
•    Oswald Elektromotoren GmbH
•    Parker Hannifin Corp
•    PiezoMotor
•    Sodick Co. Ltd.
•    Sumitomo Electric Industries, Ltd.
•    Yaskawa Electric Corporation
Recent Developments
•    NSK introduced high-durability precision ball screws in October 2018 using a new surface processing system. These products can operate with high precision and function in even the most demanding applications.
•    The SCHNEEBERGER Group modified its MONORAIL BM profiled linear guideways with new capabilities in January 2018, making them suitable for a wide range of applications in a number of industries. Because of the existence of optimized rolling materials, these guideways have properties such as smooth working, low pulsation, low friction, and fast travel speeds.
•    MKK and MKR linear modules with new functionalities were introduced by Bosch Rexroth in September 2017. For the familiar space-saving dimensions of the previous set, MKK and MKR linear modules provide a significantly expanded range of equipment choices.
The  Linear Motor Market report offers a comprehensive market segmentation analysis along with an estimation for the forecast period 2023–2030.
Segments Covered in the Report
By Application

Automotive
Electronics
Machine tools
Medical & Pharmaceuticals
Packaging/Labelling
Robotics
Mobile off highways
Agricultural and construction
Petrochemical
Printing
Paper
Textile
Wood Working
Region Covered in the Report
North America
Europe

Germany
U.K.
France
Italy
Spain
Russia
Rest of Europe

Asia-Pacific (APAC)

China
Japan
India
South Korea
Rest of Asia-Pacific

Rest of the World (RoW)

Brazil
Saudi Arabia
South Africa
U.A.E.
Other Countries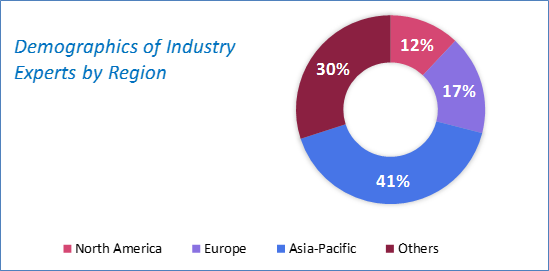 Source: VynZ Research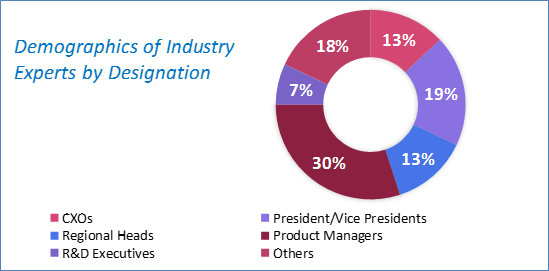 Source: VynZ Research