Industry Overview
By 2030, the projected growth of the global graphene electronics market is estimated to reach USD 1.2 billion, up from USD 0.3 billion in 2022.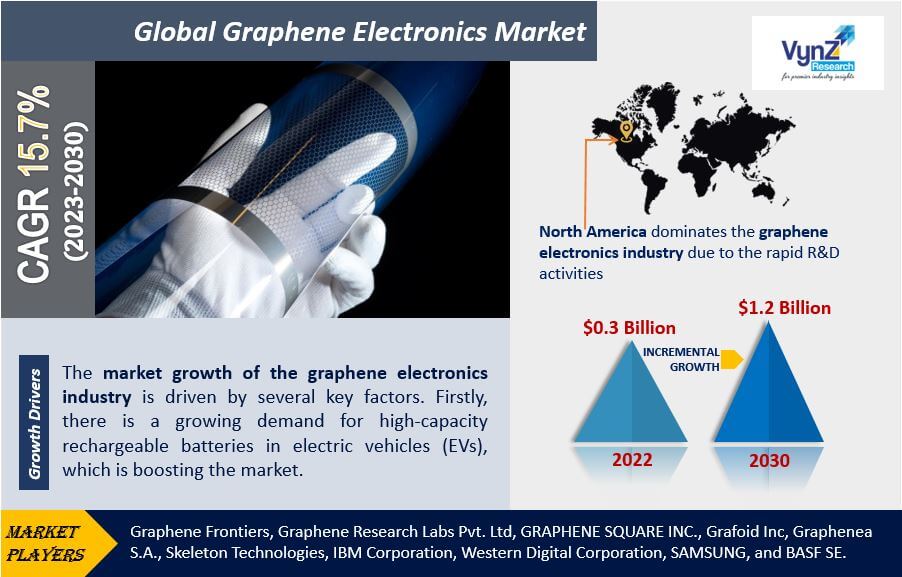 It will register a market share of 15.7% during the forecast period 2023-2030. Graphene is the thinnest stretchable material and is a strong substitute for traditional electrode materials. For applications like strong composite materials, flexible screens, and nano-transistors, graphene is the most desirable material. Graphene is being used to replace electrodes in batteries to boost electrical conductivity and battery life. Also, it is highly adopted in the automotive, electronics, semiconductor, and aerospace sectors owing to its superior properties like conductivity, ultra-light, and indestructible material. Solar chips, RFID, transistors, integrated electronics, and solar packaging can all benefit from graphene as an electrode material. The energy storage capacity of lithium-ion batteries has led to the increased use of graphene material. The increasing demand for flexible electronics in the commercial and consumer industries, combined with the continued focus on electronics miniaturization, has given market demand for graphene electronics, a new boost.
The COVID-19 epidemic has hampered demand for the manufacturing of raw materials and final components used in consumer markets. The overall fall in consumer electronics sales and shipping in the first half of 2020 had a negative impact on the graphene electronics market's growth patterns. The rapidly growing digitalization in industry, on the other hand, provided a promising opportunity. The pandemic prompted firms across industries to focus on going digital in order to stay adaptable in the aftermath. Several firms who were dubious about the benefits of digitization jumped on board quickly. As a result, flexible electronics for enterprise applications gained new opportunities, resulting in the growth of the graphene electronics industry.
Market Segmentation
Insight by Device Type
On the basis of device type, the global graphene electronics market is divided into graphene transistors, graphene sensors, graphene chips & ICs, and graphene supercapacitors. The graphene supercapacitors hold the largest share owing to graphene properties like high energy density, high electrical conductivity, and rapid carrier mobility.  These supercapacitors can be employed in regenerative braking in autos, trains, and elevators, where rapid charge and discharge cycles are required.
Insight by Material Type
On the basis of material type, the global graphene electronics market is segmented into graphene film, graphene nanoplatelets (GNPs), graphene oxide, graphene foam, and others. Among the material type, graphene film contributes the largest share in the market owing to the rising demand for applications in several electronic devices worldwide.
Insight by Application
On the basis of application, the global graphene electronics market is segregated into consumer electronics, data storage, and solar power generation industries. Consumer electronics is anticipated to grow at a faster pace owing to the increased integration of graphene in smartphones, smart wearables, and touchscreen devices and enhances customer experience.
Graphene Electronics Market Report Coverage
| | |
| --- | --- |
| Report Metric | Details |
| Historical Period | 2018–2022 |
| Base Year Considered | 2022 |
| Forecast Period | 2023-2030 |
| Market Size in 2022 | $0.3 billion |
| Revenue Forecast in 2030 | $1.2 billion |
| Growth Rate | CAGR 15.7% |
| Segments Covered in the Report | By Device Type, By Material Type, and By Application |
| Report Scope | Market Trends, Drivers, and Restraints; Revenue Estimation and Forecast; Segmentation Analysis; Impact of COVID-19; Companies' Strategic Developments; Market Share Analysis of Key Players; Company Profiling |
| Regions Covered in the Report | North America, Europe, Asia-Pacific, Middle East, and Rest of the World |
Industry Dynamics
Industry Trends
The increased adoption of IoT applications in sensors that are integrated with graphene electronics will offer highly sensitive and quick response time, thus creating market trends for the growth of the graphene electronics market. Furthermore, it is adopted to manufacture smart devices for IoT implementation.
Growth Drivers
The market growth of the graphene electronics industry is driven by several key factors. Firstly, there is a growing demand for high-capacity rechargeable batteries in electric vehicles (EVs), which is boosting the market. Additionally, the longer battery life of electronic devices and the adoption of graphene in the development of fast and low power consuming devices contribute to the market's expansion.
Furthermore, the increased adoption of graphene in the solar power and electrical sectors, along with the rising demand for memory devices due to the widespread use of smartphones, wearables, laptops, gaming consoles, and similar devices, are driving the market growth. Moreover, government initiatives aimed at promoting eco-friendly energy generation will also play a significant role in driving the market forward.
Memory device manufacturers are expected to shift their focus towards graphene development and application in their products due to its low power consumption, increased density, transparency, SET voltage modulation, high uniformity, and other favorable characteristics. Additionally, graphene finds extensive applications in various areas such as anti-corrosion coatings and paints, accurate and effective sensors, rapid and efficient electronics, efficient solar panels, flexible displays, and drug delivery systems.
What sets graphene apart from other materials and carbon nanotubes are its notable features, including thermal conductivity, electron mobility, optical observance, and high mechanical strength.
Challenges
The graphene electronics industry has a number of market hurdles, including a lack of bandgap, a large initial investment, a lack of infrastructure, design complications, and so on, all of which could stymie the market's growth. The manufacturing of high-quality graphene is an expensive and time-consuming procedure, they are extremely reactive with oxygen and heat, and they include harmful compounds and impurities, which will affect the graphene electronics market's growth. Ordinary businesses are unable to utilize graphene batteries due to their exorbitant cost. This could be a stumbling obstacle for the graphene electronic market's growth.
Opportunities
The increased research and development activities for the adoption of graphene so as to improve energy conservation, and increase storage capacity in solar panels and batteries or supercapacitors will offer tremendous market opportunities for the growth in the graphene electronics market outlook. Fabrication technology advancements have also increased the revenue potential for industry companies. The increasing usage of graphene electronics in microchips or transistors in the fabrication of flexible electronics has opened up new opportunities in consumer markets, such as smart devices for consumer use.
Geographic Overview
North America dominates the graphene electronics industry due to the rapid R&D activities, technological development, preference for energy-efficient products, and increased demand for smart wearables in the region. Moreover, researchers and businesses are working to develop next-generation electrical devices based on graphenes, such as field-effect transistors, radio frequency circuits, and sensors. Also, the prominence of EV manufacturing companies and regulations by the government to conserve the environment will fuel the market growth of the graphene electronics market in the region.
Competitive Insight
To stay ahead of the competition and expand business and customer base, graphene electronics companies are employing techniques such as product innovation, product launches, partnerships, M&A, collaborations, alliances, and so on.
Grafoid Inc. is a graphene research, development, and investment firm that invests in maintains, and creates markets for technologies that produce economically scalable graphene for usage by top corporations and universities in graphene development applications. Grafoid's leading investment creates application-friendly, low-defect, high-energy-density few-layer graphene using a safe, non-destructive extraction technique that has the smallest environmental impact.  Grafoid considers its proprietary technology to be a new worldwide standard for economically scalable, high-purity graphene products that can be modified for both industrial and commercial uses. With Mesograf TM, Grafoid has successfully created a patented, environmentally friendly, one-step process for creating near-pristine graphene in bulk, and is now producing graphene on a commercial scale.
Skeleton was one of the first companies to develop graphene. Their ultracapacitors, also known as supercapacitors, are living proof of graphene's power, as are their proprietary "curved graphene" products. Their ultracapacitors can already be found in hybrid trucks, vehicles, and buses, as well as wind turbines, power grids, and satellites. Skeleton Technologies is a developer and manufacturer of ultracapacitors with excellent energy and power density. For the automotive, transportation, industrial, and renewable energy markets, the firm develops green and cost-effective energy storage solutions.
Grafoid Inc. (the "Acquiror") announced that on July 21, 2021, it acquired 3,437,500 units (the "Units") of Braille Energy Systems Inc. (the "Corporation") as part of a non-brokered private placement of up to 7,812,500 Units at a price of $0.32 per unit (the "Offering Price") for aggregate gross proceeds to the Company of up to $2,500,000 (the "Transaction").
In July 2021, CAF Power & Automation, a leading developer of electric power solutions for the rail sector, has secured a contract with Skeleton Technologies to supply ultracapacitors in trams powered by CAF P&A's OESS-s system (On-Board Energy Storage Systems). Skeleton's cells will be part of the Greentech OESS portfolio, which is already being used by some of the world's most prestigious railway firms to provide cutting-edge solutions for energy recovery, peak shaving, and catenary-free applications.
Some of the major players in the graphene electronics industry include Graphene Frontiers, Graphene Research Labs Pvt. Ltd, GRAPHENE SQUARE INC., Grafoid Inc, Graphenea S.A., Skeleton Technologies, IBM Corporation, Western Digital Corporation, SAMSUNG, and BASF SE.
The Graphene Electronics Market research includes a comprehensive market segmentation analysis as well as projections for the analysis period 2023-2030.
Segments Covered in the Report
By Device Type

Graphene Transistors
Graphene Sensors
Graphene Chips & ICs
Graphene Supercapacitors

By Material Type

Graphene Film
Graphene Nanoplatelets (GNPs)
Graphene Oxide
Graphene Foam
Others

By Application

Consumer Electronics
Data Storage
Solar Power Generation Industries
Region Covered in the Report
North America
Europe

Germany
U.K.
France
Italy
Spain
Russia
Rest of Europe

Asia-Pacific (APAC)

China
Japan
India
South Korea
Rest of Asia-Pacific

Rest of the World (RoW)

Brazil
Saudi Arabia
South Africa
U.A.E.
Other Countries