Industry Overview
The global hearth market is poised for significant growth, with an estimated increase from USD 8.5 billion in 2022 to USD 12.8 billion by 2030. This projection reflects a promising compound annual growth rate (CAGR) of 5.4% during the forecast period from 2022 to 2030. A hearth serves as a fireplace floor, typically constructed with brick or stone, featuring the option of an oven for cooking alongside its primary purpose of providing warmth. Its role extends to safeguarding the floor of a home from potential hazards such as flying embers, flames, radiant heat, and falling logs from the fireplace. Historically, the hearth held great significance as the central focal point of households. In today's context, hearths exist in various forms, with fireplaces, stoves, and inserts being the most popular choices. These versatile installations find widespread adoption across institutions, commercial spaces, residential properties, and hospitality venues. Additionally, countries with colder climates like the United States, France, Canada, Germany, and others have witnessed a surge in demand for hearth products. As a result, these products are now commonplace in a majority of housing complexes and wastewater treatment plants within these regions.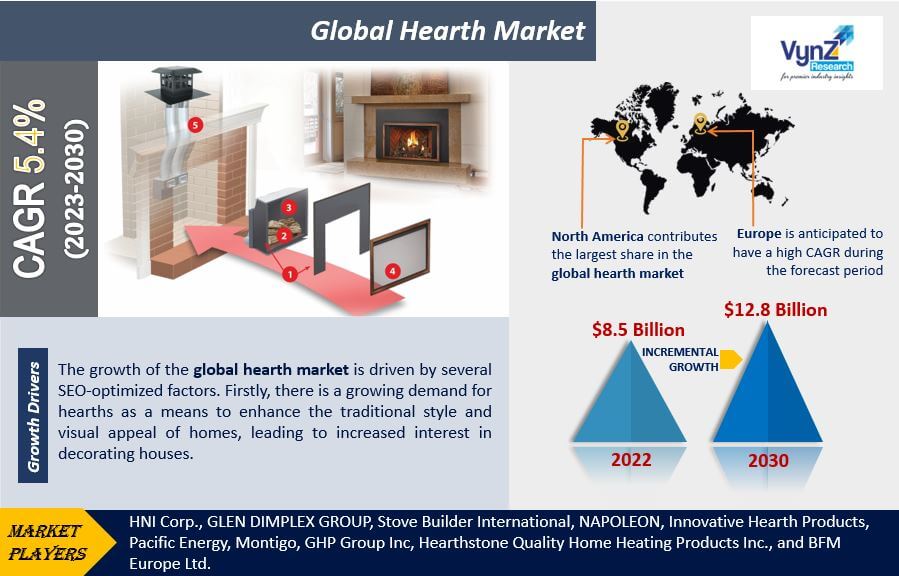 The COVID-19 outbreak has had an adverse impact on the global hearth industry owing to disruption in the supply chain, the shutdown of production facilities, and disruption in global exports and shipments. This has resulted in a decline in sales of consumer products including hearth products.
Market Segmentation
Insight by Fuel Type
Based on fuel type, the global hearth market is segmented into wood type, pellet type, gas type, and electricity type. The pellet type is anticipated to have a high CAGR during the forecast period 2021-2027 as they produce less air pollution and have reduced heating cost. Adjustable heating via thermostats, fuel flexibility, ease of operation, and tax credits and related benefits on the purchase of pellet stoves, fireplaces, and inserts are only a few of the other advantages offered by the pellet-based hearth. Thus, a combination of these factors is projected to increase demand for pellet-based hearth products.
Insight by Product
Based on product, the global hearth market is classified into the fireplace, stove, and insert. The fireplace contributes to the highest market share owing to reduced emission, is highly fuel-efficient, and has attractive and appealing features, resulting in propelling the growth of the segment.
Insight by Design
Based on the design, the global hearth market is bifurcated into traditional hearth and modern hearth. The modern hearth is anticipated to have a high CAGR during the forecast period 2021-2027 owing to the increased awareness about its visual appeal. Modern hearths come with remote controls and cutting-edge technology to improve fuel efficiency and reduce emissions. Modern hearths are predicted to grow at a faster rate than conventional hearths due to lower maintenance and operational costs.
Insight by Vent Availability
Based on vent availability, the global hearth market is bifurcated into electronic ignition and standard pilot ignition. The electronic ignition category is anticipated to have a high CAGR during the forecast period as it enhances the heating efficiency of the hearth and offers safety features along with additional functionality, resulting in the growth of the global hearth market. Furthermore, in many parts of North America, hearth makers should provide devices with an electronic ignite mechanism. The electronic ignition-based hearth market is predicted to increase internationally as a result of these considerations.
Insight by Application
Based on application, the global hearth market is segregated into residential, commercial, institutional, and hospitality. Residential hearths dominate the market as it provides home decorating aspect and the burgeoning tourism industry will propel the growth of the market. Installation of a modern fireplace, like an electric fireplace, improves the aesthetic appeal of a home. Thus, electric hearths' environmentally friendly aspect and people's curiosity have propelled the global hearth market in the residential segment.
Hospitality application is anticipated to have a high CAGR during the forecast period 2022-2030. Hearths are installed in recreational establishments such as hotels, restaurants, pubs, and cafes for customer comfort and visual appeal. Also, a large number of hotels, bars, pubs, and restaurants are likely to set up hearth products on lawns which will offer customers a good experience when drinking and dining. Thus, hearths with interesting designs add to the mood of such areas. Hospitals also have hearths to create a stress-relieving environment for patients. These all application will drive the growth of teh global hearth industry.
Hearth Market Report Coverage
| | |
| --- | --- |
| Report Metric | Details |
| Historical Period | 2018–2022 |
| Base Year Considered | 2022 |
| Forecast Period | 2023-2030 |
| Market Size in 2022 | $8.5 Billion |
| Revenue Forecast in 2030 | $12.8 Billion |
| Growth Rate | 5.4% |
| Segments Covered in the Report | By Fuel Type, By Product, By Design, By Vent Availability, and By Application |
| Report Scope | Market Trends, Drivers, and Restraints; Revenue Estimation and Forecast; Segmentation Analysis; Impact of COVID-19; Companies' Strategic Developments; Market Share Analysis of Key Players; Company Profiling |
| Regions Covered in the Report | North America, Europe, Asia-Pacific, Middle East, and Rest of the World |
Industry Dynamics
Industry Trends
The increased prominence of designer hearths in high-income areas so as to decorate homes with aesthetically appealing products are the trends prevalent in the global hearth market. Hearths are cost-effective, low-maintenance, and have less deployment costs, all of which influence market trends.
Growth Drivers
The growth of the global hearth market is driven by several SEO-optimized factors. Firstly, there is a growing demand for hearths as a means to enhance the traditional style and visual appeal of homes, leading to increased interest in decorating houses. Additionally, hearths are increasingly sought after due to their convenience and energy efficiency for room heating purposes. They are considered a practical option, particularly in regions with exceptionally cold weather, where they are embraced in and around houses to combat the harsh temperatures.
Customization is another factor contributing to the growth of the hearth market, as consumers show a rising preference for personalized hearth designs. Moreover, hearths are not limited to residential usage alone but are also being utilized in non-residential applications such as hotels, restaurants, cafes, and bars. This expanding use in commercial spaces further drives the demand for hearths.
Furthermore, the global hearth industry benefits from the availability of various standards and a significant increase in the installation of eco-friendly hearths, including electric hearths. These environmentally conscious options are being widely adopted for both commercial and residential purposes, which provides an additional boost to the overall development of the global hearth market.
Government policies worldwide also play a crucial role in shaping the hearth market. The establishment of supportive regulations and initiatives by governments is projected to have a significant impact on the growth and direction of the worldwide hearth industry.
In addition to being recognized as a popular home décor item, hearth products are also highly regarded for their effectiveness as space heaters. This multifunctionality adds to their appeal and contributes to their prominence in the market.
Challenges
The availability of substitutes like induction-based room heaters, increased installation and maintenance costs of hearths or fireplaces, lengthy manufacturing process, increased global warming, and traditional hearths are not eco-friendly which will stymie the growth of the global hearth market. Also, strict government laws addressing environmental protection on the use of wood-based hearth products may pose a further impediment to the growth of the hearth sector.
Opportunities
During the timeline period, the replacement of old space heating equipment will create more potential opportunities for the hearth market to grow. Furthermore, as worldwide tourism has grown, so has the demand for better facilities for comfort and a better stay experience, resulting in the expansion of the tourism industry's growth potential, particularly in an area with cold climatic conditions. Technological advancements in the sector provide the market with new opportunities.
Geographic Overview
North America contributes the largest share in the global hearth market owing to the presence of well-established players, increased production and distribution of hearth technology will accelerate the growth in the region.
Europe is anticipated to have a high CAGR during the forecast period owing to the extremely cold weather conditions that require the use of several heating appliances in and around the houses.
Competitive Insight
To increase their market position, the organizations have used both organic and inorganic growth techniques such as product launches and development, collaborations, contracts, expansions, and acquisitions. Existing players have numerous opportunities for entering the hearth industry's value chain. Replacement of aged space heating equipment, use of solar energy as a substitute fuel for hearths, the trend toward home automation, and increased demand for smokeless hearths and technologies are only a few of them.
HNI Corporation paid roughly $30 million to acquire Trinity Hearth and Home's assets in October 2021.
In October 2021, Dimplex North America is thrilled to offer to its outdoor heat lineup by adding new Heatstrip items i.e., the new Long-Wave Heater (DLW series), the Wall-Mount Natural Gas Radiant Heater (DGR32WNG), the Dimplex Infrared Plugin Heater (DIRP), and the Portable Propane Radiant Heater (DGR32PLP). These four new outdoor heat solutions will add to Dimplex's existing outdoor heat portfolio by providing clients with more fuel alternatives, including propane and natural gas, as well as zero-emissions long-wave and plugin infrared heating. The new Heatstrip products are the result of Glen Dimplex Group's expansion, which now owns a majority stake in Thermofilm, an Australian manufacturer and distributor of quality outdoor radiant heating solutions. With a fresh focus on outdoor living, this development comes at the ideal time. Dimplex can now provide North America with the best range of outdoor heating owing to its addition of Heatstrip products.
Travis Industries is a prominent privately owned manufacturer of wood, pellet, and gas stoves, inserts, and fireplaces in America, with four high-quality brands: LopiTM, Fireplace XtrordinairTM, DaVinci Custom FireplacesTM, and Fire GardenTM. These brands are only accessible through a network of over 1,200 authorized merchants in the United States, Canada, Australia, and China.
IHP is a prominent manufacturer of indoor and outdoor fireplaces, fireplace inserts, free-standing stoves, gas log sets, venting devices, and accessories for the specialty retail, new construction, and industrial industries. Their brands include Superior Fireplaces, astria Fireplaces, and Ironstrike.
Some of the major players in the global hearth market include HNI Corp., GLEN DIMPLEX GROUP, Stove Builder International, NAPOLEON, Innovative Hearth Products, Pacific Energy, Montigo, GHP Group Inc, Hearthstone Quality Home Heating Products Inc., and BFM Europe Ltd.
The Hearth Market research includes a comprehensive market segmentation analysis as well as projections for the analysis period 2023-2030.
Segments Covered in the Report
By Fuel Type

Wood Type
Pellet Type
Gas Type
Electricity Type

By Product
By Design

Traditional Hearth
Modern Hearth

By Vent Availability

Electronic Ignition
Standard Pilot Ignition

By Application

Residential
Commercial
Institutional
Hospitality
Region Covered in the Report
North America
Europe

Germany
U.K.
France
Italy
Spain
Russia
Rest of Europe

Asia-Pacific (APAC)

China
Japan
India
South Korea
Rest of Asia-Pacific

Rest of the World (RoW)

Brazil
Saudi Arabia
South Africa
U.A.E.
Other Countries