Industry Overview
The global industrial automation market was valued at USD 175.3 billion in 2020 and is estimated to grow to USD 310.1 billion by 2027, registering a CAGR of 9.3% during the forecast period 2021-2027.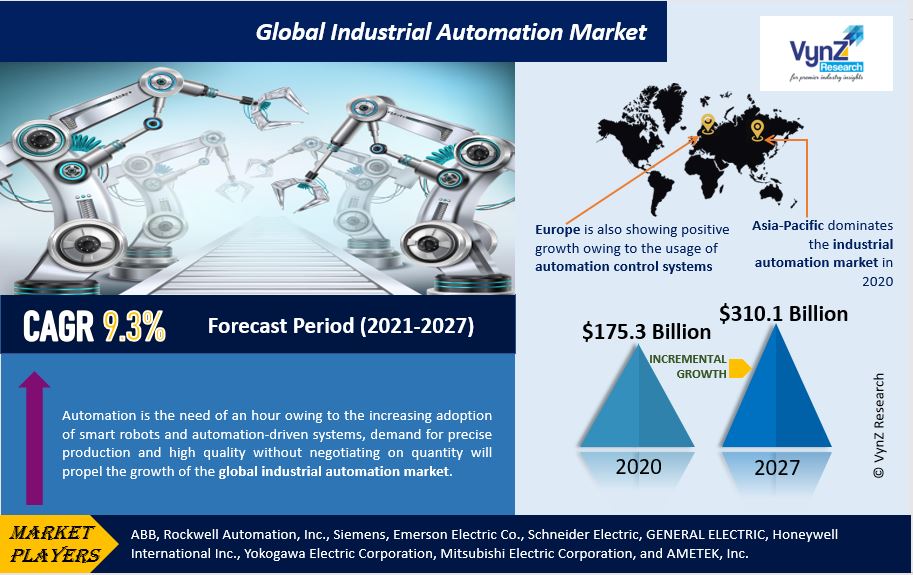 Industrial automation is the adoption of control systems like computers or robots, and IT to handle processes that were previously completed by human beings on a large scale, resulting in increased efficiency, control, precision, and cost-effectiveness. The industrial automation market is growing at a rapid pace owing to its adoption in various industry verticals such as manufacturing, oil & gas, chemicals, pharmaceutical sector, etc. With the mounting adoption of automation components like sensors, robots, machine vision systems, enterprise control solutions, etc., business organizations are able to reduce operating and labor cost drastically. Industrial automation technologies help in enhancing system reliability, efficiency, empower risk mitigation, provide agility, responsiveness, and eliminate production errors. Moreover, government initiatives and supportive policies, mounting demand for smarter systems, will propel the growth of industrial automation market.
The COVID-19 outbreak has moderately impacted the industrial automation market. There was less demand for luxury goods, automobiles, electronics owing to lockdown, resulting in reduced sales In automobiles, consumer electronics, and consumer goods industries. This has led to a slow down in the industrial automation market. However, the industrial automation market is anticipated to recover soon because companies are implementing automated systems and reducing human intervention in industrial and manufacturing processes.
Market Segmentation
Insight by Component
Based on component, the industrial automation market is segmented into enterprise-level controls, plant instrumentation, and plant-level controls. Enterprise-level controls are further segmented into Product Lifecycle Management (PLM), Enterprise Resource Planning (ERP), and Manufacturing Execution Systems (MES). Plant Instrumentation is further segmented into motors & drives, robots (articulated robots, Cartesian robots, selective compliance assembly robot arms (SCARA), collaborative robots, and others), sensors, machine vision systems (cameras and optics and LED lighting), relays & switches, and others. Plant-level controls are further divided into supervisory control and data acquisition (SCADA), distributed control systems (DCS), programmable logic controllers (PLC), and others. Enterprise-level controls dominate the market in 2020 owing to the advantages of implementing PLM, ERP, and MES solutions in the enterprise. PLM solutions encourage cross-team collaboration, cross-functional management in various departments like innovation, R&D, quality, regulatory compliance, and packaging.
Insight by Automation
Based on automation, the global industrial automation market is bifurcated into semi-automatic systems and fully-automatic systems. Among the automation, fully-automatic systems are anticipated to have a high CAGR during the forecast period 2021-2027 owing to the growing installation of automation solutions in industrial verticals like chemicals & materials, metals & mining, oil & gas, and paper & pulp.  Fully-automatic systems will help organizations to effectively manage on-site and office activities.
Insight by End User
Based on end-user, the industrial automation market is divided into oil & gas, chemicals & materials, paper & pulp, pharmaceuticals & biotech, mining & metals, food & beverages, power, consumer goods, automotive, machines & tools, semiconductor & electronics, aerospace & defense, and others. The oil & gas segment is anticipated to hold the largest market share during the forecast period 2021-2027 owing to the adoption of automation technologies so as to enhance decision-making and, improve troubleshooting, and upsurge the performance and efficiency in the oil & gas sector and including drilling operations, diagnostics & inspections, pipeline monitoring systems, weather monitoring systems, and pressure & flow systems. Drilling is the foremost area that requires automation as it involves huge costs and high risk for workers.
Industry Dynamics
Industry Trends
The increasing shift towards function-based business automation, transition to Industry 4.0 solutions that includes connectivity, developed analytics, intelligent business process automation, developed manufacturing technologies will accelerate post-COVID-19 pandemic so as to improve operations, production efficiency, and customer satisfaction, resulting in the rise in trends of the industrial automation market.  
Growth Drivers
Automation is the need of an hour owing to the increasing adoption of smart robots and automation-driven systems, demand for precise production and high quality without negotiating on quantity will propel the growth of the global industrial automation market.  Government initiatives and supportive policies in the manufacturing sector and promoting industrial development, rising focus on economic diversification in developing economies, rising need for digital transformation across industry verticals such as healthcare, retail, etc., will accelerate the growth of the global industrial automation market. Nevertheless, mounting investment to shift from conventional production facilities, the need to eliminate human error, and high labor costs in North America and Europe will bolster the growth of the industrial automation market.
Challenges
The significant initial investment to set up automated factories, compatibility issues, lack of awareness, cyber risks with automated systems, technical expertise, and inadequate training may hamper the growth of the global industrial automation market.
Opportunities
The implementation of process control and enterprise management solutions, rising demand for robots and sensor-based systems, rising number of SMEs, increasing adoption of IoT in Southeast Asia's manufacturing sector, development of innovative engineering technologies will create huge opportunities for growth in the global industrial automation market.
Geographic Overview
Asia-Pacific dominates the industrial automation market in 2020 owing to the presence of large-scale industries and manufacturers producing industrial robots, sensors, and machine vision systems in the region. Moreover, China, India, South Korea have established automotive, consumer goods, electronics, and pharmaceutical manufacturing industries. Furthermore, government policies are supporting the digitalization of manufacturing plants and increasing investment in IoT will accelerate the growth of the industrial automation market in the Asia-Pacific region. For instance, in 2019, the Chinese government invested USD 577 million in developing industrial robots under Made in China 2025 scheme.
Europe is also showing positive growth owing to the usage of automation control systems and growth in automotive and power generation industries in the region. In September 2020, the U.K. government announced plans to invest around $180 million into the second round of its "Manufacturing Made Smarter" scheme, which is aimed at promoting interconnectivity and innovation in the country's manufacturing sector.
Competitive Insight
The global industrial automation market is highly competitive and industry players are maintaining their position by adopting strategies like collaboration, mergers & acquisitions, partnership, product/ technology launch, and geographical expansion.
ABB and ETH Zurich have expanded their partnership in robotics research as part of ETH's RobotX initiative. The RobotX initiative is intended to position ETH as a leader in robotics research institutions. The effort will be supported by ABB's Robotics and Discrete Automation business.
Some of the key players operating in the industrial automation market: ABB, Rockwell Automation, Inc., Siemens, Emerson Electric Co., Schneider Electric, GENERAL ELECTRIC, Honeywell International Inc., Yokogawa Electric Corporation, Mitsubishi Electric Corporation, and AMETEK, Inc.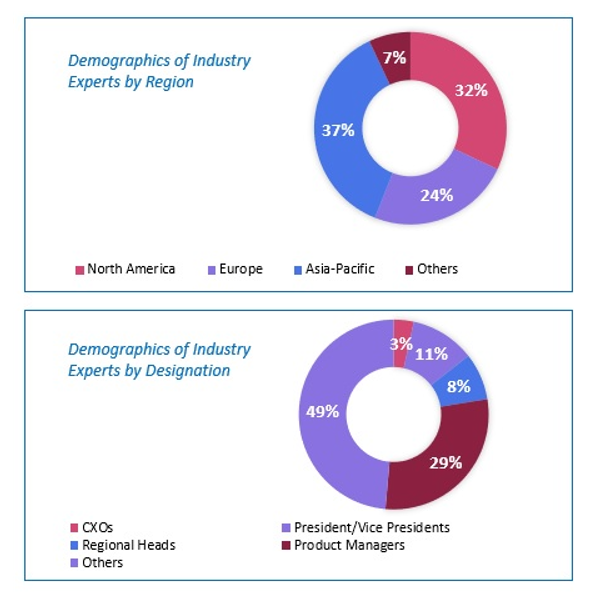 Source: VynZ Research