Industry Overview
The LiDAR market has witnessed significant growth and is projected to continue its upward trajectory in the coming years. In 2022, the global LiDAR market reached a valuation of USD 2.8 billion. According to industry forecasts, this market is anticipated to expand at a robust compound annual growth rate (CAGR) of 22% from 2023 to 2030, eventually reaching a value of USD 8.5 billion by 2030.
LiDAR, also known as laser imaging detection and ranging, is a cutting-edge technology that utilizes light for remote sensing. By measuring varying distances from the earth's surface, LiDAR enables the precise collection of geographic information. This technology involves emitting light pulses and analyzing the data obtained in conjunction with other information gathered from airborne assets. By combining these datasets, LiDAR provides accurate and detailed geographical data, thereby facilitating precise positioning and mapping.
LiDAR is also called as 3D laser scanning since it is seen as a blend of 3D scanning and laser scanning. There is increased use of LIDAR systems in several industries including topographic map creation, construction engineering, analysis and monitoring of coastline data, and reservoir water level monitoring. Use in forestry applications, disaster management services, and integration in ADAS technology for the automobile sector will offer potential opportunities for market growth.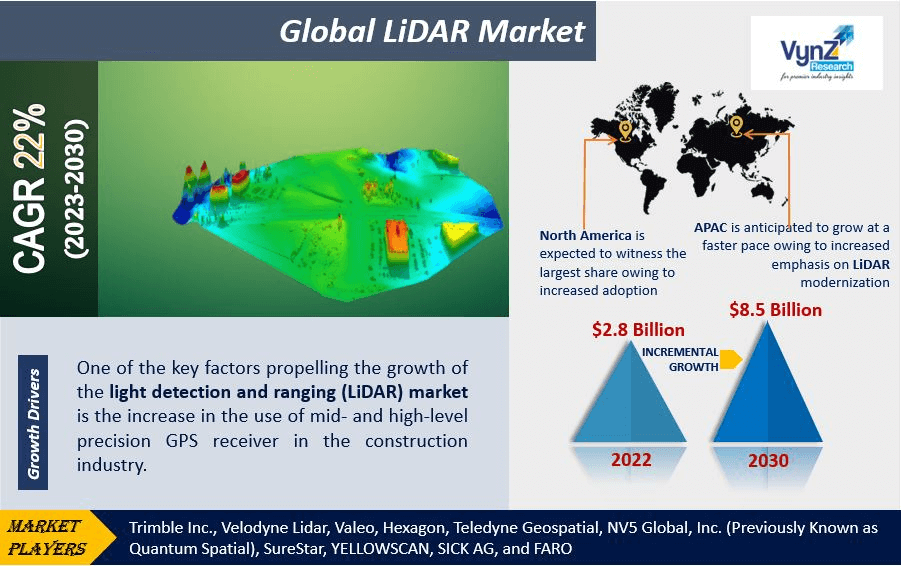 Industry Trends
The advent of 4D LiDAR, increased market demand for 3D imagery in applications like topographic surveys, corridor mapping, civil engineering, military & defense, etc. are the trends prominent in the LiDAR market.
Another ongoing trend in the LiDAR Market is the growth of start-ups, primarily as a result of investments from automobile manufacturers. The automotive industry is now at the forefront of adopting and requesting LiDAR technology for a variety of applications. LiDAR technology can be used in driverless taxis, carpooling, ride-hailing services, and mobility-on-demand services in the automotive industry. Car manufacturers are increasingly producing self-driving and driverless vehicles. As a result, they are investing heavily in startups such as Uber, Lyft, and others. These investments are expected to propel LiDAR technology.
The COVID-19 pandemic had an impact on the market growth of the global LiDAR industry. The economic uncertainty, temporary shutdown of businesses, low confidence among consumers, delay in logistic activities, decline in automotive sector, and impact on construction and real estate projects are the factors that has hampered the growth of LiDAR market during the coronavirus period. Nevertheless, due to the relaxation of the constraints, the light detection and ranging (LiDAR) business is anticipated to pick up steam in the post-pandemic scenario.
Market Segmentation
Insight by Type
Mechanical LiDAR dominates the market owing to extensive adoption in several applications like volumetric mapping, engineering, military, and corridor mapping, thereby propelling LiDAR's market growth.
Insight by Component
Navigation and Positioning Systems
Laser Scanner
Others
Laser scanners contribute the largest share in the LiDAR market owing to increased adoption in aerial scanning and mapping operations along with increased deployment to transmit and detect laser pulses based on ToF principle.
Insight by Technology
4D LiDAR technology is anticipated to have a high CAGR during the forecast period owing to increased adoption in applications like architecture, engineering, and construction (AEC) industry, autonomous cars, AR/VR, entertainment, robots. Many manufacturers are producing discrete and full form LiDARs to meet the needs of their customers. The availability of a diverse product portfolio also draws a diverse range of consumers to the market. Furthermore, 4D LiDAR systems are gaining traction in the market.
Insight by Product
Airborne segment contributes the largest share in global LiDAR market owing to surge in adoption of aerial mapping devices. Aerial LiDAR is a highly accurate and reliable method of creating digital elevation models that has largely replaced photogrammetry. This system is more accurate and has a larger coverage area. It offers more comprehensive area mapping in shorter time intervals.
Insight by End-Use Application
Corridor Mapping
Environment
Engineering
Exploration
ADAS and Driverless Cars
Meteorology
Urban Planning
Cartography
Others
Environment accounts for the largest share in the global LiDAR market owing to increased adoption in surveying and monitoring environments in applications like coastline management, pollution modeling, wind farms, agriculture, precision forestry, and forest management.
Global LiDAR Market Report Coverage
| | |
| --- | --- |
| Report Metric | Details |
| Historical Period | 2018–2022 |
| Base Year Considered | 2022 |
| Forecast Period | By 2030 |
| Market Size in 2022 | $2.8 Billion |
| Revenue Forecast in 2030 | $8.5 Billion |
| Growth Rate | CAGR 22% |
| Segments Covered in the Report | By Type, By Component, By Technology, By Product, and By End-Use Product |
| Report Scope | Market Trends, Drivers, and Restraints; Revenue Estimation and Forecast; Segmentation Analysis; Impact of COVID-19; Companies' Strategic Developments; Market Share Analysis of Key Players; Company Profiling |
| Regions Covered in the Report | North America, Europe, Asia-Pacific, Middle East, and Rest of the World |
Industry Dynamics
Growth Drivers
Increased Adoption of LiDAR in the Construction Industry
The rise in adoption of mid- and high-level precision GPS receivers in the construction sector is a pivotal driver of growth for the light detection and ranging (LiDAR) market. LiDAR technology is rapidly becoming a cornerstone of various building-related activities, including surveying, mapping, and project viability analysis. Thanks to the integration of global positioning systems and ultra-sensitive cameras, laser scanners can aid engineers in performing accurate feasibility assessments and designing projects that meet their exacting requirements. As a result, LiDAR technology is transforming the construction industry by enabling precision and efficiency in a wide range of applications. As a result, the number of LiDAR service providers has increased significantly. Large-scale construction projects, like megaprojects for civil construction sites, are frequently using GPS technology, thereby propelling the LiDAR's market growth.
Surge in Adoption of Commercial Drones in Several Applications
LiDAR has been one of the most significant tools used in the commercial drone industry to gather reliable data. The need for the LiDAR market will rise as a result of the expansion of automation across a number of industries, which reduces the requirement for labour force employment and saves time. Technology developments in different LiDAR resolutions can be used effectively for a variety of tasks, like identifying runoff changes in mining or agricultural locations. The product also has non-conventional uses in monitoring and forecasting the weather and the environment.
The increased availability of low-cost sensors like laser scanners, Navigation and positioning systems, etc. along with the adoption of sophisticated technologies like VRT, yield mapping software, and GPS in agricultural products will accelerate the LiDAR's market development.
LiDAR as compared to RADAR can more accurately capture surface information and the position of the object along with 3D topography data from the object surface.
Challenges
The increased safety threats of UAVs and autonomous cars and easy accessibility of low-cost and lightweight photogrammetry systems for surveying and mapping applications may pose challenge in the market development of LiDAR technology. Furthermore, the rising cost of LiDAR services, less awareness about advantages of LiDAR systems, and restricted availability of geospatial data may further stymie market expansion.
Opportunities
The rising investments in several starts ups by automotive players, increasing prospects of SWIR-based design, advancement of geospatial solutions by adopting sensor fusion, government initiatives to promote the development of LiDAR drones for large-scale surveys, and technological development of solid-state, MEMS, Flash LiDAR, etc. will accelerate the market opportunities for LiDAR technology globally.
Geographic Overview
North America
Europe
Asia Pacific (APAC)
Rest of the World (RoW)
North America is expected to witness the largest share owing to increased adoption in the connected car systems and automotive sector. The use of LiDAR in forestry studies, urban mapping, building, and infrastructure is also helping the market in the United States to grow. Consequently, North America's market share will continue to grow globally.
APAC is anticipated to grow at a faster pace owing to increased emphasis on LiDAR modernization programs and surge in investment by domestic and international players in several developing countries like China, India, etc. in the region.
Competitive Insight
Due to a large number of competitors in the global market, the LIDAR market is highly competitive. Numerous manufacturers are entering the market as a result of the vast range of applications for LiDAR systems, thus increasing the degree of fragmentation. Many manufacturers are relying on the production of LiDAR systems by taking the requirements of the end use applications into consideration to increase their market share globally. Thus, the industry players are adopting several strategies such as product launches, M&A, contacts, product development, collaborations to sustain themselves in the LiDAR market.
For autonomous vehicles, delivery solutions, driver assistance, infrastructure, robotics, industrial, mapping, navigation, etc., Velodyne Lidar offers smart and robust lidar solutions. Velodyne, with its headquarters in San Jose, California, is well-known around the world for its extensive offering of ground-breaking lidar sensor technologies. The cost-effective Puck, the adaptable Ultra Puck, the autonomy-improving Alpha Prime, the ADAS and robotics-optimized Velarray, and the ground-breaking lidar software Vella are just a few of the sensing solutions offered by Velodyne's high-performance product line.
One of the leading Advanced Driver Assistance Systems (ADAS) in the market is LiDAR technology from Valeo. The first 3D laser scanner used in a series-produced car that satisfies the strict standards of the auto industry is the Valeo automotive LiDAR sensor. There are 560 patents worldwide that cover this sensor system for autonomous vehicles. Third-generation laser LiDAR technology from Valeo, which is expected to be commercially available in 2024, will take autonomous driving further by enabling drivers to delegate driving in a variety of situations, including at highway speeds of up to 130 km/h.
Recent Development by Key Players
In June 2022, Stellantis has selected Valeo's third-generation LiDAR to assist multiple models across its various automotive brands commencing in 2024. These vehicles will be certified for level 3 automation owing to the Valeo SCALA 3 LiDAR, enabling drivers to safely take their hands off the steering wheel and their eyes off the road.
In March 2022, Tacticaware, a Hexagon company that manufactures and produces the volumetric security system Accur8vision, and Ouster, Inc. officially launched their joint security solution: Ouster x Accur8vision. To target the multibillion-dollar physical security market, the solution combines Ouster's 3D digital lidar technology with Hexagon's industry-leading security software.
Key Players Covered in the Report
Some of the major players in the global LiDAR market include Trimble Inc., Velodyne Lidar, Valeo, Hexagon, Teledyne Geospatial, NV5 Global, Inc. (Previously Known as Quantum Spatial), SureStar, YELLOWSCAN, SICK AG, and FARO.
The LiDAR Market report offers a comprehensive market segmentation analysis along with an estimation for the forecast period 2023–2030.
Segments Covered in the Report
By Type 
By Component 

Navigation and Positioning Systems
Laser Scanner
Others

By Technology 
By Product 
By End Use Application 

Corridor Mapping
Environment
Engineering
Exploration
ADAS and Driverless Cars
Meteorology
Urban Planning
Cartography
Others
Region Covered in the Report
North America
Europe

Germany
U.K.
France
Italy
Spain
Russia
Rest of Europe

Asia-Pacific (APAC)

China
Japan
India
South Korea
Rest of Asia-Pacific

Rest of the World (RoW)

Brazil
Saudi Arabia
South Africa
U.A.E.
Other Countries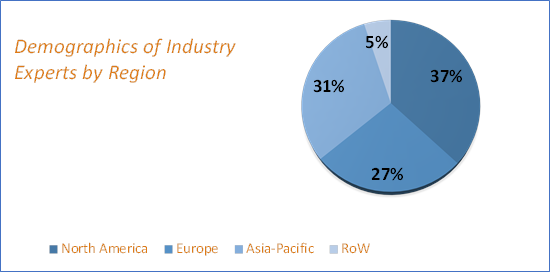 Source: VynZ Research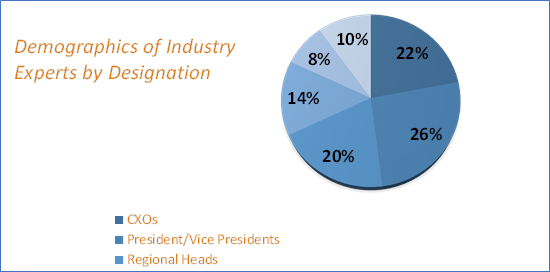 Source: VynZ Research