Industry Overview
The global magnetic refrigeration market is rapidly expanding, with a projected CAGR of 106.5% during the forecast period. As of 2022, the market was valued at USD 3.88 Billion, but is expected to grow to USD 8.3 Billion by 2030. This innovative cooling technology relies on the magnetocaloric effect (MCE), enabling it to achieve very low temperatures and be integrated into traditional refrigeration systems. Compared to conventional gas pressure refrigeration, magnetic refrigeration offers enhanced security, reduced noise pollution, and increased efficiency. As a result, it is extensively used in large-scale communication applications, such as cooling infrared sensors in surveillance satellites. Additionally, magnetic refrigeration is an environmentally friendly alternative, as it does not require ozone-depleting coolant gases and produces less carbon dioxide.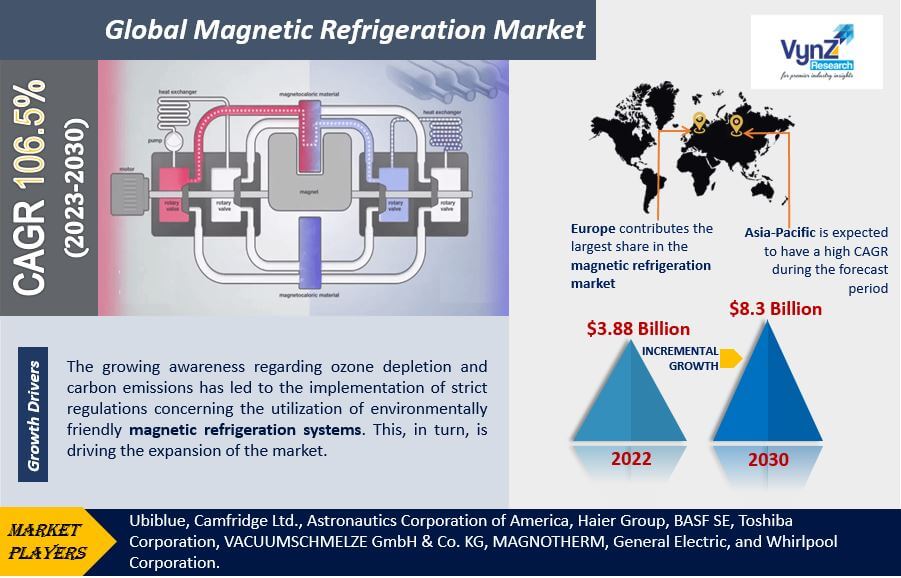 Industry Trends
There is a decline in demand for refrigeration in hotels and restaurants during the COVID-19 pandemic. This decline may be compensated by increased demand for refrigerators and freezers to store massive quantities of food. In overcrowded hospitals, refrigeration systems are also in high demand to prevent drugs and vaccines from spoiling, as well as to keep virus-infected patients stable. Increasing energy demand in data centers necessitates the use of an efficient magnetic refrigeration system to offer effective cooling.
Market Segmentation
Insight by Product
Refrigeration Systems

Refrigerators
Cabinet Displays
Freezers
Ice Cream Cabinets
Beverage Coolers

Air Conditioning Systems

Mobile Air Conditioners
Chillers
Stationary Air Conditioners
The refrigeration systems is anticipated to dominate the market during the forecast period owing to surge in temperature and increased COVID-19 cases globally will accelerate the growth of the refrigeration segment. This is due to the fact that people are stuck indoors for longer periods of time, leading to an increased need for refrigerators and coolers. Furthermore, the need for refrigerators is increasing as consumers are focusing on health and hygiene, preferring anti-bacterial products, boosting the global magnetic refrigeration market growth.
Insight by Application
Commercial
Domestic
Industrial

Food & Beverages
Healthcare

Transportation

Logistics
Automotive
Aerospace
Marine
The commercial application will contribute the largest share in the market as magnetic refrigeration saves energy, enhances the quality and safety of food with refrigeration maintenance, and decrease the costly emergency risks. These all factors will drive the growth of the segment.
The surging adoption in automotive and industrial applications will proliferate the growth of the magnetic refrigeration market. The design and operating characteristics of an active magnetic regenerative refrigerator meet the needs of a vehicle while consuming the least amount of electricity and weighing the least amount of weight.
This technology is employed in the operation of an electric vehicle that runs on batteries. The behavior of a magnetocaloric regenerator is linked to the flow of circulating fluid in order to maximize system efficiency. This technique is expected to replace vapor-compression technology in the future because of advances in energy efficiency, compactness, noise level, and reduced environmental concerns.
Magnetic Refrigeration Market Report Coverage
| | |
| --- | --- |
| Report Metric | Details |
| Historical Period | 2018–2022 |
| Base Year Considered | 2022 |
| Forecast Period | By 2030 |
| Market Size in 2022 | $3.88 Million |
| Revenue Forecast in 2030 | $167.67 Million |
| Growth Rate | CAGR 106.5% |
| Segments Covered in the Report | By Product and By Application |
| Report Scope | Market Trends, Drivers, and Restraints; Revenue Estimation and Forecast; Segmentation Analysis; Impact of COVID-19; Companies' Strategic Developments; Market Share Analysis of Key Players; Company Profiling |
| Regions Covered in the Report | North America, Europe, Asia-Pacific, Middle East, and Rest of the World |
Industry Dynamics
Growth Drivers
Surge in initiatives by the government to adopt green technology
The growing awareness regarding ozone depletion and carbon emissions has led to the implementation of strict regulations concerning the utilization of environmentally friendly magnetic refrigeration systems. This, in turn, is driving the expansion of the market. Furthermore, the target market for magnetic refrigeration is expected to flourish due to heightened government pressure in numerous countries to minimize the usage of hazardous greenhouse gases in various sectors such as hotels, retail stores, bakeries, confectioneries, and restaurants. Consequently, the escalating focus on green technology will propel the market growth of magnetic refrigeration systems.
Several other factors contribute to the advancement of the magnetic refrigeration market. These include reduced maintenance costs resulting from decreased rotation of unit parts, a compact design that optimizes space utilization, increased adoption of cold chain infrastructure, growth in the retail sector, and the availability of highly energy-efficient solutions. All these factors combined will accelerate the development of the magnetic refrigeration industry.
Challenges
Lack of awareness about the benefits associated with the Magnetic Refrigeration System
Magnetic refrigeration is still in its early stages of development that has yet to be commercialized. Once a clean energy technology has been developed and determined to have a strong market competitor potential, the attention switches to creating the market by increasing product awareness and demand. Early adopters may be willing to buy the technology as soon as it becomes available, but it will take a lot of work to reach the average consumer, who is generally resistant to change. As a result, increasing public knowledge of the technological, energy-saving, and environmental benefits of magnetic refrigeration is imperative.
The massive cost of equipment and increased initial cost of acquisition may hamper the growth of the magnetic refrigeration system industry. Limited availability of magnetocaloric materials, which are employed in the manufacture of magnetic freezers may further stymie the growth of the industry.
Opportunities
The increased deployment of magnetic refrigeration in the transportation and industrial sector will create tremendous opportunities for product manufacturers in the magnetic refrigeration industry. Furthermore, the rising prevalence of magnetic refrigeration in commercial sectors like shops, offices, and malls along with modern cooling techniques displayed in beverage coolers, domestic or commercial fridges, are creating tremendous opportunities for prominent stakeholders in the magnetic refrigeration market.
Geographic Overview
North America
Europe
Asia Pacific (APAC)
Rest of the World (RoW)
Europe contributes the largest share in the magnetic refrigeration market owing to increased initiatives by the government to decrease ozone depletion and reduce global warming by the ban on high-GWP refrigerants. Furthermore, the prominence of well-established players along with increased demand for packaged and processed foods will create potential prospects in the region.
Asia-Pacific is expected to have a high CAGR during the forecast period owing to the increased significance of magnetic refrigeration, rising awareness about global warming, growing population, and development of several end-use verticals.
Competitive Insight
Magnetic refrigeration is a highly consolidated market. The prominent players in the magnetic refrigeration market have taken necessary initiatives to enhance the precision, reliability, performance of the nonregenerative magnetic refrigeration system. Also, the market is likely to grow extremely competitive throughout the forecast period as a result of anticipated mergers and acquisitions and new product development by major companies. Product development is being pursued by market participants in order to increase their market share and achieve traction in the global marketplace. Companies are entering into several strategies such as acquisition, product launches, R&D, partnerships, and collaborations to gain market share.
Ubiblue is a company established in France that specializes in magnetic refrigeration. On the basis of the magneto-caloric effect, they design and manufacture unique and reversible refrigeration equipment and specialize in cooling and waste heat chillers. Their cooling gadgets do not use any refrigerant gas and save a lot of energy.  Thus, the Ubiblues device is a handy and versatile application that was originally created for commercial refrigeration but can be used for a variety of cooling and heating applications.
MAGNOTHERM is a Darmstadt-based spin-off that creates extremely efficient and long-lasting cooling solutions based on magnetic materials. They are able to make refrigeration commercially viable owing to their extensive understanding of producing, processing, and implementing magnetocaloric materials on the one hand, and building cost-effective and high-performance magnetic refrigeration systems on the other. MAGNOTHERM's next-generation cooling solutions are based on years of pioneering research on first-order magnetocaloric materials and recycling permanent magnets. They pioneer magnetic refrigeration based on multi-physical simulations, additive manufacturing processes, and short testing cycles as a deep tech start-up.
Recent Development by Key Players
In April 2022, MAGNOTHERM introduces the second generation of magnetic refrigeration machines, which is half the weight, half the size, and half the price of their predecessors along with energy efficient.
In June 2021, VACUUMSCHMELZE (VAC) has announced a collaboration with EuroGroup to build local manufacturing within the Americas (USMCA). In order to better support important customers in the aerospace, automotive, medical, and industrial sectors with electric motor and generator applications, the two firms have invested in production and extended development capabilities in the United States. This extension of VAC's soft magnetic alloy capacity, which now includes cobalt iron stator solutions, along with EuroGroup's considerable stamping and manufacturing expertise, provides USMCA clients with a locally integrated supply chain of high-performance solutions.
Key Players Covered in the Report
Some of the prominent players in the global magnetic refrigeration industry include Ubiblue, Camfridge Ltd., Astronautics Corporation of America, Haier Group, BASF SE, Toshiba Corporation, VACUUMSCHMELZE GmbH & Co. KG, MAGNOTHERM, General Electric, and Whirlpool Corporation.
The Magnetic Refrigeration Market research includes a comprehensive market segmentation analysis as well as projections for the analysis period 2023-2030.
Segments Covered in the Report
By Product
Refrigeration Systems

Refrigerators
Cabinet Displays
Freezers
Ice Cream Cabinets
Beverage Coolers

Air Conditioning Systems

Mobile Air Conditioners
Chillers
Stationary Air Conditioners
By Application
Commercial
Domestic
Industrial

Food & Beverages
Healthcare

Transportation

Logistics
Automotive
Aerospace
Marine
Region Covered in the Report
North America
Europe

Germany
U.K.
France
Italy
Spain
Russia
Rest of Europe

Asia-Pacific (APAC)

China
Japan
India
South Korea
Rest of Asia-Pacific

Rest of the World (RoW)

Brazil
Saudi Arabia
South Africa
U.A.E.
Other Countries

To explore more about this report - Request a free sample copy