Industry Overview
The global electric vehicle (EV) and electric vehicle infrastructure market was valued 3.5 million units in 2020 and is estimated to be 6.7 million units by 2027. The primary factors responsible for growth of electric vehicle and electric vehicle infrastructure market are favorable government policies in the form of subsidies and grants, tax incentives, and other benefits in the form of carpool access. The innovations in vehicle electrification and battery performance also play a crucial role in the overall electric vehicle (EV) market.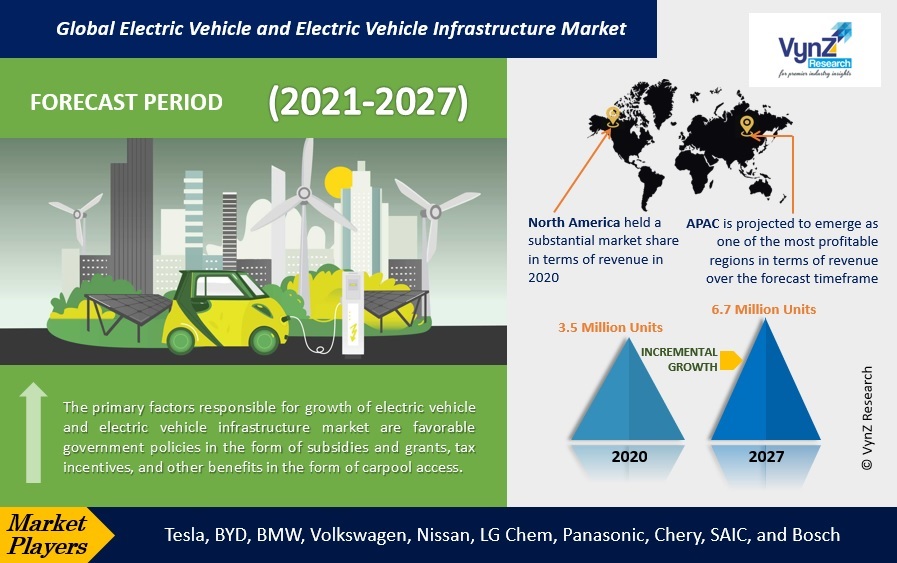 In line with the promise of several governments to incentivize electric vehicle adoption, Germany in the era of COVID-19 pandemic has come up with stimulus package. Germany has provided a discount of EUR4,000 discount at the time of buying a new electric vehicle to its consumers. This has mitigated the negative impact of consumer sentiment regarding the high cost of EVs and its pledge towards de-carbonization of vehicles to curb global warming and its several ill impacts.
Market Segmentation
Insight by Vehicle Type
By vehicle type, the global EV and EV infrastructure market is bifurcated into passenger cars and commercial vehicles. In 2019, the passenger cars segment accounted for the largest share in the overall market. This growth is due to strong intent of France, Italy, Canada, the U.K., the U.S. and other developed economies to boost adoption of EVs. However, owing to the outbreak of COVID-19, the global automobile sector is facing a recession due to the lockdown in many countries that have limited the production of electric vehicles.
Some of the major manufacturers affected by the COVID-19 epidemic include Nissan Motor Co., Kia Motors Corp., BMW AG, Daimler AG, and Tesla, Inc. Most of these companies have shut down their electrical vehicle production facilities and have shifted their focus to the production of personal protective equipment.
| | |
| --- | --- |
| Report Metric | Details |
| Market Size Available for the Years in the Study | 2015–2027 |
| Historical Period | 2015–2020 |
| Base Year | 2020 |
| Forecast Period | 2021–2027 |
| Segments Covered in the Study | Vehicle Type, Charging Station, Propulsion Type, and Region |
| Geographies Covered in the Study | North America (U.S., Canada, Mexico), Europe (Germany, U.K., France, Italy, Spain, Russia), Asia-Pacific (China, Japan, India, South Korea), and Rest of the World (Brazil, Saudi Arabia, South Africa, U.A.E.) |
| Companies Covered in the Study | Tesla, BYD, BMW, Volkswagen, Nissan, LG Chem, Panasonic, Chery, SAIC, and Bosch |
Insight by Charging Station
On the basis of charging station, the EV and EV infrastructure market is categorized into normal and super charging stations. In 2019, the normal charging station segment accounted for largest share in the EV and EV infrastructure market. The segment is also expected to register highest growth rate among the two.
Government stimulus packages in the future could help the EV economy solve the economic crisis caused by COVID-19 by investing heavily in charging infrastructure. China is one of the countries that is expected to make such an undertaking to further develop its electric vehicle industry. The Chinese government has highlighted "new infrastructure" as part of a stimulus strategy to boost its economy, partly due to trade tensions and coronavirus slowdowns. As a result, most governments in the affected regions have used infrastructure rehabilitation as an economic stimulus method.
Industry Dynamics
Growth Drivers
The stringent government rules and regulations towards vehicle emission is driving the adoption of electric vehicles. The conventional gas-powered vehicle uses the internal combustion engine to generate power. In the ideal situation, the combustion system completely burns the fuel and only creates water and carbon dioxide as waste, but the combustion system produces various greenhouse gases, resulting in environmental pollution. On the other hand, an electric vehicle uses an electric motor powered by a continuous supply of electric current, without creating any pollutants. Germany, France, the U.S., and China have introduced specific government legislation and automotive emission standards, making it compulsory for car makers to use new technology to counter high-emission automobile pollution. The California Air Resources Board (CARB) program also includes guidelines for manufacturers to produce and deliver zero-emission vehicles (ZEVs), thereby boosting the adoption of EVs.
The growing demand for the fuel efficient, low emission vehicles, and high performance vehicles. Gasoline being a fossil fuel is not a renewable energy source and is expected to be exhausted in the future. It is important to develop and use alternative sources of fuel to support sustainable development. This involves the use of electric vehicles that do not use gas and are more economical than conventional vehicles. The electric vehicle converts more than 50 per cent of the electrical energy from the grid to the wheels, while the gas-powered vehicle converts only about 17 per cent – 21 per cent of the energy stored in gasoline. Demand for fuel-efficient vehicles has recently increased due to an increase in the price of petrol and diesel. This is due to the depletion of fossil fuel reserves and the increasing tendency of companies to make maximum profits from these oil reserves. As a result, these considerations give rise to the need for new fuel-efficient technology, contributing to an growth in the market for electric cars for transport.
Challenges
However, the high manufacturing cost of electric vehicles and malfunctioning of high performance batteries are paving as hindrance to the EV and EV infrastructure market. The high cost is mostly due to less adoption of EVs across the globe, the mass production of EVs is expected to bring down its cost, and is yet to witness economies of scale. In line with the same, manufacturing of electric vehicle requires a huge investment which also affects the growth of the market.
Geographic Overview
North America held a substantial market share in terms of revenue in 2021. This share is due to the increasing need for electric vehicles in the U.S. In addition, new initiatives are being taken by car manufacturers, non-profit organizations and ancillary firms, and a new non-profit organization called "Veloz" has been launched. This new company seeks to promote funding, creativity, promotion and development of electric vehicles in North America. In addition, Electrify America, a company launched to support the adoption of EV, announced plans to invest USD 200.0 million in California in 2018. As a result, North America's demand for EVs is bound to rise over the forecast period.
Asia Pacific is projected to emerge as one of the most profitable regions in terms of revenue over the forecast timeframe. This upsurge is attributed to the increasing demand for electric cars in China, Japan and India. Approximately 45.0 per cent of electric cars on the road were in China in 2018 compared to 39.0 per cent in 2017. In addition, various companies are focusing on the production of EVs in China. For example, in 2018, the Volkswagen Group announced its plan to manufacture 22 million EVs by 2026, half of which will be manufactured in China. Similarly, Tesla, Inc. plans to produce about 150 thousand 3s Model cars in Shanghai, China. In fact, the Government of India (GOI) proposed tax incentives for the purchase of electric cars in 2019. Government plans to deduct income tax on interest paid or borrowed for the purchase of an electric vehicle.
The moratorium on nearly all of the automotive industry 's operations, the realistic restrictions on access to electric vehicle dealers and the postponed transactions due to Covid-19 are now contributing to lower demand and declining prices across the global automobile market. A contraction is also necessary for short-term sales of EVs, perhaps also in terms of market shares. A number of factors could contribute to this development: the implementation of transport de-carbonization regulations and policies may be delayed. This was proposed by the European unions of the automotive industry in a letter to the European Commission dated 25 March, while a group of businesses, cities and civil society groups protested the post-ponement of regulation in a letter dated 16 April. Consumers will have greater restrictions on borrowing money, which could impede the selling of electric vehicles due to higher than normal sales costs. However, this impact can be minimal, as EVs continue to fall into the higher business segments where capital-restricted consumers are lower.
The latest collapse in oil prices after the worldwide implementation of mobility constraints (aggravated by the supply shock) increases the average expense of running fossil-fueled cars and makes hybrid vehicles less appealing. Conventional automobile manufacturers agreed to postpone or reduce the investment they have made in order to diversify the selection of EV models and to comply with the preferences of the wider market.
Opportunities for self-reinforcing cost savings in EV output will continue. These are the result of increasing battery production and battery technology improvements and will make it easier for BEVs and PHEVs to compete with vehicles using internal combustion engines in terms of total cost of ownership. Governments around the world are voicing their deep commitment to ensure the safety of people and entrepreneurs against the negative economic impacts of Covid-19, and to provide economic stimulus to counteract the induced slowdown.
Interest and need for policy action on priority objectives such as climate change mitigation, local air quality improvement, economic productivity improvement and industrial development will continue. These priorities require support for innovation, including industrial progress in the EV sector and battery value chains. Oil prices will slowly grow from their current levels as the global economy recovers from the COVID-19 scare, even though they may stay lower than before the pandemic.
Electric mobility requires rapid government action to provide insurance against Covid-19 risks to a wide range of stakeholders. These range from big existing firms such as electric car manufacturers, electric utilities and electricity providers to tiny but sometimes fast-growing businesses with no steady and significant cash flows.
Economic stimulus packages aimed at decarbonizing transport will support electric mobility and help increase the speed of economic growth over time. That is because electric mobility, like other energy efficiency enhancements, will increase economic growth by reducing transportation costs. It is key to accelerating advances in battery development, which has wider consequences for the transition to renewable energy and, more generally, for the growth-enhancing effects of self-reinforcing technologies. Increased public debt as a result of recovery measures would undoubtedly mean that mid-to long-term policy forces would continue to help restore government revenues and not only rely on policy goals such as sustainable growth and clean mobility. This could raise interest in taxing carbon-intensive fuels, adopting bonus / malus systems that tax vehicles on the basis of their environmental efficiency, as well as incorporating distance-based road use charges that are well tailored to handling a decline in fuel tax revenues arising from the de-carbonization of transport.
Competitive Insight
Some of the major players in the market for electric vehicle and electric vehicle infrastructure are Tesla, BYD, BMW, Volkswagen, Nissan, LG Chem, Panasonic, Chery, SAIC, and Bosch, among others. Tesla is one of the leading players on this market. The company continuously delivers new advanced electric vehicles and charging technologies. Despite the effect of COVID-19, Tesla sold more than 88,000 electric vehicles in the first quarter of 2020, surpassing deliveries of Volkswagen. Tesla continued to deliver in the U.S. despite shutting down production at its Fremont, California plant, and also began delivering Model Y, its fifth electric vehicle.
Primary Research
VynZ Research conducts extensive primary research to understand the market dynamics, validate market data and have key opinions from the industry experts. The key profiles approached within the industry includes, CEO, CFO, CTO, President, Vice President, Product Managers, Regional Heads and Others. Also, end user surveys comprising of consumers are also conducted to understand consumer behavior.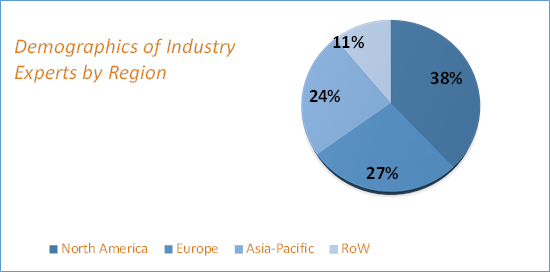 Source: VynZ Research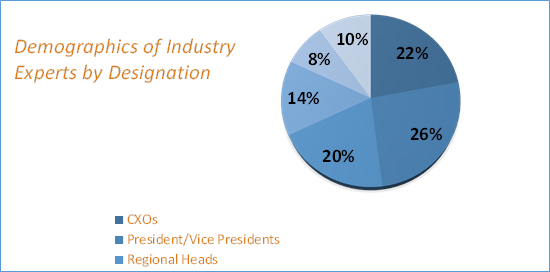 Source: VynZ Research