Industry Overview
The occupancy sensors market is projected to experience substantial growth in the coming years. Starting at a value of USD 2.8 billion in 2022, it is expected to reach USD 5.6 billion by 2030, exhibiting an impressive CAGR of 13.5% throughout the forecast period from 2023 to 2030. Occupancy sensors, also known as indoor motion detectors, play a crucial role in detecting human presence and efficiently managing lighting, temperature, and ventilation systems. By automatically turning off lights in unoccupied areas, these sensors effectively reduce energy consumption, leading to cost savings and waste reduction.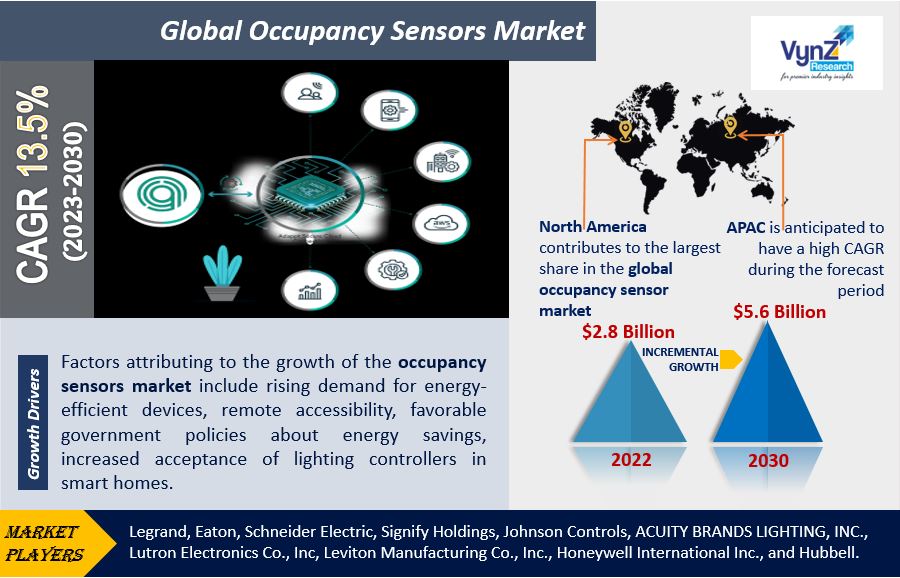 Occupancy sensors are used to save energy, conform with building requirements, give automatic control, and a variety of other uses. The passive infrared technology, which detects occupancy within a particular field and triggers lighting, is one of the most widely used occupancy sensor technologies. It is especially helpful in tiny spaces. Occupancy sensors are mostly used for security purposes, such as preventing damage, burglary, and theft.
COVID-19 is an unprecedented global public health crisis that has impacted practically every business, and its long-term repercussions are expected to have an influence on industry growth over the coming years. The United States and China, two of the most COVID-19-affected countries, are two of the world's largest technology providers. The outbreak of COVID-19 in these nations has severely impacted the supply chain. The supply of raw materials and final products has been severely hampered by lockdowns and inter-country travel restrictions. The temporary shutdown of production plants and transportation has had a substantial impact on the electronics industry; this will also have an indirect influence on demand for technologies deployed. Upgrade projects including the installation of automation systems have also been halted due to product delivery delays. In addition, the start of planned initiatives may be postponed.
Market Segmentation
Insight by Technology
Based on technology, the global occupancy sensor market is segregated into passive infrared (PIR), ultrasonic, dual technology (passive infrared and ultrasonic), and others. Passive infrared occupancy sensor contributes to the largest share in the market. A passive infrared sensor detects infrared radiation emitted by human body movement by detecting heat movement. Moreover, it is less expensive as compared to other sensors and is used in places where there are fewer interruptions and hindrances like small offices, meetings, and corridors. Legrand (France), Schneider Electric (France), Johnson Controls (US), and Acuity Brands (US) are among the leading manufacturers of passive infrared-based occupancy sensors.
Insight by Application
Based on application, the global occupancy sensor market is divided into lighting systems, HVAC systems, security & surveillance systems, and others. The lighting systems contribute to the largest share in the market as it is the key application area of the occupancy sensors. The sensors help in saving energy costs, minimize installation and maintenance costs, thus are widely used in lighting systems.
HVAC systems are anticipated to grow at a high CAGR during 2023-2030. HVAC systems are important in commercial buildings since they improve building operations while also being expensive to operate. They also use a lot of energy, necessitating the development of an automated solution that can improve operations while potentially lowering energy use, resulting in the installation of occupancy sensors.
Insight by Connectivity
Based on connectivity, the global occupancy sensors market is bifurcated into wired and wireless. Wireless network connectivity is predicted to have a high CAGR over the forecast period due to lower installation costs (costs associated with wires and batteries) and greater connectivity when compared to wired network connectivity. Wireless occupancy sensors are small and can be installed with velcro, magnetic tape, or screws. One of the key elements driving demand for wireless occupancy sensors is their ease of integration with other wireless controls, devices, and networks. Infrared, ultrasonic, microwave, humidity, and temperature are among the several types of wireless sensors currently available in the market.
Insight by Building Type
Based on building type, the global occupancy sensor market is divided into residential buildings and commercial buildings. The residential buildings are anticipated to grow at a high CAGR during the forecast period 2023-2030 owing to the rising urbanization and energy0-savings ability of occupancy sensors. Many homeowners want to have the most up-to-date technology installed in their homes, which helps them regulate energy usage and save money. In addition, the rising adoption of home automation and smart homes will propel the growth of the market. Also, the need for a security surveillance system that has occupancy sensors is used for safety purposes in apartment building entrances, storerooms, laundry areas, corridors.
Global Occupancy Sensors Market Report Coverage
| | |
| --- | --- |
| Report Metric | Details |
| Historical Period | 2018–2022 |
| Base Year Considered | 2022 |
| Forecast Period | 2023-2030 |
| Market Size in 2022 | $2.8 Billion |
| Revenue Forecast in 2030 | $5.6 Billion |
| Growth Rate | CAGR 13.5% |
| Segments Covered in the Report | By Technology, By Application, By Connectivity, and By Building Type |
| Report Scope | Market Trends, Drivers, and Restraints; Revenue Estimation and Forecast; Segmentation Analysis; Impact of COVID-19; Companies' Strategic Developments; Market Share Analysis of Key Players; Company Profiling |
| Regions Covered in the Report | North America, Europe, Asia-Pacific, Middle East, and Rest of the World |
Industry Dynamics
Industry Trends
The rising trend for urbanization and surge in demand for automation in manufacturing facilities will fuel the growth of the occupancy sensor market. The increasing concept of the smart city will provide an effective and smart service delivery platform along with a smart parking system that will drive the growth of the occupancy sensor market. Traffic congestion caused by automobiles is a global problem that is rising exponentially, where occupancy sensors, such as IoT sensors and ultrasonic sensors, play a key part with the help of edge computing, where traffic patterns may help in efficiently managing the traffic problem.
Growth Drivers
The growth of the occupancy sensors market is influenced by several key factors that contribute to its success. These factors include the increasing demand for energy-efficient devices, the convenience of remote accessibility, supportive government policies promoting energy savings, the growing acceptance of lighting controllers in smart homes, and the development of highly accurate and efficient sensors that can be easily configured and programmed for HVAC systems.
Occupancy sensors find extensive applications in various settings, including commercial, residential, and industrial environments, primarily for energy conservation purposes. They are commonly utilized in areas such as stairwells, open and closed offices, corridors, warehouses, and for motor load switching off fans, curtains, and air conditioners.
To further drive market growth, there is a rising adoption of wireless occupancy sensors, ongoing efforts to develop cost-effective sensor solutions, and continuous technological advancements in occupancy sensors, such as intelligent occupancy sensors, image processing occupancy sensors, and micro-phonics technology. These advancements are expected to enhance the market's expansion and performance.
Challenges
Lack of awareness about the advantages of the device, false switch triggering, fewer energy savings owing to time-out period, and inconsistency concerns associated with wireless network systems are expected to slow market growth.
Opportunities
The adoption of lighting controllers with in-built data connectivity technology, government support of green construction, advancements in vision-based intelligent occupancy sensors for HVAC systems is expected to drive market expansion. Without the use of external communication protocols or connectivity, these controllers can be operated directly. This is projected to result in a significant increase in demand for such goods, providing an opportunity for occupancy sensor makers. The increasing trend for green buildings globally will create opportunities for growth in the global occupancy sensor market.
Geographic Overview
North America contributes to the largest share in the global occupancy sensor market owing to the increased adoption in residential and commercial buildings, supportive government plans, programs, and laws, and rising wireless network connectivity. The presence of well-established players like Johnson Control, Acuity Brands, Leviton Manufacturing will drive the growth in the region. The increased emphasis on innovations and development in occupancy sensors like image processing occupancy sensors (IPOS), intelligent occupancy sensors (IOS), and micro-phonics will fuel the growth in the region. The increased adoption of the home automation industry in countries such as the U.S. and Canada will contribute to the growth in the region.
APAC is anticipated to have a high CAGR during the forecast period owing to growth in the construction industry, novel opportunities for smart lighting, increased adoption for home automation in the region. China, Japan, Australia, and South Korea all have substantial markets for occupancy sensor systems. Consumers in this region are projected to be more accepting of these systems, which are an essential aspect of a digitalized home.
Competitive Insight
The industry players are focusing on strategies like a product launch, product approvals, M&A, partnerships and collaboration to sustain themselves in a competitive occupancy sensor market. Moreover, the companies are concentrating on product diversification to expand the precision of devices and general functionality.
To make the world more sustainable, Johnson Controls focuses on efficiency, controls, and automation. The organization focuses on improving occupant safety and wellness while also increasing the facility's productivity and efficiency. Healthy People, Healthy Places, and a Healthy World are all supported by OpenBlue Healthy Buildings, a dynamic smart facility with connected solutions.  This one-of-a-kind combination of cutting-edge technology and game-changing solutions propels the company forward, leveraging all three pillars for maximum impact. Also, OpenBlue Clean Air has 5 pillars: ventilation, filtration, disinfection, isolation, and monitoring & maintenance.
Acuity Controls offers advanced lighting controls technology, service, and support. They have one of the most comprehensive product portfolios in the industry for both indoor and outdoor lighting applications. Occupancy sensors, photocell sensors, centralized and distributed systems, panels, fixture-integrated sensors, and wired and wireless lighting control systems are the product portfolio offered by the company. Some of the Acuity Controls' products include nLight, SensorSwitch, Fresco, and Dark to Light.
Signify, the world leader in lighting, has introduced Philips Motion Sensing T-Bulb in India in December 2021. The light instantly turns on when motion is detected within a 6-meter radius, owing to its excellent integrated motion sensor. After 2 minutes of inactivity, the light dims to Eco mode and then turns off altogether after another 3 minutes of inactivity for added safety. It provides a handy lighting option for less-accessible areas of a house, such as balconies, staircases, washrooms, and parking areas, due to its automatic switch-on function.
Eaton has introduced the Trellix-connected lighting platform. Trellix is an open IoT platform and infrastructure that connects intelligent sensors to help record data on energy use in areas like healthcare, manufacturing, commercial offices, education, hospitality, and retail.
Some of the key players operating in the occupancy sensors market include Legrand, Eaton, Schneider Electric, Signify Holdings, Johnson Controls, ACUITY BRANDS LIGHTING, INC., Lutron Electronics Co., Inc, Leviton Manufacturing Co., Inc., Honeywell International Inc., and Hubbell.
The Occupancy Sensors Market report offers a comprehensive market segmentation analysis along with an estimation for the forecast period 2023–2030.
Segments Covered in the Report
By Technology

Passive Infrared (PIR)
Ultrasonic
Dual Technology (Passive Infrared and Ultrasonic)
Others

By Application

Lighting Systems
HVAC Systems
Security & Surveillance Systems
Others

By Connectivity
By Building Type

Residential Buildings
Commercial Buildings
Region Covered in the Report
North America
Europe

Germany
U.K.
France
Italy
Spain
Russia
Rest of Europe

Asia-Pacific (APAC)

China
Japan
India
South Korea
Rest of Asia-Pacific

Rest of the World (RoW)

Brazil
Saudi Arabia
South Africa
U.A.E.
Other Countries