Industry Overview
The global position sensor market is expected to reach USD 8.8 billion by 2027, growing at a CAGR of 8.5% during the forecast period. The global position sensor is an engrained market, growing at a noteworthy rate due to its rising application in the manufacturing industry with demand for error-free measurements and thorough inspection. Further, position sensors adoption in the aviation and aerospace industry is also rising at a fast pace. Automotive is another large segment where position sensors are used in huge quantities. This, as a result, will boost the demand for position sensors in multiple industry verticals.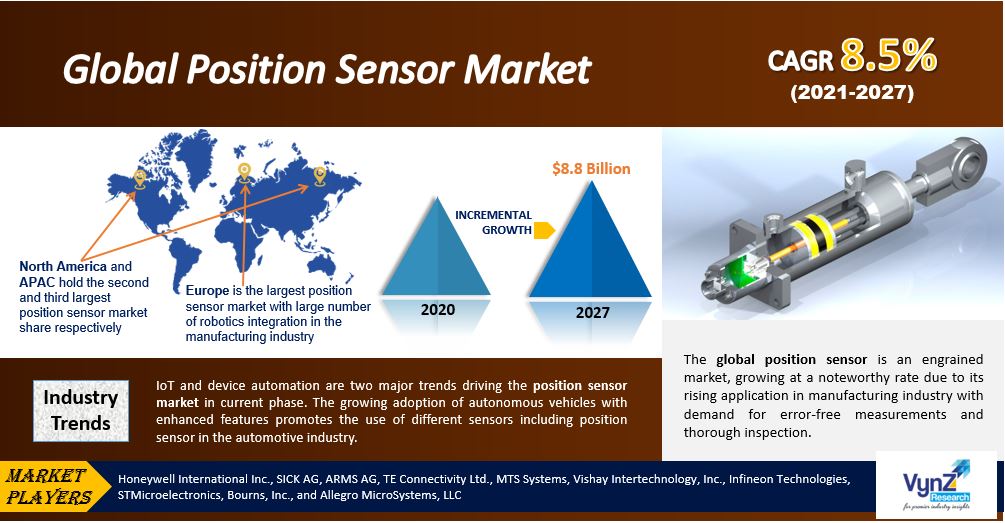 Now a day's multiple sensor types are used in products to enhance their functioning and get more accurate results. The position sensor is used in a device to measure the distance traveled by a device from a certain reference position. The sensor measures both linear as well as angular position. Also, the sensor can be used to sense the presence or absence of an entity.
Market Segmentation
Insight by Types
On the basis of type, the market is segmented as linear sensor and rotary sensor. The linear sensor is further broken down into linear encoders, linear variable differential transformers (LVDT), magnetostrictive sensors, linear potentiometers, laser position sensors. Whereas, the rotary sensor is segmented as rotary encoders, rotary potentiometers, rotary variable differential transformers, and resolvers. Among these types, the rotary position sensor segment captures a higher market share in 2019 and is expected to grow at the fastest rate during the forecast period, owing to its numerous applications in automotive, aviation, healthcare, consumer electronics, and other emerging areas.
Insight by Contact Type
On the basis of contact type, the market is subdivided into contact and non-contact. Among these, non-contact type sensor accounted for the foremost share in the position sensor market in 2019 due to high precision and adoption in multiple industries.
Insight by Application
On the basis of application, the market is subdivided into machine tools, robotics, motion systems, material handling, and test equipment. Of all these applications, the machine tools segment accounted for a foremost share in the position sensor market in 2019, owing to the integration of these sensor types in multiple tools used in manufacturing such as an automated guided vehicles, robots, cobots, and processing machines.
Industry Dynamics
Industry Trends
IoT and device automation are two major trends driving the position sensor market in current phase. The growing adoption of autonomous vehicles with enhanced features promotes the use of different sensors including position sensor in the automotive industry.
Growth Drivers
There is a constant increase in the number of sensors integration in manufacturing sector in order to achieve better performance and error-free results. Position sensors are used primarily to attain precise measurements and through inspection. Besides, the sensors are also used in large scale in aviation and aerospace industry for accurate distance measurement.
Challenges
High cost of ownership of position sensors may obstruct the growth of the sensor market in several industries such as consumer electronics, processing industry and so on.
Geographic Overview
Geographically, Europe is the largest position sensor market with large number of robotics integration in the manufacturing industry. Besides, the region is home to some of the major automotive manufacturers, this will further up surge the growth of the position sensor market in years to come.
Further, North America and APAC hold the second and third largest position sensor market share respectively, due to the growing automotive production, and the increasing deployment of robotics in industries, this as result is also creating a positive impact on the position sensor market growth globally.
Competitive Insight
Key players in the in the position sensor market are regularly focusing on new product development and existing product enhancement to sustain and grow in the market. Further, merger & acquisition are other key strategies adopted by the players in the ecosystem. For instance, in January 2020, HLD Europe, an investment holding firm with 12 companies in Europe acquired Exxelia, the Europe based manufacturer of high reliability passive components and electromechanical systems to enhance its product portfolio and global each
Some of the key players operating in the position sensor market are Honeywell International Inc., SICK AG, ARMS AG, TE Connectivity Ltd., MTS Systems, Vishay Intertechnology, Inc., Infineon Technologies, STMicroelectronics, Bourns, Inc., and Allegro MicroSystems, LLC.
Primary Research
VynZ Research conducts extensive primary research to understand the market dynamics, validate market data and have key opinions from the industry experts. The key profiles approached within the industry includes, CEO, CFO, CTO, President, Vice President, Product Managers, Regional Heads and Others. Also, end user surveys comprising of consumers are also conducted to understand consumer behaviour.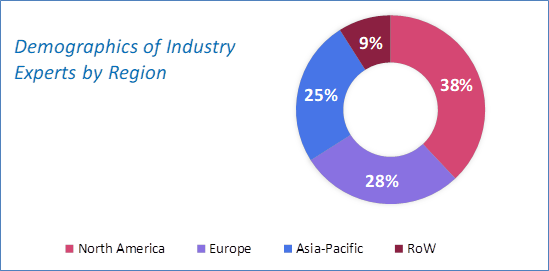 Source: VynZ Research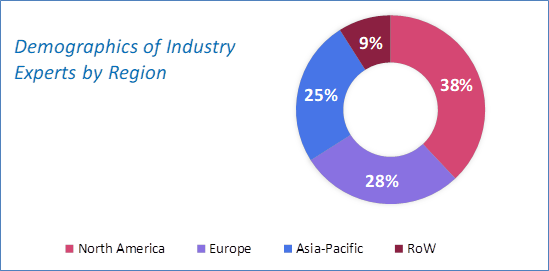 Source: VynZ Research