Industry Overview
The global automated guided vehicle market valued at USD 2.81 billion in 2022 is predicted to increase by USD 4.81 billion in 2030 at a compound annual growth rate (CAGR) of 6.2% during the forecast period of 2023 to 2030. AGV systems help to move and carry products in production facilities, warehouses, and distribution centers without the requirement of a fixed conveying system or manual intervention. It follows adjustable guidelines to optimize storage, picking, and transport tasks in a premium space environment.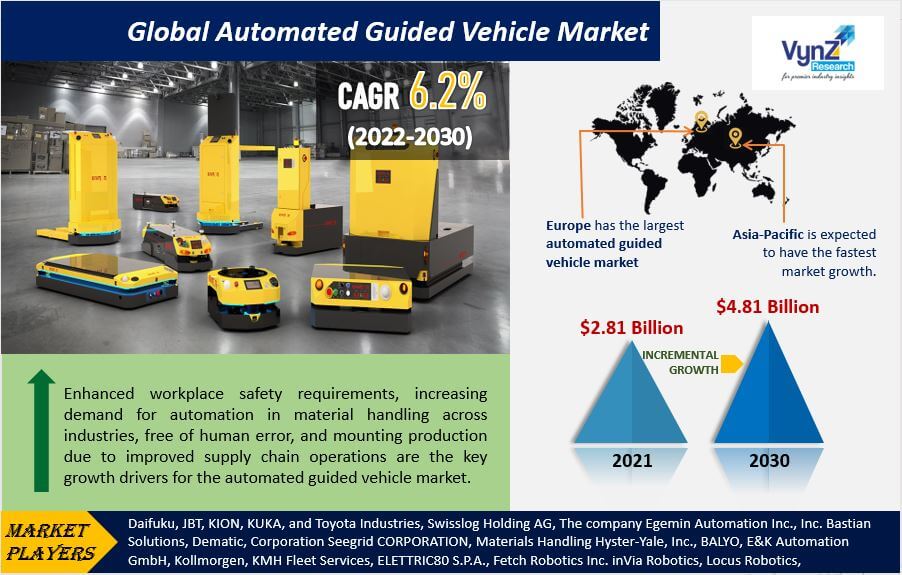 AGVs are widely used because of various advantages, including lower labor costs, less product damage, higher productivity, and the ability to grow to support automation operations. These significant benefits are motivating transportation and logistics companies to use AGVs in order to improve the efficiency of their operations. Furthermore, it aids in the transportation of commodities supply trolleys, allowing them to keep safe.
Impact of Covid-19
The pandemic has created various opportunities for the AGV sector worldwide by allowing enterprises to continue production. For example, AEROTECH US. released the AGV-XPO galvo scanner, a laser scan head that aids in the high-precision assembly of complicated components in medical technology, in February 2022. It also allows for less consequential errors and faster execution of aggressive pathways. Techmotion, in addition to WE WO, offers AGVs in healthcare and pharma to move drugs, foods, medical equipment, laundry, and sterile products. These AGVs are also used for cleaning rooms, material validation, and flow control.
Market Segment
Insight by Type
The automated guided vehicle market is classified into pallet trucks, two vehicles, unit load carriers, forklift trucks, assembly line vehicles, and others. Two vehicles accounted for the highest portion of the market, as they can shift enormous loads with varied trailers and without any manual interface.
In 2021, the tow vehicle sector led the market and accounted for more than 40% of total sales. Over the projected period, the unit load carrier segment is expected to grow at the fastest CAGR of 12.4%. Unit-load AGVs are used to transport pallets, huge containers, and rolls. It also allows you to arrange the task more efficiently by decreasing aisle traffic and product damage.
Insight by Navigation Technology
The navigation technology market is split into vision guidance, laser guidance, optical tape guidance, magnetic guidance, inductive guiding, and others. In 2021, the laser guidance sector led the market and accounted for more than 35% of sales. Moreover, with the excellent feature of accurate navigation and tractability, it is predicted to contribute to this highest and natural navigation segment is predicted to grow at the fastest CAGR of 17.4% throughout the forecast period. However, with a robust and strong CAGR, the vision-guiding segment is predicted to contribute handsomely to the total growth plan. 
Insight by Industry
The global AGV market on the basis of the industry is classified into logistics, aerospace, automotive, healthcare, manufacturing, retail, food & beverage, and others. The automotive industry accounted for the largest share of the automated guided vehicle market among all industries. However, the reason behind it is advanced automotive manufacturing operations, effective and efficient processes, and increasing use of assembly line AGVs for auto parts fabrication, transmission assembly lines, and engines. The wholesale and distribution industry which is further subdivided into e-commerce, grocery stores, retail chains/conveyance stores, and hotels and restaurants is anticipated to contribute to the growth plan with the fastest rate of 12.2% during the projection period.
Insight by Battery Type
On the basis of vehicle batteries, the global AGV market is bifurcated into lead, lithium-ion, nickel-based, and other battery types. Because of its established energy storage technology and maximum power-to-size ratio, lead batteries accounted for the greatest portion of the automated guided vehicle market.
The market for AGVs is gradually shifting toward lithium-ion batteries. Lithium-ion supports high-power charging and discharge. It also fits many industry user demand characteristics, such as outstanding temperature performance, high energy density, and long life cycles. These advantages of lithium-ion batteries are expected to drive AGV makers to use lithium-ion batteries over other battery types and contribute to the growth plan with a CAGR of 15.8% during the forecast period.
Insight by Application
The global AGV market is split into applications such as transportation, storage, packaging, distribution, assembly, and others. The transportation market accounted for the greatest proportion of the automated guided vehicle market due to increased productivity, decreased infrastructure damages and unintentional accidents, decreased pricing, and increased space.
The logistics and warehousing category led the market and accounted for more than 40% of total revenue in 2021. Over the projected period, the assembly segment is expected to grow at the fastest rate of 13.1%. Transportation, cold storage, wholesale & distribution, and cross-docking have been included in the logistics & warehousing section. Enterprises that are updating existing facilities or establishing new ones are aggressively implementing sophisticated retrieval and automated storage systems, as well as other material handling technology, to reduce labor costs and increase efficiency and production.
Automated Guided Vehicle Market Report Coverage
| | |
| --- | --- |
| Report Metric | Details |
| Historical Period | 2018–2022 |
| Base Year Considered | 2022 |
| Forecast Period | 2023 - 2030 |
| Market Size in 2021 | $2.81 Billion |
| Revenue Forecast in 2030 | $4.81 Billion |
| Growth Rate | CAGR 6.2% |
| Segments Covered in the Report | By Type, By Navigation Technology, By Industry, By Battery Type, and By Application |
| Report Scope | Market Trends, Drivers, and Restraints; Revenue Estimation and Forecast; Segmentation Analysis; Impact of COVID-19; Companies' Strategic Developments; Market Share Analysis of Key Players; Company Profiling |
| Regions Covered in the Report | North America, Europe, Asia-Pacific, Middle East, and the Rest of the World |
Industry Dynamics
Growth Drivers
Enhanced workplace safety requirements, increasing demand for automation in material handling across industries, free of human error, and mounting production due to improved supply chain operations are the key growth drivers for the automated guided vehicle market.
Industries are working to improve worker safety in order to eliminate accidents, reduce downtime, and boost production. Hence, AGVs are becoming more popular, and an increasing number of businesses are using them in their warehouses. These trucks are capable of lifting bigger loads and transporting commodities quickly. Intelligent unmanned vehicles are less prone to errors and can help businesses reduce accidents and improve workplace safety.
Furthermore, the expanding e-commerce industry is also contributing to the market expansion. For example, the growing popularity of online buying is a crucial factor propelling the e-commerce business forward. Acceptance of industrial automation by small and medium-sized businesses, rising investment in the automation sector, and integration of the fourth industrial revolution with automation solutions all contribute to the growth of the automated guided vehicle market.
Challenges
The real-time technical challenges associated with any sensor element in material handling equipment have the potential to halt the entire process. For example, if the sensing element of an AGV is not properly mounted, the AGV will not respond to commands effectively. Failure of the sensor in this system would bring the entire process to a halt because the sensor is the most crucial component of any AGV system for navigation and other activities. Furthermore, any flaw in the control software could cause the AGVs to malfunction, delaying the entire production process. Mechanical breakdowns can occur as a result of poor maintenance, resulting in a loss of production and performance. As a result, regular maintenance is critical for the proper operation of AGVs.
Furthermore, the biggest challenges for the expansion of the automated guided vehicle industry include low labor costs in emerging nations, as well as high switching, installation, and maintenance costs. Furthermore, the initial price intricacy of AGVs and real-time technical conflicts are impeding industry expansion.
Industry Ecosystem
Globally, industry companies are capitalizing on market expansion by developing new products. They provide AGVs that operate with visual direction. Bastian Solutions, for example, offers vision-guided pallet trucks and tow tractor AGVs. When the vehicle is driven in the warehouse, it maintains a 3D map of the warehouse and uses this information to function autonomously. If an obstruction is in its way, it will likewise pause or slow down. Because of these safety protocols, they are suited for heavy-duty applications. Seegrid's VGVs are outfitted with ten cameras that collect and store data points for the creation of a three-dimensional map. This makes them dependable in dynamic conditions and allows them to operate in intricate spaces.
Geographical Overview
Geographically, Europe has the largest automated guided vehicle market with a 31% revenue share in 2021. And it is also expected to be the dominant regional market throughout the forecast period. The increasing demand for material handling equipment by the manufacturing industry's incumbents is driving the regional market's growth. Furthermore, automation in many sectors has aided the market expansion in this region because of its competitive edge in facilitating the effective administration of total warehousing operations. The European automated guided vehicle market is also expanding due to high labor costs, rapid acceptance of automation, mounting requirements and benefits provided by AGVs, and mounting requirements for material handling equipment.

Furthermore, due to the quickly developing e-commerce industry, Asia-Pacific is expected to have the fastest market growth. And it is expected to contribute to the growth plan with an impressive CAGR of 11.2% Furthermore, multiple critical AVG installations in India and China, the need to maintain workplace safety, rising investment in the automation sector, and a developing manufacturing sector are some of the factors generating sufficient potential for the Asia-Pacific automated guided vehicle market.
Competitive Insight
Increasing collaborations and mergers and acquisitions are projected to optimize the environmental and economic benefits for market participants by allowing them to share ideas and improve their internal skills and technology. This contributes to an increase in the need for supply chain management automation and makes it easier to provide clients and partners with complete end-to-end warehouse management solutions.

To expand their market offers, AGV players have undertaken a variety of organic and inorganic growth methods, including new product releases, contracts, partnerships, collaborations, acquisitions, and business expansions. Among the leading competitors in the AGV industry are Daifuku (Japan), JBT (US), KION (Germany), KUKA (Germany), and Toyota Industries (Japan). Swisslog Holding AG, The company Egemin Automation Inc., Inc. Bastian Solutions, Dematic, Corporation Seegrid CORPORATION, Materials Handling Hyster-Yale, Inc., BALYO, E&K Automation GmbH, Kollmorgen, KMH Fleet Services, ELETTRIC80 S.P.A., Fetch Robotics Inc. inVia Robotics, Locus Robotics, Schaefer Systems International. Inc., System Logistics, Transbotics Spa.
Recent Development by Key Players
•    ElephantRobotics, a Chinese firm specializing in robotics design, production, development, and intelligent manufacturing services.  In July 2021 it deployed My AGV, with an A-5-megapixel camera and an 8-meter identification range, to assist in detecting obstacles and obtaining information.
•    Flux Power, a manufacturer of rechargeable lithium energy solutions, announced in July 2021 that lithium batteries used in AGVs would help maintain high voltage levels. These batteries are very efficient, high-performance, require little maintenance and charge quickly.
•    SAFELOG GmbH, an automated transportation business, will debut warehouse robots, SafeLogAGV L1 lifts that can carry up to 15000 kg, in February 2021. This concept would allow for cost-effective and efficient functioning in either a swarm or individually.
•    Toyota Industries has collaborated with All Nippon Airways (ANA) to test Japan's first autonomous towing tractors at Saga Airport in March 2021. Towing tractors employ 2D/3D LiDAR sensors to automatically detect objects in their path and automatically modify course.
•    Daifuku joined forces with AFT Industries, a Germany-based automation and conveyor technology company; in February 2021 to harness the latter's expertise in enhancing material handling systems for the automobile industry. Now, this collaboration will concentrate on developing new channels to address the global demand for material handling solutions from car manufacturers.
The Automated Guided Vehicle Market report offers a comprehensive market segmentation analysis along with an estimation for the forecast period 2023–2030.
Segment Covered in the Report
By Type

Pallet Truck
Tow Vehicle
Unit Load Carrier
Forklift Truck
Assembly Line Vehicle
Others

By Navigation Technology

Vision Guidance
Laser Guidance
Optical Tape Guidance
Magnetic Guidance
Inductive Guidance
Others

By Industry

Logistics
Aerospace
Automotive
Healthcare
Manufacturing
Retail
Food & Beverage 
Others

By Battery Type

Lead
Lithium-Ion
Nickel-Based
Others

By Application

Transportation
Storage
Packaging
Distribution
Assembly
Others
Region Covered in the Report
North America
Europe

Germany
U.K.
France
Italy
Spain
Russia
Rest of Europe

Asia-Pacific (APAC)

China
Japan
India
South Korea
Rest of Asia-Pacific

Rest of the World (RoW)

Brazil
Saudi Arabia
South Africa
U.A.E.
Other Countries