Industry Overview
According to market research, the worldwide retail automation industry is expected to experience robust growth in the coming years. Specifically, the market is projected to expand from $13.56 billion in 2022 to $28 billion by 2030, at a compound annual growth rate (CAGR) of 11.5% from 2023 to 2030.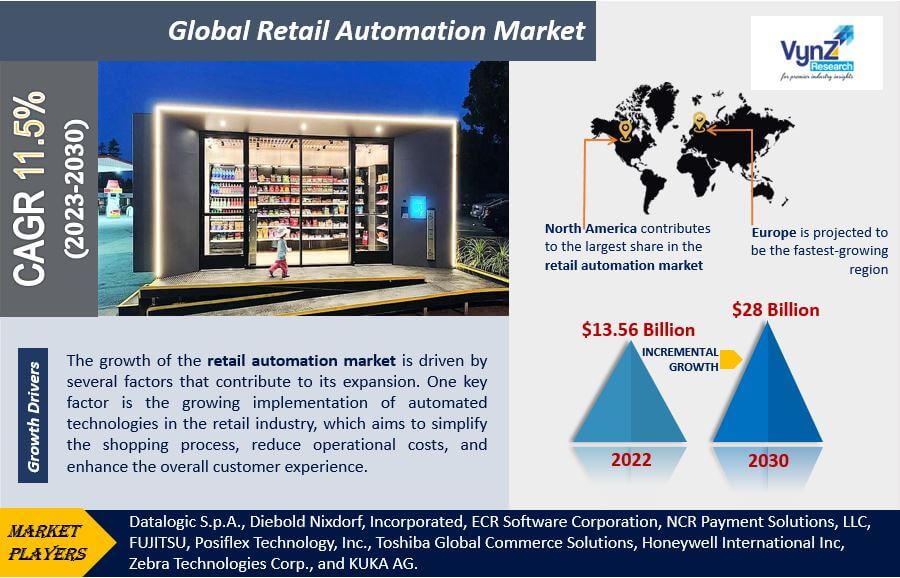 The use of automation technology, tools, and procedures to carry out various retail tasks and have efficient operational processes that enhance customer experience is referred to as retail automation. The advantages offered by retail automation include less cost, high accuracy, increased speed, and high-quality performance for customers in the retail sector, thus propelling the growth of the retail automation market. Retail automation brings together smart devices and technology to provide clients with high-quality services while also improving business processes. There are also various solutions that help to optimize the workflow of several departments including employee management, marketing, and human resources. Retailers may expand their sales channels, inventory, and customer reach through automation, while manual processes take longer and rely on humans. It is used to ensure the smooth and efficient operation of hypermarkets, supermarkets, gas stations, department shops, quick-service restaurants (QSR), and healthcare retail pharmacies. There is an increased demand for automated products that improve efficiency and increased demand for PoS systems owing to their convenience, transparency as a result of automation is the main driver for the growth of the retail automation market. Thus, retail automation provides ease and flexibility in offering innovative solutions to customers and retailers.
The COVID-19 epidemic has prompted retailers to take preventive steps, resulting in the closure of a number of stores. Retailers and major luxury brands, for example, have been confronting short-term issues in areas such as sustaining revenues, health and safety, supply chain management, labor shortages, and pricing. People remaining at home has led to an upsurge in online shopping and bulk buying of items as a result of governments around the world enacting quarantines to stop the spread of COVID-19.   This has put a lot of strain on the supply chain. As a result, retailers have been looking to use AI and smart analytics to ensure a sustainable supply chain.
Market Segmentation
Insight by Type
Based on type, the global retail automation market is segmented into POS terminal, self-checkout system, interactive kiosk, camera, RFID and barcode, electronic shelf labels (ESL), autonomous storage and retrieval system (ASRS), automated conveyor, and warehouse robotics. The RFID and barcode are anticipated to contribute to the largest share in the market. Retailers can compete with online merchants due to RFID technology's ability to conduct regular inventory inspections, which leads to inventory accuracy. Retailers must be confident in their inventory status, including precise data such as color and size level, in order to run a profitable business. Self-checkout terminals are anticipated to grow significantly owing to the benefits offered to retailers and enhanced customer experience. These terminals are widely employed in home improvement stores, convenience stores, mass merchants/hypermarkets, and supermarkets and have high consumer acceptability
Insight by Implementation
Based on the implementation, the global retail automation market is segmented into in-store premises and on-warehouse. The in-store segment is anticipated to have a high CAGR during 2023-2030 as there is an increased number of physical stores in emerging economies. The emerging economies are densely populated, and the majority of people choose to buy everyday necessities from stores since they are convenient. As a result, despite the expansion of e-commerce, some visitors still choose to shop in physical stores. The retail industry's increasing technologies will have an impact on bringing more people into physical locations. Businesses are incorporating automated technologies into physical stores because of their benefits. As a result of all of these factors, the retail automation market for in-stores is expected to develop in the future years.
Insight by End User
Based on end-user, the global retail automation market is fragmented into hypermarkets, supermarkets, single-item stores, fuel stations, and retail pharmacies. The single-item stores are further segregated into apparel, consumer electronics, gadgets, quick-service restaurant, and automotive. The single-item stores are anticipated to have a high CAGR during the forecast period 2023-2030. These stores provide specific categories of products. Electronic shelves labeling (ESL) allows businesses to modify product pricing quickly and maintain inventory of their products, reducing losses while also saving time and effort for their employees. Single-item retailers are implementing various automated technologies to improve operational efficiency, improve customer experience, and meet the needs of their customers. The supermarket is anticipated to have substantial growth during 2021-2027 owing to the mounting trend to leverage automation in the retail sector and respond to the increasing demand from consumers along with reducing labor costs.
Retail Automation Market Report Coverage
| | |
| --- | --- |
| Report Metric | Details |
| Historical Period | 2018–2022 |
| Base Year Considered | 2022 |
| Forecast Period | 2023-2030 |
| Market Size in 2022 | $13.56 Billion |
| Revenue Forecast in 2030 | $28 Billion |
| Growth Rate | CAGR 11.5% |
| Segments Covered in the Report | By Type, By Implementation, and By End-User |
| Report Scope | Market Trends, Drivers, and Restraints; Revenue Estimation and Forecast; Segmentation Analysis; Impact of COVID-19; Companies' Strategic Developments; Market Share Analysis of Key Players; Company Profiling |
| Regions Covered in the Report | North America, Europe, Asia-Pacific, Middle East, and Rest of the World |
Industry Dynamics
Industry Trends
The rising trend to use smartphones and improved internet connectivity along with increased penetration of IoT will offer direct controls for improved M2M communication, thereby providing development in retail automation systems.
Growth Drivers
The growth of the retail automation market is driven by several factors that contribute to its expansion. One key factor is the growing implementation of automated technologies in the retail industry, which aims to simplify the shopping process, reduce operational costs, and enhance the overall customer experience. By adopting retail automation, businesses can benefit from real-time information flow across critical systems and the ability to perform traditional transaction functions at point-of-sale (PoS) terminals. Effective store management becomes possible, minimizing risks and ensuring product availability to avoid out-of-stock situations. Additionally, interactive kiosks and self-checkout systems improve customer service. The market growth is further supported by significant investments in automation products and services, as well as the increasing use of responsive point-of-sale systems. Moreover, the demand for quick and efficient service, driven by local retail and consumer response, contributes to the expansion of the retail automation market. With a global focus on optimizing business processes, retailers are embracing digitalization to streamline workflows, increase transparency, and enhance supply chain visibility. This widespread adoption of digitalization is expected to drive the growth of the global retail automation market.
Challenges
The increased enslavement over electricity and maintaining an eye over kiosks will pose a challenge in the growth of the global retail automation market. Furthermore, the massive capital investment, high hardware failure rates, massive reliance on the internet and connectivity, and rising number of online stores will further hamper the growth of the market. it's difficult to secure kiosks and vending machines from damage and theft, and there's usually no provision for a protective enclosure surrounding the kiosk during non-working hours. Thefts and damages can result in significant losses for businesses, which is a significant challenge for retailers in this industry.
Opportunities
Emerging economies are increasingly adopting retail automation technologies along with the implementation of augmented reality and virtual reality in the retail sector, as well as the development of new retail automation solutions, which will create lucrative opportunities during the forecast period for the retail automation industry. Furthermore, growth in research and development activities to proliferate virtual marketing scope in the retail sector will create opportunities in the market.
Geographic Overview
North America contributes to the largest share in the retail automation market owing to the increased demand for highly sophisticated retail service, developed technology, well-established infrastructure, economic progress, and increased purchasing power of consumers will drive the growth in the region.
Europe is projected to be the fastest-growing region as there are many retail chains and multiple product lines driving the growth in Europe.
Competitive Insight
Retailers are adopting a combination of mobile devices, self-checkout systems, digital kiosks, proximity beacons, and labor and task management solutions to stay competitive in the market, resulting in gaining traction in automation. The increased awareness and prominence of retail automation are encouraging companies to invest in research and development so to develop better, more efficient, and cost-effective products. Manufacturers are investing heavily in the development of new products in order to improve the customer experience. The competition is intense in the retail automation market. The existing industry players are making a huge investment in R&D activities and further expanding to maximize their share and prevent new entrants from entering the market. The industry players are initiating strategies like novel product development and continuous up-gradation of existing products will provide opportunities to increase profitability and enhance consumer relationships.
Datalogic is a prominent technological leader in the automatic data capture and factory automation markets, specializing in barcode readers, mobile computers, detection, measurement, and safety sensors, RFID, vision, and laser marking systems. Its innovative solutions assist to improve the efficiency and quality of processes across the entire value chain in the retail, manufacturing, transportation & logistics, and healthcare industries. Datalogic delivers new products, technologies, and solutions for Mobile Computers, Handheld Scanners, and Fixed Retail Scanners to RETAILTECH JAPAN 2021, maintaining its leadership role in the delivery of data-driven retail solutions. Some of its solutions includes Memor Series, Magellan 1500i, Magellan 3450 VSi, Gryphon I GD4500, Heron HD3430, RIDA DBT6400, among others.
Toshiba has one of the prominent market shares in retail store technology in the world. Their breakthrough commerce technology improves customer interaction, transforms the in-store experience, and drives digital transformation as retail's first option for integrated in-store solutions. Toshiba's expertise in applying machine learning and intelligence to the checkout process in its 2,200 locations will boost customer satisfaction and increase consumer trust.
In May 2021, Diebold Nixdorf, a global pioneer in enabling linked commerce in the retail and banking industries, has expanded its strategic partnership with bp to offer a comprehensive solution that includes hardware, software, and managed services.
NCR Corp., which provides a point-of-sale (POS) technology, purchased Freshop, an eCommerce company, in January 2021. Retailers, particularly regional and small supermarket chains, will be able to quickly install 'buy-online, pick-up-in-store' capabilities to directly satisfy their consumers' demands due to the merged companies' products.
Some of the major industry players in the global retail automation industry include Datalogic S.p.A., Diebold Nixdorf, Incorporated, ECR Software Corporation, NCR Payment Solutions, LLC, FUJITSU, Posiflex Technology, Inc., Toshiba Global Commerce Solutions, Honeywell International Inc, Zebra Technologies Corp., and KUKA AG.
The Retail Automation Market research includes a comprehensive market segmentation analysis as well as projections for the analysis period 2023-2030.
Segments Covered in the Report
By Type

POS Terminal
Self-Checkout System
Interactive Kiosk
Camera
RFID and Barcode
Electronic Shelf Labels (ESL)
Autonomous Storage and Retrieval System (ASRS)
Automated Conveyor
Warehouse Robotics

By Implementation

In-Store Premises
On-Warehouse

By End User

Hypermarkets
Supermarkets
Single-Item Stores
Fuel Stations
Retail Pharmacies
Region Covered in the Report
North America
Europe

Germany
U.K.
France
Italy
Spain
Russia
Rest of Europe

Asia-Pacific (APAC)

China
Japan
India
South Korea
Rest of Asia-Pacific

Rest of the World (RoW)

Brazil
Saudi Arabia
South Africa
U.A.E.
Other Countries