Industry Overview
The global automated storage and retrieval (ASRS) market size was USD 9.1 billion in 2022 to USD 15.4 billion by 2030, registering a CAGR of 7.9% during the forecast period.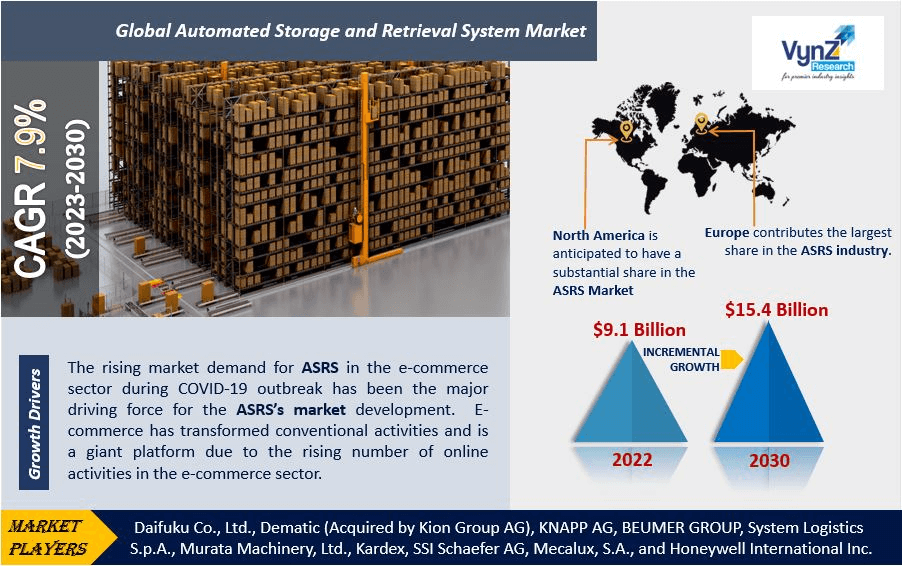 Automated Storage and Retrieval Systems (ASRS) play a crucial role in inventory management across manufacturing plants, distribution centers, and warehouses. These systems utilize computer-controlled devices to autonomously transfer loads from one location to another. As businesses strive to enhance their manufacturing capacities, deliver superior customer service, manage processes effectively, and produce high-quality products, they are increasingly embracing automation technologies. Consequently, ASRS systems have become a popular choice for the efficient, accurate, dependable, and cost-effective movement of high-volume cargos between different locations.
The ASRS market is witnessing significant growth due to various factors. Firstly, there is a rising demand for swift, precise, and efficient fulfillment in the realm of in-store retailing. Additionally, continuous technological advancements in ASRS, supported by state-of-the-art sensor technology, are fueling the market's expansion. Moreover, the increasing adoption of industrial automation and the investment capabilities of industrial users in emerging economies are further contributing to the growth of this market.
Industry Trends
The market is growing as a result of the positive support from local governments that are concentrating on enhancing digital infrastructure, growing demand for high-efficiency storage systems, rising order velocity and volume of the e-commerce sector, rising ASRS deployment by SMEs, and growing need to minimise human interaction and interaction errors. These are the trends prevalent in the ASRS industry.
Market Segmentation
Insight by Load
Unit Load ASRS

Fixed-Aisle ASRS
Movable-Aisle ASRS

Mid Load ASRS
Mini Load ASRS
The unit load is anticipated to contribute the largest share in the global automated storage and retrieval system market due to its precise, secure, and reliable handling of large objects, limited warehouse space, rising demand to overcome shipping deadlines during peak times, and rising need to improve business proficiency. Thus, the unit load automated storage retrieval systems are widely employed in the automotive, food & beverage, chemical, e-commerce, semiconductors & electronics, and healthcare industries.
Insight by Type
Vertical Lift Modules (VLM)
Carousel

Horizontal Carousel
Vertical Carousel

Crane-Based
Vertical Buffer Modules
Floor Robots
Robotic Shuttles
Floor Robots dominate the global automated storage and retrieval system market owing to mounting adoption in the e-commerce industry, mounting demand for industrial automation, surging focus to improve warehouse floor utilization, rising need to fulfil order operations effectively, and optimize supply chain management.
Insight by Application
Storage
Order Picking
Kitting
Buffering
Others
Storage segment is expected to contribute the largest market share in the global automated storage and retrieval system market owing to increased demand for precise and fast storage systems, rapid growth in online shopping, rising need to reduce damage to goods and workplace accidents, rising adoption of novel storage solutions, and increased need for automated cold chain storage for essential healthcare supplies and minimize goods damage in transit.
Insight by End-Use Vertical
Semiconductor & Electronics
Automotive
Retail and Warehousing
General Manufacturing
Chemical, Rubber and Plastics
Aviation
Food and Beverage
Healthcare and Pharma
Postal and Parcel
Others
Automotive end-use vertical contributes the largest share in the global automated storage and retrieval system market owing to increased emphasis on Industry 4.0 and smart factories, favorable support from government to revive automotive industry amidst COVID-19 pandemic, dearth of skilled workforce, especially in developing countries, and need to reduce dependency on third-party logistic providers.
The healthcare & pharma segment is anticipated to grow at the fastest rate during the forecast period due to a surge in investments in healthcare infrastructure, increased focus on reducing hospital operating costs, enhancing patient response times, and strict government mandates to comply with regulations for maintaining a optimum healthcare sector.
Global Automated Storage and Retrieval System Market Report Coverage
| | |
| --- | --- |
| Report Metric | Details |
| Historical Period | 2018–2022 |
| Base Year Considered | 2022 |
| Forecast Period | By 2030 |
| Market Size in 2022 | $9.1 Billion |
| Revenue Forecast in 2030 | $15.4 Billion |
| Growth Rate | CAGR 7.9% |
| Segments Covered in the Report | By Load, By Type, By Application, and By End Use Vertical |
| Report Scope | Market Trends, Drivers, and Restraints; Revenue Estimation and Forecast; Segmentation Analysis; Impact of COVID-19; Companies' Strategic Developments; Market Share Analysis of Key Players; Company Profiling |
| Regions Covered in the Report | North America, Europe, Asia-Pacific, Middle East, and Rest of the World |
Industry Dynamics
Growth Drivers
Surge in the E-Commerce Sector during the Outbreak of Coronavirus
The surge in ASRS market development can be attributed to the growing demand for automated storage and retrieval systems in the e-commerce sector, particularly during the COVID-19 outbreak. The e-commerce industry has witnessed a remarkable transformation, becoming a dominant platform fueled by the increasing number of online activities. This rapid expansion is primarily driven by the rise in both business-to-business (B2B) and business-to-consumer (B2C) activities within the e-commerce sector.
The adoption of shuttles or mini loads that assist in carrying a tote or case to a goods-to-operator (GTO) picking station is the most appropriate and competent technique to handle orders. The operator-to-goods (OTG) principle, which requires the operator to travel in order to obtain the product, is used by many distribution centres. Typically, ASRS is a shuttle or mini-load system that may deliver goods automatically to the operators.
 The Automated Storage and Retrieval System (ASRS) eliminates travel time, thereby increasing efficiency by 30% in a crowded batch-pick environment and by up to 70% or more in a sizable distribution center when picking single orders over long distances. As a result, it makes it easier for e-commerce businesses to effectively fulfill rising consumer demand, which in turn spurs ASRS market expansion.
Mounting Need to Ensure Effective Supply Chain in Industries will Drive Growth of ASRS Market
The increased digitalization in several industry verticals along with rising production is compelling organizations to rely on machines for improved productivity and accuracy. The automated and programmed machinery are playing a significant role in reducing cost and time and offer additional features of security, monitoring, and control. The supply chain also plays an important role and provides a competitive edge to the companies. In order to serve customers effectively, several industry verticals, including those in the automotive, food and beverage, electronics and semiconductors, e-commerce, chemicals, aerospace, retail, and pharmaceuticals, are assuring a solid supply chain. The operational flow of the supply chain is supported by an automated storage and retrieval system in the initial stages. In order to boost efficiency, ASRS is used in applications for inventory management and slow- to medium-moving order fulfilment. Therefore, the use of automated storage and retrieval systems across enterprises is being driven by increased need for effective supply chain implementations.
Additionally, the growing adoption of automation solutions in various industrial processes and the expanding investment capacity by key companies will contribute to the growth of the ASRS sector. Additionally, the availability of supportive government policies for SMEs, the expansion of infrastructure, and the increasing use of the Automated Storage and Retrieval System (ASRS) are all contributing to the market demand for ASRS industry during the anticipated time.
Challenges
Usage of ASRS systems is constrained by the high initial cost
Although ASRS is a very profitable automation system for use in warehouses, its initial installation involves a substantial financial outlay. Racks, automated systems, and software must all be installed in order to implement ASRS. This entire system is really expensive. This system needs to be set up accurately, which necessitates specialised work. Additionally, businesses frequently incur high ongoing costs for maintaining and updating several subsystems. For small and medium-sized businesses, it is challenging to make such substantial investments.
Furthermore, the hesitation to implement automated technologies, especially in developing nations and difficulty in customising them after installation in rapidly evolving manufacturing sectors may further pose challenge in the market growth.
Opportunities
The automated storage and retrieval system market is anticipated to see significant growth opportunities due to the increased awareness of ASRS in sectors like automotive and electronics, where precision and accuracy play a significant role and use automated systems to meet international quality standards.
Moreover, for deep-freeze warehouse automation at its coldest (28°C), the most recent version of ASRS for cold chain systems offers a versatile and adaptable architecture with multi-load remote pallet handling capability. This particular ASRS enables quick setup to the appropriate storage and retrieval requirements for virtually any application.
Geographic Overview
North America
Europe
Asia Pacific (APAC)
Rest of the World (RoW)
Europe contributes the largest share in the ASRS industry. The primary drivers of the European market are the extensive implementation of automation technology, supportive infrastructure, growing adoption of Industry 4.0, thriving e-commerce industry, and substantial presence of automotive firms.
North America is anticipated to have a substantial share in the automated storage and retrieval system market owing to presence of prominent industry players like Amazon Web Services, IBM, Microsoft Corporation, etc. along with the adoption of big data analytics to improve consumer target marketing and risk management capabilities, thus accelerating the market growth of ASRS industry in the region.
Competitive Insight
The market for automated storage and retrieval systems is fragmented with major companies. Additionally, suppliers offer a broad range of products that are tailored to the region's consumer needs. The producers of automated storage & retrieval systems want to create automated storage & retrieval systems with enhanced performance, maximize storage capacity, less energy costs, increased inventory accuracy, and improved customer service. To improve their market positioning, the ASRS players have used a variety of organic and inorganic growth approaches, including new launches, product developments, collaborations, and acquisitions.
One of the prominent supplier of automated material handling solutions worldwide is offered by Daifuku. High-density pallet storage, high-speed operation, and versatility enable Daifuku's Unitload AS/RS the best-selling automated storage and retrieval system globally. Shuttle Rack D3 is an automated warehouse that is perfect for the efficient storage of large-lot goods and raw materials, like food, beverages, and chemicals, that were traditionally stored flat or stacked on warehouse floors. A quick, vehicle-type AS/RS called "Shuttle Rack M" from Daifuku is intended to perform interim storage, sorting, and sequencing. Containers, trays, cases, and other tiny loads can be stored and retrieved quickly and effectively with Daifuku's Miniload Automated Storage and Retrieval System (Miniload AS/RS).
Modern materials handling systems can benefit greatly from Dematic RapidStore solutions. The connection between bulk reserve storage and online buffer storage is quick, effective, and economical because stock is automatically received, stored, and retrieved. Dematic Multishuttle, Mini Load AS/RS, Autostore, Unit Load AS/RS, and Racking and Shelving are among the system types they use.
Recent Development by Key Players
In May 2022, The FAM GmbH, Magdeburg, a supplier of conveying systems and loading technology, has been acquired by The BEUMER Group, Beckum, a major international manufacturer of intralogistics systems in the field of palletizing and packaging technology, conveying and loading systems, and sorting and distribution systems. The market position of the BEUMER Group in the large equipment industry is also greatly strengthened as a result of it.
In August 2021, the contract to automate a new section of ZF Foton's warehouse in Jiaxing, Zhejiang province, China, was given to SSI SCHAEFER. A miniload with storage and retrieval devices, a modernized bin conveying system, and a logistics software WCS system are included in the scope of supply and services. The warehouse's working capacities, storage volume optimization, and picking efficiency will be improved.
Key Players Covered in the Report
Some of the key industry players in the ASRS Industry include Daifuku Co., Ltd., Dematic (Acquired by Kion Group AG), KNAPP AG, BEUMER GROUP, System Logistics S.p.A., Murata Machinery, Ltd., Kardex, SSI Schaefer AG, Mecalux, S.A., and Honeywell International Inc.
The Automated Storage and Retrieval System Market research includes a comprehensive market segmentation analysis as well as projections for the analysis period 2023-2030.
Segments Covered in the Report
By Load

Unit Load ASRS
Fixed-Aisle ASRS
Movable-Aisle ASRS
Mid Load ASRS
Mini Load ASRS

By Type

Vertical Lift Modules (VLM)
Carousel
Horizontal Carousel
Vertical Carousel
Crane-Based
Vertical Buffer Modules
Floor Robots
Robotic Shuttles

By Application

Storage
Order Picking
Kitting
Buffering
Others

By End Use Vertical

Semiconductor & Electronics
Automotive
Retail and Warehousing
General Manufacturing
Chemical, Rubber and Plastics
Aviation
Food and Beverage
Healthcare and Pharma
Postal and Parcel
Others
Region Covered in the Report
North America
Europe

Germany
U.K.
France
Italy
Spain
Russia
Rest of Europe

Asia-Pacific (APAC)

China
Japan
India
South Korea
Rest of Asia-Pacific

Rest of the World (RoW)

Brazil
Saudi Arabia
South Africa
U.A.E.
Other Countries

To explore more about this report - Request a free sample copy