Industry Overview
Silicon Photonics is an emerging field of research that uses photonic systems to process, transform, generate, and transmit data more quickly within computer chips. Silicon Photonics is growing at a healthy rate since it is less expensive and uses less energy. From USD 1.3 billion in 2021, the global silicon photonics market size is anticipated to grow to USD 4.8 billion by 2027, witnessing a CAGR of 26.9% during the forecast period 2021-2027.  Silicon photonic waveguides, silicon optical modulators, silicon optical interconnects, silicon LEDs, and silicon photodetectors are some of the products in the market. Furthermore, the extensive adoption of silicon photonics in several industries like healthcare, military & defense, and metrology will propel the growth of the market.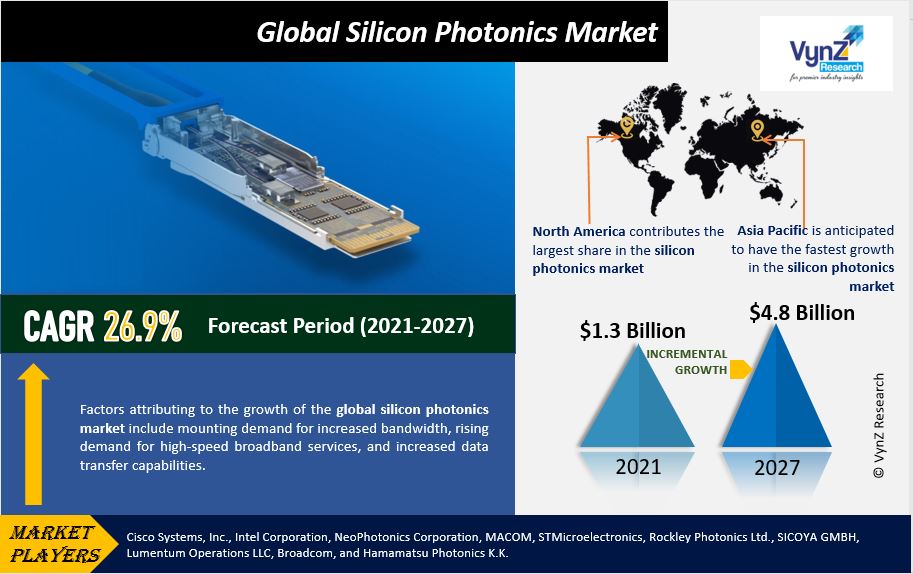 The COVID-19 pandemic has had an impact on almost all industries globally owing to stringent lockdown measures and social distancing norms so as to curtail the spread of coronavirus. Also, the economic crisis that followed the epidemic could cause a major delay in the commercial roll-out of networking components, causing significant disruption in the supply chain. There was a decline in income of small and medium-sized businesses which are considered to be the backbone of the technological industry. Thus, industry players are facing several limitations in the supply chain.
Market Segmentation
Insight by Product
On the basis of product, the global silicon photonics market is segregated into transceiver, variable optical attenuator, switch, cable, and sensor. The transceiver category dominates the silicon photonics market owing to its compact form, delivers high-speed performance in an optical communication system, and offers low power consumption capability.
Insight by Component
On the basis of component, the global silicon photonics market is bifurcated into active components and passive components. The passive component is further divided into the optical waveguide, splitters, and isolators. The active component is further divided into the laser, optical modulators, photodetectors, and others. The laser segment is anticipated to contribute the largest share in the market owing to advancements in hybris silicon and tunable lasers. The market players can develop electrically powered lasers on a Silicon wafer that can be integrated with other photonic devices using a hybrid technique. This will expand their usage in numerous data centers and telecommunication applications, allowing countries like the United States, the United Kingdom, and France to increase network capacity. Companies are also embracing tunable lasers that use high-performance silicon photonics to meet the demanding needs of next-generation coherent optics. Compact tunable lasers also promise exceptional performance in developing applications like biomedical OCT and autonomous car LiDAR.
Insight by Application
The global photonics market is divided into several categories based on application: data center & high-performance computing, telecommunication, military, defense, and aerospace, medical and life sciences, and sensing. Data Center and high-performance computing category is anticipated to hold the largest share in the market owing to the rising data center traffic, the surge in requirement of increased energy-efficient transmission, increased bandwidth capacity, and mounting volume of the global network will fuel the growth of the segment.
Silicon Photonics Market Report Coverage
| | |
| --- | --- |
| Report Metric | Details |
| Historical Period | 2015–2020 |
| Base Year Considered | 2021 |
| Forecast Period | 2021-2027 |
| Market Size in 2021 | $1.3 Billion |
| Revenue Forecast in 2027 | $4.8 Billion |
| Growth Rate | CAGR 26.9% |
| Segments Covered in the Report | By Product, By Component, and By Application |
| Report Scope | Market Trends, Drivers, and Restraints; Revenue Estimation and Forecast; Segmentation Analysis; Impact of COVID-19; Companies' Strategic Developments; Market Share Analysis of Key Players; Company Profiling |
| Regions Covered in the Report | North America, Europe, Asia-Pacific, Middle East, and Rest of the World |
Industry Dynamics
Industry Trends
Silicon photonics has propelled the growth of big data analytics and cloud computing to their maximum potential by avoiding data traffic congestion in a wide range of communications and computing applications. Furthermore, the advent of novel technologies like the Internet of Things (IoT), artificial intelligence (AI), augmented reality/ virtual reality (AR/VR), consumer-generated video, connected devices, cloud computing, and other high-performance computing applications have sparked the need for high data transfer capabilities to accumulate, manage, store, and access rapidly growing unstructured data. In addition, the development of "Industry 4.0" has aided the development of industrial automation owing to factors like decreasing robotics prices, readily-available skills, ease of integration, and new capabilities.
Furthermore, with the rapid spread of COVID-19 in 2020, due to the increased adoption of work-from-home culture and increased e-learning activities, there has been a growing market for high-speed internet services. These data-intensive applications have increased the demand for high-speed broadband services, which in turn has increased the demand for silicon photonics technology.
Growth Drivers
Factors attributing to the growth of the global photonics market include mounting demand for increased bandwidth, rising demand for high-speed broadband services, and increased data transfer capabilities. Furthermore, the surge in the adoption of automated manufacturing practices and advancements in silicon photonics technology will accelerate the growth of the industry. Several benefits associated with silicon photonics include reduced operating cost, lower environmental footprint, less heating of components, increased integration, increased reliability, reduced error rate, and high spectral efficacy.
With the increased demand for new safety technologies like optimum vision in automobiles, silicon photonics technology is also making its way into the automotive sector. Market leaders are constantly concentrating on integrating novel technologies into LiDAR chips in order to expand their automotive business potential.
Challenges
The increased risk of thermal effect, implantation of silicon photonics components  in small circuits, unproductive electroluminescence of bulky crystalline silicon, and complexity in integration of on-chip laser will pose challenge in the growth of silicon photonics market. Future developments, such as the vertical-cavity surface-emitting laser (VCSEL), are expected to limit the market's growth. Furthermore, the market is challenged with severe hurdles like high market volume and technical mismatches, both of which are anticipated to stymie the silicon photonics Market's growth.
Opportunities
The increased deployment of 5G networks and rising demand in telecom and data communication will create tremendous opportunities in the global silicon photonics market due to rapid security offerings which can be customized. Also, the surging demand for active optical cables, optical attenuators, optical multiplexers will create massive opportunities in the global silicon photonics market outlook.
Geographic Overview
North America contributes the largest share in the silicon photonics market owing to its well-established telecom infrastructure, increased demand for high-performance, reduced cost, and customized components in life sciences, telecommunication, etc. will bolster the growth in the region.
Asia Pacific is anticipated to have the fastest growth in the silicon photonics market owing to the rising number of 5G deployment projects, massive investment in R&D activities of the telecom industry, and favorable initiatives by the government.
Competitive Insight
The market players are emphasizing innovations and R&D activities to have a competitive edge in the market. Furthermore, the industry players are entering into M&A, joint ventures, and partnerships along with developing a new product line, innovating existing products, and expanding their customer base in emerging economies so as to sustain themselves in the silicon photonics market.
Intel, one of the prominent leaders in silicon photonics, enables future data center bandwidth growth and next-generation 5G deployments with smaller form factors and greater speeds and is also introducing new optical integration platforms.  By eliminating networking inefficiencies that might result in stranded compute capacity, this novel solution lowers the total cost of ownership and improves the performance of data center systems. Silicon Photonics contributes by Providing software-configurable, high-bandwidth access to computation and storage,  and allows disaggregated data centers to use Software Defined Infrastructure (SDI)so as to decouple hardware and software resources.
Rockley is a leading developer and module supplier of integrated photonics chipsets, high-volume sensor, and communication systems. Light sources, active devices, passive devices, and optical coupling elements can all be integrated into a single silicon device using the Rockley development platform. Wearable devices with photonic integrated circuits (PICs) have lower costs, lower power consumption, and smaller sizes. Rockley Photonics is developing groundbreaking sensors in collaboration with VTT and bringing them to market.
In March 2022, NeoPhotonics Corporation, one of the prominent developers of silicon photonics and advanced hybrid photonic integrated circuit-based lasers, modules, and subsystems for bandwidth-intensive, high-speed communications networks, confirmed that it has demonstrated 120Gbaud operation in applications ranging from 800G LR transmission to 400G long haul transmission using its Indium Phosphide-based Coherent Receiver and Coherent Modulators, in combination with Distributed Feedback Lasers or Ultra-Narrow Linewidth Tunable Lasers.
In December 2021, The Intel® Research Center for Integrated Photonics for Data Center Interconnects was recently opened by Intel Labs. The objective of the center is to accelerate optical input/output (I/O) technological innovation in performance scaling and integration, with an emphasis on photonics technology and devices, CMOS circuits and link design, package integration, and fiber coupling. Intel Silicon Photonics Products include Intel® Silicon Photonics 100G PSM4 Optical Transceiver, Intel® Silicon Photonics 100G CWDM4 Optical Transceiver, Intel® Silicon Photonics 100G CWDM4 QSFP28 Optical Transceiver with Extended Temperature, Intel® 100G SR4 QSFP28 Optical Transceiver, etc.
Some of the industry players in the global silicon photonics market include Cisco Systems, Inc., Intel Corporation, NeoPhotonics Corporation, MACOM, STMicroelectronics, Rockley Photonics Ltd., SICOYA GMBH, Lumentum Operations LLC, Broadcom, and Hamamatsu Photonics K.K.
The silicon photonics market research includes a comprehensive market segmentation analysis as well as projections for the analysis period 2021-2027.
Segments Covered in the Report
By Product

Transceiver
Variable Optical Attenuator
Switch
Cable
Sensor

By Component

Active Components
Passive Components

By Application  

Data Center & High-Performance Computing
Telecommunication
Military
Defense
Aerospace
Medical and Life Sciences
Sensing
Region Covered in the Report
North America
Europe

Germany
U.K.
France
Italy
Spain
Russia
Rest of Europe

Asia-Pacific (APAC)

China
Japan
India
South Korea
Rest of Asia-Pacific

Rest of the World (RoW)

Brazil
Saudi Arabia
South Africa
U.A.E.
Other Countries

To explore more about this report - Request a free sample copy