Industry Overview
The global temperature sensor market size is expected to reach USD 11.5 billion by 2030 from USD 7.2 billion in 2021, registering a CAGR of 5% during the forecast period 2022-2030. A thermocouple or RTD used to monitor temperature or heat using an electrical signal is referred to as a temperature sensor. A thermocouple, which senses temperature and is composed of two different metals, produces an electrical voltage that is directly proportional to a change in temperature. When the temperature varies from one area of a circuit to another, a voltage is created.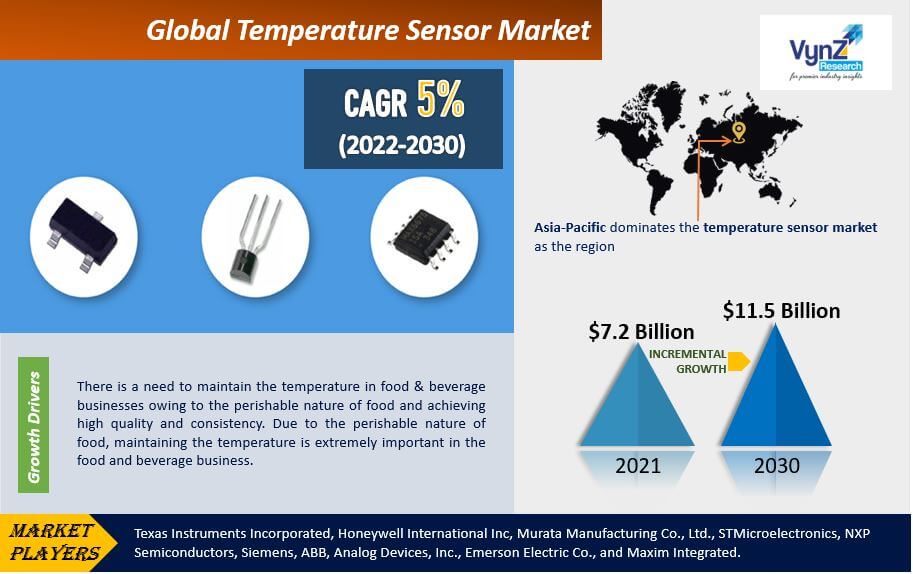 Such sensors are essential for a number of purposes, including preserving a specific temperature range for equipment used to hold medical drugs, clean other machinery, or fabricate heat liquids. Due to the increased demand for temperature sensors, temperature sensor manufacturers make these sensors to increase their profitability. Thus, the use of temperature sensors has grown in a variety of industries, including the automotive, metal manufacturing, petrochemical, automation and instrumentation, and defense and aerospace industries.
Industry Trends
The increasing trend for the development of portable and desktop computers will support the growth of temperature sensors. The advent of IoT and IIoT as a result of digitalization in electronics has further driven the development of temperature sensors. Additionally, the digital revolution in the sensing sector has made it easier for manufacturers to create new temperature sensors using low-interface digital technology.
IoT connectivity is being used by Temperature Sensors to expedite COVID-19 screening. The sensors swiftly screen persons with a high fever, one of the most prevalent signs of COVID-19, and provide frontline healthcare personnel with real-time data.
Market Segmentation
Insight by Product Type
Contact Temperature Sensors

Thermocouples
Resistive Temperature Detectors
Thermistors
Temperature Sensor ICs
Bimetallic Temperature Sensors

Non-Contact Temperature Sensors

Infrared Temperature Sensors
Fiber Optic Temperature Sensors
From 2022 to 2028, the non-contact temperature sensors market is expected to grow faster than the contact temperature sensors market. This is because non-contact temperature sensors can measure an object's surface temperature without making physical contact with it. These temperature sensors are typically employed for small, portable, and hard-to-reach objects, sources, and gadgets.
Insight by Output
Digital output dominate the temperature sensor market during the analysis period owing to increased deployment in aerospace, medical, test and measurement equipment, home automation, and industrial and automation. Moreover, the increased use of fitness wearables among people and suitability for remote applications will drive the digital temperature sensor market.
Insight by Connectivity
The wireless temperature sensor is anticipated to have a high CAGR during the forecast period in the global temperature sensor market. The increased adoption of wireless temperature sensors in industries owing to non-contact measurement capability to reach locations where it is not viable to physically install a device. Examples of applications in the oil and gas industry where temperature measurements are crucial include compressors, wellhead tanks, chemical tanks, flare systems, and pipeline data collection. This is because installing a wired device inside a tank or a pipe would be ineffective if the operating temperature was high.
Insight by End-Use Industry
Automotive
Chemicals
Oil & Gas
Metals & Mining
Consumer Electronics
Aerospace & Defense
Energy & Power
Healthcare
Food & Beverages
Pulp & Paper
Others
Consumer electronics segment dominates the global temperature sensor market owing to increased adoption of wearables like fitness trackers, surge in demand for smart homes, smart phones, tablets, PCs, laptops, etc., rising demand for smart meters for power generation, surge in demand for portable game consoles, etc. will propel the segment growth in the temperature sensor market. Because of this, there is an increasing need for devices with built-in temperature sensors that can properly monitor temperature without adding complexity.
MRI machines, thermometers, and diagnostics imaging equipment with built-in temperature sensors are all in high demand in the healthcare sector. As a result, it is projected that the healthcare sector will drive the market for temperature sensors. The surging demand for wearable healthcare devices will propel the market demand for temperature sensors.
Temperature Sensor Market Report Coverage
| | |
| --- | --- |
| Report Metric | Details |
| Historical Period | 2018–2021 |
| Base Year Considered | 2021 |
| Forecast Period | By 2030 |
| Market Size in 2021 | $7.2 Billion |
| Revenue Forecast in 2030 | $11.5 Billion |
| Growth Rate | CAGR 5% |
| Segments Covered in the Report | By Product Type, By Output, By Connectivity, and By End-Use Industry  |
| Report Scope | Market Trends, Drivers, and Restraints; Revenue Estimation and Forecast; Segmentation Analysis; Impact of COVID-19; Companies' Strategic Developments; Market Share Analysis of Key Players; Company Profiling |
| Regions Covered in the Report | North America, Europe, Asia-Pacific, Middle East, and Rest of the World |
Industry Dynamics
Growth Drivers
Temperature Sensor Market to Be Driven by Rapid Deployment of Thermal Sensors in Several Industry Verticals
There is a need to maintain the temperature in food & beverage businesses owing to the perishable nature of food and achieving high quality and consistency. Due to the perishable nature of food, maintaining the temperature is extremely important in the food and beverage business. Temperature sensors are employed at many stages from the warehouse to retail stores so as to regulate the temperature and maintain food quality because automated temperature monitoring and control aid to keep food safely throughout storage, food transit, and food storage.
Temperature sensors are also being used more frequently in home and building automation as they provide information to smart devices about their surroundings. The major sensor utilised in home and building automation is the thermal sensor. In order to maintain and regulate the temperature automatically, these sensors include fire alarm detection systems, HVAC, and lighting control systems.
The need for temperature sensors in the healthcare sector is being driven by an increase in the use of thermal sensors in digital measuring systems and patient monitoring systems. The need for temperature sensors is predicted to rise as this sensor is used more frequently.
Moreover, the increased government regulations about the use of temperature sensors in applications so as to avoid overheating issues will promote the market growth of temperature sensors. The market expansion for temperature sensors will be driven by the rising demand for temperature sensors that are integrated into products like smartphones, wearable bands, patient monitoring devices, etc. in the consumer electronics and healthcare sectors. There is increased prominence of temperature sensors in developed and portable healthcare equipment, rising demand in the automotive sector, and a surge in the adoption of home and building automation systems.
Challenges
Design Obstacles
The process of designing temperature sensors is mostly preventing temperature sensors from becoming more commonly used. The design of temperature sensors is complicated and necessitates attributes like stability, precision, and sensitivity. Temperature sensors rely heavily on monitoring solutions in order to retain these features, thereby hampering the market growth of temperature sensors.
The increased initial cost involved in advanced sensors, lack of technical awareness about sensors and heating issues in extreme situations may stymie the market expansion.
Opportunities
There is increased demand for robust, high-performing, and affordable sensors which has led to the development of novel technologies such as micro and nano technologies. These technologies provide advantages including miniaturization, less power consumption, and mass production. Moreover, the novel technological developments in the petrochemical industry will fuel the opportunities for temperature sensor market.
Geographic Overview
North America
Europe
Asia Pacific (APAC)
Rest of the World (RoW)
Asia-Pacific dominates the temperature sensor market as the region is the largest manufacturer of automotive and electronics sector and is witnessing an increased demand for consumer devices like portable healthcare electronics. Furthermore, the government is also promoting autonomous vehicles, increased demand for developing ADAS, emphasis on R&D activities, thereby propelling the market growth of temperature sensors industry in the region. 
Competitive Insight
The market for temperature sensors is benefited by the growing use of data centers by big IT organizations to manage large data sets and the incorporation of cloud services into business models. In order to meet the growing demand and get a competitive edge over other industry competitors, businesses are creating innovative temperature monitoring systems and sensors. Thus, the market for temperature sensors is growing significantly as industry players are entering into strategic alliances, M&A, joint ventures, R&D activities, and product development so as to sustain themselves in a competitive market.
Analog and digital temperature sensor ICs are both available in ST's temperature sensor product line. Due to their high precision and low power consumption, both types are appropriate for a variety of applications in the industrial, consumer, portable, medical, home appliance, and computer market segments. For deployment in any environment and equipment, ST's temperature sensor IC portfolio is provided in a wide range of packages, from insertion versions like the TO-92 to the smallest one on the market, the 6-lead UDFN package (2 x 2 x 0.5 mm).
From a single source, Siemens provides a complete range of temperature sensors and transmitters. The Siemens temperature portfolio consists of complete measuring points, head, rail, field mounting transmitters, and sensors. Symaro provides temperature sensors with the necessary active and passive output signals. Using a variety of distinct, easily adjustable measurement ranges, the active sensors may be immediately adjusted to the current circumstance. The ideal foundation for accurate and secure temperature monitoring is provided by SITRANS TS-Temperature Sensors.
Recent Development by Key Players
In January 2022, the High-Performance Infrared-Reflection (HPIR-R) moisture sensor from ABB offers the quickest, most accurate moisture monitoring currently available. The sensor provides accurate, high-resolution measurements up to 5,000 measurements per second, allowing mills to enhance throughput while lowering operational costs. With a built-in sheet temperature sensor and a fully air-cooled architecture, ABB's new HPIR-R moisture measurement system is intended to be field serviceable.
At Boston Logan International Airport, Honeywell ThermoRebellionTM temperature monitoring technology has been expanded by dnata USA to assist both domestic and foreign travelers in May 2021. One of the biggest air service companies in the world, dnata, provides ground handling, cargo, transport, and flight catering services on all five continents.
Key Players Covered in the Report
Some of the major players in the global temperature sensor industry include Texas Instruments Incorporated, Honeywell International Inc, Murata Manufacturing Co., Ltd., STMicroelectronics, NXP Semiconductors, Siemens, ABB, Analog Devices, Inc., Emerson Electric Co., and Maxim Integrated.
The Temperature Sensor Market research includes a comprehensive market segmentation analysis as well as projections for the analysis period 2022-2030.
Segments Covered in the Report
By Product Type

Contact Temperature Sensors
Thermocouples
Resistive Temperature Detectors
Thermistors
Temperature Sensor ICs
Bimetallic Temperature Sensors
Non-Contact Temperature Sensors
Infrared Temperature Sensors
Fiber Optic Temperature Sensors

By Output
By Connectivity
By End-Use Industry

Automotive
Chemicals
Oil & Gas
Metals & Mining
Consumer Electronics
Aerospace & Defense
Energy & Power
Healthcare
Food & Beverages
Pulp & Paper
Others
Region Covered in the Report
North America
Europe

Germany
U.K.
France
Italy
Spain
Russia
Rest of Europe

Asia-Pacific (APAC)

China
Japan
India
South Korea
Rest of Asia-Pacific

Rest of the World (RoW)

Brazil
Saudi Arabia
South Africa
U.A.E.
Other Countries

To explore more about this report - Request a free sample copy