Industry Overview
The wireless power transmission market is projected to experience significant growth in the coming years, with an estimated value of USD 18 billion by 2030. From 2022 to 2030, it is expected to witness a robust compound annual growth rate (CAGR) of 22.5%. Wireless power transmission, also known as WPT, refers to the process of transmitting electrical energy without the need for cables. It relies on the utilization of transmitter and receiver coils, along with technologies such as microwaves, solar cells, and magnetic resonance.
Numerous devices benefit from wireless power transmission, including mobile phones, tablets, automobiles, drones, transportation equipment, and even solar-panel arrays in space, enabling efficient recharging. This technology brings about improvements in reliability, portability, and convenience while eliminating the constraints of wires and batteries. As a result, it finds extensive applications across various industries, including consumer electronics, automotive, robotics, heating and ventilation, and industrial engineering.
Several key factors drive the growth of the wireless power transmission market. One significant factor is the increasing demand for the upgradation of existing infrastructure with advanced systems. Additionally, there is a mounting global need for stable and safe power supply, further fueling the expansion of this market. These factors combined create a favorable environment for the growth and adoption of wireless power transmission technologies.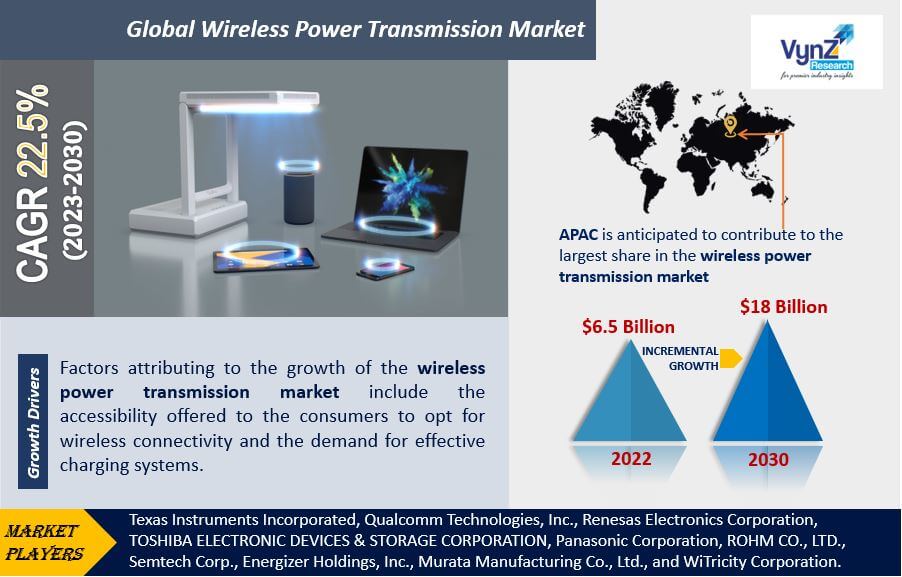 The COVD-19 pandemic has had an adverse impact on the wireless power transmission market owing to a halt in electronics and semiconductor production facilities and a lack of labor force globally.  Furthermore, the decline in manufacturing utilization, temporary facility closures, and travel bans have led to a decline in the growth of the wireless power transmission market in 2020. However, the wireless power transmission market is anticipated to recover from the crisis and there will be massive demand for wireless power transmission products post-pandemic period.
Market Segmentation
Insight by Technology
The global wireless power transmission market is divided into two categories based on technology: near-field technology and far-field technology. The near-field technology is sub-divided into inductive, magnetic resonance, and capacitive coupling/conductive. The far-field technology is sub-divided into microwave/RF and laser/infrared. Near-field technology dominates the market. Most applications that require contact or close proximity of around a few centimeters between the power source and its destination are served by near-field technologies with a limited range. Inductive technology in the near-field technology contributes to the largest share in the wireless power transmission market owing to its increased adoption in smartphones, tablets, and wearable devices as it is reliable, less costly, and has ease in availability.
Insight by Type
Based on type, the global wireless power transmission market is bifurcated into device with battery and device without battery. The device with a battery is anticipated to have a significant growth owing to its convenience, mobility, and safety of a device and radiation can travel long distances.
Insight by Receiver Application
Based on receiver application, the global wireless power transmission market is divided into smartphones, tablets, wearable electronics, notebooks, other consumer electronics, electric vehicle charging, and industrial. Smartphones dominate the receiver application for the wireless power transmission market as it uses inductive wireless power transmission. Some of the wireless charging smartphones include Samsung Galaxy Series, Motorola Droid phones, and Google Nexus phones, among others.
Insight by Transmitter Application
Based on transmitter application, the global wireless power transmission market is divided into standalone chargers, automotive (in-vehicle), electric vehicle charging, furniture, and industrial. Electric vehicle charging is expected to be the fastest-growing transmitter application as wireless charging is the optimal solution to charge electric vehicles and hybrid electric vehicles. Businesses are offering complete wireless charging options for electric vehicles which is possible via inductive technology.
Wireless Power Transmission Market Report Coverage
| | |
| --- | --- |
| Report Metric | Details |
| Historical Period | 2018–2022 |
| Base Year Considered | 2022 |
| Forecast Period | 2023-2030 |
| Market Size in 2022 | $6.5 Billion |
| Revenue Forecast in 2030 | $18 Billion |
| Growth Rate | CAGR 22.5% |
| Segments Covered in the Report | By Technology, By Type, By Receiver Application, and By Transmitter Application |
| Report Scope | Market Trends, Drivers, and Restraints; Revenue Estimation and Forecast; Segmentation Analysis; Impact of COVID-19; Companies' Strategic Developments; Market Share Analysis of Key Players; Company Profiling |
| Regions Covered in the Report | North America, Europe, Asia-Pacific, Middle East, and Rest of the World |
Industry Dynamics
Industry Trends
The rising trend of industrialization increased penetration of IoT, and growth in digitalization are the trends prevalent in the wireless power transmission market. Furthermore, the shifting trend towards the increased standard of living and rising disposable income will further accelerate the growth of the global wireless power transmission market.
Growth Drivers
The growth of the wireless power transmission market is influenced by various factors that contribute to its expansion. These include the enhanced accessibility provided to consumers for wireless connectivity and the rising demand for efficient charging systems. Wireless power devices' ability to transmit power through strong electromagnetic fields, along with the limitations of wired power transmission, is expected to positively impact market growth.
The wireless power transmission technology market is poised for growth due to several driving forces. These include rapid industrialization, increasing awareness of clean energy storage, the ongoing modernization and construction of smart cities, surging demand for consumer electronics, rising utilization of robots and drones, continuous technological advancements, and the need to establish connectivity in remote areas.
Furthermore, the wireless power transmission market will benefit from the advantages it offers to end-users, such as extended battery life and reduced energy consumption.
Challenges
The massive cost deployed for wireless power transmission technology-based devices as compared to conventional transmission sources, lack of the availability of brands that can assure quality, and uncertified and non-standardized products will affect the user experience which may restrain the growth of the market. Furthermore, limitation of range, safety issue, dearth of knowledge, lack of infrastructure, and technological expertise along with technological challenges occurring during service of island-style may pose a challenge in the WPT market.
Opportunities
The use of solar energy in wireless power transmission, as well as firms such as Nissan, Honda, and others focusing on electric vehicles, will generate the potential for growth in the WPT market between 2021 and 2027. Furthermore, the increased expenditure of R&D activities on mini and microrobots for wireless power transfer and the adoption of clean energy capacities in Asia-Pacific countries will further provide opportunities for growth in the market.
Geographic Overview
Geographically, APAC is anticipated to contribute to the largest share in the wireless power transmission market during the projected period as it is the manufacturing hub for consumer electronic products like smartphones, tablets, wearable devices, laptops, etc. Moreover, the increased R&D activities, developments in the automobile industry in China, Malaysia, and Indonesia, favorable regulations, and incentives by the government to enhance renewable energy and availability of raw materials will accelerate the growth of the market in the region.
Competitive Insight
The industry players are entering into organic and inorganic strategies such as product portfolio expansion, geographical expansion, M&A, partnerships, agreements, collaborations to enhance their market penetration and strengthen their position in the market. The small players are entering the wireless power transmission market by forming strategic alliances will global industry players like Qualcomm Technologies, Texas Instruments, Inc., SAMSUNG, and Murata Manufacturing Co., Ltd.
One of the most well-known semiconductor firms, Texas Instruments, Inc., provides a component supplier list for wireless power transfer technology. The company offers a wide range of wireless power transmitter and receiver ICs and modules, with power requirements ranging from low to high. The company is improving connectivity protocols such as Wi-Fi, Bluetooth, Sub-1 GHz, Zigbee, etc.    They also provide a portfolio of low-cost, high-quality wireless microcontrollers (MCUs), certified modules, and transceivers, as well as complete software solutions to meet every RF design requirement. Wearables, smartphones, automotive, grid infrastructure, factory automation, industrial, and medical care are among the applications that the company is working on.
For wireless charger applications, Renesas is a leader in wireless power transmitter IC solutions. Renesas enables OEMs and ODMs to design charging bases that are fully compatible with any Qi-compliant portable device by providing Qi-compliant support for multiple input voltages and coil configurations. Renesas wireless power transmitter solutions are suited for charging mats and pads, public facilities, office furniture, personal computer docks, and other portable electronic charging systems. It is a market leader for mobile devices and transmitters in the smartphone sector. Renesas delivers a Qi 1.3 compatible automobile in-cabin wireless power system that also supports functional safety.
In January 2022, Renesas Electronics Corporation, a leading provider of advanced semiconductor solutions has announced the P9418 which is the world's first 60W wireless power receiver so as to provide faster wireless charging solutions in smartphones, laptops, and notebook devices. The highly integrated P9418 wireless power receiver uses Renesas' patented WattShare technology to supply up to 60W of power in a single chip.
In November 2022, Panasonic Corporation has designed a secure near-field communication technology based on Wavelet OFDM*2 and a magnetic field communication mechanism. As a result, the communication range can be limited to a few millimeters to tens of centimeters. By adjusting the size of the loop antenna and the communication device's transmission power, this technique can simply manage the communication range.
Some of the industry players in the wireless power transmission market include Texas Instruments Incorporated, Qualcomm Technologies, Inc., Renesas Electronics Corporation, TOSHIBA ELECTRONIC DEVICES & STORAGE CORPORATION, Panasonic Corporation, ROHM CO., LTD., Semtech Corp., Energizer Holdings, Inc., Murata Manufacturing Co., Ltd., and WiTricity Corporation.
The Wireless Power Transmission Market report offers a comprehensive market segmentation analysis along with an estimation for the forecast period 2023–2030.
Segments Covered in the Report
By Technology

Near-Field Technology

Inductive
Magnetic Resonance
Capacitive Coupling/Conductive

Far-Field Technology

Microwave/RF
Laser/Infrared

By Type

Device with Battery
Device without Battery

By Receiver Application

Smartphones
Tablets
Wearable Electronics
Notebooks
Other Consumer Electronics
Electric Vehicle Charging
Industrial

By Transmitter Application

Standalone Chargers
Automotive (In-Vehicle)
Electric Vehicle Charging
Furniture
Industrial
Region Covered in the Report
North America
Europe

Germany
U.K.
France
Italy
Spain
Russia
Rest of Europe

Asia-Pacific (APAC)

China
Japan
India
South Korea
Rest of Asia-Pacific

Rest of the World (RoW)

Brazil
Saudi Arabia
South Africa
U.A.E.
Other Countries