Industry Overview
The global commercial space payload was valued at USD 24.1 billion in 2021 and is anticipated to reach USD 54.1 billion by 2027, witnessing a CAGR of 5.45% during the forecast period by 2027. Commercial space payloads are revenue-generating satellites or cargo that are launched into Earth's orbit by a space launch vehicle. Satellites are sophisticated radio-based instruments and communication systems that can be used for a variety of purposes, including Earth observation and remote sensing, communication, and satellite internet. The payload contains antennas, receivers, and transmitters for data transmission and storage, both in space and on the ground, to enable the delivery of satellite communication services.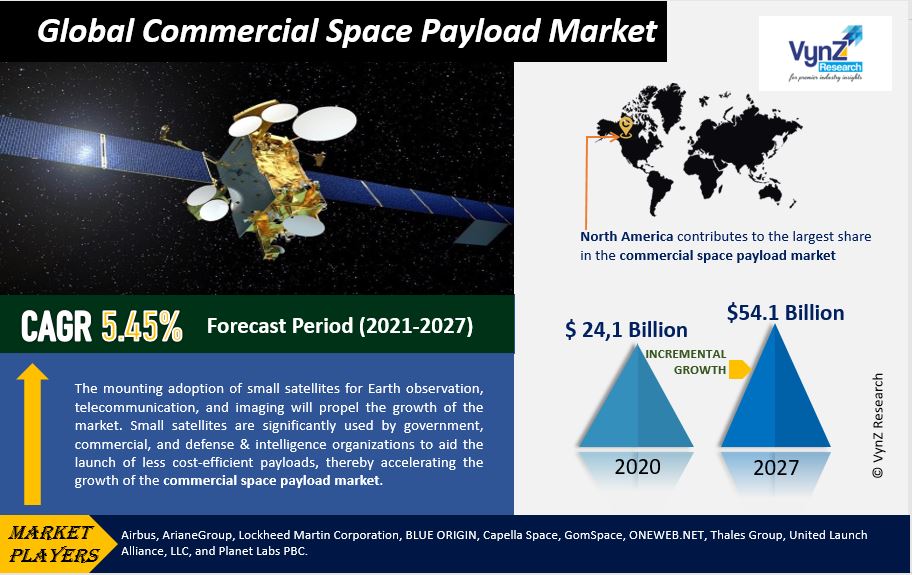 The commercial space payload industry makes money by launching satellites into Earth's orbit, primarily in Low Earth Orbit (LEO) and Geosynchronous Earth Orbit (GEO). Many governments and commercial organizations, including SpaceX, Ariane Space, the European Space Agency (ESA), the National Aeronautics and Space Administration (NASA), and the Japan Aerospace Exploration Agency (JAXA), began demonstrating the new propulsion system for various satellites in Low Earth Orbit between 1957 and 2021. (LEO). Since then, technology has progressed at a rapid speed, transforming the entire space industry through the development of novel goods and systems.
The pandemic has disrupted supply chains, causing satellite launches to be postponed. The market has also been harmed by a shortage of components as a result of laws governing the import and export of commodities. The launch of the payload was further delayed due to a shortage of liquid oxygen and liquid nitrogen due to increased demand from hospitals treating COVID-19 patients. Throughout the epidemic, satellite services have allowed hospitals, businesses, and government institutions to get communication, navigation, Earth observation, and remote sensing services.
Market Segmentation
Insight by Product
Based on product, the commercial space payload is sub-divided into nano and microsatellite (0-200 kg), small satellite (200-1,200 kg), medium satellite (1,201-2,200 kg), and large satellite (above 2,201 kg). The small satellite is anticipated to grow at a faster pace during the projected period owing to increased demand for small satellites in several industries like television & entertainment, aviation, military, and space research & development.
Insight by Orbit
Based on orbit, the commercial space payload market is classified into geosynchronous earth orbit (GEO), medium Earth orbit (MEO), low Earth orbit (LEO). The GEO segment is anticipated to be the fastest-growing segment during the projected period owing to increased demand for direct-to-home (D2h) broadcasting, internet, and regional mobile telecommunication services.
Insight by Application
Based on application, the commercial space payload market is segregated into communication, earth observation and remote sensing, space exploration, and surveillance and reconnaissance. Communication application is anticipated to have significant growth during the projected period owing to increased demand for remote sensing, Earth observation, and navigation, surveillance, and satellite internet. Moreover, the increased demand for navigation among consumers will drive the industry players to focus on the communication segment in the commercial space payload market.
Commercial Space Payload Market Report Coverage
| | |
| --- | --- |
| Report Metric | Details |
| Historical Period | 2015–2020 |
| Base Year Considered | 2021 |
| Forecast Period | 2021-2027 |
| Market Size in 2021 | $24.1 Billion |
| Revenue Forecast in 2027 | $54.1 Billion |
| Growth Rate | CAGR 5.45% |
| Segments Covered in the Report | By Product, By Orbit, and By Application |
| Report Scope | Market Trends, Drivers, and Restraints; Revenue Estimation and Forecast; Segmentation Analysis; Impact of COVID-19; Companies' Strategic Developments; Market Share Analysis of Key Players; Company Profiling |
| Regions Covered in the Report | North America, Europe, Asia-Pacific, Middle East, and Rest of the World |
Industry Dynamics
Industry Trends
The increased demand for Earth observation to deliver high-resolution imagery which is used in civil engineering & construction, transportation, agriculture & forestry industries, and increased investment by the defense sector to have high-speed communication services and navigation are the trends in the commercial space payload market.
Growth Drivers
The mounting adoption of small satellites for Earth observation, telecommunication, and imaging will propel the growth of the market. Small satellites are significantly used by government, commercial, and defense & intelligence organizations to aid the launch of less cost-efficient payloads, thereby accelerating the growth of the commercial space payload market. Furthermore, technological development such as miniaturization of components, microelectronics, materials, and software, rising number of commercial satellite launches, growing deep space exploration missions, increased usage of software-defined satellites, and increasing trend of the hosted payload will accelerate the growth of the market.
Challenges
The rising concerns about space debris as a result of more satellite payload launches, technical issues related to low-cost space technologies, as well as strict government rules associated with a satellite launch, are projected to impede market expansion.
Opportunities
The growing investments by governments and research institutions globally, as well as increasing usage of satellite constellations for high-speed communication services, are likely to provide growth prospects during the projection period.
Geographic Overview
North America contributes to the largest share in the commercial space payload market owing to the rising investment in R&D that emphasizes military & defense and space exploration applications and the presence of established players like Raytheon Technologies, Lockheed Martin Corporation, and Honeywell International Inc. in the region. Also, the industry players are emphasizing adopting satellite connectivity technologies to enhance operations in the region.
Competitive Insight
There is increased commercialization of space and private funding from several organizations. With increased global competition and new entrants, the international arena is changing. Due to flexible techniques, quick development, and lower prices, large, medium-sized, and startup firms are investing in space technologies. Innovative applications, new operators, and new finance sources are all on the rise in the industry. Many startups are putting money into nanosatellite constellations in order to provide high-speed communication, navigation, and imaging services. This new ecosystem will offer highly efficient and cost-effective satellite control and monitoring software, specialized subsystems, solar panels, batteries, and rockets.
ArianeGroup designs and manufactures high-performance propulsion and equipment for satellites and other spacecraft, as well as payload equipment and instruments for commercial, institutional, and science satellites. ArianeGroup provides propulsion systems, equipment, and services for satellites of all sizes, from the largest geostationary platforms to the tiniest microsatellites, as well as other spacecraft, kick stages, service modules, landing modules. In addition to multi-payload dispensers for the launch of smallsats and constellations, their equipment includes composite structures, mechanics, star trackers, and more. They also provide a comprehensive range of launch support services, such as consultancy, testing, and propellant management.
For government and commercial customers, Lockheed Martin Corporation builds satellites and spacecraft that perform incredible feats in space. Satellites produced by Lockheed Martin provide early warning of severe weather, connect troops on the battlefield, and provide GPS directions to a billion people across the world. They'll also be driving technologies in the future to enable customers to achieve even more in space. That's why they're developing smarter satellites that work like smartphones in the sky, with software that can be updated in orbit and react to changing mission requirements on the ground.
In January 2022, Airbus has been contracted to provide more than fifteen satellite platforms derived from the Airbus Arrow platform and supply them to space start-up Loft Orbital. Arrow is the OneWeb constellation's primary satellite platform. There are 394 Airbus Arrow platforms in orbit for the OneWeb constellation, with another 254 on the way to complete the constellation's 648 spacecraft requirement. Loft Orbital confirms its intention to make the Airbus Arrow platform a true workhorse, enabling its service business model, with this acquisition.
In February 2022, ESA has chosen payloads that best fit the profile of the first mission of its new-generation Ariane 6 launch vehicle from Europe's Spaceport in French Guiana, in conjunction with ArianeGroup and Arianespace.
In October 2021, Orbital Reef, a commercially developed, owned, and operated space station to be built in low Earth orbit, was unveiled today by Blue Origin and Sierra Space. By supporting the emergence of a healthy ecosystem and economic model for the future, the station will usher in the next chapter of human space exploration and development.
Some of the key players in the commercial space payload market include Airbus, ArianeGroup, Lockheed Martin Corporation, BLUE ORIGIN, Capella Space, GomSpace, ONEWEB.NET, Thales Group, United Launch Alliance, LLC, and Planet Labs PBC.

Region Covered in the Report
•    North America
- U.S.
- Canada
- Mexico
•    Europe
- Germany
- U.K.
- France
- Italy
- Spain
- Russia
- Rest of Europe
•    Asia-Pacific (APAC)
- China
- Japan
- India
- South Korea
- Rest of Asia-Pacific
•    Rest of the World (RoW)
- Brazil
- Saudi Arabia
- South Africa
- U.A.E.
- Other Countries